Aug 21, 2017
Al Gore's hot air can't change climate science
by Sam Rolley
A little more than a decade after his initial inconvenient truths failed to come to fruition, former Vice President Al Gore released a sequel to the "documentary" largely responsible for creating the cult of global warming. But in spite of Inconvenient Truth 2, "Truth to Power," the only hot air many Americans sense is that coming from the climate obsessed left.
In fact, the past week offers a couple of alternative views for people who believe denizens of coastal cities ought to all be breathing through snorkels by now.
In a lengthy interview with a Los Angeles news outlet last week, Weather Channel founder John Coleman succinctly explained what the cult of global warming is all about: money and power.
Coleman made the statement as he decried San Diego Mayor Kevin Faulconer's Climate Action Plan, an economically unsustainable effort to punish residents and businesses for global warming no one has proven exists or, for that matter, is a product of the progress of man.
"I think he saw money and power, and I don't know what else he thought of it… I can't believe he really [felt he] was going to save the city from some terrible fate,' Coleman said, adding the whole global warming farce "just turns my stomach."
The 82-year-old Weather Channel founder then offered this assessment of global warming alarmist projections: "San Diego's not going to go underwater. Period… Not in my lifetime or yours or our kids' lifetime. When the Earth ends in 4 1/2 billion years, it probably still won't have flooded."
He added: "The damn tsunami warning route signs that they put up all over the city [are] about as silly as anything I've ever saw in my life. The chance of a significant tsunami hitting Southern California is about as great as a flying saucer landing tonight at Lindbergh Field. It's just sheer nonsense."
Coleman is no stranger to battling global warming propaganda. On his personal blog, he's made a mission of overturning claims made via bad climate science - using his background knowledge of basic weather patterns and mass media manipulation to make some pretty solid points. It's worth a read.
"I'm just a dumb old skeptic - a denier as they call me - who ought to be jailed or put to death," he told MyNewsLA. "I understand how they feel. But you know something? I know I'm right. So I don't care."
Coleman, of course, isn't alone.
Another powerful argument against global warming conventional wisdom hit the web this week courtesy of alternative medicine expert Dr. Mark Sircus.
"Every prediction Gore has made has been wrong" he wrote, noting that the only organizations saying otherwise are those approved by the government and promoted by the press.
For Gore acolytes, read that as the power that needs to hear some truth.
Like Coleman, Sircus pointed out the big problem with being a skeptic: Anyone who dares dispute the establishment is quickly cut down and ridiculed.
He wrote: "Trump is just about the only politician in the world with the courage to stand up to all the lies about climate change. I would stop publishing so many essays on climate change if the press would let up on their global warming fraud but when I see their bold face lies an indignation arises in my belly. Even Trump dare not say a word more about climate change because they, the owners of all the mass media, would drown him, which they do anyway every day."
Throughout the rest of his essay, Sircus noted multiple examples of actual recent climate events that should raise big questions about the theory that the planet is headed for its hottest days.
Based on the evidence he gathered, the doctor said he belies the opposite is true because of a phenomenon which has no relationship to how man behaves on planet earth.
He wrote: "Solar cycles typically last 11 years and during that time, the north and south magnetic poles flip. It looks a lot like a heartbeat when graphed out. We are currently in Cycle 24.
"The solar scientists say that the latest model shows the Sun's magnetic waves will become offset in Cycle 25, which peaks in 2022. Then, in Cycle 26, solar activity will fall by 60 per cent."
Bottom line: Either global warming is a terrifying reality that should concern us all to the point of making major lifestyle changes; or it's an effort in social engineering to encourage the masses to accept more government restriction and regulation without question.
Based on millionaire Gore's greenhouse gas heavy lifestyle, I'm going with the latter.
Jul 24, 2017
Leading Climate Scientist Says Debating Scientific Theories Would Be 'Un-American'
By Julie Kelly
You'd think the 97 percent of scientists who supposedly all agree about climate change would eagerly line up to vanquish climate deniers - but apparently not.
Way, way back in April 2017, scientists around the world participated in the 'March for Science' as a show of force and unity against an allegedly anti-science Trump administration. Their motto was "science not silence": many wrote that mantra on pieces of duct tape and stuck it across their mouths.
March for Science organizers claimed that "the best way to ensure science will influence policy is to encourage people to appreciate and engage with science. That can only happen through education, communication, and ties of mutual respect between scientists and their communities - the paths of communication must go both ways."
But that was so three months ago.
Many scientists are now rejecting an open debate on anthropogenic global warming. EPA administrator Scott Pruitt appears ready to move forward with a "red-team, blue-team" exercise, where two groups of scientists publicly challenge each other's evidence on manmade climate change. The idea was floated during a Congressional hearing last spring and outlined in a Wall Street Journal op-ed by Steve Koonin, former undersecretary of energy in the Obama administration. Koonin said the public is unaware of the intense debate in climate science and how "consensus statements necessarily conceal judgment calls and debates and so feed the "settled," "hoax" and "don't know" memes that plague the political dialogue around climate change."
It would work this way: A red team of scientists critiques a key climate assessment. The blue team responds. The back-and-forth continues until all the evidence is aired and refuted, followed by public hearings and an action plan based on the findings. It happens entirely out in the open. Koonin said this approach is used in high-consequence situations and "very different and more rigorous than traditional peer review, which is usually confidential and always adjudicated, rather than public and moderated." (Climate scientist Judith Curry has a good primer on this concept here.)
Pruitt is prepared to pull the trigger on this idea, according to an article in E&E News last week. In an interview with Breitbart News on June 5, Pruitt touted the red-team, blue-team initiative, saying that "the American people need to have that type of honest open discussion, and it's something we hope to provide as part of our leadership."
Instead Of Dialoguing, Climate Scientists Preach
Now you would think the scientific establishment would embrace an opportunity to present their case to a wary, if disinterested, public. You would think the 97 percent of scientists who supposedly all agree human activity is causing climate change would eagerly line up to vanquish climate deniers, especially those in the Trump administration. You would think the same folks who fear a science-averse President Trump would be relieved his administration is encouraging a rigorous, forensic inquiry into the most consequential scientific issue of our time that has wide-ranging economic, social, and political ramifications around the world.
You would think.
But instead, many scientists and activists are expressing outrage at this logical suggestion, even advising colleagues not to participate. In a June 21 Washington Post op-ed, three top climate scientists repudiated the red-team concept, offended by the slightest suggestion that climate science needs fixing. Naomi Oreskes, Benjamin Santer, and Kerry Emanuel wrote that "calls for special teams of investigators are not about honest scientific debate. They are dangerous attempts to elevate the status of minority opinions, and to undercut the legitimacy, objectivity and transparency of existing climate science."
In a July 1 post full of irony, leading climate scientist Ken Caldeira blasts the climate contest: "We don't want red team/blue team because science doesn't line up monolithically for or against scientific positions." What? Never mind the 97 percent consensus claim that's been shoved down our throats for the past decade. (Caldeira also wrote just a few months ago that "the evidence for human-induced global warming is now so strong that no sensible person can deny a human role in these temperature increases. We can argue about what we should or should not do ... but the argument is over.")
Caldeira then smugly questions why "politicians who have never engaged in any scientific inquiry in their lives believe themselves to be the experts who should tell scientists how to conduct their business?" (Shall we then ask why scientists who have never engaged in any legislative or political endeavor in their lives believe themselves to be the experts who should tell lawmakers how to conduct their business?)
Climate Scientists Fear Losing Power, Nothing Else
Then there is the interminably-petulant and prosaic Michael Mann, who routinely dishes out the "denier" name to anyone who crosses him, and recently compared himself to a Holocaust survivor. Mann told ThinkProgress that the red-team concept is "un-American" and a ruse to "run a pro-fossil fuel industry disinformation campaign aimed at confusing the public and policymakers over what is potentially the greatest threat we face as a civilization."
Aha! Right there is the key objection to the entire exercise: the risk to their political power. These activists know that climate change long ago stopped being about science. It is a liberal, big-government agenda wrapped up in a green cloak of superiority and virtue. For the past decade, the pro-climate crusaders have ruled policymaking, from international organizations to federal agencies down to your local park district. The Trump administration poses the first threat to their dominance, and instead of being up to the task of defending it - in public, with evidence and not platitudes, facing scientists they have smeared for not being part of the 'consensus' - they want to walk away.
That's why I hope Pruitt proceeds with it. Let the blue team have an empty bench that will show American exactly what they think of 'science' - and them.
Julie Kelly is a National Review Online contributor and food policy writer from Orland Park, Illinois. She's also been published in the Wall Street Journal, Chicago Tribune, Forbes, and The Hill.
Jul 16, 2017
Swiss Daily: "Record Cold July In Greenland"
By Pierre Gosselin
We have all heard about the record-breaking ice mass balance and cold temperature reading of -33C recently set in Greenland - the Arctic island that is supposedly the canary in the climate coal mine.
It turns out that things up there are colder than we may be led to believe and that the alleged warming there is fiction.
Hat-tip: Gerti

Struggling to explain
The Swiss online Baseler Zeitung (BAZ) here reports: "In Greenland July this year has been the coldest ever. That has left climate catastrophists struggling to explain it."
Citing the Danish Meteorological Institute, the BAZ comments that the -33C reading earlier this month was "the coldest July temperature ever recorded in the northern hemisphere", smashing the previous record of 30.7C.

Expanding ice mass, media ignores
The BAZ adds that also the "ice cover has grown strongly over almost all of Greenland".
But this has been ignored, as the Switzerland-based daily also bravely writes that "most journalists and media leaders are active or passive members of the green-socialist Climate Church and the new religion of the post-Christian western world" and acknowledge only things that fit their world narrative. This likely explains why there's been no word about the record cold in Greenland. Why? The BAZ comments:
It casts the central prophesy of a continuous and ultimately lethal global warming, for which we are ourselves to blame, into question."
Greenland has been cooling
Recently NTZ reported here that Greenland in fact has been cooling over the past decade, as three recent studies alarmingly show us. According to one published in May of this year by a team of researchers led by Takuro Kobashi of the University of Bern, mean annual temperatures at the summit of Greenland have been showing "a slightly decreasing trend in accordance with northern North Atlantic-wide cooling". See chart below.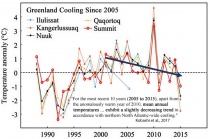 Enlarged
Greenland's temperatures headed in the wrong direction, defying climate model projections. Underlying chart source: Kobashi et al., 2017.
Warm optimum near an end?
The team by Kobashi also show that the Greenland Summit temperature have not risen in 90 years, and that Greenland was far warmer earlier in the Holocene: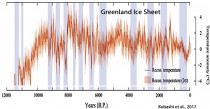 Enlarged
Greenland temperatures were much warmer over past 10,000 years than they are today.
One has to wonder if the current optimum may be nearing an end. History shows that the earth's surface temperature is in fact highly unstable and that most optimums don't last much beyond 10,000 years. We need to ask ourselves what could be done to avert the catastrophe that a new ice age would bring with it. The overall trend does not bode well.
---------
See this post on Greenland Ice by Tony Heller on the "Year Wittout an Arctic Summer".
Jul 10, 2017
California Rainfall Variability and Climate Models
Joseph D'Aleo, CCM, AMS Fellow
California precipitation is tied to the state of the Pacific Ocean (both ENSO where the El Ninos which are usually wet and La Ninas which are usually dry and the longer term Pacific Decadal Oscillation which influences the strength and frequency of El Nino and La Nina). It is highly variable but the long-term trend is a meaningless +0.01"/decade or +0.1" per century. That however does not stop climate scientists trolling for dollars or media environmental reporters from making it into a scare story.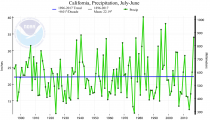 Enlarged
Back just over a year ago in 2015 at the end of the two year drought, in the Washington Post, Darryl Fears had these headlines with many universities predicting future heat and drought and raising the possibility that is had already started!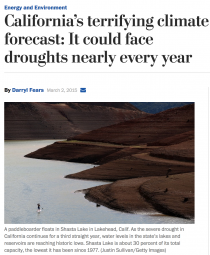 Enlarged
The reporter actually did a lot of research into university research. Little did he know it all is nonsense.
-----
But then came the 2016/17 wet season which in places had the all-time record precipitation and snowfall (over 200% of normal).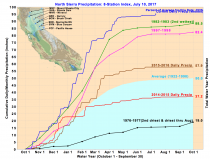 Enlarged
And the result:
Climate scientists predict wet future for California
"What I am arguing is El Nino-like years are going to become more the norm in California," said researcher Robert Allen.
UPI By Brooks Hays | July 6, 2017 at 3:50 PM
Heavy rain coupled with severe erosion caused the winter 2017 damaging of the Oroville Dam in northern California. New climate models run by scientists at the University of California, Riverside project that the northern part of California could experience increased rainfall through 2100.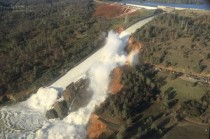 Heavy rain coupled with severe erosion caused the winter 2017 damaging of the Oroville Dam in northern California. New climate models run by scientists at the University of California, Riverside project that the northern part of California could experience increased rainfall through 2100. File Photo by EPA/California Department of Water Resources
July 6 (UPI)—Climate scientists now expect California to experience more rain in the coming decades, contrary to the predictions of previous climate models.
Most scientists agree that California, like most places, will get warmer through the end of the century. And until now, most agreed California would get drier. New research out of the University of California, Riverside, however, suggests otherwise.
The new models predict the state will enjoy a 12 percent increase in precipitation totals through 2100.
Both central and northern California will get wetter, according to the models, while Southern California will experience slightly less precipitation through the end of the century. Most of the increase in precipitation will be during the winter months.
"Most previous research emphasized uncertainty with regards to future precipitation levels in California, but the overall thought was California would become drier with continued climate change," Robert Allen, an associate professor at UC Riverside, said in a news release. "We found the opposite, which is quite surprising."
Weather variability makes it difficult to project how climate change will affect rain and snow totals. Predicting future precipitation totals in California is further complicated by the fact that the northern half of the state is expected to get wetter while the southern half is predicted to get drier.
But predictive climate and weather models are growing more sophisticated, allowing scientists to quiet the noise of yearly variability and focus on longterm patterns.
The new research—detailed in the journal Nature Communications—suggest increasing surface temperatures in the tropical eastern Pacific Ocean, lying to the 2,500 miles east, will encourage a local trade wind delivering a larger number of storm systems to the California coast.
"Essentially, this mechanism is similar to what we in California expect during an El Nino year," Allen said. "Ultimately, what I am arguing is El Nino-like years are going to become more the norm in California."
In other words, California's future is likely to look more like the past two years, during which the state enjoyed record rainfall totals.
-----------
This is a little like Texas where the drought of 2011-2013 was supposed to be the start of a permadrought...but then came the flooding. Note the multi-year (7) more serious drought in the 1950s - both a reflection of the 60 year multidecadal ocean cycle?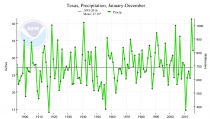 Enlarged
The long term trend was flat at the time of the drought early this decade, now it slightly up since 1895.
Jul 02, 2017
Obama: Leaving the Paris Agreement is Anti-Democratic?
Eric Worrall
Ex-President Obama seems to have suggested in a speech that tearing up the Paris Agreement is a symptom of "an aggressive kind of nationalism" which threatens Democracy. My question - why doesn't Obama mention all the greens who seem to think Democracy is an impediment to environmental progress?
Obama warns against aggressive' nationalism, leaving Paris climate agreement
BY ALICIA COHN 07/01/17 07:41 AM EDT
Former President Obama on Saturday issued a strong warning against the new trend toward "an aggressive kind of nationalism" and emphasized the importance of the Paris climate agreement, which the U.S. plans to break.
Obama called out at least one of his successor's policy changes without mentioning President Trump by name.
.....
Otherwise, he warned, "We start seeing a rise in sectarian politics, we start seeing a rise in an aggressive kind of nationalism, we start seeing both in developed and developing countries an increased resentment about minority groups and the bad treatment of people who don't look like us or practice the same faith as us."
....
He went on to note "the temporary absence of American leadership" on fighting climate change.
"In Paris, we came together around the most ambitious agreement in history to fight climate change,"
....
"If we don't stand up for tolerance and moderation and respect for others, if we begin to doubt ourselves and all that we have accomplished, then much of the progress that we have made will not continue," he said.
"What we will see is more and more people arguing against democracy, we will see more and more people who are looking to restrict freedom of the press, and we'll see more intolerance, more tribal divisions, more ethnic divisions, and religious divisions and more violence," he continued.
Read more here.
Can anyone think of a single mainstream climate skeptic who opposes Democracy?
Unfortunately I have not located a copy of ex-President Obama's full speech. But even if my impression of what Obama said is wrong, it seems pretty cheeky for Obama to mix opposition to climate advocacy and accusations of threats to Democracy in the same speech, given the number of prominent greens who seem to think Democracy is not up to the job of saving us from Climate Change.
June 2017: Maryland Professor of Philosophy Firmin DeBrabander claims "climate change is not liable to be solved by democracies. Autocracies might do better"
April 2017: Neil DeGrasse Tyson claims elected "science deniers" are a threat to Democracy
March 2017: Disgraced Identity Thief Peter Gleick claims Democracy is under assault from [climate] liars
May 2016: Mark Diesendorf, Associated Professor University New South Wales, claims "Governments may need extraordinary emergency powers to implement rapid mitigation"
November 2015: Bill Gates, Founder of Microsoft Corporation, claims "If you're not bringing math skills to the problem, then representative democracy is a problem."
April 2015: Two University of Melbourne (Australia) Professors claim "the failure to tackle climate change speaks to an overall failure of our liberal democratic system"
January 2011: Former NASA GISS Chairman James Hansen praises the Chinese dictatorship's ability to take "the long view" on climate change.
etc.
---------
It is all a monumental hoax based on a lie and and an agenda as my former compadre, John Coleman said. Al Gore's new movie is coming out in August. Roger Revelle was Al's hero and mentor. John did some research on Al and Revelle in this video and found Roger had a change of heart in his later year that Al conveniently ignored.
Jun 04, 2017
U.S. States Defy Trumps Climate Pact Withdrawal - promise compliance - will suffer
By Alejandro Lazo
U.S. States Defy Trump's Climate Pact Withdrawal
After President Trump announces withdrawal from Paris accord, three states say they will form a coalition to uphold treaty
Updated June 2, 2017 10:35 p.m. ET
SAN FRANCISCO - A day after President Donald Trump's decision to pull out of the Paris climate accord, states and cities around the country are vowing to adhere to their own aggressive climate policies, independent of the federal government.
Twenty states and Washington, D.C., have adopted their own greenhouse gas emission targets, according to the Center for Climate and Energy Solutions, and some press beyond the U.S. commitment under the accord, which sought to bring greenhouse emissions 26% to 28% below 2005 levels by 2025.
None, however, have gone further than California, which has emerged as a national 'leader' (Icecap Note: biggest loser with deficits in tens of billions) on climate policy and a potentially powerful counterweight to the Trump administration's efforts to rollback U.S. commitments.
California Gov. Jerry Brown is encouraging states to pursue their own climate standards - developing his own international climate agenda, recruiting other states for climate pacts and pushing tougher standards than the federal government had under the Obama administration.
Following the Thursday announcement, Mr. Brown, New York Gov. Andrew Cuomo and Washington Gov. Jay Inslee said they would form a coalition of states committed to upholding the American side of the Paris treaty deal.
The governors called the coalition the United States Climate Alliance, which they said will "act as a forum to sustain and strengthen existing climate programs, promote the sharing of information and best practices, and implement new programs to reduce carbon emissions from all sectors of the economy."
"California is on the field, ready for battle," Mr. Brown said after Mr. Trump announced the U.S. would leave the deal.
Former New York Mayor Michael Bloomberg, the United Nations Secretary-General's special envoy for cities and climate change, said through an adviser on Friday that those three states, along with a coalition of at least 100 businesses and 30 cities would on Monday submit a letter of intent to the U.N. indicating the coalition would meet the U.S. goals through their own commitments.
In a meeting with French President Emmanuel Macron and Paris Mayor Anne Hidalgo on Friday, Mr. Bloomberg said the U.S. will not need Washington to make good on its commitments.
"In the U.S., emission levels are determined far more by cities, states, and businesses than they are by our federal government," Mr. Bloomberg said. "The fact of the matter is: Americans don't need Washington to meet our Paris commitment, and Americans are not going to let Washington stand in the way of fulfilling it."
On Friday, Mr. Brown leaves for climate talks in China. The California governor will also attend the United Nations Climate Change Conference in Bonn, Germany, "to represent subnational jurisdictions that remain committed to climate action."
Mr. Brown, who has been a sharp critic of Mr. Trump's environmental policies, said in an interview this week that "the president is not going to get very far denying science and denying reality" and says local governments must take the matter into their own hands.
"Obviously states can't do what the federal government can do," Mr. Brown said. "But I will tell you the president's action - his action in undermining the Paris agreement - is going to ignite a prairie fire of activism to take even bolder steps to reduce greenhouse gases than even are being imagined today."
California had a gross domestic product of $2.5 trillion in 2015 and the world's sixth-largest economy - bigger than most of the 190 nations that signed the Paris accord. It is responsible for about 1% of the world's carbon emissions, according to the California Air Resources Board.
Because of the sheer size of its market, and because it has a waiver from the Environmental Protection Agency allowing it to set its own tailpipe-emission standards that nine other states follow, California-emission policies can set the standard for the auto industry nationwide.
The state has the most ambitious greenhouse-gas emission reduction targets in the U.S. with the goal of achieving a 40% reduction in greenhouse gases by 2030, compared with 1990 levels, in part by adding 4.2 million zero-emissions vehicles on this car-centric state's streets and highways.
By 2050, the state's goal is to bring emissions 80% below 1990 levels.
On Wednesday, the California senate passed a bill that would mandate the state gets all of its energy from renewable sources by 2045, which drew praise from environmentalists but criticism from Republicans here who fear the state will lose more business as costs rise in California.
"If new technology can't reach the goals this bill requires, it's going to raise the price of electricity on businesses, which already pay a high cost for utilities and cite that as the number one reason they're leaving California," said Republican State Sen. Jeff Stone, of Riverside, Calif.
Still, Mr. Brown has pushed to extend California's climate influence beyond state lines. Since 2015, Mr. Brown has formed a coalition of entities around the world - cities, states, countries and other jurisdictions - to limit the increase in global average temperature to below 2 degrees Celsius, a key long-term goal of the Paris talks.
Ten states and eight cities have joined Mr. Brown's Under2 Coalition, encompassing about 89 million people, or about 28% of the U.S. population. In April, Canada and Mexico endorsed the measure; with that the coalition grew to include 170 jurisdictions on six continents, Mr. Brown's office said.
Not all states were upset. In West Virginia, Sen. Shelley Moore Capito applauded the withdrawal, saying it would benefit the state's ailing coal industry. "West Virginians have suffered tremendous economic calamity as a result of the Obama administration's anti-coal agenda...," the Republican senator said in a statement. "President Trump is standing with our West Virginia workers and businesses to keep jobs in our state."
California has provided technical advice to Mexico and China to help those countries adopt climate policies. The governor has also forged an agreement with Oregon, Washington state and the Canadian province of British Columbia, formally aligning their climate and clean-energy policies.
"The California model is helping to catalyze global action," said Nathaniel Keohane, vice president for global climate at the Environmental Defense Fund.
California has led on a key goal of climate change activists and scientists for years: developing a functioning cap and trade market, which seeks to reduce carbon emissions by imposing a limit on the amount of carbon dioxide released by industry, and then selling a finite number of permits every quarter for businesses to meet those allowances.
China is now looking to California as a model for how to integrate regional cap and trade-pilot programs it already has launched, said Severin Borenstein, a professor at the University of California, at Berkeley Haas School of Business.
This summer the cap-and-trade program faces a major test with the state legislature poised to debate whether to enact policies protecting and expanding the program from legal challenges after the California Chamber of Commerce sued the state, calling it an unconstitutional tax.
"California's decisions about how to run a cap-and-trade program, or how to set up other greenhouse-gas regulations, have very large impacts on the rest of the country and the world," Mr. Borenstein said.
California's role as the nation's climate leader isn't new: A decade ago it carved out international deals and set policies on global warming without help from the Bush administration.
Since then, California has been joined by other states, including New York and Illinois, as well as cities including Chicago and New York City, in developing shared climate goals.
The state and local efforts will continue despite what the federal government does, but they won't be as effective, said Karen Weigert, senior fellow at the Chicago Council on Global Affairs.
"It is a very different world when you have a White House leading the fight on the environment, or not leading the fight," said Ms. Weigert, who served as Chicago's first chief sustainability officer.
Mr. Cuomo last year signed legislation requiring 50% of New York's electricity come from renewable energy sources like wind and solar by 2030. The state has a goal of reducing emission 80% from 1990 levels by 2050.
In May, Virginia Gov. Terry McAuliffe, a Democrat, signed an executive order taking an initial step in setting state-level standards on cutting carbon emissions. Michigan Gov. Rick Snyder, a Republican, in December signed a measure that requires the state's utilities to lift the amount of electricity they generate from renewable sources to 15% by 2021 from 10% in 2015.
Twenty-nine states have adopted renewable portfolio standards, which require utilities to sell a certain amount, or percentage, of renewable electricity, according to the National Conference of State Legislatures.
"States have been doing this for a long time and long before there has been consideration at the federal level," said Glen Andersen, energy program director at the NCSL. "They are able to act a little more quickly."
Other states are ramping up their renewable-energy generation because prices are competitive and such projects add jobs, said Rachel Cleetus, the lead economist and climate policy manager at the Union of Concerned Scientists, a nonprofit (Icecap: a non-scientific environmental advocacy group sitting on $44M responsible for destroying higher education).
Texas, for instance, has become a leader in renewable-energy production, even without a legislative mandate. The state, which has a quarter of all the wind power in America, is getting 12.6% of its electricity from wind, according to the American Wind Energy Association.
U.S. cities also are adopting their own policies.
Chicago Mayor Rahm Emanuel this week said his city would "work with cities around the country to reduce our emissions in accordance with the Paris Agreement."
Los Angeles Mayor Eric Garcetti this week said the city introduced a motion to adopt the principles of the Paris agreement "as the policy of the City of Los Angeles." Mr. Garcetti is part of a coalition of 61 mayors that has vowed to uphold the agreement.
"We will intensify efforts to meet each of our cities' current climate goals," the coalition said.
----------
Democrats hope to use this issue in 2018 and 2020. A trillion dollars has been spent on this faux issue - (CO2 is not a pollutant but a plant fertilizer, soot is a pollutant but something we have already dealt with with technology in our power plants, factories and automobiles). Advocacy groups like the UCS, globalists and the UN under their control have forced the indoctrination of young and impressionable older people into believing CO2 is a pollutant and the cause of everything natural that is bad.
The democrats use the 'GRUBER' method of keep repeating a lie and "since Americans are stupid people, they will believe it". The regions where they have taken this idea forward are paying the highest prices for electricity in the country (lower 48). In Europe where the green agenda has first been implemented, electricity prices are two to three times higher. You hear the democrats yelling bowing out of Paris will hurt the poor when in fact abiding with the Paris agreement would cause electricity and energy prices to rise significantly which hurts the poor and middle class.
300,000 German households had their electricity turned off for inability to pay and over 25% of UK residents are in energy poverty, many of them pensioners. That is coming here to the cities and states which are going to commit regardless of Trump. It will cost them jobs as industry exits. They will increase already high taxes or cry to DC for help as their deficits skyrocket.
Califronia and the green northeast which established the regional Greenhouse Gas Initiative (RGGI) pay the highest electricity prices in the lower 48 states already.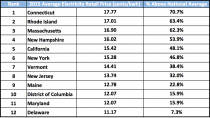 Enlarged
WAKE UP AMERICA.
Jun 03, 2017
Under promise and over deliver
James Delingpole
Under promise and over deliver.
As a businessman, Trump knows that those are the rules. And as president that's just what he did today in his inspirational speech about pulling out of the Paris climate agreement.
It was inspirational because it articulated better than any world leader has ever done before why environmentalism is in fact such a harmful creed.
Rather than get bogged down in the "science" of climate change - an elephant trap so arranged by climate alarmists to make anyone who disagrees with them look ignorant or "anti-science" - he cut to the chase and talked about the important stuff that hardly ever gets mentioned by all the other politicians, for some reason: the fact that the climate change industry is killing jobs.
He talked about "lost jobs; lower wages, shuttered factories."
He listed what the effects of implementing the Paris Agreement would be, by 2040, on key sectors of the US economy:
Paper down 12 percent
Cement down 23 percent
Iron and steel down 38 per cent
Coal down 86 percent
It was simple and it was brilliant. Here was Trump talking to his voter base, feeling American workers' pain and telling them [he didn't actually say this but this was the message]: "I won't abandon you. I won't sell you down the river, whatever the global elite may want and however much they try to bully me. You people come before all this green crap."
And it also has the virtue of being true. Sure the actual figures may be guesstimates, but there's no question that the tenor of his argument is quite accurate: climate regulation like the Paris agreement makes energy more expensive, slows economic growth and kills jobs, especially in the heavy industrial and fossil fuel sectors.
This argument ought to be low hanging fruit to any half way intelligent politician: it's such an obvious way of connecting with the workers. Yet Trump is the only one who has ever said it. And hearing him say it was a reminder of why it was that he won the presidential election. He connects with his people in a way that so many politicians just don't.
Compare and contrast with the other world leaders: Merkel, May, Macron, Trudeau, Turnbull - not one of those charlatans dares tell the truth about the global climate change industry, that it's a racket which achieves nothing but simply transfers wealth from Western nations to countries like India and China.
The other clever thing about that speech, of course, is that he'd kept us guessing to the last. Me included.
I thought he was going to fudge it much more than he did; that he'd end up compromising to please Ivanka.
But with this speech on Paris, President Trump has delivered.
Just when even some of his fans were starting to doubt him, he has made his presidency great again.

Jun 01, 2017
Paris Accord : Cornwall Alliance Celebrates Withdrawal from Paris Climate Agreement!
Paris Climate Cup
Final / OT

Swamp 0
Deplorables 1
In response to numerous requests, please see below. Thanks again for all you can do to flood the zone with public support for this pullout today…

Paul Teller
Special Assistant to the President for Legislative Affairs
The White House
THE WHITE HOUSE
President Trump's announcement today that he is withdrawing the United States from the Paris climate agreement is a milestone, and we hope you won/t mind if we at the Cornwall Alliance say we're proud to have helped bring it about by educating the American people and policymakers on the science, economics, ethics, and theology of climate change and climate and energy policy. Our press release is below, and we invite you to celebrate with us and, especially, to render thanksgiving to God in prayer!

For Immediate Release

Burke, VA, June 1, 2017 - President Donald Trump today announced his decision to withdraw the United States from the Paris climate agreement.
"Not only Americans but people all over the world should celebrate," said Cornwall Alliance Founder and National Spokesman Dr. E. Calvin Beisner.
President Trump's decision took courage in the face of pressure from many world leaders to remain in the agreement.
"But it's the right decision," Dr. Beisner said. "It's right because, as former NASA scientist and leading climate alarmist Dr. James Hansen put it, "the Paris agreement is a fraud, really, a fake ...just worthless words."
Why would someone like Hansen say that?
Because even assuming climate alarmists are right and human emissions of carbon dioxide are driving dangerous global warming, full implementation of the Paris agreement throughout this century would be no help to the environment or to people. Instead, it would be harmful to both.
And as President Trump said today, the Paris agreement is predicted by its proponents to "reduce global temperature by no more than 2 tenths of a degree Celsius." That reduction would cost $23 to $46 trillion per tenth of a degree Fahrenheit - an amount that will have no effect on the environment or human wellbeing.

"It would trap billions in poverty for decades to come," said Beisner. "Since a clean, healthful, beautiful environment is a costly good, this means prolonging environmental damage and delaying environmental improvement."
And that's assuming the alarmist predictions are accurate. Real life observations have proven the models, the only basis for those alarmist predictions, to be completely false. So not only is it all pain and no gain, it's all pain and no gain for no reason.
We are grateful to President Donald J. Trump for his thoughtful exploration of the issues, his courageous leadership against great pressure, and his willingness to stand up for the American people.
But it is important to note that withdrawing from the Paris agreement, and opposing other environmental alarmist policies, is not just good for Americans, it is good for the citizens of all countries - especially the poor.

-------

Media contact: Megan Toombs, Director of Communications, Megan@CornwallAlliance.org, 703-569-4653
We are celebrating this victory, but there is still so much more to be done. Climate alarmists will only turn up the heat now, and we'll need to continue to fight them tooth and nail. If you would like to make a donation to support the work of the Cornwall Alliance in opposing radical environmental policies.
------
Pre-Press Conference talking points:
Topline: The Paris Accord is a BAD deal for Americans, and the President's action today is keeping his campaign promise to put American workers first. The Accord was negotiated poorly by the Obama Administration and signed out of desperation. It frontloads costs on the American people to the detriment of our economy and job growth while extracting meaningless commitments from the world's top global emitters, like China. The U.S. is already leading the world in energy production and doesn't need a bad deal that will harm American workers.
UNDERMINES U.S. Competitiveness and Jobs
* According to a study by NERA Consulting, meeting the Obama Administration's requirements in the Paris Accord would cost the U.S. economy nearly $3 trillion over the next several decades.
* By 2040, our economy would lose 6.5 million industrial sector jobs - including 3.1 million manufacturing sector jobs
- It would effectively decapitate our coal industry, which now supplies about one-third of our electric power
- The deal was negotiated BADLY, and extracts meaningless commitments from the world's top polluters
* The Obama-negotiated Accord imposes unrealistic targets on the U.S. for reducing our carbon emissions, while giving countries like China a free pass for years to come.
- Under the Accord, China will actually increase emissions until 2030
The U.S. is ALREADY a Clean Energy and Oil & Gas Energy Leader; we can reduce our emissions and continue to produce American energy without the Paris Accord
* America has already reduced its carbon-dioxide emissions dramatically.
- Since 2006, CO2 emissions have declined by 12 percent, and are expected to continue to decline.
- According to the Energy Information Administration (EIA), the U.S. is the leader in oil & gas production.
The agreement funds a UN Climate Slush Fund underwritten by American taxpayers
President Obama committed $3 billion to the Green Climate Fund - which is about 30 percent of the initial funding - without authorization from Congress
- With $20 trillion in debt, the U.S. taxpayers should not be paying to subsidize other countries' energy needs.
- The deal also accomplishes LITTLE for the climate
According to researchers at MIT, if all member nations met their obligations, the impact on the climate would be negligible. The impacts have been estimated to be likely to reduce global temperature rise by less than 0.2 degrees Celsius in 2100.