Sep 24, 2013
Climate drivers
Scientific Alliance
The first, and arguably most important, part of the latest IPCC Assessment Report (AR5) will be released next week in Stockholm (IPCC). This is the report from Working Group 1, charged with evaluating the current state of knowledge on the physical science. The reports from WG2 (Impacts, Adaptation and Vulnerability) and WG3 (Mitigation) will follow next Spring, with the final Synthesis Report being launched in October in Copenhagen (host city to the ill-fated 2009 COP15 conference).
Despite attempts to control the spread of information, the blogosphere has inevitably been full of leaks and previews of what the reports will say. The WG1 report is the most important because the conclusions it comes to shape the entire exercise. If the authors were to conclude that Mankind's contribution to the present phase of climate change was less important than previously thought, then the world would pay much less attention to the need to mitigate.
But it is clear that the opposite is true; the crucial statement from the current version of the Summary for Policymakers (the SPM, the only bit which most people actually read) is "It is extremely likely that human influence on climate caused more than half of the increase in global average surface temperature from 1951-2010." The important thing to note here is that this is an increase in confidence since AR4, despite the trend in warming having fallen to the bottom end of the range predicted earlier (and below this by some estimations).
Rather naively, the IPCC leaked the SPM to 'friendly' journalists in an attempt to manage the news of the report's launch. However, inevitably it ended up in less friendly hands and has come in for some fierce criticism. There is no room here to do justice to the ongoing debate which is now rising to a crescendo, but readers who want to get a flavour of it could do worse than read these blog postings: Leaked IPCC report discussed in the MSM and Excerpts from the leaked AR5 Summary for Policy Makers. The first is from Judith Curry, a thoughtful scientist who supports the enhanced greenhouse effect hypothesis but is often critical of the IPCC and some of its more enthusiastic supporters. The second is by Anthony Watts, a retired meteorologist and author of a sceptical but reasoned blog.
Judith Curry makes the point that, in light of the accrual of evidence over the five years since the publication of AR4, the increased confidence is unjustified (remember that the confidence levels are a matter of subjective judgement; there is no objective metric used). In her words "An increase in confidence in the attribution statement, in view of the recent pause and the lower confidence level in some of the supporting findings, is incomprehensible to me. Further, the projections of 21st century changes remain overconfident."
This topic is vitally important for the future of all of us. If the IPCC's confidence is justified then effective mitigation measures should be given high priority. The debate then moves from what the problem is to how best to solve it, whether by making the most cost-effective reductions in carbon dioxide emissions now (almost certainly with a large element of nuclear power), concentrating on adaptation or simply waiting until future generations have new, economic energy generating technologies which do not use fossil fuels. The IPCC seems to be trying to move the debate on and once again persuade leaders that 'the science is settled'.
If, on the other hand, the WG1 authors' confidence is misplaced, then the case for rapid and radical decarbonisation is undermined. The fact that there is no end in sight to China and India's escalating use of coal might already be seen as making current policies futile, but it has not stopped the EU and a few other enthusiastic countries from imposing high costs on their own economies to reduce their own use of fossil fuels. If the IPCC's apparent certainty can be shown to be unjustified, then pragmatic politicians are going to have to start questioning their emissions reduction policies.
To add to this mix, there is a recent report of further work by the Danish team led by Henrik Svensmark on the influence of the Sun's magnetic field on cloud formation initiated by cosmic rays: Physicists claim further evidence of link between cosmic rays and cloud formation. What the latest experiments have shown is that the very fine aerosol particles produced by ionising radiation can aggregate in the presence of sulphuric acid (produced under the influence of ultraviolet light) to produce nuclei large enough to initiate cloud formation.
By itself, this if of course not enough to demonstrate that cosmic rays, mediated by the Sun's changing magnetic field, have a significant effect on global temperatures relative to the forcing effect of atmospheric carbon dioxide. However, the evidence which is building cannot be ignored. This does not stop this hypothesis being effectively dismissed by the current climate change Establishment, who have consistently said that such an effect could only be minor. In this report for example, Gavin Schmidt, a leading spokesman, said "The researchers have a really long way to go before they can convince anyone that this is fundamental to climate change."
This is undoubtedly true, but we should not forget that the entire edifice of climate change policy currently rests on the output of computer models based on the hypothesis that there are positive feedback mechanisms which increase the modest warming impact of higher CO2 levels. There is currently no empirical support for this and the temperature trends for the early part of the 21st Century are now incompatible with the projections from the models. It would be foolhardy to ignore hard evidence of other effects, even if IPCC scientists are dubious. Our future prosperity may depend on it.
Sep 11, 2013
Lack of hurricanes helps climate change skeptics - sticks it to 350.org
By Josiah Neeley
"Rick Perry leaves a trail of death." So reads the headline in a fake weather report, part of a new campaign to name hurricanes after noted climate change skeptics. The group, 350.org, hopes that associating politicians with destructive storms will make them more willing to enact restrictions on carbon emissions as a means of fighting global warming.
The campaign is tasteless, but it helps to highlight an otherwise largely overlooked fact: Hurricanes have been largely absent this year.
For the first time in 11 years, August came and went without a single hurricane forming in the Atlantic. The last intense hurricane (Category 3 or above) to hit the United States was Hurricane Wilma, in 2005. According to Phil Klotzbach, head of Colorado State University's seasonal hurricane forecast, accumulated cyclone energy is 70 percent below normal this year.
Hurricanes have become a major part of the public relations campaign for radical action on climate change. After Hurricane Sandy hit the Eastern Seaboard last fall, the left quickly dubbed it a "Frankenstorm," and nearly fell over itself attempting to claim that the intensity of the storm was a result of greenhouse gas emissions.
That's not so surprising. Despite decades of effort, the environmental movement has largely failed to persuade the American public to accept the draconian restrictions that stopping climate change would entail, and linking hurricanes to climate change may be their best chance to change all that.
A look at the science, however, tells a somewhat different story. While the overall number of recorded hurricanes has increased since 1878 (when existing records begin), this is at least partly due to an improved ability to observe storms rather than an increase in the number of storms.
As Thomas Knutson of the National Oceanic and Atmospheric Administration noted recently, "the rising trend in Atlantic tropical storm counts is almost entirely due to increases in short-duration (less than 2-day) storms alone [which were] particularly likely to have been overlooked in the earlier parts of the record, as they would have had less opportunity for chance encounters with ship traffic." As such, "the historical Atlantic hurricane record does not provide compelling evidence for a substantial greenhouse warming induced long-term increase."
Similarly, the increase in damages from storms over time has less to do with their increased frequency or intensity than with the fact that we have gotten richer. Had Hurricane Sandy swept through New Jersey 100 years ago, it would have done far less damage simply because, back then, there was less of value to destroy. These days Americans are not only wealthier, but we are more inclined to build closer to the water, due to subsidized flood insurance. When University of Colorado professor Roger Pielke looked at the numbers, he found that correcting for these factors completely eliminated the supposed increase in hurricane damage.
Unsurprisingly, then, a leaked draft of the Fifth Assessment Report of the United Nations' Intergovernmental Panel on Climate Change (due to be released later this month) downgraded the likelihood of a connection between past temperature rises and extreme weather events. According to the report, there is "low confidence" in any association between climate change and hurricane frequency or intensity.
The U.N. panel could, of course, be wrong. Congress recently held hearings examining the science behind climate change claims, and should continue to do so. In this case, however, the attempts to slander climate change skeptics by linking them to today's storms is scientifically flawed to say the least.
Whenever a climate change conference is greeted by a record snowfall or cold snap, environmentalists are quick to point out that weather is not the same as climate. Yet when it comes to storms, many have been willing to fall into exactly the same trap.
Neeley is a policy analyst with the Texas Public Policy Foundation, an Austin-based nonprofit, free-market research institute.
Sep 03, 2013
Cooks '97% consensus' disproven by a new peer reviewed paper showing major math errors
Anthony Watts, Watts Up With That
UPDATE: While this paper (a rebuttal) has been accepted, another paper by Cook and Nuccitelli has been flat out rejected by the journal Earth System Dynamics. See update below. Anthony
"0.3% climate consensus, not 97.1%"
PRESS RELEASE September 3rd, 2013
A major peer-reviewed paper by four senior researchers has exposed grave errors in an earlier paper in a new and unknown journal that had claimed a 97.1% scientific consensus that Man had caused at least half the 0.7 C global warming since 1950.
A tweet in President Obama's name had assumed that the earlier, flawed paper, by John Cook and others, showed 97% endorsement of the notion that climate change is dangerous:
"Ninety-seven percent of scientists agree: #climate change is real, man-made and dangerous." [Emphasis added]
The new paper by the leading climatologist Dr David Legates and his colleagues, published in the respected Science and Education journal, now in its 21st year of publication, reveals that Cook had not considered whether scientists and their published papers had said climate change was "dangerous".
The consensus Cook considered was the standard definition: that Man had caused most post-1950 warming. Even on this weaker definition the true consensus among published scientific papers is now demonstrated to be not 97.1%, as Cook had claimed, but only 0.3%.
Only 41 out of the 11,944 published climate papers Cook examined explicitly stated that Man caused most of the warming since 1950. Cook himself had flagged just 64 papers as explicitly supporting that consensus, but 23 of the 64 had not in fact supported it.
This shock result comes scant weeks before the United Nations' climate panel, the IPCC, issues its fifth five-yearly climate assessment, claiming "95% confidence" in the imagined and, as the new paper shows, imaginary consensus.
Climate Consensus and 'Misinformation': a Rejoinder to 'Agnotology, Scientific Consensus, and the Teaching and Learning of Climate Change' decisively rejects suggestions by Cook and others that those who say few scientists explicitly support the supposedly near-unanimous climate consensus are misinforming and misleading the public.
Dr Legates said: "It is astonishing that any journal could have published a paper claiming a 97% climate consensus when on the authors' own analysis the true consensus was well below 1%.
"It is still more astonishing that the IPCC should claim 95% certainty about the climate consensus when so small a fraction of published papers explicitly endorse the consensus as the IPCC defines it."
Dr Willie Soon, a distinguished solar physicist, quoted the late scientist-author Michael Crichton, who had said: "If it's science, it isn't consensus; if it's consensus, it isn't science." He added: "There has been no global warming for almost 17 years. None of the 'consensus' computer models predicted that."
Dr William Briggs, "Statistician to the Stars", said: "In any survey such as Cook's, it is essential to define the survey question very clearly. Yet Cook used three distinct definitions of climate consensus interchangeably. Also, he arbitrarily excluded about 8000 of the 12,000 papers in his sample on the unacceptable ground that they had expressed no opinion on the climate consensus. These artifices let him reach the unjustifiable conclusion that there was a 97.1% consensus when there was not.
"In fact, Cook's paper provides the clearest available statistical evidence that there is scarcely any explicit support among scientists for the consensus that the IPCC, politicians, bureaucrats, academics and the media have so long and so falsely proclaimed. That was not the outcome Cook had hoped for, and it was not the outcome he had stated in his paper, but it was the outcome he had really found."
Christopher Monckton of Brenchley, an expert reviewer for the IPCC's imminent Fifth Assessment Report, who found the errors in Cook's data, said: "It may be that more than 0.3% of climate scientists think Man caused at least half the warming since 1950. But only 0.3% of almost 12,000 published papers say so explicitly. Cook had not considered how many papers merely implied that. No doubt many scientists consider it possible, as we do, that Man caused some warming, but not most warming.
"It is unscientific to assume that most scientists believe what they have neither said nor written."
-----
Climate Consensus and 'Misinformation': A Rejoinder to Agnotology, Scientific Consensus, and the Teaching and Learning of Climate Change
David R. Legates, Willie Soon, William M. Briggs, Christopher Monckton of Brenchley
http://link.springer.com/article/10.1007/s11191-013-9647-9
Abstract
Agnotology is the study of how ignorance arises via circulation of misinformation calculated to mislead. Legates et al. (Sci Educ 22:2007 to 2017, 2013) had questioned the applicability of agnotology to politically-charged debates. In their reply, Bedford and Cook (Sci Educ 22:2019 to 2030, 2013), seeking to apply agnotology to climate science, asserted that fo ssil-fuel interests had promoted doubt about a climate consensus. Their definition of climate 'misinformation' was contingent upon the post-modernist assumptions that scientific truth is discernible by measuring a consensus among experts, and that a near unanimous consensus exists. However, inspection of a claim by Cook et al. (Environ Res Lett 8:024024, 2013) of 97.1 % consensus, heavily relied upon by Bedford and Cook, shows just 0.3 % endorsement of the standard definition of consensus: that most warming since 1950 is anthropogenic. Agnotology, then, is a two-edged sword since either side in a debate may claim that general ignorance arises from misinformation allegedly circulated by the other. Significant questions about anthropogenic influences on climate remain. Therefore, Legates et al. appropriately asserted that partisan presentations of controversies stifle debate and have no place in education.
UPDATE: Cook and Nuccitelli paper rejected:
Bishop Hill writes:
The Benestad (Cook, Nuccitelli) et al paper on "agnotology", a bizarre concoction that tried to refute just about every sceptic paper ever written has been rejected by Earth System Dynamics
Based on the reviews and my own reading of the original and revised paper, I am rejecting the paper in its current form. The submission is laudable in its stated goals and in making the R source code available, but little else about the paper works as a scientific contribution to ESD. While I think as an ESDD publication at least a discussion was had and the existence of the R routines has been brought to the attention of the various interested communities, the manuscript itself is not a good fit for this journal and would need substantial further revisions before being ready (if ever) for this journal.
Aug 19, 2013
Top 10 jumbo foundation grants fund Big Green
by RON ARNOLD on AUGUST 16, 2013
Although the public image of environmentalist finance has shifted from the 1960s Birkenstock-clad hippie, the results of my new survey of Big Green grant amounts may pop a few eyes.
In the past decade or so, there were 345,052 foundation grants for the environment, totaling $20,826,664,000 (twenty billion and change), according to an authoritative database.
In the mid-1990s, I began using $10 million as the baseline for a Big Green big grant, which is what I surveyed this week. That was generous for a single gift at the time, but things changed. Generosity had less and less to do with foundation donations as "prescriptive grants" appeared and took command.
"Prescriptive" is foundationese for "here's some money to do what you're told, and we want an accounting of the results." Environmental groups complained, but pioneer "prescriptivist," Donald Ross, then executive director of the Rockefeller Family Fund, told an audience of fellow foundation executives in 1992, "Too bad. They're players, we're players."
Donor foundations formed cartels such as the 200-plus member Environmental Grantmakers Association and the smaller, farther-left National Network of Grantmakers.
Donors began posting notices saying, "We do not accept unsolicited applications," and "Applications by invitation only." Foundations had quietly taken substantial control of the environmental movement by 2000.
However, I tracked foundation grants to see who was really the power and direction behind the campaigns and protests and lawyers and lobbyists. Today, foundations are the backbone of Big Green.
My survey found the Pew Charitable Trusts at Number 10, the bottom of the big-grant heap with $40 million to Oceana, a Washington-based ocean-only group formed in 2001 by - who else? - the Pew Charitable Trusts, Oak Foundation, Marisla Foundation, and Rockefeller Brothers Fund - foundations creating Big Green activists to satisfy foundation agendas.
Number 9: Colorado's Denver Foundation, a "community foundation" with numerous endowments, as distinct from individual or family endowed "private foundations," such as Pew and Rockefeller (both types are classed 501c3).
Denver Foundation gave $50 million to Wildlife Experience, a museum where you go inside to learn about the outside, in five $10 million grants at the same time, a "cluster grant."
Number 8: The Foundation for Deep Ecology was created in 1998 by Douglas Tompkins by cashing out his share in clothing firm Esprit in a divorce settlement.
FDE ranks Number 8 for its $70.1 million gift to Tompkins' Conservation Land Trust, through which he rules over large swaths of Chile and Argentina that he purchased, generating conflicts with the government over access to resources.
Number 7: The Walton Family Foundation (WalMart money) gave $118 million to Arlington, Va. based Conservation International, a group notorious for meddling in Third World countries with orders from offices that field employees and locals do not agree with.
Number 6: The Robert W. Wilson Charitable Trust (fortune of the legendary short seller) gave $155 million in similar grants to the Nature Conservancy and the Wildlife Conservation Society.
Skipping Number 5, Number 4 is the Sierra Club Foundation (501c3), which gave the Sierra Club (501c4) and its chapters $186 million.
The Top Three are computer-related endowments:
Number 3 is the David and Lucile Packard Foundation that gave $280 million to ClimateWorks Foundation and two others.
Number 2 is the Gordon and Betty Moore Foundation that gave $332 million to Conservation International Foundation and others.
Number 1 is the William and Flora Hewlett Foundation, with its $341 million award to ClimateWorks Foundation and others.
Now about Number 5, which was actually the biggest single grant, $178 million from the American Land Conservancy to the California Rangeland Trust - Hearst Ranch, for a "conservation plan" with a "conservation easement" preventing future development.
The point of this green-eyeshade bean counting is simple: If you believe the noisy bolster-President-Obama anti-oil-sands Keystone XL pipeline campaign wasn't launched by a foundation (the Rockefeller Brothers Fund did it), welcome to reality.
The Internal Revenue Service ought to look into this.
Aug 14, 2013
OFA Gets Zero Attendance for Climate Change Rally
Washington Free Beacon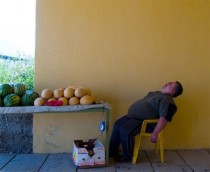 Not a single person showed up at the Georgetown waterfront Tuesday for a climate change agenda event put on by Organizing for Action, the shadowy nonprofit advocacy group born out of President Obama's 2012 campaign, the NRCC wrote in its blog.
The event page for the "Climate Change Day of Action Rally" disappeared after rainy weather appeared to drive away whatever people planned to attend. The embarrassing showing follows the news that only one volunteer stayed for an OFA Obamacare event in Centreville, Va., last week to work the phones
The NRCC blog added:
Now that I've had Phil Kerpen write half my post for me, here's the other half: it should surprise nobody including the, ah, enthusiasts over at OfA, bless their hearts that global warming doesn't have nearly the same bite to it that the Left desperately wants it to. The polling is consistent: global warming or climate change, or whatever the latest buzzword is/will be is at the bottom of any list of things that people worry about, or prioritize. It is thus unsurprising that an admittedly unpleasant sudden rain shower would stop people in Georgetown from attending: after all, OfA doesn't really want to talk about global warming at all. It's just that the two things that they should be talking about, the economy, and health care, are also two things that OfA does not dare talk about, largely because President Barack Obama clearly has no idea how to go about repairing the damage that he's caused to either.
Aug 11, 2013
Europe Pulls The Plug On Its Green Future
Benny Peiser, Global Warming Policy Foundation
As country after country abandons, curtails or reneges on once-generous support for renewable energy, Europe is beginning to realise that its green energy strategy is dying on the vine. Green dreams are giving way to hard economic realities.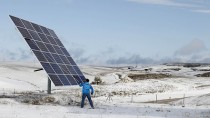 Solar panels in Spain, where 50,000 solar panels entrepreneurs face financial disaster following cuts in government subsidies. Source: AFP
Slowly but gradually, Europe is awakening to a green energy crisis, an economic and political debacle that is entirely self-inflicted.
The mainstream media, which used to encourage the renewables push enthusiastically, is beginning to sober up too. With more and more cracks beginning to appear, many newspapers are returning to their proper role as the fourth estate, exposing the pitfalls of Europe's green-energy gamble and opening their pages for thorough analysis and debate. Today, European media is full of news and commentary about the problems of an ill-conceived strategy that is becoming increasingly shaky and divisive.
A study by British public relations consultancy CCGroup analyzed 138 articles about renewables published during July last year in the five most widely circulated British national newspapers: The Sun, The Times, The Daily Telegraph, Daily Mail and Daily Mirror, which enjoy a combined daily circulation of about 6.5 million.
"The analysis revealed a number of trends in the reporting of renewable energy news," the study found. "First and foremost, the temperature of the media's sentiment toward the renewables industry is cold. More than 51 per cent of the 138 articles analyzed were either negative or very negative toward the industry."
More than 80 per cent of the articles appeared in broadsheet titles The Times, The Daily Telegraph and the Daily Mail, the report says, "but 55 per cent of these articles were either negative or very negative about the industry".
EU members states have spent about 600 billion Euros ($882bn) on renewable energy projects since 2005, according to Bloomberg New Energy Finance. Germany's green energy transition alone may cost consumers up to 1 trillion Euros by 2030, the German government recently warned.
These hundreds of billions are being paid by ordinary families and small and medium-sized businesses in what is undoubtedly one of the biggest wealth transfers from poor to rich in modern European history. Rising energy bills are dampening consumers' spending, a poisonous development for a Continent struggling with a severe economic and financial crisis.
The German Association of Energy Consumers estimates that up to 800,000 Germans have had their power cut off because they couldn't pay the country's rising electricity bills; among them, German newspaper Der Spiegel reported last October, are 200,000 long-term unemployed.
As The Washington Post writer Charles Lane observed at the time: "It's one thing to lose your job because a competing firm built a superior mouse trap; it's quite another, justice-wise, to lose it because a competitor talked the government into taking its side."
Two weeks ago, the Czech government decided to end all subsidies for new renewable energy projects at the end of this year. "The reason for this law amendment is the rising financial burden for electricity consumers," Prime Minister Jiri Rusnok said. "It threatens the competitiveness of our industry and raises consumers' uncertainty about power prices." In recent years, almost all EU member states also have begun the process of rolling back and cutting green subsidies.
Spain is a particularly cautionary tale. By failing to control the cost of guaranteed subsidies, the country has been saddled with 126bn Euros of obligations to renewable-energy investors.
Now that the Spanish government has dramatically curtailed these subsidies, even retrospectively, more than 50,000 solar entrepreneurs face financial disaster and bankruptcy.
Germany, however, is the nation that has pushed the renewables agenda furthest and is struggling most with the unintended damage of the green energy shift, its so-called Energiewende.
Germany's renewable energy levy, which subsidises green energy production, rose from 14bn to 20bn Euros in just one year as a result of the fierce expansion of wind and solar power projects.
Since the introduction of the levy in 2000, the electricity bill of German consumers has doubled.
German households will pay a renewables surcharge of 7.2bn Euros this year alone. In addition, consumers will be affected by indirect costs because industry, trade and commerce pass on their rising energy costs in product prices. And because green energy subsidies are guaranteed for 20 years, the costs threaten to rise exorbitantly as more schemes are being agreed. Energy bills are going through the roof, fuel poverty is rising and renewable energy policies face a growing public backlash. What is more, governments are increasingly concerned about the threat to Europe's industrial base.
Germany has the most expensive electricity in Europe, with an average price of 26.8 euro cents (40c) a kilowatt hour. No wonder Chancellor Angela Merkel has warned that the rapid expansion of green energy programs is weakening Germany's competitive advantage in the global economy.
The EU also is quietly rolling back its renewable agenda, which EU leaders now recognize has been raising energy prices across the Continent. At their summit in Brussels in May, leaders indicated that they intended to prioritize the issue of affordable energy over cutting greenhouse gas emissions.
The EU summit signaled Europe intended to restore its declining competitiveness by supporting the development of cheap energy, including shale gas, while cutting green energy subsidies.
However, EU environment ministers are alarmed at the prospective rollback. They are seeking to prevent the development of EU shale resources by trying to introduce EU-wide environmental barriers.
Until recently, Europe had positioned itself as the global leader in climate protection and renewable energy, with Germany leading the way with ambitious targets and generous subsidies that boosted solar power and wind energy.
More than half of the world's solar panels are installed in Germany. On June 6, Germany's solar power production touched a new record of 23.4 gigawatts, meeting almost 40 per cent of the country's entire peak electricity demand. But to understand that this record is quite meaningless, consider the grid's narrow escape last winter. For many weeks in December and January, Germany's 1.1 million solar power systems generated almost no electricity. During much of those overcast winter months, solar panels more or less stopped generating electricity. To prevent blackouts, grid operators had to import nuclear energy from France and the Czech Republic and power up an old oil-fired power plant in Austria.
Subsidies are extremely generous and guarantee investors an almost 10 per cent annual return for 20 years. Given such an unparalleled offer, it is not surprising that more than a million families already have installed solar panels. This solar boom, however, has saddled the country with obligations of more than 130bn Euros in subsidies, leading to ever increasing energy prices.
As wealthy homeowners and businesses owners install solar panels on their homes and commercial buildings, low-income families, living in rented apartments, have to foot skyrocketing electric bills. Many can no longer afford to pay, so the utilities are cutting off their power.
To stop the solar boom, the government has reduced feed-in tariffs for photovoltaic schemes in the past few years. Since 2010, however, more than 5000 companies involved in the solar business have closed, shedding tens of thousands of green jobs.
Germany's biggest companies, such as Siemens and Bosch, are abandoning the industry too. Their renewable energy strategies resulted in costly debacles. Siemens, Europe's largest engineering company, announced in June that it would close its entire solar division, at a loss of about 1bn. Last month the Siemens board fired its chief executive, Peter Loescher. His dramatic dumping was seen in the context of a catalogue of disastrous misinvestments in the green energy sector he presided over.
For Bosch, another German giant, its move into solar ended in disaster too, costing the electronics company even more than Siemens: about 2.4bn Euros.
During the past year, the wave of bankruptcies in solar has devastated the entire industry, while solar investors have lost almost 25bn Euros on the stockmarket.
Now Germany plans to phase out subsidies altogether, its solar industry is likely to disappear by the end of the decade.
Most observers were convinced the energy gap caused by Germany's decision, two years ago, to phase out nuclear power would be filled by wind and solar power. Hardly anyone realized that the extraordinary boom in renewable energy construction would generate a coal boom too.
In fact, German CO2 emissions have been rising for two years in a row as coal is experiencing a renaissance. But CO2 emissions in the EU as a whole are likely to rise because of increased coal burning at power stations. The revelation has embarrassed the German government and dumbfounded the public, which cannot understand how a nation that has expanded renewable energy more than any other country is building 20 coal-fired power stations.
In much of Europe, coal has become much cheaper than natural gas for power generators. The reason is the collapse of the EU'ss emissions trading scheme and the subsequent decline in carbon prices, which make coal plants more economical than gas-fired power plants.
So far Europe's emissions trading scheme has cost consumers more than 300bn Euros. Massive amounts of green investments originally projected on the back of a high carbon price have been shelved and are no longer feasible. There can be little doubt Europe's flagship climate policy has turned into an utter failure. In a realistic assessment of Europe's policy shift, the International Energy Agency recently noted that "climate change has quite frankly slipped to the backburner of policy priorities".
Of all the unintended consequences of Germany's Energiewende perhaps the most extraordinary is the detrimental effect of wind and solar schemes on the price of electricity generated by natural gas. Almost 20 per cent of gas power plants in Germany have become unprofitable and face shutdown as renewables flood the electricity grid with preferential energy. To avoid blackouts, the government has had to subsidize uneconomic gas and coal power stations so that they can be used as back-up when the sun is not shining, the wind does not blow and renewables fail to generate sufficient electricity.
The mess is forcing struggling utilities to contemplate even more radical solutions. E.ON, Germany's biggest energy company, is thinking of dismantling some of its European gas power plants, mothballed because they are no longer profitable, and relocating them outside the EU. Such farcical considerations become symptomatic of the unintended consequences caused by the rapid expansion of renewable energy.
Europe's manufacturers are rapidly losing ground to international competition. Instead of putting money into the energy-expensive EU, investors are pouring money into the US, where energy prices have fallen to one-third of those in the EU, thanks to the shale gas revolution.
The naive assumption of policymakers that Europe's main competitors would follow the shift from cheap fossil fuels to expensive green energy has not materialized. Europe, The Washington Post recently warned, "has become a green-energy basket case. Instead of a model for the world to emulate, Europe has become a model of what not to do."
Europe's strategy was founded on two fears: first, that global warming was an urgent threat that needed to be prevented imminently and at all costs; and second, that the world was running out of fossil fuels, which meant oil and gas would become ever more expensive. Both conjectures, however, turned out to be wrong.
The result of a fear-driven gamble with the Continent's industrial future is a costly shambles that threatens to undercut Europe's economic and political position in a world that is sensibly refusing to follow its lead.
Germany's green energy strategy is likely to change significantly after federal elections on September 22; Merkel has promised voters to drastically curtail the 20bn Euro burden they have to pay renewable energy investors every year should she win.
Australians (and America) would be well advised to watch this green train wreck very closely if they wish to avoid a repeat of the fiasco that is unfolding in Europe.BTW, Obama's EPA is proceeding with Europe as its model. Unless we stop it, we will suffer the same results, that will hurt the poor and middle class the Obama administration claims it thinks about every day.
--------
Persistent Cold Weather Keeps Thwarting German Efforts To Fight Warming!
By P Gosselin on 5. August 2013
According to preliminary findings of the Arbeitsgemeinschaft Energiebilanzen (AGEB), Germany has consumed far more energy in the first half of this year than a year earlier, up 4 percent.
Alarmist site Klimaretter here, quoting the AGEB report, attributes the increased energy use to "the comparably long winter and the cool spring". The AGEB writes that economic development played no role in the increased consumption.
According to the AGEB, consumption of natural gas rose almost 10%. Black coal consumption, a major contributor to CO2 emissions, jumped 8%.
Consumption of the massively subsidized renewable energy jumped only 4%. Most of the increase was due to biomass and hydro-power. According to the statistics, wind energy supplied 10% less energy into the grid during the period than a year earlier.
The bulk of Germany's energy consumption continues to be supplied by fossil fuels, about 1/3 by oil, a quarter by natural gas, and 23% by coal. Only 11.7% was supplied by renewable energy in the first half of 2013, despite the massive subsidies. Renewable energy's share in the energy mix remains unchanged from a year earlier.
In summary Germany's investment in the energy transition to renewable energy has cost consumers tens of billions of euros, but has only resulted in higher (not lower!) CO2 emissions, its share remains stagnant, and energy bills for the poor have skyrocketed.
Ironically, experts blame the lack of progress in curbing energy use and combatting global-warming emissions on the persistent cold weather.
Aug 07, 2013
Tornado season close to quietest ever despite the two F-5s in Oklahoma
By Joseph D'Aleo, Weatherbell Analytics
TWC sadly did a story interviewing Jeff Masters of their affiliate Weather Underground (named after an Bill Ayers radical left organization founded on the Ann Arbor campus of the University of Michigan, where Jeff's Weather Underground was founded) claiming warming is occurring at a rate ten times any time in history. As we have shown numerous times, that is only in the manipulated data from NOAA/NASA. Record highs in long term 90 year + stations, show what Hansen observed in 1999 before the heavy duty manipulation started, that the 1930s was by far the warmest decade.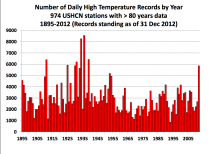 Enlarged
The media and some at NOAA continue to pretend and hype that extreme weather is at unprecedented levels, out global hurricane activity is at 30+ year lows, the summer has been wetter and cooler (many more record lows than highs) with a shrinking drought (hard to do in summer). And in the US, the number of tornadoes is within 14 of the lowest ever recorded year to date.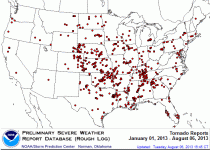 Enlarged


Enlarged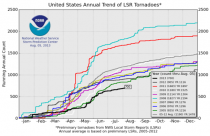 Enlarged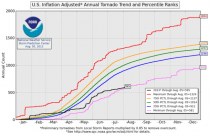 Enlarged
My meteorologist buddy BK sent this video yesterday on the Moore tornado. He comments "This is the most dramatic one I have seen yet, at least from a documentation standpoint. It's long, but it didn't seem that way b/c I was mesmerized and in awe most of the time. His dialogue is excellent. No yelling or wild, silly statements. He gets really choked up around 13:20. After that is quite dramatic as he is driving through the damage path running right behind the tornado. Around 8:15 he gets caught in a violent RFD suddenly, even though it appears he was not too close. He catches the tornado right from genesis, and as you can see, it had relatively modest start (for a tornado anyways)—classic narrow funnel. It quickly turns into a elephant trunk, then cylinder, and then into a monster wedge."
Jul 22, 2013
Delaware's "future weather"
By Paul Driessen and David R. Legates
We're getting burned by phony science and authoritarian power grabs
During this hot, wet summer, a "national climate expert" recently told Delawareans that they can expect even hotter summers with a climate like Savannah, Georgia's by the end of the century. The culprit, naturally: runaway global warming.
Savannah residents are long accustomed to their climate and, thanks to air conditioning and other modern technologies, are better able to deal with the heat and humidity. Nevertheless, the impact on Delaware will be disastrous, Dr. Katherine Hayhoe claims. Nonsense.
Her forthcoming report promises to be no different than other proclamations that persistently predict dire consequences from climate change and then present taxpayers with a hefty bill. In this scenario, the State's Department of Natural Resources and Environmental Control (DNREC) paid $46,000 for her report, presumably to suggest that "independent scholars" support the state's positions.
The preliminary release of her report reads like the script from a bad disaster movie, think The Day After Tomorrow and An Inconvenient Truth. Like them, it also plays fast and loose with the facts.
It fails to mention the extreme cold that many places around the globe experienced recently. Europe and Russia in particular suffered through bitter cold the past two winters. The report likewise ignores the fact that average global temperatures have not risen at all over the last sixteen years; in fact, Earth has actually cooled slightly during the past decade.
For its really scary worst-case scenario, Dr. Hayhoe says Delaware's temperatures will rise astronomically in coming decades: with more than two full months of endless days above 95F and a hundred-fold increase in days with temperatures at or above 100F by 2100. "Trends to more extreme highs and fewer extreme lows already are apparent," Dr. Hayhoe asserts. Except they are not.
Data from 970 weather stations across the United States reveal that more record daily maximum air temperatures were set in the 1930s than in any recent decade, and no increase in frequency of higher temperatures has been observed since 1955. The Delaware State Climatologist examined New Castle County Airport records in Wilmington and found no long-term trend in either the total number of days or the number of consecutive days with maximum air temperature above 90F.
The same can be said for days where temperatures remain below freezing.
Globally, daytime high temperatures do not show significant warming and most of the warming that has been observed is confined to nighttime low temperatures. Nighttime lows are driven by turbulence (or lack thereof) near the surface, not by the accumulation of energy related to CO2 warming of the deep atmosphere.
By contrast, maximum daily temperature is a measure of the energy content of the deep atmosphere, and is thus a much better measure of the warming due to greenhouse gases. The lack of a signal in maximum temperature suggests that the rate of warming due to CO2 is relatively small and certainly much smaller than climate models suggest.
As for precipitation, Dr. Hayhoe claims that both floods and droughts will increase, with "more rain arriving as heavy downpours, and more dry periods in between." This assertion was dispelled in a recent Intergovernmental Panel on Climate Change report on extreme events, released last summer.
The IPCC report concluded that "in some regions droughts have become less frequent, less intense or shorter; for example in central North America." Similarly, the National Oceanographic and Atmospheric Administration has produced plots that show which parts of the United States are classified as moderate to extreme for dryness and wetness. While both conditions show considerable variability, neither exhibits a significant trend. NOAA also concludes that snowfall records show no long-term trend, and recent record snowfalls are the result of natural variability.
Why should Delaware's or the nation's future be any different than the past fifty years of increasing carbon dioxide concentrations? Dr. Hayhoe's bases her extreme scenarios on climate models, the same models that have predicted major temperature trends that have not materialized; greatly exaggerated short-term trends in rainfall, droughts and violent storms; and failed to predict the lack of warming since 1998. So why should we believe them now?
The real reason behind this report is to provide the State with the justification to enact draconian measures to control Delawareans' energy use and provide major subsidies for "alternative" and "renewable" energy projects. Delaware Secretary of the Environment and Energy Collin O'Mara says, "We need to make sure we have good science driving our decision-making in the years to come." Apparently, $46,000 has bought the State precisely the "science" he wanted to hear.
O'Mara came to Delaware in 2009, as part of Governor Markell's administration. Billed as "the youngest state cabinet official in the nation," O'Mara is a self-proclaimed climate-change and energy "entrepreneur." During his tenure in Delaware, he has spearheaded the administration's efforts on "climate change mitigation," renewable energy subsidies and "sustainable development."
During the last 4 1/2 years, the Markell Administration has "invested" in Fisker Automotive, leaving the State's citizens on the hook to pay for an automobile assembly plant that has created zero new jobs and produced zero cars.
Bloom Energy, which hails from the same town as O'Mara (San Jose, CA), has also been the happy beneficiary of enormous State subsidies and exceptions from environmental regulations. Delaware now labels natural gas as a renewable resource, for example but only if it is burned in a Bloom fuel cell. This enables the State to funnel taxpayer and ratepayer money from renewable energy credits to Bloom. To top it off, if the State ever decides to renege on the deal, the legislation requires that the State immediately pay Bloom twenty years worth of profits.
O'Mara has also been busy with rule-making by executive fiat. Without any public discussion or debate, and without any vote by the State legislature, O'Mara signed into law new "green" energy standards that make the First State's emission rules even more stringent than Federal regulations, via a clever process known as prospective incorporation. Through this, all provisions from the California Code of Regulations are automatically "updated," to ensure that Delaware's Code is consistent with California's.
That means any changes to the California Code implemented by the most environmentally dogmatic, job-killing and bankrupt state in the Union are immediately and completely binding via Delaware regulations. With no presentation to the people, no discussion or vote by the General Assembly, and not even any case-by-case intervention by Delaware's executive branch, California regulations are automatically the law in Delaware. With the stroke of the pen, Delaware has surrendered its sovereignty to California.
Armed with this new "scientific" report, what draconian measures might Mr. O'Mara and the Markell Administration have in store for the citizens of Delaware? Time alone will tell. However, given their track record thus far, Delawareans are going to get burned and not by global warming.
Even worse, the same sneaky shenanigans are being played out in other states, in Washington, and all over the world, through the UN, EU and environmentalist pressure groups in the name of saving the planet from computer model and horror movie disasters. These are bigger power grabs than anything King George III tried. We the People need to take notice, and take action.
Paul Driessen is senior policy analyst for the Committee For A Constructive Tomorrow (CFACT) and author of Eco-Imperialism: Green power, black death (Merril Press, 2012). David Legates is a Professor of Climatology at the University of Delaware and has studied climate change for thirty years.

The following graph could be included with the article, to illustrate its key points about global temperatures and computer models.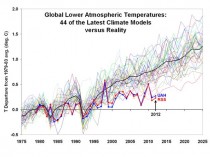 Enlarged

The multiple light colored lines track projections of mean global temperature for the lower Troposphere by 44 climate models. The dark black line is the 44-computer-model average, which is what the UN's Intergovernmental Panel on Climate Change (IPCC) uses as its best estimate of predicted "catastrophic manmade global warming." The two brightly colored lines represent the actual satellite temperature records measured by the University of Alabama Huntsville (UAH blue) and Remote Sensing System (RSS red). These two lines demonstrate that actual planetary temperatures are far below what IPCC models predict.
-------
As clueless and/or devious as Katherine Hayhoe are our Connecticut Senators. Actual quote from US Senator Chris Murphy (D-CT): "Storms are caused by increased levels of carbon pollutants" See Tom Nelson.
Conn. Residents Call For Action over Climate Change Western Massachusetts Breaking News and First Warning Weather with WGGB.com ABC 40. From superstorm Sandy to massive snow fall, the state's two senators addressed activists to show that they have a plan."This is not in doubt...this..these weather trends and these," said Senator Chris Murphy. "Storms are caused by increased levels of carbon pollutants." Chris Murphy (politician) Wikipedia, the free encyclopedia Christopher Scott "Chris" Murphy (born August 3, 1973) is the junior United States Senator from Connecticut and a member of the Democratic Party.Twitter / ChrisMurphyCT: W @SenBlumenthal& ppl from ...W @SenBlumenthal& ppl from all walks of life who want action on climate change. Inaction isn't an option #ActOnClimate pic.twitter.com/kTN9xgNAcm