May 22, 2017
Climate science shows lack of humility
By Anthony J. Sadar Sunday, May 21, 2017
ANALYSIS/OPINION:
Best practice in science is achieved through a minimum of two critical conditions: humility and perspective. If humility and perspective are ignored, science suffers.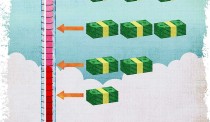 The field of climate science is suffering from some lack of both humility and perspective.
This deficiency in climatology may certainly be unintentional. But, it is quite possible that the atmospheric topic of utmost interest and importance to many scientists and laymen alike - Earth's future climate - has been degraded by groupthink. If so, the degradation by groupthink likely originated in the halls of academia, arguably the locus of the largest echo chamber on the globe. Therein, schoolyard science, with its frequent go-along-to-get-along environment and immature, name-calling attitude, can germinate and thrive.
Moreover, an exemplar of hubris is academic certitude over long-range climate outlooks - confident predictions of not just near-future average global conditions, but regional and local climes, for not just decades, but centuries into the future.
Indeed, sophisticated climate studies involve the highest level of computer modeling and require the brain power and computational capacity available in the academic community. But, because of the complexity of the challenge, a broad perspective is also required, and the campus, schoolyard setting is somewhat limited in this regard.
Enter the government to finance and run resource-intensive climate models and yet add its own inherent bias.

Government assistance often brings politically-driven science, cost overruns, redundant efforts, and the like.
That[s what the Trump administration is looking into, but is facing opposition from academia and government inspired "resistance."
So, on with Science Marches and Climate Marches for more "settled science."
Yet science is never really settled, especially when the perspective of a large group of well-qualified contributors are ignored or denigrated.
Atmospheric-science practitioners with years of field experience have been marginalized, and with them their fruitful insight into the operations of the climate system.
Many "contrarians" have challenged the carbon-dioxide-increase-leads-to-disastrous-climate-disruption hypothesis with, for instance, the fundamentals of atmospheric physics and chemistry that point to the controlling impact of water on the atmosphere. Water in all its phases - as ice in glaciers, snow cover, and cloud particles; as liquid in the oceans, cloud droplets, and rain; and as invisible airy vapor - mitigates temperature extremes and its related climate connections.
Furthermore, in addition to noting the substantial, and sometimes overwhelming, climatic influence of the occasional El Nino, Pacific Decadal Oscillation, North Atlantic Oscillation, and the like, challengers have also advanced concepts such as cosmic ray linkage with cloud condensation nuclei formation at different altitudes of the troposphere, stratospheric ozone depletion's relationship with global warming, and the well-documented variation in solar radiation impact on temperature trends.
And, nothing beats proof of concept like reality. For nearly 20 years, global mean temperatures have been stubbornly stable when according to revered climate model predictions those temperatures should have been displaying a dramatic increase.
As physicist Richard P. Feynman once observed: "It doesn't matter how beautiful your theory is, it doesn't matter how smart you are. If it doesn't agree with experiment, it's wrong." And, by extension, if your climate model's forecast doesn't agree with observation, it's wrong.
Author Michael Crichton recognized that the work of science "has nothing whatever to do with consensus. Consensus is the business of politics. Science, on the contrary, requires only one investigator who happens to be right, which means that he or she has results that are verifiable by reference to the real world. In science consensus is irrelevant. What is relevant is reproducible results."
While arrogance yields ignorance, humility is graced by wisdom. And, while narrow thinking limits expanded understanding, perspective broadens horizons.
At the risk of overdosing alliterations: An air of arrogance leads to an atmosphere of fear over pretentious predictions of a climate of calamity.
The outcome: People and planet suffer from misdirected talent and taxes.
The remedy: A potent prescription of humility and perspective.
Anthony J. Sadar is a certified consulting meteorologist and author of "In Global Warming We Trust: Too Big to Fail" (Stairway Press, 2016).
May 15, 2017
Seattle Times Climate Change Article is Dead Wrong
By Dr. Cliff Mass
The big front page story in the Seattle Times today, both online and in print, is about how climate change has caused the death of a 72-year old pine tree in the University of Washington arboretum. Unfortunately, the underlying premise of the story is false, representing another unfortunate example of exaggerating the impacts of global warming.

The writer of the story, Linda Mapes, could not have been more explicit:
The cause of death was climate change: steadily warming and drier summers, that stressed the tree in its position atop a droughty knoll.
So, lets check the data and determine the truth. My first stop was the nice website of the Office of the Washington State Climatologist (OWSC), where they have a tool for plotting climatological data. Here is the summer (June-August) precipitation for the Seattle Urban Site, about a mile away from the tree in question. It indicates an upward trend (increasing precipitation) over the period available (1895-2014), not the decline claimed by the article.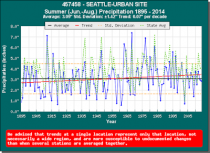 Or lets go to the Western Region Climate Center website and plot the precipitation for the same period, considering the entire Puget Sound lowlands (see below) using the NOAA/NWS climate division data set and for June through September. Very similar to the Seattle Urban Site. Not much overall trend, but there is some natural variability, with a minor peak in the 70s and 80s.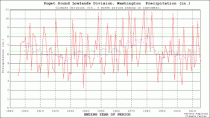 It is also important to note that summer precipitation is relatively low in our region--most our precipitation arrives in four months from late fall to midwinter. Looking at annual precipitation (see below), we find the same story: modest upward trend in precipitation.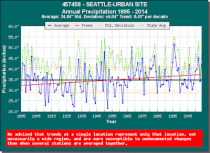 So the claim that summers in our region are drying is simple false. Busted.
So what about temperature? Let's examine the maximum temperature trend at the same Seattle Urban location for summer (June through August). There is a slight upward trend since 1895 by .05F per decade. Virtually nothing.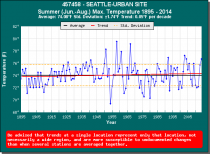 What about the period in which the poor lived (it was planted in 1948)? As shown below, temperatures actually COOLED during that period.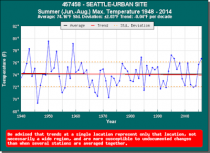 You get the message, the claim that warming summer temperatures produced by "climate change" somehow killed this pine is simply without support by the facts.
So the bottom line of all this is that the climate record disproves the Seattle Times claim that warming and drying killed that pine tree in the UW arboretum. There is no factual evidence that climate change ended the 72-year life of that tree. The fact that a non-native species was planted in a dry location and was not watered in the summer is a more probably explanation.
Why is an important media outlet not checking its facts before publishing such a front page story? Linda Mapes is an excellent writer, who has done great service describing the natural environment of our region. Why was she compelled to put a climate change spin on a story about the death of a non-native tree?
Now something personal. Every time I correct misinformation in the media like this, I get savaged by some "environmentalists" and media. I am accused of being a denier, a skeptic, an instrument of the oil companies, and stuff I could not repeat in this family friendly blog. Sometimes it is really hurtful. Charles Mudede of the Stranger is one of worst of the crowd, calling me "dangerous" and out of my mind (see example below).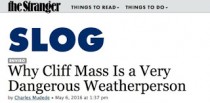 A postdoc at the UW testified at the Environment Committee of the Washington State House saying that I was a contrarian voice. I spoke to her in person a few days later and asked where my science was wrong--she could not name one thing. But she told me that my truth telling was "aiding" the deniers. We agreed to disagree.
My efforts do not go unnoticed at the UW, with my department chairman and leadership in the UW Climate Impacts Group telling me of "concerns" with my complaints about hyped stories on oyster deaths and snowpack. One UW professor told me that although what I was saying was true, I needed to keep quiet because I was helping "the skeptics." Probably not good for my UW career.
I believe scientists must provide society with the straight truth, without hype or exaggeration, and that we must correct false or misleading information in the media. It is not our role to provide inaccurate information so that society will "do the right thing." History is full of tragic examples of deceiving the public to promote the "right thing"--such as weapons of mass destruction claims and the Iraq War.
Global warming forced by increasing greenhouse gases is an extraordinarily serious challenge to our species that will require both mitigation (reducing emissions) and adaptation (preparing ourselves to deal with the inevitable changes). Society can only make the proper decisions if they have scientists' best projections of what will happen in the future, including the uncertainties.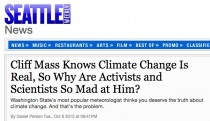 Addendum: Why Do I Spend More Time Dealing with Exaggerators Rather Than Skeptics
Some folks have complained that I spend more time in the blog correcting "Exaggerators" and "Hypers" than "Deniers" and "Skeptics". Thus, they suggest I am a closet Denier or Skeptic myself. Let me explain. I deal with exaggerators more for two simple reasons:
1. I live in Seattle, WA. The media here (e.g., the Seattle Times, The Stranger, etc.), in concert with the left-leaning, environmental sentiments of the region, overwhelming tend towards exaggeration of the effects of global warming. Same thing with local politicians. If they went the other way (saying that global warming is nonsense), I would comment on it.
2. There are LOTS of scientists that are fact-checking skeptics but extremely few that are dealing with the exaggerators. There are a number of reasons for this, including the political leanings of many scientists.
Apr 26, 2017
Update on Possible Ecoterror Attack at UAH
Dr. Roy Spencer
April 26th, 2017
Ecoterrorism. Eco-terrorism is defined by the Federal Bureau of Investigation as "the use or threatened use of violence of a criminal nature against people or property by an environmentally oriented, subnational group for environmental-political reasons, or aimed at an audience beyond the target, often of a symbolic nature." - Wikipedia
It appears that at least some people are beginning to take the shots fired into the side of our building a little more seriously.
By way of clarification, the March for Science here on Saturday did not pass right by our building, but started farther down our street. (As I've said before, the shots would not have been fired during the march. The expensive "boutique" FN Five-seven [5.7 mm] gun used has a loud report - everyone would have noticed.)
Also, there seems to be some disagreement whether all shots hit John Christy's floor (4th floor of the NSSTC). UAH Chief of Staff Ray Garner has been quoted in this AL.com story that a few shots hit the third floor. I did not see those when surveying the outside; each floor has about 5 ft of window at the top, and 3 ft of siding below the window. Some of the bullets hit the siding below the window. Below the 4th floor would then be 5 feet of window on the third floor, and no third floor windows were hit that I could tell.
But it doesn't really matter. The bullets all hit near John Christy's office.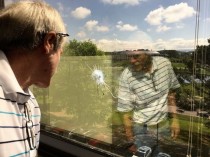 University of Alabama in Huntsville climate scientist Dr. John Christy looks at a bullet hole in the window of the office next to his at the university. Seven shots were fired at the building over the weekend of April 22-23, and Christy believes his floor was targeted. (Lee Roop/lroop@al.com)
In fact, these details miss the big picture of this event. Even if: (1) the bullets had hit the other end of the building, (2) on the first floor, (3) it didn't happen on Earth Day weekend, and (4) there was no March for Science that weekend, I would still consider 7 shots fired into our building a probable act of ecoterrorism.
I am not surprised this happened at all.
For the last 25 years our science has been viewed as standing in the way of efforts to institute a carbon tax or otherwise reduce carbon dioxide emissions. The amount of money involved in such changes in energy policy easily run into the hundreds of billions of dollars...more likely trillions.
When I was at NASA, my boss was personally told by Al Gore that Gore blamed our satellite temperature dataset for the failure of carbon tax legislation to pass.
So why am I not surprised that our building was shot up?
Because people have been killed for much less reason than hundreds of billions of dollars.
This is why the FBI needs to get involved in this case, if they haven't already. Ecoterrorism is a federal crime. There were federal employees in the building at the time the shots were fired into the building.
The original media reports that the event was a "random shooting" were, in my opinion, irresponsible. As far as I know, there were no questions asked of us, like "Do you know why someone might have intentionally shot into your building?"
Well, hell, yes I know why. And I'm a little surprised it didn't happen sooner.
John and I have testified in congress many times on our work. John has been particularly effective in his testimony over the years. While I believe the shots were a "message" to us, I don't think John or I are that worried for our personal safety. Whoever did this is most likely not going to approach us and physically threaten us in person. Instead, we mostly just get hate mail. Nevertheless, just in case I took personal defense training with firearms years ago.
I doubt that the perps will ever be identified. But if UAH employees want to have a sense of safety, it is not helpful for such an event to be deemed a "random shooting" within only six hours of it being reported, and the public told it won't be investigated any further. Last evening, the UAH police sent out emails to everyone on campus asking for any additional information related to the shooting, and correcting their previous statement that no one was in the building during the shooting (NWS employees are here 24/7). The FBI needs to also be involved in this, sending a message that if anyone tries to do this again, there might be consequences.
The parents of students considering attending UAH would expect no less.
CLARIFICATION: I didn't mean to imply the motive for the shooting was necessarily financial, although the perps could have been paid to do what someone else was afraid to do on their own. It's more likely they are religiously motivated, hoping to Save the Earth. Of course, the evidence that more carbon dioxide in the atmosphere is good for life on Earth is not part of their religion.
--------
UAH Shooting Investigation Update, and Thanks
April 27th, 2017
John Christy met with the chief of police at UAH today, and I'm happy to report that, contrary to initial reports, the investigation into the seven shots fired into our building has not been dropped. UAH has also coordinated with other law enforcement, which is good.
I'd like to thank everyone who made the effort to spread the word about this event, which I consider a probable ecoterrorism attack. Rush Limbaugh also covered it, which I'm sure helped as well.
We have been asked to not make public any details of what they have learned so far. (So, please, don't ask.)
What might surprise readers here is that our "reputation" (John Christy and me) has always been more widely known on a national and international level, than a local level. We think that local law enforcement personnel were probably not aware that scientists could be the potential targets of radicals...if that's indeed what has happened.
I doubt we will learn much that we can divulge in the coming days and weeks. But the good news is that law enforcement is working on it. That's all I wanted...for it not to be ignored.
Apr 24, 2017
Climate Scientist Urges President Trump not to Cave to Ivanka's 'Climate Change Madness'
By Thomas D. Williams, Ph.D.
In an open letter to Donald Trump, climate expert Dr. Duane Thresher has urged the President not to give in to his daughter Ivanka's misguided views on global warming and her insistence that the U.S. remain in the Paris climate agreement ratified by Barack Obama last August.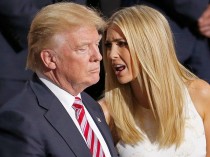 'Climate treaties like the Paris Agreement have little to do with climate," Thresher notes in his letter, which he made available to Breitbart News. "They are about economic competition. As the greatest economy in the history of the world, other countries will do anything to cripple the United States."
Thresher, who has a PhD in Earth & Environmental Sciences from Columbia University and NASA GISS and worked for years in climate monitoring, says he understands the President's temptation to listen to his daughter's advice, but begs him not to give in to that temptation.
"Countries like China will agree to anything in these treaties and simply ignore their obligations while demanding the United States fulfill theirs," Thresher said, calling belief in global warming a "popular delusion."
In his letter, Dr. Thresher also reminded President Trump of his campaign promises that led many Americans to vote for him.
"We who voted for you consider stopping this climate change madness one of your key promises," Thresher said. "If you renege on it you will lose me and many others as supporters."
After Trump's election, in fact, a number of climate change skeptics were emboldened to take more public stands against the politically imposed "scientific consensus" of global warming, welcoming a new era of free debate about a hotly contested issue.
Scientists unconvinced by the party line on climate change applauded Trump's appointment of Oklahoma Attorney General Scott Pruitt to head up the Environmental Protection Agency as an important step away from climate alarmism.
Even if Trump caves and stays in the Paris climate agreement, Thresher says, it won't win him any friends. "Your opponents are not going to support you; they'll just taunt you as being a flip-flopper," he said.
"Climate science is one of the most fascinating sciences there is. To turn it into a lie for political purposes is a crime," he stated, before urging the President to stand strong in his convictions.
"Make climate science great again," he wrote.
Apr 17, 2017
Arctic Sea Ice The Same Thickness As 1940
By Tony Heller
The Danish Meteorological Institute reports that Arctic sea ice is about two meters thick.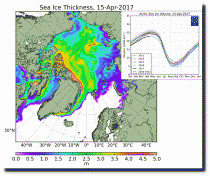 Enlarged
DMI Modelled ice thickness
In 1940, Arctic sea ice was also about two meters thick.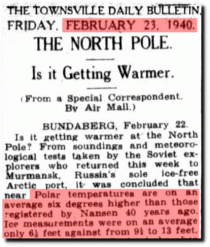 Enlarged
In 1958, the New York Times reported that Arctic ice was about two meters thick, and that people carry a popular misconception that the ice is much thicker than it is. They also predicted an ice-free Arctic within one generation.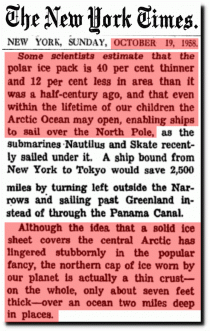 Enlarged
The Changing Face of the Arctic; The Changing Face of the Arctic - The New York Times

Arctic sea ice is about the same thickness as 75 years ago, but because people are constantly being lied to about climate by government scientists, they carry the same misconceptions which people had 60 years ago.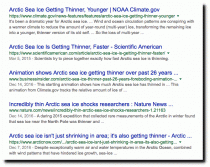 Enlarged
Apr 05, 2017
U.S. climate site for kids fails test
By James Barrante
Recently, I stumbled upon a website called "Climate Kids." It appears to be a website under the auspices of NASA. Normally, websites like these do not get my attention, except when they are specifically designed to teach science to our children. This is because children tend to believe their teachers know what they are talking about. The topic covered in that particular article was ocean "acidification." Unfortunately, most of it was not correct. It looked like the person(s) writing this material never took a chemistry course above what we call "kiddie chem."
The material covered began by trying to convince the reader that adding carbon dioxide to water always acidifies it. While this is true for "fresh" water - bodies of fresh water can be slightly acidic, having a pH below 7, because of dissolved carbon dioxide - this definitely is not true of seawater. Seawater contains high concentrations of salts. And while most people believe the salt in seawater is table salt (sodium chloride), seawater also contains high concentrations of salts known as carbonates and bicarbonates, which are antacids, causing seawater to be alkaline (basic: pH above 7), not acidic. The antacid Alka-Seltzer essentially is sodium bicarbonate.
When CO2 dissolves in seawater, it forms carbonic acid, classified chemically as a weak acid. However, bicarbonates and carbonates are salts of this weak acid, and when a weak acid is combined with one of its salts, it forms what is known as a buffer system. Buffer systems hold the pH (the level of acidity or alkalinity) constant. Our oceans are giant buffer systems, buffered to a pH of about 8.2. The actual pH of any buffer system depends on the ratio of the concentrations of weak acid or weak base to their salts.
Curiously, the CO2-bicarbonate buffer system is the exact same buffer system that maintains the pH of the blood in humans to a constant value of pH 7.4. Our blood is slightly less alkaline (approaching a neutral pH 7) than is seawater because the concentration of dissolved CO2 in blood is about 130 times greater than it is in seawater. To actually acidify seawater (i.e., drop its pH to below 7) with CO2, the level of CO2 in the atmosphere would have to increase to about 70,000 parts per million by volume (ppmv), compared with the present 400 ppmv.
I should point out to those who feel compelled to nitpick, these numbers are approximate, because pH depends on temperature and other properties of solutions. For example, blood temperature is about 37 degrees C; seawater temperature varies from about 2 degrees C at the poles to about 30 degrees C at the equator. The boundary between acid-base (neutrality) is pH 7 only at 25-degrees C.
Moreover, contrary to popular belief, if a solution is less alkaline, it is not more acidic. It is not like "hot and cold," which are relative to the surroundings. A substance can be hot and cold at the same time. But, by definition, a solution cannot be acidic and alkaline at the same time. At 25 degrees C, a solution is acidic, if its pH is below 7, and alkaline, if its pH is above 7. To suggest a solution with a pH of 8.1 is more acidic than one with a pH of 8.4 totally misrepresents the concept of acid and base.
James Barrante of Cheshire is a retired college professor of physical chemistry.
Feb 28, 2017
Bill Nye Loses The Plot
by Willis Eschenbach
--------
Bill Nye the not-really-Science Guy was on Tucker Carlson tonight. Tucker tried time after time to get Nye to say how much of the change was due to humans ...and time after time, Nye refused to say what his opinion was.
So Tucker got him to agree that the climate has always been changing.
Then, in response to the question as to "what the climate would be like if humans weren't involved right now", Bill Nye said (according to my own transcription):
NYE: "The climate would be like it was in 1750. And the economics would be that you could not grow wine-worthy grapes in Britain as you can today because the climate is changing. The use of pesticides in the Midwest would not be increasing because the pests are showing up sooner and staying around longer. The forests in Wyoming would not be overwhelmed by pine bark beetles as it is because of climate change. That's how the world would be different if it were not for humans".
Oh, my goodness. Isn't that touching? Nye refuses to say how much of the change in temperature is due to humans ... but at the same time he claims that if there weren't humans, that the climate would have stopped changing in 1750. Without humans, he says, we would have a climate which was forever the same…
...and people actually believe this guy? Tucker Carlson was scathing:
CARLSON: You're not even a scientist, you're an engineer ... So much of this you don't know, you pretend that you know, and you gotta believe people who ask you questions.
Another escapade in the world of pseudo-science. Anyhow, after writing this I found a YouTube video of the interview - check it out, it's good for a laugh.
Regards to all,
w.
See in an early ICECAP post Why Bringing Sanity Back on Climate Change Won't Be Easy.

Feb 22, 2017
Time's misreading of science
The magazine would rather settle than search.
By Anthony J. Sadar Tuesday, February 21, 2017
ANALYSIS/OPINION:
As demonstrated by the confirmation hearings of Scott Pruitt for new Environmental Protection Agency chief, all-out war is being waged against the Trump administration by leftists who believe science is under attack from the evil empire.
Belief that this new administration puts science in jeopardy is not surprising given the fact that so many are confused about what science is, how it is practiced, and what it can tell us about the future.
The popular press adds to the confusion about science. Take the Feb. 13 issue of Time magazine, for example. In an article titled "How a war on science could hurt the U.S. - and its citizens," the authors open with this assessment of science: "The discipline of science is one where the facts, once they are peer-reviewed and published in scientific journals, are fixed. They're not open to interpretation, or at least not much."
There are numerous problems with this confused understanding of science. Regardless, the authors continue by contrasting "science" with politics "in which nearly everything can be negotiated. But as the first days of the Trump administration have shown, many of those seemingly settled scientific facts - the ones that have informed countless policies from previous U.S. administrations - are once more up for debate."
Science can be defined at its most basic level as "knowledge," or what we think we know about a given topic. Since absolute truth on a subject is elusive, science is tentative, adjusted as additional information is accumulated through more research and wider perspective and, yes, even debate.
In practice, science can certainly be influenced by politics or, essentially, ideology. Those on the left apparently do not see a leftist ideology permeating certain areas of contemporary scientific practice and so equate scientific conclusions that endorse their beliefs as being absolutely irrefutable.
This blinkered perception manifests itself as "settled science" and is apparent in climate change science, and especially the power of this science to ascertain Earth's future climate.
Accurate prediction is one of the biggest challenges in scientific practice, and indeed an accurate prediction for the right reasons is one of the conditions for a scientific assertion to be correct.
Here's where climate science has fallen woefully short in recent decades.
The prediction that man-made carbon-dioxide emissions drive catastrophic climate change beginning with mounting global temperatures has been proven paltry at best. Yet, the dire global warming prediction, years ago, evolved into a belief and brandished as a proselytizing mantra by climate change crusaders.
Now the current climate change hypothesis is struggling and can use some insight from qualified, skeptical scientists to broaden the ambient landscape.
That broadening is difficult with a Time-skewed understanding of science and scientific practice. To say that the discipline of science is where facts are fixed once they are peer-reviewed and published is confused at best. Scientists use facts (like those associated with the fundamental principles of physics) as they observe natural events, propose hypotheses, and test their explanations of what they observe. Hypotheses are submitted to peer-reviewed scientific journals for critique.
The peer-review process is assumed to be rigorous, fair and balanced; however, that is not always the case. Documented instances have occurred where data in published reports were discovered to be falsified, or when work described was never actually performed, or when only friendly reviewers were chosen to assure acceptance of the conclusions, and the like. So, facts cannot be determined by peer review any more than real truth can be decide by an ad hoc committee. And published results are always open to further review, challenges and certainly interpretation.
True believers trust that their concept of science is rock-solid, especially when the science they choose to believe conforms to their preconceived notions.
But, the current world of climate science has been astutely branded by some challengers as a "climate-industrial complex." The moniker may be well suited to describe the seemingly enormous political and monetary influence of this particular field by left-leaning vested interests.
Perhaps, with the arrival of the pragmatic Trump team, including Scott Pruitt, the climate world of "seemingly settled scientific facts" is about to be rocked by a bit more conservative assessment.
Anthony J. Sadar is a Certified Consulting Meteorologist and author of "In Global Warming We Trust: Too Big to Fail" (Stairway Press, 2016).