Sep 28, 2014
Good-bye TWC (The Weather Channel)
Mike Mogil CCM
WEATHERTORIAL: The following opinions are mine alone. This weathertorial was very difficult to write because, as a professional meteorologist, I have been a supporter of The Weather Channel (TWC) since its inception in 1982.
I believed in The Weather Channel when it was in its infancy, when many thought it would fail. I watched TWC religiously as it reached maturity and became a major national weather force.
And then, growing beyond its optimal bounds, and succumbing to buyouts by Comcast and NBC-Universal, I watched as the behemoth grew top-heavy with corporate bureaucrats and started to topple. Now, more than 30 years old, TWC is, in my opinion, past its prime.
Hence, as of September 24, 2014, I declared The Weather Channel off limits on my TV. I decided that if I, "needed to check the radar, babe," (referring to my wife, who has lived with my incessant channel switching for years), I would get up, walk to my computer, and call up the local National Weather Service radar image.
There are several reasons behind this important, what I consider to be earth-shattering, decision. First, many years ago, TWC removed weather from its mainstream evening hours programming and added weather movies, special series, and other features. Yet, it was during this time period that many significant weather events were occurring. Getting real-time weather information, the primary purpose behind TWC's existence, was compromised.
Next, The Weather Channel decided that every weather event had to have a "dark side." I can still recall weathercasts during which the weather was picture perfect and, yet, TWC meteorologists proudly announced, "(paraphrased)...but, you could die from high UV readings."
Then, TWC jumped into the climate change cauldron. Instead of reporting weather news and giving a balanced approach to the evolving issue, TWC opted for the NBC mantra of pushing the "green agenda." Although I don't buy into a human-driven climate catastrophe (because, as my wife noted, "how can we be so presumptuous as to believe that we can control such major planetary forces?"), I do subscribe to being a better planetary steward. I do this with a critical mindset (asking these and other questions):
• is the approach reasonable?
• is it cost effective?
• does it attack the real problem?
• is the solution deliverable?
• what are the downside risks?
It also quickly became apparent that The Weather Channel only reported on events that supported the human-caused climate change hypothesis. They never or rarely reported when events didn't support it. When heat waves ensued, heat was the focus. When the polar vortex struck last winter, record cold was not the watchword, just the "unusual weather pattern." When the summer of 2014 was chilly across the northeast and Great Lakes, TWC keyed on the heat and drought in California. I won't even go into TWC's biased ice cap reporting!
Further, every weather event, no matter how insignificant, is almost always tied to climate change.
Big weather events (such as the Halloween Storm of 1991) are often characterized as the only time such an event has ever happened or that the event is unprecedented. EVER? In the geologic history of the Earth? Or only in the past 50 years?
It is pretty obvious to me that TWC has swallowed the whole box of Kool-Aid as it pushes the human-caused climate change agenda at every turn. The other day, Al Roker and Stephanie Abrams went over the edge. They were reporting on the 300,000 protestors who wanted immediate governmental action to confront climate change. Ms. Abrams commented, "(paraphrased) with this type of support, we should finally be able to do something about the problem" WE?
Abrams trespassed beyond reporting and jumped well past editorial boundaries on this one. And, the result was the proverbial, "straw that broke the camel's back."
I wanted to watch TWC for weather - real data, real storm reports, information and more, all in one place. Instead, I was subjected to politically-based rhetoric and hidden editorials (in the guise of science), movies and series that replayed incessantly (many not even really about weather and which crowded out weather reporting), and ongoing lists of weather safety rules (ad nauseum).
Hence, I have finally decided that if TWC doesn't want me, I don't want it.
The Weather Channel has now been in the dark for 61 hours at the Mogil-Levine household. I think I am past missing the network, although I do regret not catching Jim Cantore, the maven of reliable weather information, as he weaves his incredible and mostly honest weather reporting.
And while TWC sinks, at least two other "weather channels" are rising (Fig. 1). One, WeatherNation, remains a poor upstart to even the olden TWC. However, the other, AccuWeather's weather channel, set to debut sometime in the next month or so, promises, "All Weather, All The Time." That message is a direct assault on the TWC approach or non-approach to TV weather!
It is very likely that TWC will not only be losing the likes of me as storm clouds gather on all horizons. Based on discussions with others, the loss of viewership may be far more than TWC may realize.
But, stay tuned for more information. As they say in TV land, "details at 6, 10 and 11..."
H. Michael Mogil, 2014
H. Michael Mogil is a Certified Consulting Meteorologist and Certified Broadcast Meteorologist, who lives in Naples, FL.

Sep 24, 2014
Was August Really The Warmest Month Ever?
Joseph D'Aleo, CCM
NOAA/NASA reports that August was the warmest month on record because the oceans were the warmest ever. But contrary to the spectacular "hottest August ever" lies being propagated by NASA and NOAA -August was the coldest in five years and the second coldest in 10 years, according to far more accurate NASA satellites. NOAA and NASA climate agencies budgets depend on confirming government sponsored climate models .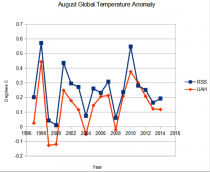 Enlarged
There has been no warming for 18 years as of September according to satellite. NASA satellite derived sea surface temperatures in the record back to 1978 show there were 73 months warmer with the warmest in May 1998 (nearly a full degree Fahrenheit warmer than this August). Like the surface land temperatures, ocean temperature warming is being intentionally exaggerated.
Why the difference? Satellites provide an objective measure of the entire surface of the earth, land and sea. Surface data is severely contaminated by local urban and land use changes. Oceans, which cover 71% of the earth's surface, have only been measured accurately with satellite since 1978 and later buoys since 2004.
Dr. Helmut Landsberg, the Father of Climatology was one of my mentors on urban heat effects when I taught Microclimatology in college. I authored a peer review paper assessing the many problems with surface observations including urbanization. It addressed most all of the misinformation presented in the Letter to the Editor last Friday by our friend Bruce.
In it, I link to a 2008 paper by Hadley's Phil Jones et al., which found that contamination by urbanization in China was a very non-trivial 1C per century which but that did not cause the data centers to begin adjusting as that would have eliminated much of the politically proclaimed global warming.
In a 2009 article, Dr. Brian Stone of Georgia Tech wrote: "Across the US as a whole, approximately 50 percent of the warming that has occurred since 1950 is due to land use changes (usually in the form of clearing forest for crops or cities) rather than to the emission of greenhouse gases."
Because of the satellite data is ground truth, the focus on data manipulation as we showed you last post shifted to cooling off the first half of the 1900s. Since the media is largely friendly to the cause, you would not hear that this September will make it 18 years of no warming globally in the satellite data set and that the models are failing miserably.
Record highs and lows tell the story that heat is not increasing. For 28 of the 50 state all-time record highs came in the 1930s and 38 before 1960 (Christy US Senate testimony). There has been more record lows than highs since the 1940s.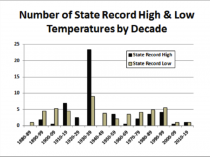 Enlarged
The trend of 90 and 100 degree days have been down for over 75 years. NOAA reported no changes in flood or drought frequency since 1900. The last two years have had the fewest total of tornadoes on record and long term trend of strong tornadoes has been down. Global hurricane activity is at a 30 year plus low. We have gone 9 years without a major landfalling hurricane in the US, by far the longest on record. Sea level rise has declined to 4 inches/century from 7 inches in the 1900s. The last two years have had the lowest number and acreage of forest fires in the record back to 1984. Snows have increased not decreased. Arctic ice rebounded 43% since 2012 even as this was the year when the ice was supposed to have disappeared. We have a record number of polar bears. This month we blew away the all-time satellite record for Antarctic sea ice extent. All the climate models are failing miserably.
The great Physicist Richard Feynman told his Cornell students that the scientific method dictates if a theory "...disagrees with experiment (or data), it's wrong. "In that simple statement is the key to science. It doesn't make any difference how beautiful your guess is, it doesn't matter how smart you are, who made the guess, or what his name is...If it disagrees with experiment (data), it's wrong. That's all there is to it."
The science argues the theory has failed, but politics and $165B keeps it alive.
At the rally this weekend in NYC, 120 thousand enviro radicals, Hollywood and polical ignorati converged on NYC arriving in buses and planes and leaving behind a not very green mountain of trash.
Ecologist Dr. Patrick Moore was a co-founder of Greenpeace when it focused on true humanitarian and animal cruelty causes. Back then we had real issues with air and water pollution. I was involved heavily with environmental causes and got my ABD on Atmospheric Chemistry. The movement made a sharp left turn in the 1980s. Patrick Moore told the Senate earlier this year and then made a powerful presentation you can see on HCTV explaining why he left Greenpeace when radicals and extremists with other agendas (population control, eliminating fossil fuels/nuclear, destroying capitalism, one world government) abandoned humanitarian efforts and railed against man as the enemy of the planet took control of Greenpeace and most all Environmental groups. Over time they adopted global warming as a tool. Patrick wrote about the new environmental radicalism.
It is a powerful convergence of interests among a very large number of elites, including politicians who want to make it seem as though they're saving the world, environmentalists who want to raise money and get control over very large issues like our entire energy policy, media, for sensationalism, Universities and professors for grants. You can't hardly get a science grant these days without saying it has something to do with climate change.
It is a kind of nasty combination of extreme political ideology and a religious cult all rolled into one, and it's taken over way too much of our thought process and way too much of our priorities. There are millions of children dying every day from preventable vitamin deficiencies and diseases, and we are spending hundreds of billions of dollars on a problem that may not exist.
Some clear thinking politicians on the left see through the fog:
Democrat Climate Statistics Professor Dr. Caleb Rossiter of American University: "Obama has long been delusional on this issue. Anyone who believes we are in a climate catastrophe I think is deluding themselves.' I've been lonely working on the Hill for the Democratic Party."
Steven E. Koonin, Undersecretary for Science during Obama's first term, sees "climate science" as a tangle of arrogance, conjecture and dubious methods that cannot withstand the scrutiny of any reasonably sharp mind.
Next story will focus on the upcoming winter and why big government sources will again not get the forecast right.

IPCC official Ottmar Edenhofer in November 2010 admitted "one has to free oneself from the illusion that international climate policy is environmental policy." Instead, climate change policy is about how
we redistribute de facto the world's wealth..."
Sep 15, 2014
Leo vs. science: vanishing evidence for climate change
By Tom Harris and Bob Carter
September 14, 2014 | 8:25pm
In the runup to the Sept. 23 UN Climate Summit in New York, Leonardo DiCaprio is releasing a series of films about the "climate crisis."
The first is "Carbon," which tells us the world is threatened by a "carbon monster." Coal, oil, natural gas and other carbon-based forms of energy are causing dangerous climate change and must be turned off as soon as possible, DiCaprio says.
But he has identified the wrong monster. It is the climate scare itself that is the real threat to civilization.
DiCaprio is an actor, not a scientist; it's no real surprise that his film is sensationalistic and error-riddled. Other climate-change fantasists, who do have a scientific background, have far less excuse.
Science is never settled, but the current state of "climate change" science is quite clear: There is essentially zero evidence that carbon dioxide from human activities is causing catastrophic climate change.
Yes, the "executive summary" of reports from the UN's International Panel on Climate Change continues to sound the alarm - but the summary is written by the politicians. The scientific bulk of the report, while still tinged with improper advocacy, has all but thrown in the towel.
And the Nongovernmental International Panel on Climate Change lists thousands of scientific papers that either debunk or cast serious doubt on the supposed "consensus" model.
Oregon-based physicist Gordon Fulks sums it up well: "CO2 is said to be responsible for global warming that is not occurring, for accelerated sea-level rise that is not occurring, for net glacial and sea ice melt that is not occurring...and for increasing extreme weather that is not occurring."
Consider:
 According to NASA satellites and all ground-based temperature measurements, global warming ceased in the late 1990s. This when CO2 levels have risen almost 10 percent since 1997. The post-1997 CO2 emissions represent an astonishing 30 percent of all human-related emissions since the Industrial Revolution began. That we've seen no warming contradicts all CO2-based climate models upon which global-warming concerns are founded.
Rates of sea-level rise remain small and are even slowing, over recent decades averaging about 1 millimeter per year as measured by tide gauges and 2 to 3 mm/year as inferred from "adjusted" satellite data. Again, this is far less than what the alarmists suggested.
 Satellites also show that a greater area of Antarctic sea ice exists now than any time since space-based measurements began in 1979. In other words, the ice caps aren't melting.
 A 2012 IPCC report concluded that there has been no significant increase in either the frequency or intensity of extreme weather events in the modern era. The NIPCC 2013 report concluded the same. Yes, Hurricane Sandy was devastating but it's not part of any new trend.
The climate scare, Fulks sighs, has "become a sort of societal pathogen that virulently spreads misinformation in tiny packages like a virus." He's right - and DiCaprio's film is just another vector for spreading the virus.
The costs of feeding the climate-change "monster" are staggering. According to the Congressional Research Service, from 2001 to 2014 the US government spent $131 billion on projects meant to combat human-caused climate change, plus $176 billion for breaks for anti-CO2 energy initiatives.
Federal anti-climate-change spending is now running at $11 billion a year, plus tax breaks of $20 billion a year. That adds up to more than double the $14.4 billion worth of wheat produced in the United States in 2013.
Dr. Bjorn Lomborg, director of the Copenhagen Consensus Center, calculates that the European Union's goal of a 20 percent reduction in CO2 emissions below 1990 levels by 2020, currently the most severe target in the world, will cost almost $100 billion a year by 2020, or more than $7 trillion over the course of this century.
Lomborg, a supporter of the UN's climate science, notes that this would buy imperceptible improvement: "After spending all that money, we would not even be able to tell the difference."
Al Gore was right in one respect: Climate change is a moral issue - but that's because there is nothing quite so immoral as well-fed, well-housed Westerners assuaging their consciences by wasting huge amounts of money on futile anti-global-warming policies, using money that could instead go to improve living standards in developing countries.
That is where the moral outrage should lie. Perhaps DiCaprio would like to make a film about it?
Tom Harris is executive director of the Ottawa-based International Climate Science Coalition. Bob Carter is former professor and head of the School of Earth Sciences at James Cook University in Australia.
-------
From Dr. Cal Beisner at the Cornwall Alliance for the Stewardship of Creation
Ten Reasons to Protect the Poor.
A better climate for the World's Poor
Aug 28, 2014
LOL! Obama's Climate Plan Spooks U.S. Democrats
Timothy Cama and Scott Wong, The Hill
Anthony Watts / 23 hours ago August 27, 2014
Yesterday we mentioned Obama's nuclear option event, and now the fallout begins.
From Timothy Cama and Scott Wong, The Hill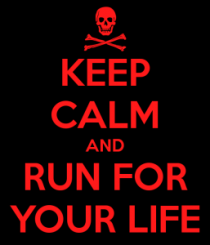 President Obama's election-year plan to win a new international climate change accord is making vulnerable Democrats nervous.
The administration is in talks at the United Nations about a deal that would seek to reduce global greenhouse gas emissions by "naming and shaming" governments that fail to take significant action.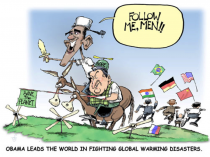 Enlarged
The State Department on Wednesday denied a report in The New York Times that the plan is to come up with a treaty that would not require Senate confirmation, but that appeared to provide cold comfort to Democrats worried the issue will revive GOP cries about an imperial Obama presidency.
One Democratic strategist said the proposal would put swing-state candidates who are critical to the party keeping its Senate majority "in front of the firing squad."
"You're ....making it more difficult for them to win and certainty putting them in a position to lose," the strategist said.
Several vulnerable Senate Democrats kept mum on the issue.
Sens. Mark Begich (Alaska) and Mark Udall (Colo.), along with a handful of House Democrats, either declined to comment or didn't respond to interview requests.
Senate Energy Committee Chairwoman Mary Landrieu (La.) cautiously signaled support for the oil and gas industry that is important to her state, without commenting on the plan to sidestep the Senate.
"It is important that all nations do what they can to reduce carbon in the atmosphere," she said. "But the president should not take any action that undermines the American energy revolution currently underway that is creating thousands of high-paying jobs for middle class families in Louisiana and across the country."
A spokesman for Rep. Scott Peters (D-Calif.), who heads a House climate task force, said it was premature to comment on a plan with so few details.
Drew Hammill, a spokesman for House Minority Leader Nancy Pelosi (D-Calif.), who pushed a climate change bill through the House in 2009, said the Times story was inaccurate but had no further comment.
Other Democrats immediately distanced themselves from the proposal.
"This administration's go it alone strategy is surely less about dysfunction in Congress than about the president's own unwillingness to listen to our coal miners, steelworkers, farmers and working families," Rep. Nick Rahall (W.Va.) said in a statement. Rahall is in a difficult reelection race.
Republicans in tight Senate contests, for their part, quickly seized on the issue.
Rep. Cory Gardner (R-Colo.), whos trying to unseat Udall, called on the incumbent to denounce Obama's "latest executive power grab."
"Coloradans don't elect Senators to watch them toss their power to the president, whether Republican or Democrat," Gardner said.
Republicans have been seeking to make the 2014 elections all about Obama, whose approval numbers remain low. They've sought to tie candidates such as Udall and Landrieu to Obama, and the Democratic strategist said the climate change proposal gave them ammunition.
Republicans have also sought to portray Obama as a figure abusing his power with executive actions. House Republicans approved legislation in August that would allow Speaker John Boehner (R-Ohio) to file a lawsuit challenging Obama's actions.
"Once again, the president is circumventing the wishes of the American people and their elected representatives, and doing so in a fashion that will destroy more jobs," Boehner said Wednesday of the climate report.
Both the White House and State Department said the climate agreement is still being discussed, and they denied that it was a sure thing that the administration would seek to go around Congress.

Jul 29, 2014
Public Support is Strong, Bipartisan for Energy Development
Jack Gerard, President API
As far as American voters are concerned, energy is not a partisan issue. New polling shows strong majorities across the political spectrum support increased domestic oil and natural gas production and agree it is good for the economy and our national security. What's more, Democrats, Republicans and Independents are all more likely to vote for candidates who support increased production and offshore drilling.
The national telephone poll, conducted for API by Harris Poll among 1,012 registered voters, found that:
77 percent support increased production of America's oil and natural gas resources, including 92 percent of Republicans, 80 percent of Independents and 66 percent of Democrats.

68 percent support offshore drilling for domestic oil and natural gas resources, including 80 percent of Republicans, 72 percent of Independents and 61 percent of Democrats.

68 percent would also be more likely to vote for a candidate who supports offshore drilling and producing more oil and natural gas from here in the U.S., including 80 percent of Republicans, 71 percent of Independents and 59 percent of Democrats.

Only 28 percent think the federal government does enough to encourage the development of oil and natural gas resources in the U.S., including just 12 percent of Republicans, 31 percent of Independents and 40 percent of Democrats.

80 percent agree that producing more domestic oil and natural gas could help strengthen America's national security by lessening the negative impacts of political instability occurring in other parts of the world.
Unfortunately, federal energy policy is often at odds with the wishes of the American people. While production on private lands is soaring, production on federal lands dropped 28 percent for natural gas and 6 percent for oil between 2009 and 2013, according to the Congressional Research Service. And a full 87 percent of federally controlled offshore acreage remains off-limits to exploration even though development in the Atlantic alone could support 280,000 new American jobs and $51 billion in revenue for the government. The Bureau of Ocean Energy Management's recent decision to issue permits for modern geological surveys in the south and mid-Atlantic is a positive step, but more action is needed. To create more jobs, grow the economy and increase revenue, the federal government should listen to the American people and say yes to domestic oil and natural gas.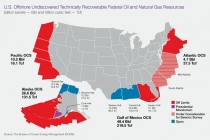 Enlarged
Sincerely,
Jack Gerard
President and CEO
API
Jul 25, 2014
What a real climate report looks like
In case you get the AMS produced, NOAA prepared government funded State of the Climate, I thought it would be worth it to present what a real climatologist report looks like. The AMS version is nothing but propaganda and its best use might be to toss it in the wood stove when we are in the dark and trying to stay warm this winter because of the bad energy policies enacted by the EPA based on bad science from NOAA and AMS. It will provide a few minutes of usefulness. Many local offices also do a fine job reporting on local climate anomalies and summaries though there are a few offices that have a Minister of Propaganda brainwashed by the poor educational system we have moved to in this country under so called progressive leadership. I am an independent without party affiliation, but I am not blind or stupid and have had decades to observe from both inside and outside the system.
This is the June Alabama Climate Report by Dr. John Christy, State Climatologist from Alabama. It is a monthly and not an annual summary so it is short enough to post.
There is hardly anyone around anymore, who remembers the summer of '54, although it was memorable. By some measures, the summer 60 years ago this year was the "worst" summer in at least the past 131 years.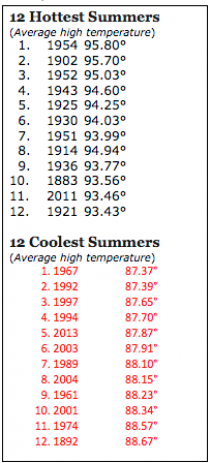 It was also the end of a four-year stretch of summers that, in some ways, helped to change the face of Alabama for the past 60 years. More on that later. First, the numbers.
In an 1883-2013 reconstruction of summer daily high temperatures within 50 miles of Alabama's four biggest cities, the summer of 1954 was the hottest in that 131-year record. The summer of 1954 edges out 1902 by one tenth of a degree, with an average high temperature of 95.8 F. No other year is really close, although the summer of 1952 touched an average high of 95.03. (The 131-year average is 91.1F, and no summer since 1954 has hit an average high of more than 93.5.)
That makes the summer of 1954 a few degrees warmer than normal, but how bad was it?
The average weather station in Alabama registers 73 days a year with temperatures of 90F or warmer, ranging from only 45 days a year in Valley Head to 95 days a year in Brewton.
In 1954, looking at the entire state, the average weather station recorded 117 days with a high temperature of at least 90F. Strung together, that's almost four months. By comparison, 1994 saw an average of only 33 days of 90F or higher temperatures.
Some days during the summer of 1954 were scorchers. The July 1, 1954, edition of the Huntsville Times, in addition to reporting on the French withdrawal from Indochina, noted:
June Cracks All Records With 104 Degrees For City
An all-time record for June heat was set here yesterday at 3 p.m. when the thermometer hit 104 degrees at the local TVA sub-station.
Readings for the period of 2 through 4 p.m. were 101, 104 and 102 degrees. July started off today to bid fair for a crack at past records…
On July 1 the temperature at Huntsville's TVA sub-station hit 106. (Official temperatures at the Huntsville airport were slightly cooler: 98 on June 30 and 102 pm July 1.) That doesnt mean the airport was a cool place to hang out. The official weather record at the old Huntsville airport recorded 18 days in June, July and August 1954 with a high temperature of 100F or higher, with an official high of 105F on three consecutive days (15-17) in August.
The rest of the state was just as toasty. Birmingham saw eleven days with highs of 100 or more, Muscle Shoals 18, Montgomery 20, and Tuscaloosa a wilting 28 summer days with a high temperature of at least 100F, including eight consecutive days in August.
The official high temperature for the year was 108F, reached three times: June 28 in Greenville and Selma, and August 16 in Belle Mina. The official record high in Alabama's recorded history is 112F on Sept. 5, 1925, in Centerville.
Did you know that when it gets hot and dry, rattlesnakes come out of the mountains? A newspaper story from Aug. 15, 1954, noted:
Drought Bringing Out Rattlesnakes
Timber rattlesnakes appear to be on the move in this area now, evidently in search of water due to the drought.
Which brings us to how the string of hot, dry summers in the early 1950s changed the face of Alabama. The four-summer stretch from 1951 through 1954 was the hottest four-consecutive-summer period in the 131-year record. It was also a period during which many farmers across Alabama were forced to get out of the farming business, a trend that continued for many years and turned Alabama from an agricultural powerhouse into something very different.
The average high temperature during that four-summer span was a blistering 94.4F (1951 94.0F, 1952 95.0F, 1953 92.9F and 1954 95.8F). The second worst 4 consecutive summers (that did not include the years 1951 to 1954) was 1899-1902 at a mere 92.8F.
The hottest similar stretch since 1954 was mild by comparison; 91.7F in the summers of 2008 through 2011.
The six coolest summers, all under 88F, have occurred since the first such summer in 1967, with 2013 (last summer) being one of them.
But hot summers are usually also dry summers, and that is what happened in the 1950s. Summer 1954 tied 1902 as the driest summer in 120 years, with only eight inches of rainfall in three months. If we look at NOAA's Palmer drought index, it shows the summers from 1951 through 1957 all in varying degrees of drought. That is the longest unbroken string of drought summers since 1895.
The impact was significant.
The Huntsville Times, Aug. 16, 1954:
Farm Situation Near Its Worst
Crops and pastures are nearing their worst conditions of the season, County Agent Loyd H. Little estimated today…
It has been four weeks since anything like a general rain has fallen in the county. In the last three weeks, only .07 of an inch of rain has fallen at the Huntsville sub-station.
Facing increased competition from farms in western states that benefited from billions of dollars in federally-subsidized irrigation projects and with almost no irrigation to help Alabama farmers deal with the drought, the state's farmland began to go fallow or to be used for other purposes.
Although agriculture (largely poultry) is still the state's largest industry, Alabama lost millions of acres of harvested cropland between 1950 and today, which is a big enough change to quite literally change the face of the state.
Fortunately, this summer to date seems to be neither generally dry nor unusually hot. Let's hope it stays that way.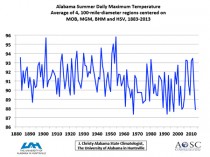 Enlarged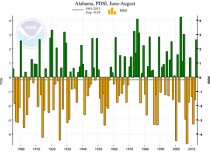 Enlarged
- John Christy
--------
By the way the central US has had the fewest 90F days year to date in the records.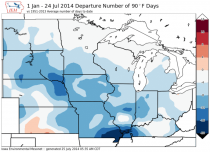 Enlarged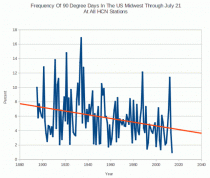 Enlarged
Jun 30, 2014
Antarctic Sea Ice Growing Despite Global Warming Warnings
Harold Ambler
Update: Today UAH reported: Compared to seasonal norms, the coldest place in Earth's atmosphere in June was over the Ross Ice Shelf, where Antarctic winter temperatures were as much as 5.37 C (about 9.67 degrees Fahrenheit) colder than seasonal norms.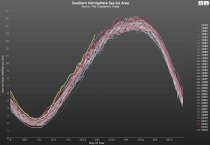 Enlarged
The sea ice coverage around Antarctica over the weekend marked a record high, with the ice surrounding the continent measuring at 2.112 million square kilometers, according to an environmentalist and author who says the ice there has actually been increasing since 1979 despite continued warnings of global warming.
The new record was posted for the first time by the University of Illinois at Urbana-Champaign's online record, The Cryosphere Today, early Sunday morning and continues to grow an an alarming rate.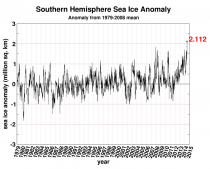 Enlarged
It's not apparent if the record actually occurred on Friday or Saturday, says Harold Ambler on his blog, Talking About the Weather.
Ambler is a journalist and author of the book "Don't Sell Your Coat: Surprising Truths About Climate Change."
"The previous record anomaly for Southern Hemisphere sea ice area was 1.840 million square kilometers and occurred on December 20, 2007," said Ambler. Meanwhile, he pointed out, global sea ice area on Sunday was standing at 0.991 million square kilometers above average, a figure he arrived at by adding anomalies for the North and South hemispheres.
While early models predicted the sea ice would decrease because of global warming, other models are showing that the opposite is happening around Antarctica, where sea ice growth is increasing.
"A freshening of the waters surrounding the southernmost continent as well as the strengthening of the winds circling it were both theorized as explanations for the steady growth of Antarctica's sea ice during the period of satellite measurement," said Ambler.
However, he pointed out that climatologists have discounted the importance and growth of the Antarctic sea ice.
According to Walt Meier, formerly of the National Snow and Ice Data Center and currently of NASA's Goddard Institute for Space Studies, most of the Antarctic sea ice does not survive between years, and it's less significant to the Earth's climate than is the ice around the Arctic.
Meanwhile, Ambler said that the growth of the Antarctic sea ice is providing "a public relations problem, at a minimum, for those warning of global warming's menace."
During the past 18 months, global sea ice "has seen its most robust 18-month period of the last 13 years, maintaining, on average, a positive anomaly for an 18-month period for the first time since 2001," he wrote.
In addition, Ambler said, the South Pole's temperature has been dropping over the past 40 years.
NOTE: Mark Serreze of NSIDC here says the record ice is due to global warming

Jun 11, 2014
Global warming threat? Now it's asthma
In an effort to win public support for the EPA's recently proposed regulations to reduce carbon-dioxide emissions from coal-burning power plants an estimated 30 percent by 2030, the White House has begun a campaign in which it claims the carbon dioxide "pollution" causes children to get asthma.
"The next version of the White House claim will have puppies and kittens in it too," David W. Kreutzer, Ph.D., a Heritage Institute research fellow in energy economics and climate change, told WND, treating the Obama administration argument with derision.
"Carbon dioxide has nothing to do with any health effects directly."
Kreutzer explained that when the issue is pressed directly, top Obama administration "get a little bit more honest" and shift their ground to argue that even if carbon dioxide is not a toxic gas, it is still the indirect cause serious health problems such as asthma.
"What the White House is really maintaining is that when we get more carbon dioxide, we get more ozone, and the ozone causes asthma. Or, if more carbon dioxide causes global warming, then spring will last longer and we will have more pollen. Or, by using less coal we will have reduced particulate emissions and the particulate emissions cause asthma."
Marc Morano, the executive director of Climate Depot, agrees.
"This is pure propaganda," Morano told WND.
"The White House is trying to demonize carbon dioxide as a pollutant. The idea is to convince people that carbon dioxide somehow causes asthma and puts children in hospitals."
Morano said Obama "has shifted the debate to children and asthma because he knows the public is not buying global warming."
Both Kreutzer and Morano insist the EPA already has ample regulations that have been enforced for decades to remove toxic particles from the air to a level the EPA considers safe for health regardless of cost.
"The whole point of this asthma campaign is for the White House to get sick children on TV," Kreutzer insisted.
"Even if you believed the most dire predictions of the United Nations Intergovernmental Panel on Climate Change, the EPA's proposed regulations would not reduce enough carbon dioxide from the atmosphere to make any measurable impact on the climate."
Morano contends there is a difference between regulating the amount of carbon dioxide in the air and regulating pollutants.
"We have largely solved classical air pollution over the past few decades," he noted.
"The coal-burning power plants coming on line today are vastly cleaner than they were a generation ago. But the Obama EPA isn't regulating pollution with these new rules. They are regulating carbon dioxide, not carbon."
He pointed out that carbon dioxide, a miniscule trace gas in the atmosphere, is vital to photosynthesis and life on earth. It is a gas everyone exhales, and plants use it for food.
"There is nothing inherently toxic or unhealthy in carbon dioxide," he said.
Still, Morano cautioned the White House change of emphasis to health themes is "effective propaganda."
"People say, 'I don't know if I buy global warming, but I want to clean up the air,'" he noted.
"As long as the White House can manage to convince the American people that carbon dioxide is a pollutant, identical to smog, soot and toxic air particulates, the shift of the EPA debate from climate change directly to asthma, lung disease and other health care issues will persuade some normally intelligent people, including generally credible news editors on television."
White House 'war on asthma'
The evidence is abundant that the Obama administration has shifted into high gear a campaign to convince the public the EPA carbon dioxide regulations are necessary because carbon dioxide "pollution" increases asthma that impacts disproportionately "vulnerable" groups, including children, the elderly, the poor and "communities of color."
In a June 6 press release the White House argued, "In the past three decades, the percentage of Americans with asthma has more than doubled, and climate change is putting those Americans at greater risk of landing in the hospital."
The White House press release went on to state that the effects of climate change "impact the most vulnerable Americans - putting the elderly, kids, and people already suffering from burdensome allergies, asthma, and other illnesses at greater risk."
To make sure the full emotional impact of the asthma argument was appreciated, the White House press release concluded as follows:
The President believes we have a moral obligation to leave our children a planet that's not irrevocably polluted or damaged. While no single step can reverse the effects of climate change, we must take steady, responsible action to cut carbon pollution, protect our children's health, and begin to slow the effects of climate change so that we leave behind a cleaner, more stable environment. That's why the President put forward the Climate Action Plan last year and earlier this week, the Environmental Protection Agency released a vital component of that plan common sense carbon pollution standards for existing power plants.
The press release linked to a seven-page White House-authored paper that repeated the argument, claiming carbon-dioxide emissions cause climate change that in turn causes children to develop asthma.
"We have a moral obligation to leave our children a planet that's not irrevocably polluted or damaged. The effects of climate change are already being felt across the Nation," the White House report claimed in the first sentences.
The second paragraph made the causal link argument: "Climate change, caused primarily by carbon pollution, threatens the health and well-being of Americans in many ways, from increasing the risk of asthma attacks and other respiratory illnesses to changing the spread of certain vector-borne diseases."
Then came a statement designed to touch the reader's emotions: "Certain people and communities are especially vulnerable to the health effects of climate change, including children, the elderly, those with chronic illnesses, the poor, and some communities of color."
The White House campaign to blame carbon-dioxide emissions for causing asthma was kicked off in President Obama's weekly address May 31, delivered at the Children's National Medical Center in Washington.
"Hi, everybody. I'm here at Children's National Medical Center in Washington, D.C., visiting with some kids being treated here all the time for asthma and other breathing problems," the president said. "Often, these illnesses are aggravated by air pollution. pollution from the same sources that release carbon and contribute to climate change. And for the sake of all our kids, we've got to do more to reduce it."
EPA administrator Gina McCarthy, in a press release announced the agency's "Clean Power Plant."
"About a month ago, I took a trip to the Cleveland Clinic," she said. "I met a lot of great people, but one stood out - even if he needed to stand on a chair to do it. Parker Frey is 10 years old. He's struggled with severe asthma all his life. His mom said despite his challenges, Parker's a tough, active kid - and a stellar hockey player. But sometimes, she says, the air is too dangerous for him to play outside. In the United States of America, no parent should ever have that worry.
McCarthy proceeded to claim the EPA's plan to reduce carbon-dioxide emissions from coal-burning power plants would "deliver climate and health benefits up to $90 billion dollars," while avoiding up to 100,000 asthma attacks and 2,100 heart attacks in the first year alone.
What causes asthma?
Contrary to Obama administration assertions that carbon dioxide causes asthma, the professional health care community appears stumped when asked directly to explain what causes it.
"Asthma is very common, affecting more than 26 million people in the United States, including almost 7 million children. No one knows for sure why some people have asthma and others don't," the website of the American College of Allergy, Asthma, & Immunology notes.