Nov 16, 2012
Climate Change panel chief says 'not invited to COP18'
By Bonnie James
Deputy News Editor

The Intergovernmental Panel on Climate Change (IPCC) will not be attending the upcoming United Nations Climate Change Conference (COP18/CMP8) in Doha, chairman Dr Rajendra K Pachauri has said. For the first time in the 18 years of COP, the IPCC will not be attending, because we have not been invited," he told Gulf Times in Doha. COP18 is to be held from November 26 to December 7.
The IPCC, which shared the 2007 Nobel Peace Prize with Al Gore, former vice president of the US and environmental activist, is the leading international body for the assessment of climate change. Currently 195 countries are members.
Dr Pachauri first hinted about his 'anticipated absence' at COP18, while speaking at the opening session of the International Conference on Food Security in Dry Lands (FSDL) on Wednesday at Qatar University.
Later, he told Gulf Times he did not know why the IPCC has not been invited to COP18, something that has happened never before. "I don't know what it is. The executive secretary of the climate change secretariat has to decide. I have attended every COP and the chairman of the IPCC addresses the COP in the opening session" he explained. The IPCC was established by the United Nations Environment Programme and the World Meteorological Organisation in 1988 to provide the world with a clear scientific view on the current state of knowledge in climate change and its potential environmental and socio-economic impacts. Thousands of scientists from all over the world contribute to the work of the IPCC on a voluntary basis. The body reviews and assesses the most recent scientific, technical and socio-economic information produced worldwide relevant to the understanding of climate change.
Earlier, in his address at the FSDL conference, Dr Pachauri said a reduction of up to 50% in crop output could happen in rain fed areas by 2020. "Climate change in mountain regions has a big impact on agriculture as mountains are the sources for over 50% of the globe's rivers. "This also affects the populated lowland regions that depend on mountain resources for domestic, agricultural, energy and industrial supply. "Water resources for populated lowland regions are influenced by mountain climates and vegetation; shifts in intra-annual precipitation regimes could lead to critical water amounts resulting in greater flood or drought episodes. "For increases in global average temperature exceeding 1.5-2.5C and in
concomitant atmospheric carbon dioxide concentrations, there are projected to be major changes in ecosystem structure and function, species' ecological interactions, and species' geographical ranges, with predominantly negative
consequences for biodiversity, and ecosystem goods and services e.g., water and food supply.
"Globally, the potential for food production is projected to increase with increases in local average temperature over a range of 1-3C, but above this it is projected to decrease. "Regional changes in the distribution and production of particular fish species are expected due to continued warming, with adverse effects projected for aquaculture and fisheries. "Agricultural production, including access to food, in many African countries and regions is projected to be severely compromised by climate variability and change. "The area suitable for agriculture, the length of growing seasons and yield potential, particularly along the margins of semi-arid and arid areas, are expected to decrease.
"This would further adversely affect food security and exacerbate malnutrition in the continent. In some countries, yields from rain-fed agriculture could be reduced by up to 50% by 2020. "Drought diminishes dietary diversity and reduces food consumption, causing an increased risk of mortality and diarrhea.
"Heat waves are going to be increased across the world and will occur once in two years instead of the current pattern of once in 20 years. "New ways have to be found to manage water resources. There is a need to focus
on the totality of the situation. Please convert your oil wealth to soil health," he urged.

Nov 12, 2012
Institutions and Incentives in Regulatory Science
H/T Willie Soon
Available here, as well as other online sites.

The book summary reads

From endangered species protection to greenhouse gas regulations, modern regulatory interventions are justified by science. Indeed, legislators look to science for simple answers to complex regulatory questions. This regulatory demand for scientific answers collides with the scientific reality that on the frontiers of science, there are no simple answers, only competing hypotheses and accumulating but as yet often inconclusive evidence. Given inevitable scientific uncertainty, regulatory agencies such as the U.S. Environmental Protection Agency are put in the position of adjudicating unresolved scientific controversies. As the contributions to this volume show conclusively and in great detail, such agencies (and other assessment organizations such as the Intergovernmental Panel on Climate Change or IPCC) are far from unbiased in how they assess regulatory science. They instead act as advocates for those scientific positions that further the regulatory agenda of promulgating new regulations and increasing the scope of the regulatory state.

The book describes many accurate facts about how regulatory agencies use science to justify their regulations that may surprise and even shock many readers:

■In the area of climate science, where the IPCC is advertised as an objective and unbiased assessment body, the facts are that the Lead Authors for IPCC Assessment Reports are chosen by political representatives on the IPCC, and have no duty to respond in any way to the comments of outside reviewers of IPCC draft chapters. The oft-repeated claim that there are "thousands" of scientists involved in outside review of IPCC Assessment Reports is patently false, with generally only a few dozen truly independent outside reviews submitted even on key chapters. Perhaps most strikingly, the Editors with responsibility for overseeing the decisions of chapter Authors are themselves chosen by the same people (Working Group Chairs) who pick the Authors. An outside audit of the IPCC commissioned by the IPCC itself (done by the Interacademy Council) concluded that some body other than the IPCC should choose the Review Editors but acknowledged that there is no such outside body.

■Perhaps more than any other U.S. environmental law, the Endangered Species Act looks to science for clear answers regarding which species are imperiled and how to protect them. But as this book shows, for even the most basic threshold question - as to whether a population constitutes a species or sub-species - there is no scientific answer. As for the definition of a species, there are over a dozen competing definitions, and the categorization of a sub-species is even more problematic, with a plethora of approaches that have allowed the United States Fish and Wildlife Service (USFWS) and its biological advisers in the U.S Geological Service (USGS) to effectively declare sub-species at will, as even slight morphological or genetic differences are seized upon to indicate reproductive isolation and the propriety of categorizing a population as a sub-species. Even more seriously, the book recounts how USFWS peer review in cases of controversial taxonomic classification has involved the selective disclosure of underlying data to outside peer reviewers and has been actively controlled by USGS scientists with a strong self-interest in USFWS determinations. The book's ESA chapters clearly show how supposedly scientific disagreement about whether a population is or is not a legally protected sub-species in fact reflect differing policy preferences, different weights that scientists attach to potential errors in triggering, or failing to trigger, legal protection.

■Perhaps the most dramatic case studies in the book come from the area of chemical toxicity assessment by the U.S. E.P.A. and National Institute for Environmental Health (NIEH). The book shows how the EPA has made determinations of chemical toxicity that deliberately ignore the most recent and most methodologically sound studies when those studies fail to support the agency's preferred, pro-regulatory result of significant health risk at low doses. The case studies here include formaldehyde, where the National Academy of Science (NAS) itself concluded that EPA's risk assessment "was based on a subjective view of the overall data" and failed to provide a plausible method by which exposures could cause cancer, a failure especially problematic given "inconsistencies in the epidemiological data, the weak animal data, and the lack of mechanistic data." Equally dramatic is the story of EPA risk assessment for dioxin. Here, the agency continues to apply its decades-old assumptions that cancer risks at low doses can be extrapolated linearly from those actually observed in animal studies at high doses, and that there is no threshold level of exposure below which excess risk falls to zero. EPA continues to maintain these assumptions despite the NAS's admonition that "EPA's decision to rely solely on a default linear model lacked adequate scientific support." Perhaps most disturbingly, the book provides examples of how supposedly unbiased outside scientific advisory panels are tainted by conflicts of interest. In the case of bisphenol A, for example, the NIEHS awarded $30 million in grants to study that chemical to scientists who had already publicly stated that the chemical's toxicity was already well-researched and reasonably certain.

All told, the institutional details and facts provided by the authors' of Institutions and Incentives in Regulatory Science paint a picture of a serious crisis in the scientific foundations of the modern regulatory state. But the authors go beyond this, by providing suggestions for reform. These proposals span a wide range. In climate science, author proposals range from calling for a much more open and adversary presentation of competing work in climate science to the abolition of the IPCC as a standing body. In endangered species regulation, proposals range from more strictly science-based thresholds for sub-species determination to a separation of the science of species determination from the legal consequences of listing under the ESA. In environmental regulation, some authors call for a more open and transparent process of scientific assessment in which agencies such as the EPA publicly acknowledge and fully discuss the science on both sides of complex regulatory decisions, while others call for the strict separation of scientific assessment from regulatory authority.

The authors possess a unique combination of expertise and experience: Jamie Conrad is a principal of Conrad Law & Policy Counsel and author editor of the Environmental Science Deskbook (1998);

Susan Dudley, former Administrator of the Office of Information and Regulatory Affairs in OMB, is the founding Director of the Regulatory Studies Center at George Washington University's Trachtenberg School of Public Policy;

George Gray, Professor of environmental and occupational health and director of the Center for Risk Science and Public Health at the George Washington University School of Public Health and Health Sciences, was formerly science advisor at the U.S. E.P.A. and Executive Director of the Harvard Center for Risk Analysis;

Jason Scott Johnston is the Henry L. and Grace Doherty Charitable Foundation Professor of Law and the Nicholas E. Chimicles Research Professor in Business Law and Regulation at the University of Virginia Law School and the author numerous articles appearing in both peer-edited law and economics journals and law reviews;

Gary E. Marchant, formerly a partner at Kirkland & Ellis is Lincoln Professor of Emerging Technologies, Law, and Ethics and Executive Director and faculty fellow at the Center for Law, Science and Innovation in Sandra Day O'Connor College of Law at Arizona State University;

Ross McKitrick, Professor of Economics at the University of Guelph is the author of Taken by Storm: The Troubled Science, Policy and Politics of Global Warming (2003) and of numerous articles appearing in peer-edited climate science journal such as Geophysical Research Letters ;

Rob Roy Ramey II, principal of Wildlife Science International, has consulted on several of the most significant Endangered Species Act listing decisions of the past decades and is the author of numerous scientific papers appearing in journals such as Science and Animal Conservation;

Katrian Miriam Wyman, Professor of Law at New York University Law School, is the editor and author (with David Schoenbrod and Richard Stewart) of Breaking the Logjam: Environmental Protection that Will Work (2010).

Nov 09, 2012
Winter Hits Early On Three Continents. Cold, Snow And Blizzard Conditions Hit China, New York And UK
By P Gosselin on 8. November 2012
As snow falls over New Jersey and other parts of the mid-Atlantic states, the Northeast USA is not the only region being visited early by old man winter.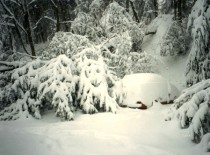 Winter visits early. (Illustration photo, source: NOAA).
Heavy snows have also hit China, hitting Peking with full force, according to German online Bild daily, which writes:
Snow Alarm in China! The capital Peking has been paralyzed by a winterstorm. [...] The situation is worse in the countryside regions of North China. In the Yanqing region 47 cm of snow fell in just a few hours, entire villages have been cut off, thousands are without power and heat. [...] A group of Japanese tourists got caught in drifting snow while on the Great Wall; three women froze to death.'
Winter also paid an early visit last weekend in England, reports the Daily Mail, with snow falling in the South and West Country, including in Somerset, Dorset, Wiltshire and Devon. The Mail writes that "the snowfall was England's fifth in nine days amid an early winter". and that "temperatures plunged to -5.6C last night at Aboyne, Aberdeenshire, with -4.3C Redesdale Camp, Northumberland, and -0.9C at Brize. The Weather Service says temperatures are up to 5C below normal.
Snow was also reported in Gloucestershire and Dorset, with "up to six inches in Somerset in Bath, Frome, Midsomer Norton and the Mendip Hills" The Mail quotes. Charlie Powell, forecaster at the Met Office: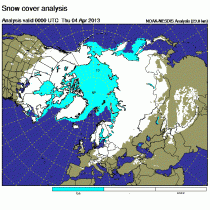 Enlarged
It has been incredibly cold recently and the snow was caused by an area of low pressure coming in from the North West."
And adds:
More snow is due on higher ground in the North by Friday, with mainly below-average temperatures expected for the whole of November."
Britain's early winter is being enhanced by a mid-Atlantic high pressure preventing mild south-westerly winds from reaching Britain, and is pumping in Arctic air from Greenland.
So much for snow being a thing of the past at the middle latitudes. Indeed winter is making early appearances not only locally, but globally. Odd signs of warming, wouldn't you say?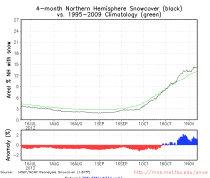 Enlarged
Oct 22, 2012
Another Green Company Goes Bust
Gerri Willis
Another Green Company Goes Bust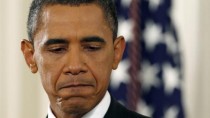 Just in case any of you out there continue to harbor the belief government can do things better than the private sector: witness Satcon Technology Corp.
The Massachusetts- based solar energy company filed for Chapter 11 bankruptcy on Wednesday, which makes it the second taxpayer backed company to go toes up this week. Electric car battery company, A123 filed Tuesday.
Another week, and another hundred million or so of taxpayer money thrown out the window. Even the companies that continue to operate like LG Chem, a lithium-ion plant in Holland, Michigan are struggling. The plant, which was built with taxpayer dollars, is supposed to be making batteries for the Chevy Volt.
However, a local TV station reported employees at the company have so little work to do, that they spend hours playing cards and board games, reading magazines and watching movies. Some can't take the boredom and are quitting! In other words, even as a government make-work project, LG Chem is failing!
Here's President Obama at that plant just over two years ago.
"These plants will put thousands of people to work. This includes folks who were working at a couple of facilities being built in Michigan by another battery technology company called A123. This is a symbol of where Michigan is going, this is a symbol of where Holland is going, this is a symbol of where America is going."

A symbol of where America is going!
By the way, LG Chem is a Korean company that received a $151 million grant from U.S. taxpayers.
Anyway, back to Satcon. The good news is that the company only used $228,000 worth of taxpayer dollars, even though it was approved for $3 million under Obama's Department of Energy.
Though it's hard to see why.
Satcon has struggled financially for years. Its power conversion devices and other products were in steady demand in 2011, but the company's managers couldn't translate that into profitability.
The company posted losses each year from 2005 to 2011, as well as the first six months of 2012.
But look, it's not just Satcon and A123.
According to the Heritage Foundation, 34 of the green energy companies that have gotten some sort of government assistance are faltering, going bankrupt, laying people off, or planning a bankruptcy.
Take a look at the list.
Heritage estimates that of the $90 billion in green energy loans, grants, and tax credits, 10% have gone to companies that are either bankrupt or circling the drain.
Even one, in my opinion is too many. This is precisely why the government shouldn't be in the business of picking winners and losers; or as Mitt Romney put it:
"You don't pick winners and losers, you pick losers."
Read more.
Oct 10, 2012
Report: Climate change behind rise in weather disasters
By Doyle Rice, USATODAY
The number of natural disasters per year has been rising dramatically on all continents since 1980, but the trend is steepest for North America where countries have been battered by hurricanes, tornadoes, floods, searing heat and drought, a new report says.
The study being released today by Munich Re, the world's largest reinsurance firm, sees climate change driving the increase and predicts those influences will continue in years ahead, though a number of experts question that conclusion.
Whatever the causes, the report shows that if you thought the weather has been getting worse, you're right. No Doyle< they are not
The report finds that weather disasters in North America are among the worst and most volatile in the world: "North America is the continent with the largest increases in disasters," says Munich Re's Peter Roder.
The report focuses on weather disasters since 1980 in the USA, Canada, Puerto Rico and the U.S. Virgin Islands.
Roder says this report represents the first finding of a climate change "footprint" in the data from natural catastrophes.
Some of the report's findings:
-- The intensities of certain weather events in North America are among the highest in the world, and the risks associated with them are changing faster than anywhere else.
-- The second costliest year of the study period, 2011, was dominated by strong storms. Insured losses in the U.S. due to thunderstorms alone was the highest on record at an estimated $26 billion, more than double the previous thunderstorm record set in 2010.
-- Insured losses from disasters averaged $9 billion a year in the 1980s. By the 2000s, the average soared to $36 billion per year.
Global warming combined with natural cycles such as the El Nino or La Nina phenomena also intensify the risk of severe weather. "This will result in higher natural peril losses and affect not only the onset of heat waves, droughts and thunderstorms but also, in the long term, the intensity of tropical cyclones," the report finds.
Reinsurers such as Munich Re offer backup policies to companies writing primary insurance policies. Reinsurance helps spread risk, so the system can handle large losses from natural disasters.
"We see some trends that are linked with changes in atmospheric conditions, such as more water content in the atmosphere due to global warming," Roder says. Additional water vapor in the atmosphere is the fuel for the big storms, he says.
However, other experts take issue with Munich Re's findings. "Thirty years is not an appropriate length of time for a climate analysis, much less finding causal factors like climate change," says Roger Pielke, a professor of environmental studies at the University of Colorado.
Another reinsurer, Axa, isn't quite sure of the link either: "While a clear upward trend arises from the figure with respect to the number of reported natural events, the attribution of this rise to a climate change signal should be investigated very cautiously," the French company says in its report "Climate Risks" released earlier this month.
Atmospheric scientist Clifford Mass of the University of Washington also has a problem with Munich Re's findings, saying that once the data are adjusted for population there is no recent upward trend in tornado or hurricane damages. Also, he adds that there is no evidence that global warming is causing more extreme weather in the USA.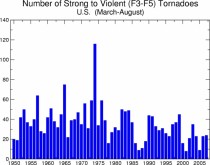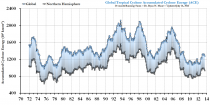 Roder, however, says that even if we adjust for population spread and increased property values, Munich Re still says there were significant increases in the costs of weather disasters over the past few years.
Oct 08, 2012
Obama and Romney answer questions about science policy
By Karen Kaplan, Los Angeles Times
The presidential candidates answer questions from ScienceDebate.org on technology, climate change and other science policy issues.

What is your position on cap-and-trade, carbon taxes and other policies proposed to address global climate change — and what steps can we take to improve our ability to tackle challenges like climate change that cross national boundaries?
Obama:
We have to meet this challenge by driving smart policies that lead to greater growth in clean-energy generation and result in a range of economic and social benefits. Since taking office I have established historic standards limiting greenhouse gas emissions from our vehicles for the first time in history. My administration has made unprecedented investments in clean energy, proposed the first-ever carbon pollution limits for new fossil-fuel-fired power plants and reduced carbon emissions within the federal government. We are also showing international leadership on climate change, reaching historic agreements to set emission limits in unison with all major developed and developing nations. I will continue efforts to reduce our dependence on oil and lower our greenhouse gas emissions while creating an economy built to last.
Romney:
I am not a scientist myself, but my best assessment of the data is that the world is getting warmer, that human activity contributes to that warming, and that policymakers should therefore consider the risk of negative consequences. However, there remains a lack of scientific consensus on the issue — on the extent of the warming, the extent of the human contribution and the severity of the risk — and I believe we must support continued debate and investigation within the scientific community.
The reality is that the problem is called global warming, not America warming. China long ago passed America as the leading emitter of greenhouse gases. Developed-world emissions have leveled off while developing-world emissions continue to grow rapidly, and developing nations have no interest in accepting economic constraints to change that dynamic. In this context, the primary effect of unilateral action by the U.S. to impose costs on its own emissions will be to shift industrial activity overseas to nations whose industrial processes are more emissions-intensive and less environmentally friendly. That result may make environmentalists feel better, but it will not better the environment.
So I oppose steps like a carbon tax or a cap-and-trade system that would handicap the American economy and drive manufacturing jobs away, all without actually addressing the underlying problem. I believe we should pursue what I call a "no regrets" policy — steps that will lead to lower emissions, but that will benefit America regardless of whether the risks of global warming materialize and regardless of whether other nations take effective action. For instance, I support robust government funding for research on efficient, low-emissions technologies that will maintain American leadership in emerging industries.
Sep 28, 2012
Sounding the ice cap alarm while ignoring the elephant
By Steve Goreham
On Sept. 20, the PBS News Hour did a segment titled "Arctic Icecap Shrinks to Record Low Level,"" with Ray Suarez interviewing Walt Meier of the National Snow and Ice Data Center. Ray leads off the segment: "The seasonal shrinkage in Arctic ice is more extensive than ever before....According to the National Snow and Ice Data Center, the low point came on Sunday, when ice covered just 24 percent of the Arctic Ocean. The previous low of 29 percent was set in 2007." The substance of the PBS segment was correct but misleading for what it did not tell viewers.
PBS has long supported Climatism, the belief that man-made greenhouse gases are destroying Earth's climate. PBS programming and website carry stories about melting icecaps, stronger hurricanes, flash floods, drought, wildfires, and even a poor cherry crop in Michigan, all assumed to be due to man-made emissions of carbon dioxide, a trace gas in our atmosphere.

To an objective observer who looks at the science, the theory of man-made global warming is incredible. Only four of every 10,000 air molecules are carbon dioxide and the amount that mankind could have added in all of human history is a fraction of only one of these molecules. Yet PBS and others claim that CO2 emissions are the source of our coming climate destruction.
During the interview, Ray Suarez pointed out that Arctic Ice was disappearing faster than climate models had predicted. Dr. Meier confirmed this, stating, "...we are seeing things go much faster than what the models had projected. The models had suggested that we may see a summer without - with very little ice by the end of this century." This all sounds very alarming to the uninformed viewer.
But PBS and Dr. Meier have ignored the elephant in the room. The elephant is the Antarctic Icecap. While satellite data shows that Arctic ice has been declining for the last 30 years, the same satellite data shows that Antarctic ice has been expanding for 30 years.
It's interesting that climate scientists are so alarmed by declining Arctic ice. The Arctic Icecap is only 1 to 2 percent of Earth's ice, while the elephant, the Antarctic Icecap, contains about 90 percent of Earth's ice. The climate models underestimated the decline in Arctic ice, but they are confounded by the growth in Antarctic ice. Data from Dr. Meier's own National Snow and Ice Center shows that the extent of Antarctic sea ice for 2012 is greater than the 1979-2000 average. I wonder why he didn't mention the good news about Antarctic ice on the PBS segment.
The Amundsen-Scott station is the current American scientific research station at the South Pole. For more than 50 years, the United States has maintained a continuous presence at the South Pole. The Amundsen-Scott station is the third U.S. station. The first two stations were buried by accumulating snow. Every year, the South Pole receives a net snow accumulation of about eight inches. The current station is modular and supported on stilts. It can be jacked up every year above the accumulating snow to prolong its life. Contrary to the fears of Climatism, 90 percent of Earth's icecaps are expanding!
Steve Goreham is executive director of the Climate Science Coalition of America and author of the new book The Mad, Mad, Mad World of Climatism: Mankind and Climate Change Mania.

Sep 21, 2012
Arctic v Antarctic Temperatures
Paul Homewood

Other commentators have pointed out recently that, while Arctic ice is at record low levels since 1979, Antarctic sea ice levels are at or close to record highs. I thought, therefore, that this might be a good time to look at satellite temperatures for the two poles.
UAH monitor temperatures from 60N to 85N in the Arctic, and 60S to 85S in the Antarctic. While not complete, these records, of course, go much closer to the poles, and in a much more comprehensive fashion, than surface temperatures do.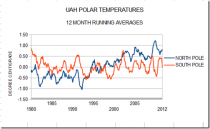 Figure 1
Figure 1 shows the UAH data, which is the anomaly from the 1981-2010 baseline, as a 12 month running average. This helps to smooth out the monthly and seasonal fluctuations and make the trend much clearer to see.

Two things stand out:-
1) Arctic temperatures were actually in decline during the 1980's, before falling further around 1993, presumably as a result of the Pinatubo eruption two years earlier.
2) Between 1980 and 2012, Arctic temperature anomalies have increased from -0.22C to 0.79C, an increase of 1.01C. During the same period, however, Antarctic anomalies have fallen by 0.87C.

Of course, 1980 might not be a representative place to start. What we really need to look at are the trends leading up to that year. So what do the GISS records tell us for the period leading up to 1980?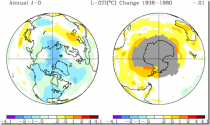 Figure 2

Although the Antarctic has a lot of missing data for 1938, (hence the grey), the temperature changes in the Arctic are quite clear, with most of the region about a degree colder in 1980 compared to 1938. So let's combine the two periods.



Better still, we can look at the graph of GISS anomalies for the two poles between 1938 and 1980.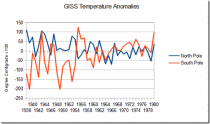 Enlarged

Conclusions?
1) Arctic temperatures are only slightly higher now than they were in the late 1930's.
2) While temperatures have increased in the Arctic since 1980, there have been similar decreases in the Antarctic.
3) The biggest increases occurred in the Antarctic before 1980, although the amount of missing data there in the 1930's and 1940's must place a question mark over the accuracy of GISS data.