Jul 15, 2013
Another Veteran Evangelical Climate Scientist Challenges Letter Calling for Cuts in CO2 Emissions
Dr. E. Calvin Beisner
In a special edition of this newsletter last Friday, University of Delaware Climatology Professor Dr. David Legates rebutted some of the allegations in a recent letter from "evangelical scientists and academics" to Congress demanding immediate action to reduce carbon dioxide emissions from fossil fuel use. Dr. Legates, an evangelical, is also a Cornwall Alliance Senior Fellow.
On Sunday, Anthony J. Sadar - a consulting meteorologist and Adjunct Professor of Earth & Environmental Sciences, Statistics, Air Pollution, Meteorology, & Engineering at Geneva College, Beaver Falls, PA, published an article that also challenges the "Evangelical Scientists Initiative."
"As a Christian and an atmospheric scientist with 35 years of experience," Sadar wrote, "I have frequently witnessed the metamorphosis, refinement, and exploitation of the never-ending story that humans are somehow destroying a 'fragile' planet - this time by releasing too much carbon dioxide. But, of all people, Christians should be the least gullible on this untenable position, since Christians have a solid foundation build on the belief that God is creator and sustainer of all things. Forget about the dubious 'sin' of anthropogenic global warming; Christians should focus instead on the arrogance germane to the idea that not only are humans causing long-term global climate change, but that we can fix it."
Sadar, who is also a Contributing Writer for the Cornwall Alliance, takes the letter's authors to task for preaching "the tired environmental-activist mantra listing the results of man's sinful actions like hottest year on record (for less than two-percent of the Earth), wildfires, droughts, and public health outbreaks (all unfortunate but not too atypical). ...You know, the kind of sinful activity that has lifted so many out of poverty, protected them from never-ending 'unusual' weather events, and dramatically contributed to healthy living. The very same kind of activity made possible by God's grace."
"After all," he adds, "this activity involves the use of God-given, abundant, inexpensive natural resources - the kind that can truly benefit those Jesus called 'the least of these.' But, instead of advocating for good stewardship - which is reasonable and right - and wide, wise distribution of what is readily available to those in dire need, hundreds of evangelicals (mostly biologists) armed with a superficial understanding of atmospheric science and a misapplication of scripture chose to advocate for some sort of climate justice."
Sadar's point that most of the letter's signers were biologists, not climate scientists, is fully justified. As Friday's newsletter revealed, investigation by the Cornwall Alliance revealed that 60% of the signers were biologists, only 3% were climate scientists, and few of the remaining 36% worked in fields likely to give them expertise in debates over the impact of rising carbon dioxide on global temperatures and human or ecological welfare.
Significantly, the "evangelical scientists and academics'" letter was hosted at the website of Sojourners, a Left-wing organization heavily funded by Progressive globalist George Soros through his Open Society Institute (OSI). Sojourners founder and leader Rev. Jim Wallis, a long-time proponent of socialism, at first denied the Soros funding and called World magazine Editor Marvin Olasky, who reported it, a liar, but was forced to admit it when OSI's IRS records proved it.
Another major player behind the letter's creators, who call their effort the "Evangelical Scientists Initiative," is Young Evangelicals for Climate Action, which operates under the Evangelical Environmental Network, which, as we have reported before, has received major funding from such Left-leaning, pro-abortion, pro-population-control organizations as the Hewlett Foundation and the Rockefeller Brothers' Fund.
Jul 05, 2013
Media Matters attack anyone who challenge AGW even CNBC - lavishly funded by lefty groups
Daily Caller
Joe Kernen (MIT trained - MS biology) and David Gartman both skeptical of AGW made fun of recent Media Matters attacks this morning on CNBC during a segment on Gold. Media Matters has been all over CNBC like flies on honey because they dare to make fun of warmists (see, see). See the list of misguided funds and leftys that fund Media Matters in this Daily Caller report. While these groups get tens of millions from politically and environmentally driven leftists and Hollywood celebs, not a single fund or corporation aids our efforts at sites like WUWT and Icecap. We depend on you to support our efforts. The Donations button is working again. Thank all of you who have helped pay our expenses.
Relying on tax returns and websites of wealthy U.S. foundations, a Daily Caller investigation has revealed the sources of more than $28.8 million in funding collected by the liberal Media Matters for America since 2003, the year before its formal incorporation. That sum represents 54 percent of every dollar the organization has raised in its history, making Media Matters a principally foundation-driven - not citizen-supported - activist group.
The list of Media Matters' foundation funders, 120 in all, reads like a Who's Who of the American progressive movement, including the far-left Tides Foundation ($4,384,702), George Soros' Open Society Institutes ($1,075,000), the Ford Foundation ($966,466), the Sandler Foundation ($400,000) endowed by subprime mortgage lenders Herb and Marion Sandler, who once bankrolled the embattled ACORN organization and the Schumann Fund for Media and Democracy ($600,000), managed by longtime PBS host Bill Moyers and his son.
They also include the anti-George W. Bush organization MoveOn.org ($50,000), the Barbra Streisand Foundation ($85,000), the kids' shoes-powered Stride Rite Charitable Foundation ($25,000), the Lear Family Foundation ($55,000) - endowed by the TV producer and People for the American Way founder Norman Lear - and the Joyce Foundation ($400,000), whose board of directors included Barack Obama from 1994 to 2002.
(RELATED: See the list of Media Matters' foundation donors)
The Joyce Foundation grant, made in 2010, was earmarked for "a gun and public safety issue initiative." That program, judging from the ensuing Media Matters coverage, included scathing reports on the shooting-sports lobby and on the firearms industry's annual convention. "To lure repeat buyers," that story warned, "increased lethality has become the nicotine of the firearms industry."
2010 was also, TheDC reported Monday, the year when Media Matters founder David Brock's personal assistant was carrying a holstered and concealed Glock handgun when he accompanied Brock to events.
The Daily Caller is publishing spreadsheets describing all the grants to Media Matters it has identified, how much each donor contributed overall, and for what purpose, if any, their donations were earmarked. Most grants were described in foundations' tax returns as "general support" contributions.
The DC reported Thursday that the ARCA Foundation, a Democratic-aligned philanthropy, made a $50,000 grant to Media Matters in 2006 for the specific purpose of "fact checking" religious broadcasters. ARCA also gave Media Matters $100,000 in startup funding two years earlier. But in the larger context of the $53.4 million the organization has raised since 2003, $150,000 is a drop in the proverbial bucket.
(RELATED: See the spreadsheet of foundation grants to Media Matters)
Non-profit organizations like Media Matters are permitted to keep their sources of support secret, but grantmaking foundations are required to disclose how much they give away each year, and to whom. According to the Foundation Center, U.S. foundations distributed more than $45.7 billion in 2009. Their publicly available tax returns make it possible to reconstruct non-profit grant recipients' once-secret incomes to a great degree.
The identities of individual donors to Media Matters, however, are likely to remain secret. In a 2007 story for National Review, Byron York named several left-wing luminaries who personally supported the organization during its earliest days. They included Esprit clothing founder Susie Tomkins Buell, telecommunications executive Leo Hindery Jr., New York psychologist Gail Furman, Progressive Insurance tycoon Peter Lewis, SPAM scion James Hormel and Bren Simon, whose husband's name is synonymous with shopping mall real estate.
Furman ($125,000) and Buell ($300,000), at least, donated through their personal foundations. Levels of support from the others remain beyond the reach of the public and the media.
Media Matters' largest donor by far is the Tides Foundation, a non-profit that operates as a clearinghouse for Democratic-aligned causes. Other grantmakers make sizable gifts to Tides with specific instructions to pass the money on to social activist organizations; Tides keeps a management fee. The result is a murky money trail that often obscures the source of enormous levels of funding.
Tides has contributed over $4.3 million to Media Matters, more than half of which had reached its target by the time the organization announced its launch in 2004. Tides is not required to disclose to anyone, including the Internal Revenue Service, which of its hundreds of institutional donors provided the money it passed on to Media Matters.
This lack of transparency has, at least in Media Matters' case, prompted conspiracy theories among conservatives who see money laundering where liberal philanthropists see what foundation wonks call "donor-advised giving." For instance, in April 2007 Fox News Channel host Bill O'Reilly accused liberal financier George Soros of hiding his support for Media Matters by passing the money through Tides.
"The smear website [Media Matters] received more than a million dollars from the Tides Foundation alone in 2005," O'Reilly said, "and just by coincidence, Soros' Open Society Institute donated more than a million dollars to Tides in 2005. Figure it out."
But although tax records of various Soros-related foundations show at least $28 million in grants to the Tides Foundation and its affiliated Tides Center, most of those donations including all but one small gift in 2005 were earmarked for purposes unrelated to Media Matters. Specific earmarks that year, for instance, attached Soros funding to initiatives aiming to restore voting rights to felons, reform U.S. drug policy and outlaw the death penalty.
Soros announced in October 2010 that he would finally make a sizable donation to Media Matters. Open Society Foundations communications director Laura Silber told The Daily Caller on Thursday that "it was a three-year grant, for a total of $1 million. I think the final payment was in 2011."
Silber also said an additional grant of $75,000 was approved in 2010. She would not, however, say for what purpose either grant was made, offering only "general operating expenses" as an explanation. Tax records show that both grants were paid by the Foundation to Promote Open Society, one of the charities under Soros' "Open Society Foundations" umbrella.
Other Media Matters donors responsible for more than $1 million in funding include the Fort Collins, Colo.-based Bohemian Foundation ($2,325,000), funded by medical equipment heiress Pat Stryker; the Belvedere, Calif., Stephen M. Silberstein Foundation ($2,225,000), whose millions came from a library card-catalog software business; the Millbrook, N.Y.-based Dyson Foundation ($2,150,000) no relation to the vacuum cleaner company; and the Gill Foundation ($1,160,000) in Denver, whose founder Tim Gill started the Quark desktop publishing company and now donates much of his fortune to gay-rights causes.
The Gill and Bohemian foundations combined for $1.15 million in grants specifically to support Media Matters Colorado, an affiliate that launched in July 2006 in the critical election swing state. The branch office folded in March 2009, along with at least one other progressive media satellite, after President Obama's inauguration.
Media Matters has collected nearly $1 million, all of it since 2010, from the Ford Foundation, which Edsel Ford set up in the late 1930s to funnel Ford Motor Company profits to charitable causes.
Ironically, The Daily Caller reported Monday that a confidential Media Matters fundraising memo described ads funded by the group specifically to attack the Detroit automaker because it was advertising on Lou Dobbs' CNN show.
"As part of the Drop Dobbs campaign," the memo read in part, "Media Matters produced and was prepared to run an advertisement against Ford Motor Company on Spanish Language stations in Houston, San Antonio, and other cities targeting its top selling product, pick-up trucks, in its top truck buying markets."
Among the other ironies in Media Matters' funding portfolio is donations from the Dyson Foundation. That philanthropy's founder, Charles H. Dyson, created The Dyson-Kissner-Moran Corporation, a leveraged buyout pioneer whose corporate takeover techniques would later make Mitt Romney a multimillionaire at Bain Capital.
TheDC left repeated messages seeking comment from several of Media Matters' biggest foundation donors about what made the organization deserving of the millions it collects from the foundation sector every year.
The Dyson Foundation replied only that its grantees "are a matter of public record."
Spokespersons for other Media Matters donors, however, did not respond at all, including the Barbra Streisand Foundation, the Bohemian Foundation, the Sandler Foundation, the Silberstein Foundation, the Tides Foundation, MoveOn.org Civic Action and the Ford Foundation.
Jun 30, 2013
Mann and Schmidt in a funk as new Briffa paper confirms McIntyre's Reanalysis of Yamal data
By Anthony Watts
This must be personally satisfying for Steve McIntyre, though I doubt the folks at RealClimate will have the integrity to acknowledge that he was right, and they were wrong.
It seems that in the latest publication from CRU's Keith Briffa, they decided to leave out those elements (The most influential tree in the world) Steve identified that led to the Yamal Superstick.
Have a look at this remarkable graph below.
McIntyre writes:
Unreported by CRU is that they've resiled from the Yamal superstick of Briffa 2000 and Briffa et al 2008 and now advocate a Yamal chronology, the modern portion of which is remarkably similar to the calculations in my posts of September 2009 here and May 2012 here, both of which were reviled by Real Climate at the time.
In today's post, I'll demonstrate the degree to which the new Briffa version has departed from the superstick of Briffa 2000 and Briffa et al 2008 and the surprising degree to which it approaches versions shown at CA.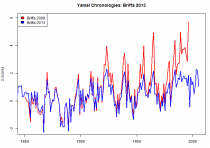 Figure 3. Comparison of Briffa et al 2008 superstick to yamal_trw chronology of Briffa et al 2013. Both in z-scores. Enlarged.
[...]
...the next graphic shows the two CA calculations that had been so reviled by CRU and Real Climate (the green chronology of Sept 2009 and the May 2012 calculation with updated information from Hantemirov). I think that I'm entitled to observe that the B13 chronology is more similar to the two reviled CA calculations than it is to the Briffa et al 2008 superstick. Needless to say, this was not reported in CRU's recent Real Climate article.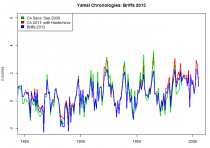 Figure 4. Comparison of B13 Yamal chronology to CA (Climate Audit) calculations. Enlarged.
omnologos points out this missive from Gavin Schmidt on RealClimate:
The irony is of course that the demonstration that a regional reconstruction is valid takes effort, and needs to be properly documented. That requires a paper in the technical literature and the only way for Briffa et al to now defend themselves against McIntyre's accusations is to publish that paper (which one can guarantee will have different results to what McIntyre has thrown together).
Looks like that guarantee expired.
Jun 24, 2013
America should learn from Europe on wind power
Iain Murray
Germany and Spain have been hit by the downside of alternative energy.
As the Department of Energy considers a loan guarantee for the Cape Wind Project in Massachusetts, it should learn from Europe's failed wind energy experiments and from its own troubled experiences with renewable energy projects.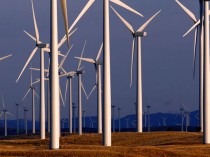 Germany and Spain are waking up to the inevitable truth about renewable energy, especially offshore wind. They are now realizing the projects cannot survive without subsidies and that they make energy much more expensive to households and businesses. In an age of austerity, they are a luxury even Germany, Europe's economic powerhouse, cannot fully afford any more.
When Germany decided to close down its nuclear power stations after the Fukushima disaster in Japan, the original plan was to replace most of the lost generating capacity with wind power. However, wind power is expensive, and the growing size of the industry has meant that subsidies and energy bills have surged. The German subsidy is paid for by a surcharge on household electricity bills. The growth in wind power meant that in January the surcharge increased to over 5 cents (euro) per kilowatt hour, representing 14% of all electricity bills.
In Germany, Chancellor Angela Merkel, realizing that wind power is economically unsustainable, has proposed capping the subsidy until the end of 2014 and capping further rises to 2.5%, with the probability of further significant reform after the federal elections this year. It's a similar story in Spain, where subsidies have been cut so much that the chairman of the country's Association of Renewable-Energy Producers said recently: "Spain's government is trying to smash the renewable-energy sector through legislative modifications."
President Obama has repeatedly said we should look to Spain and Germany for the lead on renewable energy policy. He is right, but not in the way he thinks.
Furthermore, he should look to the Cape Wind project in Nantucket Sound. The project will cost $2.6 billion, and it has secured funding for $2 billion of that from a Japanese bank. But this is believed to be subject to the project gaining a loan guarantee from the U.S. Department of Energy. And there is every reason to believe that this would be as bad a bet as its loan guarantee to Solyndra.
The contracted cost of the wind farm's energy will be 23 cents a kilowatt hour (excluding tax credits, which are unlikely to last the length of the project), which is more than 50% higher than current average electricity prices in Massachusetts. The Bay State is already the 4th most expensive state for electricity in the nation. Even if the tax credits are preserved, $940 million of the $1.6 billion contract represents costs above projections for the likely market price of conventional power. Moreover, these costs are just the initial costs, and like in Germany, they are scheduled to rise by 3.5 percent annually for 15 years.
This massive increase in energy costs is bad news for Bay State businesses and may well drive some of them out of the state entirely. That's a disaster for jobs and for tax revenue.
The likelihood that businesses will not be willing to pay the bill means that the burden will fall increasingly on households. Yet, in all probability, this will be politically unsustainable, and the cost will therefore fall back on taxpayers across the nation, via the loan guarantee.
That's just the economic argument. When you consider the environmental arguments, the case becomes a no-brainer. As the Alliance to Protect Nantucket sound points out, "Cape Wind threatens the marine environment and would harm the productive, traditional fisheries of Nantucket Sound."
The Alliance also notes that, "Cape Wind would not make a significant contribution to the effort to reduce pollution emissions, and, in fact, could aggravate the problem by causing dirty power plants to run more often in order to be ready to generate power instantly when the wind stops blowing."
For the Department of Energy to grant the loan guarantee to Cape Wind would be a triumph of blinkered ideology over real economic and environmental concerns. The president, true to his word, should learn from Germany and turn down the loan guarantee to Cape Wind.
Iain Murray is a vice president at the Competitive Enterprise Institute.
Jun 22, 2013
Three strikes and your out
Dr. Gordon Fulks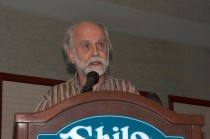 If you missed the radio show Saturday, ou can catch the Sunday repeat as described below. The show will also be available from the radio station archives as of Monday, I am told.
I'm far from the super star here. That's Shannon Goessling, the Executive Director of the Southeastern Legal Foundation. She/they are are one of the principles suing the Environmental Protection Agency over Obama's attempts to regulate carbon dioxide. We scientists are merely friends of the court, saying that the EPA got the science wrong.
Science is typically too complicated to argue in front of justices who probably paid little attention to science in high school (hated it). But they are masters of logic and evidence in much the same way that scientists are. And unlike the general public, they will put robust empirical data (evidence) ahead of expert opinions. Hence the government's likely arguments of consensus and authority will have to take a backseat to robust data.
We have been fortunate that the EPA based their 'Endangerment Finding' for carbon dioxide on "Three Lines of Evidence" by which they mean 'Three Arguments.' These are inherently simple arguments that everyone can understand:
1) The Global Temperature has been unusually warm since 1950.
2) They are nearly 100% certain that man-made greenhouse gases are to blame, because of a mechanism involving water vapor that produces a 'Hot Spot' in the tropical troposphere.
3) Their highly sophisticated computerized climate models are able to keep track of all factors and accurately predict the future out 100 years.
Of course all of these arguments are fatally flawed. And since these arguments are fundamental to all of the hype that follows from them (like melting icecaps), the entire theory of Catastrophic Anthropogenic Global Warming falls apart and EPA has no basis for regulating carbon dioxide:
1) Failed Warming: There has been little net warming since 1950 and all has occurred in the Northern Hemisphere, not globally. Furthermore, there has been no statistically significant warming for two decades.
2) Failed Hot Spot: The 'Hot Spot' is completely missing.
3) Failed Predictions: ALL of the climate models used by the EPA are epic failures for their inability to accurately predict the earth's climate since the advent of robust satellite temperature measurements in 1979.
Three strikes and you are out in the old ball game!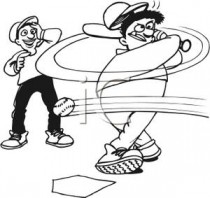 ----------
I SPY - Slaying the Monster: The EPA

I Spy can now be heard Sunday: 7:00 - 8:00 p.m. (Pacific time) tune to KAJO (1270-AM) or if you're outside of the Grants Pass, OR, listening area, go to www.kajo.com and hit the listen live button at the top of the page.
Our Guests: Physicist, Dr. Gordon Fulks, & Shannon Goessling, Exec. Dir. of Southeastern Legal Foundation
Jun 19, 2013
The Continuing Collapse of the Global Warming Hoax
By Alan Caruba
While the nation tries to come to grips with the cascade of scandals involving the Obama administration, a significant phenomenon has been occurring. It is the demise of the global warming/climate change hoax that has driven national and international policies since the 1980s.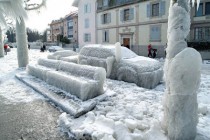 Directed from within the bowels of the most corrupt international organization on planet Earth, the United Nations, the hoax originally generated the Kyoto Protocols in December 1997 to set limits on the generation of carbon dioxide (CO2) emissions. The UN's climate charlatans claimed that CO2 was causing the Earth to dramatically warm. It was a lie. The U.S. Senate unanimously refused to ratify it and, in 2011, Canada withdrew from it.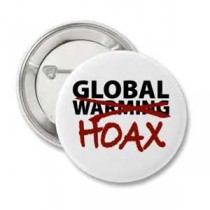 As reported by Craig Rucker, Executive Director of CFACT, fast-forward to the recent UN climate talks in Bonn, Germany, and news that Russia, joined by Ukraine and Belarus, blocked the adoption of the agenda of the "Subsidiary Body for Implementation", part of the standard fast-tracking toward a 2015 Climate Treaty scheduled to be adopted and signed in Paris. Part of the treaty is a scheme to redistribute the wealth of developed nations to those less developed.
The Russians were fed up with the usual behind-closed-doors proceedings that create such treaties, but no doubt they were well aware that the treaty would empower the UN to govern a large portion of economic activity around the world. All UN treaties require nations to surrender some aspect of their national sovereignty.
There is clearly a backlash against the global warming hoax, particularly from nations that have discovered the costs to their economies that idiotic "renewable" energy schemes and emissions reductions incur. In the real world, they are experiencing longer, harsher winters as the result of the cooling cycle the Earth has been in for the last seventeen years!
Despite President Obama's incessant claims that the Earth is heating, scientists in both Russia and China have been publishing data from scientific studies disputing the Big Lie of global warming/climate change.
The Chinese Academy of Sciences 50,000 members strong recently published "Climate Change Reconsidered and Climate Change Reconsidered: 2011 Interim Report", two hefty volumes with more than 1,200 pages of peer-reviewed data on climate change published by The Heartland Institute in 2009 and 2011.
In May, Marc Morano, publisher of ClimateDepot.com and a former member of the staff of the U.S. Senate Environmental & Public Works Committee submitted written testimony to the committee.
"The scientific reality is that on virtually every claim from A to Z the claims of the promoters of man-made climate fears are failing," wrote Morano, "and in many instances the claims are moving in the opposite direction. The global warming movement is suffering the scientific death of a thousand cuts."
"There is no evidence," wrote Morano, "we are currently having any unusual weather." Weather events such as the Moore, Oklahoma tornado and the sub-tropical storm Sandy that hit the northeast are normal occurrences despite the damage they inflicted.
In The Wall Street Journal in May, Princeton University physicist Dr. William Happer and NASA moonwalker and geologist, Dr. Harrison H. Schmitt wrote that "Thanks to the single minded demonization of this natural and essential atmospheric gas by advocates of government control of energy production, the conventional wisdom about carbon dioxide is that it is a dangerous pollutant. That's simply not the case."
Literally thousands of scientists around the world have disputed the IPCC "science" and many former "warmists" have reversed their former beliefs. Dr. Lennart Bengtsson, a top Swedish climate scientist, formerly affiliated with the IPCC, said in February "We are creating great anxiety without it being justified...there are no indications that the warming is so severe that we need to panic…
"The warming we have had the last 100 years is so small that, if we didn't have meteorologists and climatologists to measure it, we wouldn't have noticed it at all."
The threat facing Americans is posed by the Environmental Protection Agency that clings to the Big Lie about CO2 and uses it as the basis for a flood of regulations that are doing great harm to economic recovery and development.
The same holds true for the Departments of Energy and the Interior that deny access to the nation's huge reserves of energy resources and, in the case of coal, act to destroy its mining industry and plants using it for the generation of electricity.
The global warming/climate change hoax continues to be widely taught in the nation's schools and that should end. Now.
It continues to be reported as truth by the mainstream media and as fodder for Hollywood movies and for television programs such as those on the National Geographic Channel.
Despite the lies surrounding global warming/climate change, the hoax is in its final death throes and has been for many years. That's the good news.
Jun 04, 2013
Epic Model Failure and May Global LT Temperature Update
By Dr. Roy Spencer
ICECAP UPDATE: Spring for the USA in the UAH LT data was coldest since 1984 and fifth coldest in the record back to 1979. It came after the warmest spring in 2012. We await the NCDC US rankings.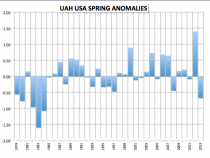 Enlarged
June 4th, 2013
Courtesy of John Christy, a comparison between 73 CMIP5 models (archived at the KNMI Climate Explorer website) and observations for the tropical bulk tropospheric temperature (aka "MT") since 1979 (click for large version):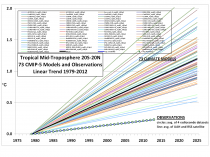 Rather than a spaghetti plot of the models' individual years, we just plotted the linear temperature trend from each model and the observations for the period 1979 to 2012.
Note that the observations (which coincidentally give virtually identical trends) come from two very different observational systems: 4 radiosonde datasets, and 2 satellite datasets (UAH and RSS).
If we restrict the comparison to the 19 models produced by only U.S. research centers, the models are more tightly clustered: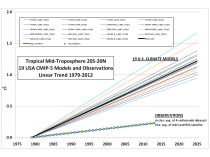 Enlarged
Now, in what universe do the above results not represent an epic failure for the models?
I continue to suspect that the main source of disagreement is that the models' positive feedbacks are too strong...and possibly of even the wrong sign.
The lack of a tropical upper tropospheric hotspot in the observations is the main reason for the disconnect in the above plots, and as I have been pointing out this is probably rooted in differences in water vapor feedback. The models exhibit strongly positive water vapor feedback, which ends up causing a strong upper tropospheric warming response (the "hot spot"), while the observation's lack of a hot spot would be consistent with little water vapor feedback.

---------------------
UAH Global Temperature Update for May 2013: +0.07 deg. C
June 4th, 2013
Our Version 5.5 global average lower tropospheric temperature (LT) anomaly for May, 2013 is +0.07 deg. C, down a little from +0.10 deg. C in April (click for large version):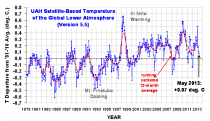 The global, hemispheric, and tropical LT anomalies from the 30-year (1981-2010) average for the last 17 months are:
YR MON GLOBAL NH SH TROPICS
2012 1 -0.134 -0.065 -0.203 -0.256
2012 2 -0.135 +0.018 -0.289 -0.320
2012 3 +0.051 +0.119 -0.017 -0.238
2012 4 +0.232 +0.351 +0.114 -0.242
2012 5 +0.179 +0.337 +0.021 -0.098
2012 6 +0.235 +0.370 +0.101 -0.019
2012 7 +0.130 +0.256 +0.003 +0.142
2012 8 +0.208 +0.214 +0.202 +0.062
2012 9 +0.339 +0.350 +0.327 +0.153
2012 10 +0.333 +0.306 +0.361 +0.109
2012 11 +0.282 +0.299 +0.265 +0.172
2012 12 +0.206 +0.148 +0.264 +0.138
2013 1 +0.504 +0.555 +0.453 +0.371
2013 2 +0.175 +0.368 -0.018 +0.168
2013 3 +0.183 +0.329 +0.038 +0.226
2013 4 +0.103 +0.120 +0.086 +0.167
2013 5 +0.074 +0.162 -0.013 +0.113
Global Microwave SST Update for May 2013: -0.01 deg. C
June 5th, 2013 by Roy W. Spencer, Ph. D.
The satellite-based microwave global average sea surface temperature (SST) update for May 2013 is -0.01 deg. C, relative to the 2003 to 2006 average (click for large version):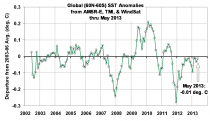 The anomalies are computed relative to only 2003 to 2006 because those years were relatively free of El Nino and La Nina activity, which if included would cause temperature anomaly artifacts in other years. Thus, these anomalies cannot be directly compared to, say, the Reynolds anomalies which extend back to the early 1980s. Nevertheless, they should be useful for monitoring signs of recent ocean surface warming, which appears to have stalled since at least the early 2000's. (For those who also track our lower tropospheric temperature ["LT"] anomalies, these SST anomalies average about 0.20 deg. C cooler than LT since mid-2002, but there is considerable variability in that number).
The SST retrievals come from Remote Sensing Systems (RSS), and are based upon passive microwave observations of the ocean surface from AMSR-E on NASA's Aqua satellite, the TRMM satellite Microwave Imager (TMI), and WindSat. While TMI has operated continuously through the time period (but only over the tropics and subtropics), AMSR-E stopped nominal operation in October 2011, after which Remote Sensing Systems patched in SST data from WindSat. These various satellite SST datasets have been carefully intercalibrated by RSS.
Despite the relatively short period of record, I consider this dataset to be the most accurate depiction of SST variability over the last 10+ years due to these instruments' relative insensitivity to contamination by clouds and aerosols at 6.9 GHz and 10.7 GHz.
May 31, 2013
In coal country, believers and skeptics spar over warming
Jean Chemnick, E&E Published: Friday, May 31, 2013
Congressional Democrats have pressed their Republican colleagues for three years to hold a hearing on climate change, and yesterday one did in the heart of West Virginia's coal country.
See full coverage here. Dr. John Christy's testimony in six slides here.
Despite having introduced a bill last week that would bar U.S. EPA from promulgating rules that would require the use of carbon capture and storage technology until a panel of officials from outside the agency deemed it to be economically and technologically feasible, Rep. David McKinley (R-W.Va.) hosted yesterday's climate change forum in a technology park in Fairmont, W.Va.
McKinley's office said "is fascinated by this issue" and read several books on climate change in preparation for the event, including Sen. James Inhofe's (R-Okla.) "The Greatest Hoax," which denies that man-made warming exists.
"The congressman's take-away is that the science is still unclear," said his office. "There needs to be open debate about this in Washington, and both sides need to be represented and simply talk."
The West Virginia venue was chosen because McKinley wanted his constituents to be able to take part in the debate, his staff said. An effort was made to balance the invited guests between those who believe in climate change and those who do not.
"Many environmental groups declined to come as they felt it was not worth the discussion to come to W.Va.," his office said. "But this was about bringing the debate to the citizens of West Virginia to hear both sides."
Participants estimated the crowd at 70 people or fewer and said it appeared to be equally divided between skeptics and climate science believers. The discussion lasted more than three hours.
The diverse group of experts McKinley invited to the West Virginia High Technology Consortium included many of the same people Republicans frequently call to Capitol Hill to discuss the issue: contrarian scientists who say human emissions aren't driving climate change, like atmospheric sciences professor John Christy of the University of Alabama, Huntsville, and skeptic activists like former Inhofe aide Marc Morano and Myron Ebell of the Competitive Enterprise Institute.
But the panel also included mainstream researchers who are among the (alleged - greatly exaggerated) 97 percent of scientists who agree that human emissions are driving climate change, according to a recent analysis of scientific papers.
These included Colorado State University atmospheric scientist Scott Denning and Jim Hurrell, director of the National Center for Atmospheric Research's Earth System Laboratory.
Representatives of think tanks who were part of the event said they found McKinley's approach to the issue encouraging.
"He made a few comments that did lift my spirits, and I thought, maybe he is really serious about trying to think about ways to deal with climate change," said Joe Casola, senior scientist for the Center for Climate and Energy Solutions.
He said McKinley, who is an engineer by training, asked several times what it might take for the United States to bring its emissions under control, something Casola called "a constructive beginning."
But Casola said that if McKinley's purpose in holding the hearing was to get a genuine read on the effect fossil fuel use is having on climate, he should have stocked his panel with mainstream scientists rather than skeptics whom he said frequently steered the discussion toward other topics, like preindustrial climate fluctuations.
Annie Petsonk of the Environmental Defense Fund, who also took part in the discussion, said she, too, was impressed with what she saw as McKinley's genuine interest in climate change science and in how it might affect the Mountain State's economy.
"He is clearly concerned about the issue of diversifying West Virginia's economic base, which he should be," Petsonk said. A major focus of the congressman's remarks was how to keep technology research in West Virginia after Morgantown's National Energy Technology Laboratory saw its budget hit by sequestration.
While McKinley's office said West Virginia's iconic coal mining industry would continue to grow, it pointed out that lower-emissions natural gas is also an important economic sector.
The state's 1st District, which McKinley represents, has both wet and dry gas and the "possibility of several 'crackers' coming to the district bringing tens of thousands of jobs," McKinley's office said.
Climate skeptics, too, praised the event, saying it allowed them to make their case that human emissions are not having a significant effect on warming and that efforts to rein them in are unnecessary.
Morano called the event "refreshing."
"When actual debate occurs like we saw at the hearing, we see just how much of man-made climate fears are based on 'projections,' 'predictions' and 'maybes,'" Morano said. He pointed out that scientists on the panel did not agree on several key points.
"Team global warming had a scientific civil war going on during the debate about whether there was a current global warming signal in our global average [temperatures] or even weather," he said. See Morano's written testimony here.