Jan 29, 2013
James M. Taylor: The Overwhelming Judgment of Science Rejects Obama's Global Warming Claims
By James Taylor
President Barack Obama in his second inauguration address called for new action to "respond to the threat of climate change." Taking advantage of the bully pulpit and a huge national audience, Obama mustered his best possible arguments in a brief case for why addressing global warming is supposedly necessary.
Unfortunately for global warming alarmists, Obama's case was exceptionally flimsy. Then again, Obama did not have much to work with, as the overall case for global warming alarmism is exceptionally flimsy.
Obama presented his argument as follows: "Some may still deny the overwhelming judgment of science, but none can avoid the devastating impact of raging fires, and crippling drought, and more powerful storms."
Given a fresh canvas on which to work, Obama sought the most compelling examples of an asserted global warming crisis. He chose wildfires, drought and powerful storms. At the same time, he urged us to defer to the "overwhelming judgment of science" on these matters.
President Obama, I agree we should strongly consider the overwhelming judgment of science. Let's apply the overwhelming judgment of science to your three cherry-picked examples and see what the science reveals.
Leading off the Obama "Big Three" is wildfires. What does the overwhelming judgment of science reveal?
The National Interagency Fire Center reports the number of annual wildfires in the United States has been declining for more than 30 years. In fact, the "overwhelming judgment of science" reveals the number of wildfires rose from the 1950s through the 1970s, as global temperatures declined, and has been declining ever since, as global temperatures have modestly warmed.
The really interesting part about wildfires in the United States is a recent increase in the number of acres burned per wildfire after the federal government reversed a decades-long policy of putting out as many wildfires as quickly as possible. In the 1990s, environmentalists and federal forest officials reported forests had become overgrown as a result of firefighters putting out too many natural fires too quickly. Since then, firefighters are responding to fewer forest fires and letting more acres burn. As a result, even though wildfires occur less frequently as our planet warms and as soil moisture improves (more on that coming right up), our global warming Alarmist in Chief presents the misleading assertion that global warming rather than a change in federal wildfire policy is causing a recent increase in acres burned due to wildfires.
Next in Obama's "Big Three" of asserted global warming crises is drought. What does the "overwhelming judgment of science" reveal?
U.S. and global soil moisture improved throughout the 20th century as our planet warmed in its recovery from the Little Ice Age. According to the Global Soil Moisture Data Bank, global soil moisture increased throughout the 20th century at almost all sites. Moreover, the National Oceanic and Atmospheric Administration (NOAA) reports that 20th century droughts were quite mild when compared to droughts in previous centuries. This "overwhelming scientific judgment of science" was confirmed in November when a study published in the peer-reviewed journal Nature found "there has been little change in drought over the past 60 years."
Finally, the President asserts that global warming is causing more powerful storms. This assertion is particularly fictitious. NOAA reports a long-term decline in strong tornadoes striking the United States. The National Hurricane Center reports that the past 40 years have seen the fewest major hurricane strikes since at least the mid-1800s. Even Hurricane Sandy reminds us that the U.S. Northeast has experienced only one major hurricane strike since 1960, but experienced six major hurricane strikes during the 1930s, 1940s, and 1950s, when global temperatures were cooler.
Clearly, the "overwhelming judgment of science" contradicts President Obama and global warming alarmists. This is a good thing.
Now let's play a game of "pretend."
Let's pretend that none of the overwhelming scientific evidence presented above actually existed. Let's pretend that science supported rather than contradicted President Obama's assertions. The question is, what would Obama have us do to solve the problem?
Obama's solution is to impose still more economy-killing carbon dioxide restrictions on the U.S. economy. This makes about as much sense as losing your car keys in Boston but insisting on searching for them in Los Angeles.
True, global carbon dioxide emissions have risen more than 33 percent since the year 2000. However, U.S. carbon dioxide emissions have declined during that time and will continue to decline for the foreseeable future.
The U.S. Energy Information Administration reports that during 2012 alone, U.S. carbon dioxide emissions declined by 8 percent compared to 2011.
China by far emits more carbon dioxide than any other nation and Chinese emissions are growing rapidly. China alone accounts for 75 percent of the global increase in carbon dioxide emissions since 2000. If the United States completely eliminated all of its carbon dioxide emissions today (something that is impossible to do), the only thing we would accomplish would be to delay by about five years an equal increase in Chinese emissions. And China has repeatedly and emphatically insisted it will not agree to any restrictions on its carbon dioxide emissions.
Thankfully, President Obama, the "overwhelming judgment of science" shows the asserted global warming crisis exists solely in the minds of global warming alarmists.

Jan 23, 2013
A Citizen's Guide to Global Warming Evidence
Posted on 22 January 2013 by Briggs
Was it only me? I thought Chicken Little dead. After all, when was the last time we heard competent authority shouting "Only the government can stop the sky from falling!"? But there he was yesterday, singing his old song, and from the highest perch in the land.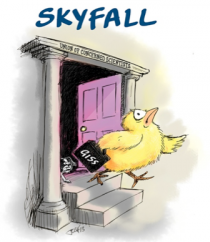 Since the subject has come up, even though it pains to do so, we have to talk about it. Hence this modified and expanded repost. I'll also have more in the near future.
Mind! Global warming can be dangerous. But, so far as we know, only politically and financially. Why, your own author lost jobs (and more) because of global warming. So unless you have balls of steel, as I do, beware what you say on this topic. This post originally ran 1 December 2009.
Why are you so scared about global warming? Why do you believe things are as bad as they are? Why is it you feel that the world is coming to an end unless we do something?
Unless you are an actual, God loveyou, bona fide climatologist, it is difficult to see how anybody could raise an interest in the state of the climate given the actual, direct evidence we have for dangerous man-made global warming. But it's clear our National Nervousness Index is peaking. Why is that?
Chances are, that if you are worked up, it is because you are mistaken. If you are like most people, and most people are, then you have inappropriately thought that certain evidence implied the truth of dangerous man-made global warming (or AGW, for short) whereas it actually does not. You are therefore unnecessarily worried.
Here, then, is a brief FAQ which you can cut and paste on your energy efficient refrigerator, or pass out to "activist" friends.
The Earth's climate has never been static It has always changed. And nobody - not a soul - knows what an ideal climate is. How can you say it will be bad if you don't know what is good?
AGW is not the only theory of climate change Something caused climate the change, but it may not have been AGW. There are many rival theories, but you have never heard of them. One, or even none, of them might instead be true and could be useful in predicting future climates.
The accuracy of historical temperatures is questionable and is in flux We do not have direct measurements for most of the Earth's history, and have to rely on statistics, God help us! to impute the missing records. The records used to compute past temperatures are ever changing, too; thus, so are the imputations. This process is fraught with error and uncertainty, uncertainty which is rarely or never carried through climate analyses, meaning we are too sure of the results.
Historical temperature changes are not good evidence of AGW Because it was cooler, or hotter, in the past is not complete evidence that AGW is true. All historical temperature observations are consistent with all known rival climate change theories. Past temperatures are, at best, indirect evidence for many different climate change theories, and not just AGW.
Statements of what happens when it is hot outside are not evidence that AGW is true If you heard that a glacier melted when it was exposed to hot air, you have learned what you already knew: ice melts when it is hot. Absolutely no observation of any plant, mineral, or animal is direct evidence of AGW. Thus, every horror story you have heard about small fish whose native waters got uncomfortably warm, about a species of grass that was stressed under the harsh sun, are not direct evidence that AGW is true. They are only statements of what happens when it gets hot out or when it rains or fails to.
Every statement about what might happen if AGW were true is worthless as evidence for AGW Horror stories about the evil, wretched future that awaits us once the "tipping point" has been breached are not evidence for AGW. The statements are empty of any kind of proof. "Studies" that claim future awfulness due to AGW are inappropriately and disingenuously used to hint that AGW is true. This naughty behavior is equivalent to the Tokyo scientist who solicits his government for a Godzilla "studies" grant because of the havoc the nuclear-fire breather could cause if he were real. That his grant is awarded is not evidence of Godzilla's existence. Nor are the string of papers published on crushed bodies, burnt cities, and the like evidence for Godzilla's existence.
The best indirect evidence for AGW is the fit of climate models to historical data AGW climate models can reproduce some of the historical data in some regions fairly well, but only in a statistical sense; they cannot fit data in all times or areas. However, many of those rival climate change theories fit the historical data equally well. Thus, the ability to reproduce historical data to an arbitrary level of goodness is not especially strong evidence in favor of AGW.
There does not exist good direct evidence for the truth of AGW The only possible direct evidence would be if the AGW models skillfully predicted future climate data (skill means an improvement over a naive forecast such as persistence or rival theory). These skillful predictions would tell us that the theory underlying the models is likely to be true. AGW climate models do not skillfully predict new data. A forecast of doom is not proof of doom.
The level of uncertainty in horrors caused by AGW is higher than thought A scientist writes a paper which states a horror is likely but not certain to occur if AGW is true and if a string of other conditions are met. This announcement is falsely taken as direct proof the horror will certainly occur. But the chance that the horror and AGW are both true and the string of conditions are true is necessarily less. Exaggerated example: it is 60% likely bee stings will increase if AGW true. But there is only (say) 10% chance AGW true. Therefore, there is only 60% x 10% = 6% chance we will see increased bee stings in the presence of AGW.
The bandwagon effect is strong Isn't it odd that researchers predict that warm, fuzzy, cuddly, photogenic species all face extinction risk if AGW is true, but they also say that species that bite, stick, pester, and plague will thrive if AGW is true?
Jan 16, 2013
Extreme Misrepresentation: USGCRP and the Case of Floods
By Roger Pielke Jr.
The US Global Change Research Program has released a draft national assessment on climate change (here in PDF) and its impacts in the United States, as required by The US Global Change Research Act of 1990 (which incidentally was the subject of my 1994 PhD dissertation). There has been much excitement and froth in the media.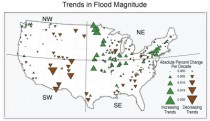 Here I explain that in an area where I have expertise on, extremes and their impacts, the report is well out of step with the scientific literature, including the very literature it cites and conclusions of the IPCC. Questions should (but probably won't) be asked about how a major scientific assessment has apparently became captured as a tool of advocacy via misrepresentation of the scientific literature—a phenomena that occurs repeatedly in the area of extreme events. Yes, it is a draft and could be corrected, but a four-year effort by the nation's top scientists should be expected to produce a public draft report of much higher quality than this.
Since these are strong allegations, let me illustrate my concerns with a specific example from the draft report, and here I will focus on the example of floods, but the problems in the report are more systemic than just this one case.
What the USGCRP report says:

Infrastructure across the U.S. is being adversely affected by phenomena associated with climate change, including sea level rise, storm surge, heavy downpours, and extreme heat… Floods along the nation's rivers, inside cities, and on lakes following heavy downpours, prolonged rains, and rapid melting of snowpack are damaging infrastructure in towns and cities, farmlands, and a variety of other places across the nation.
The report clearly associates damage from floods with climate change driven by human activities. This is how the draft was read and amplified by The New York Times:

[T]he document minces no words.

"Climate change is already affecting the American people," declares the opening paragraph of the report, issued under the auspices of the Global Change Research Program, which coordinates federally sponsored climate research. "Certain types of weather events have become more frequent and/or intense, including heat waves, heavy downpours, and, in some regions, floods and droughts."
To underscore its conclusion, the draft report includes the figure at the top of this post (from Hirsch and Ryberg 2011), which shows flood trends in different regions of the US. In a remarkable contrast to the draft USGCRP report, here is what Hirsch and Ryberg (2011) actually says:
The coterminous US is divided into four large regions and stationary bootstrapping is used to evaluate if the patterns of these statistical associations are significantly different from what would be expected under the null hypothesis that flood magnitudes are independent of GM [global mean] CO2. In none of the four regions defined in this study is there strong statistical evidence for flood magnitudes increasing with increasing GMCO2.
Got that? In no US region is there strong statistical evidence for flood magnitudes increasing with increasing CO2. This is precisely the opposite of the conclusion expressed in the draft report, which relies on Hirsch and Ryberg (2011) to express the opposite conclusion.
Want more? Here is what IPCC SREX, the recent assessment of extreme events, says (here in PDF):
There is limited to medium evidence available to assess climate-driven observed changes in the magnitude and frequency of floods at regional scales because the available instrumental records of floods at gauge stations are limited in space and time, and because of confounding effects of changes in land use and engineering. Furthermore, there is low agreement in this evidence, and thus overall low confidence at the global scale regarding even the sign of these changes.
The SREX is consistent with the scientific literature—neither detection (of trends) nor attribution (of trends to human forcing of the climate system) has been achieved at the global—much less regional or subregional—levels. Yet, USGCRP concludes otherwise.
The leaked IPCC AR5 SOD reaffirms the SREX report and says (here in PDF), in addition to documenting a signal of earlier snowmelt in streamflows, no such signal of increasing floods has been found:
There continues to be a lack of evidence regarding the sign of trend in the magnitude and/or frequency of floods on a global scale
The IPCC has accurately characterized the underlying literature:
Observations to date provide no conclusive and general proof as to how climate change affects flood behaviour
Given the strength of the science on this subject, the USGCRP must have gone to some effort to mischaracterize it by 180 degrees. In areas where I have expertise, the flood example presented here is not unique in the report (e.g., Hurricane Sandy is mentioned 31 times).
Do note that just because the report is erroroneous in areas where I have expertise does not mean that it is incorrect in other conclusions. However, given the problematic and well-documented treatment of extremes in earlier IPCC and US government reports, I'd think that the science community would have its act together by now and stop playing such games.
So while many advocates in science and the media shout "Alarm" and celebrate its depiction of extremes, another question we should be asking is, how is it that it got things so wrong? Either the IPCC and the scientific literature is in error, or the draft USGCRP assessment is—But don't take my word for it, check it out for yourself.
Dec 25, 2012
Book review: Redressing global climate hysteria
Anthony Sadar
CLIMATE OF CORRUPTION: POLITICS AND POWER BEHIND THE GLOBAL WARMING HOAX
By Larry Bell

Gallup's annual environment poll conducted earlier this month revealed that "Americans continue to express less concern about global warming than they have in the past ..." even as their "self-professed understanding of global warming has increased over time - from 69 percent ... in 2001, to 74 percent in 2006 and 80 percent in the current poll."
Nevertheless, the man-made-climate-catastrophe scientists, with enormous financial support from big government and the aid of media and PR promoters, continue to hawk their limited view of the atmosphere.
The challenge to convince the increasingly cognizant American public that their dependence on fossil fuels is dangerously raising global temperatures is not going to get any easier with exposes like "Climate of Corruption: Politics and Power Behind the Global Warming Hoax" by University of Houston professor Larry Bell.
For those who simply want an introduction to government-sponsored climate research and results or for the "old timers" in the air-science profession like me, this is a good synopsis of the latest fads and fallacies of the ill-advised "industry" of global-warming science.
Mr. Bell divides his work into four reasoned sections to guide the reader through not only the history and hysteria surrounding the global-climate issue but also, as his subtitle reveals, the politics and power behind what he adeptly characterizes as a hoax.
In the first section, titled "Setting the Records Straight," Mr. Bell reviews some of the ancient and more recent climate history; and notes, regarding science PR shenanigans, that a "basic tactic used by calculating 'hysteria hypesters' is to treat propaganda as obvious fact."
In Section Two, "Political Hijackers of Science," Mr. Bell continues the theme that 'It is difficult to imagine a time in recent history when so much political hype has swirled around so little substance." And he goes on to ask a key question many of us have asked: "Is it logical to wager trillions of dollars based upon flawed science practices and suspect agendas?"
A collection of chapters addressing cap-and-trade, climate science as religion, and "green" energy are found in Section Three, "Carbon Demonization Scams." The book once again succinctly summarizes political and scientific problems with government schemes, backed by politically influenced science, to solve the critical national and global issue of energy supply and demand.
But, practical solutions are clearly spelled out in Section Four, "Retaking America's Future." Here Mr. Bell proposes the simple, effective path of re-energizing free enterprise, demanding truth and accountability in politics and scientific practice and recognizing, promoting and exercising America's historic exceptionalism.
A distinguishing feature of "Climate of Corruption" is Mr. Bell's own witty artwork that initiates the introduction and each chapter of the book. His able drawings provide pictorial understanding for each portion's topic.
Throughout "Climate of Corruption," Mr. Bell aptly demonstrates there are "big differences between environmental stewardship ideals, which most of us subscribe to, and the ideologically moralistic, antidevelopment, obstructionist activism that exemplifies much of today's environmental zealotry." But, to a great extent, it is this zealotry that substantially misguides efforts to identify and successfully address real threats to the environment, energy sufficiency and ultimately, humanity itself.
As massive natural disasters and momentous geopolitical turmoil continue to erupt, the American public, as indicated by Gallup's poll, is continuing to put global issues into perspective. "Climate of Corruption" is a book that will buttress intelligent decisions about where U.S. dollars and traditional American ingenuity and compassion will do the most good to alleviate the real environmental and man-made calamities that affect the world community.
Anthony J. Sadar, a certified consulting meteorologist, is the primary author of "Environmental Risk Communication: Principles and Practices for Industry" (CRC Press/Lewis Publishers, 2000).
Dec 20, 2012
UN chief errs again on climate change
Tom Harris
United Nations Secretary-General Ban Ki-moon often makes serious climate science mistakes. However, his December 5th statements at the UN Climate Change Conference in Doha, Qatar set a new low even for the UN chief.
"The climate change phenomenon has been caused by the industrialization of the developed world," said Ban. "It's only fair and reasonable that the developed world should bear most of the responsibility." "Climate change is happening much, much faster than one would understand," he added. "The science has plainly made it clear: it is the human beings' behaviour which caused climate change, therefore the solution must come from us." Ban is wrong on all counts.
The United Kingdom's Met Office announced recently that there has been no overall warming, or cooling, of the planet for 16 years. As the November 29th open letter to the Secretary General from 134 experts "qualified in climate-related matters" explained, "Whether, when and how atmospheric warming will resume is unknown. The science is unclear. Some scientists point out that near-term natural cooling, linked to variations in solar output, is also a distinct possibility."
Professor Bob Carter of James Cook University in Queensland, Australia, describes the uncertainty: "Science has yet to provide unambiguous evidence that problematic, or even measurable, human-caused global warming is occurring. Consequently, any agreements to reduce humanity's greenhouse gas emissions are utterly futile."
Many experts now view the climate scare as hopelessly misguided. Professor Ole Humlum of the Institute of Geosciences at the University of Oslo, Norway explains, "Today's climate debate is essentially about the relative influence of human-produced carbon dioxide (CO2) versus natural climate variations....the data available clearly show that the natural variations are the dominant of these two factors.... The net temperature effect of our CO2 emissions appears to be insignificant."
As demonstrated by the Nongovernmental International Climate Panel on Climate Change, co-authored by Carter, warming alarmism has largely been fueled by computer-generated representations that bear little relationship to today's climate or to its observed history.
So developed nations are in no way guilty of causing significant climate change. Climate changes all the time - warming and cooling - due to natural causes and there is nothing that we can do to stop it. However, to the degree possible, and considering our economic circumstances, developed nations still have a moral obligation to devote a proportion of their foreign aid to helping the world's most vulnerable people adapt to natural climate events.
Carter sums up, "Governments need to recognize that the really dangerous climate hazards are natural events and change, and to prepare more fully to adapt to them when they occur." No one wants to pour money down the drain on a non-issue. Yet, it is happening as a result of the climate scare. Expensive and ineffective wind and solar power projects are receiving vast government financial support in the belief that they will reduce the CO2 emissions that are wrongly blamed for causing dangerous global warming. Meanwhile, conventional power sources that we need for our very survival are starved of support.
A new approach is needed to address climate change. The no-regrets solution is to prepare for and adapt to damaging climate-related events as and when they occur, however caused.
But U.N. negotiations still focus on vainly trying to stop what might happen decades in the future, instead of what is happening right now. It is irrational and, for the many people who need help today, immoral.
Tom Harris is Executive Director of the International Climate Science Coalition and an advisor to the Frontier Centre for Public Policy. Courtesy Troy Media. www.troymedia.com

Dec 10, 2012
Dead On Arrival: No consensus at climate summit despite 'scare stories'
The 18th Climate Change Summit in Doha is drawing to an end after once again failing to find common consensus on what it calls a major threat to human existence. Failure seemed inevitable after climate skeptic Lord Monckton crashed the event.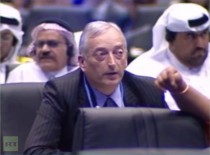 With less than a day left in the marathon 11-day UN summit being held in Doha, Qatar, the delegates in attendance are no closer to finding a solution to the current stalemate on climate change. The two-week meeting is due to end this Friday, and will likely end in deadlock.
With the Kyoto treaty the previous international climate treaty effectively dead in the water after the failure to extend it beyond 2012, ideas on how to revive the climate change debate have gained little traction."
The other main agendas of the summit included acknowledging the need "for scaling up climate finance and pathways for the mobilization of USD 100 billion every year until 2020," as well as "working out long-term cooperation action to be taken under the convention.
But no clear consensus was reached, with a group of leading NGOs, including Greenpeace, Oxfam and WWF, issuing a statement warning that the talks were "sleepwalking into disaster," and calling for more clarity on climate finance.
"Does Doha want to be known as a place where ideas come to die?" a campaign coordinator at NGO tcktcktck remarked.
The most eye-catching moment was likely when Lord Monckton, a staunch critic of the climate change movement, gate crashed the summit by disguising himself as a delegate from Myanmar. Monckton switched on a microphone and said, "In the 16 years we have been coming to these conferences, there has been no global warming at all."
Lord Monckton (screenshot from youtube video by user tcktcktckorg)
Secondly, even if we were to take action to try to prevent global warming the cost of that would be many times greater than the cost of taking adaptive measures later," he added. "So our [the Committee for a Constructive Tomorrow] recommendation therefore is that we should initiate very quickly a review of the science to make sure we are all on the right track. Shukran Iktir, "before he was escorted out for "violating the UN code of conduct" and "impersonating a party" amid confused murmurs and boos filling the hall.
Over 17,000 participants have attended the summit in what is the largest conference to have ever been held in Qatar, according to TTGmice.com.
The EU, Australia, Ukraine, Norway, Switzerland the main backers of the Kyoto Treaty are willing to extend legally binding cuts in carbon emissions from 2012 until 2020. However, these nations account for less than 15 percent of world carbon emissions. Meanwhile, Russia, Japan and Canada have all withdrawn their participation, since large developing nations like China are not participating.
A legally binding agreement preserving the Kyoto Treaty goals is seen as the backbone to creating a new, global agreement by 2015.
The issue of climate change has become a topic of heated debate in recent years. Supporters claim human activity is to blame for the rise in temperatures and sporadic weather changes seen in areas of the globe. Critics, however, say those claims are not substantiated with science, and argue that there has been little, if any, climate change over the course of human history.
Dec 06, 2012
BBC's sell out to the evil green lobby
Biased BBC
Excerpt: This is a 'short' heads up, a trailer if you like, for a longer post examining the BBC's innumerable connections with the Green pressure and lobby groups, the scientists and the politicians, all with their own agendas and vested interests in selling us man-made global warming.
We were recently reminded about Dr Joe Smith's (co-founder of the CMEP with the BBC's Roger Harrabin) paper from 2005 which was essentially a 'report' detailing the discussions taking place within the CMEP seminars held at the BBC.
Held incidentally at the instigation, or authorised by, the new DG...Tony Hall when he was Director of News.
The presentation is 20 odd pages long and indicates that the BBC has long held the view that Climate Change is man made...but felt obliged to give the sceptics a voice. That all changed, or rather was admitted openly, in 2007 when the BBC announced that the science was settled and sceptics would no longer have very much of a voice on the BBC.
The BBC was essentially 'captured' by the green lobbyists and is now their mouthpiece campaigning on their behalf to win the Public's acceptance of AGW...it was a massive coup for them that put one of the most powerful and trusted voices in the media world on their side of the argument...and the science is still an argument however much the BBC et al deny it.
This is what Smith tells us about the power of the BBC:
The "capacity to define potential risks and hazards is broadly aligned with the distribution of power among 'credible,' 'authoritative,' and 'legitimate' definers of 'reality' across the media field."...[the BBC is] widely seen as an international leader in terms of balance, independence, and clarity. It is viewed as hegemonic within British broadcasting, helping to dictate the limits of what might be considered "news" in mainstream reporting.
The BBC 'dictates the limits of what might be considered news'...in other words if it reports something then it is likely that the rest of the media will follow their lead...and the Public will listen to that 'trusted voice'.
They'd better be right then hadn't they?
We now know that the seminars that 'persuaded' the BBC to adopt that stance on climate change were not based on what top, 'expert', scientists were saying in them...there were few climate scientists there...we know that Professor Steve Jones who conducted a science review in 2010 for the BBC was hardly the impartial adjudicator of BBC science that such a review would demand...his career had stalled with no one willing to fund him and any of his research idea...he was 'rescued' from obscurity and failure by the BBC who put him to work and paid him handsomely.
We know the science does not yet prove any link between CO2 and global warming...in fact it shows the opposite...warming leads to a rise in CO2.
But here is something else...one of those lobbyists, the International Broadcasting Trust, put in a submission to influence ('Our lobbying work has produced significant results. Both the BBC and Channel 4 now have remits which place internationalism at the heart of their output.'

the BBC's science review by Steve Jones and to attempt to change the way the BBC reports climate change...as did the sceptics such as 'Bishop Hill'.
It's a funny thing but having read Dr Joe Smith's 2005 presentation and then read the IBT 2010 submission it is apparent that they are almost identical...not word for word...but idea for idea, philosophy for philosophy and demand for demand in the way that they would like the BBC to report climate science.
There are at least 10 major points of similarity that stand out...the conclusion I have come to is that either Joe Smith, or possibly Harrabin, wrote this submission for the IBT or someone at the IBT has taken Smith's work almost verbatim, and submitted it to the BBC.
I would suggest that Smith wrote it...it is practically the CMEP 'syllabus'...and Smith has a track record in working unacknowledged 'behind the scenes' on BBC projects and programmes that promote the idea of man-made climate change.
Those ten points are:
1. Journalists must resist framing the debate by putting up pro AGW advocates against climate sceptics.
2. Such an approach creates an impression of balance but in fact demonstrates that 'balance is bias'...against the consensus and therefore wrong.
3. It is important to train new, young journalists in a new approach to climate change because they will then either take that with them to the higher ranks of the BBC or move to other media organisations where they can then have influence over how the science is covered.
4. Journalists must now present the science as a long term 'process' and not look for a 'result'...do not debate the science...facts are not necessary.
5. It is the Media's role and responsibility to ensure the Public get the correct message about the science so that they then proceed to behave 'dutifully' in response.
6. Sceptics lack the knowledge and scientific background to be qualified to challenge the consensus.
7. Climate sceptics put in danger both Democracy and the Planet...turn the debate into a 'morality play'...guilt is good.
8. There needs to be a new kind of reporting...as said science as a 'process' but also introduce new voices...ignore the science, look at the consequences of global warming and the necessary responses...bring on economists, historians, politicians, social scientists and businessmen who will ensure the Public are made fully aware of the dangers of climate change according to the consensus.
9. Blur the boundaries between news and current affairs and other broadcast categories...drama, history, wildlife documentaries, anything that will further opportunities to influence the viewer's perceptions and understanding of climate change.
10. There are no more facts to be found...the science is settled...that is now the 'Orthodoxy'.

Nov 20, 2012
Left-wing 'watchdog' group turns on Obama admin, demands investigation into EPA chief Lisa Jackson
Liberal group Citizens for Responsibility and Ethics in Washington (CREW), a self-described "watchdog" organization, has turned on President Barack Obama's administration for its handling of EPA administrator Lisa Jackson's alleged use of secret email accounts.
On Tuesday, CREW demanded the EPA's inspector general, Arthur Elkins, investigate Jackson and other EPA employees for using the accounts.
CREW executive director Melanie Sloan said in a statement announcing the demand that Jackson's "practice of using fictitious email accounts to conduct official EPA business, shielding the contents from public view, conflicts directly with her responsibility to follow federal records law."
"The fact that others may have engaged in such conduct before her tenure is no justification," Sloan said. "'Everybody does it,' is an excuse for kindergarteners, not cabinet officials."
"Complying with the Federal Records Act is not optional," Sloan added. "The EPA's illegal and devious practices undermine the ability of Congress, outside watchdog groups, and citizens alike to request and receive full information from the agency. The IG should investigate immediately to ensure messages are being properly saved and learn what, exactly, it is that Administrator Jackson and other EPA employees are trying to hide from the American public."
According to Competitive Enterprise Institute senior fellow Chris Horner's new book, "The Liberal War on Transparency," Jackson created an alias email account under the name "Richard Windsor," which she used in an apparent effort to hide her activities while on the job.
"That is the name - sorry, one of the alias names - used by Obama's radical EPA chief to keep her email from those who ask for it," Horner said. (RELATED: EPA chief's secret email alias found in previously released emails)
CREW, which is partially funded by left-wing billionaire George Soros, touts itself as a "non-partisan" ethics and watchdog organization. But its behavior during Obama's tenure as president suggests otherwise.
For instance, during the heat of the congressional investigation into Operation Fast and Furious, Sloan used CREW to attack House oversight committee chairman Republican Rep. Darrell Issa.
CREW accused Issa of illegal activity for using the "Speech or Debate" clause to slip Fast and Furious wiretap application documents into the congressional record, so that the public could see them.
Sloan admitted to TheDC, however, that she didn't even the read the documents Issa put in the record. Those documents proved Attorney General Eric Holder was misleading Congress, by showing that senior Justice Department officials had approved the gunwalking operation that led to the murders of Border Patrol agent Brian Terry and hundreds of Mexican citizens.
Holder has continually blamed officials in Phoenix, claiming the gunwalking was a local operation and saying his Justice Department had nothing do with it. (RELATED: Soros group encourages Wal-Mart workers to strike on Black Friday)
An Issa spokesperson told The DC at the time that "t is shameful that an organization purporting to support good and transparent government is instead making itself complicit in an effort to cover-up a reckless government effort that contributed to the death of a Border Patrol agent. While CREW's liberal leanings and dependence on anonymous donors have long been known, this latest action further exposes the naked partisan nature of an organization run by Democratic operatives."
See more here.