Friday, April 10, 2015
2015 was the coldest January through March in the entire record in the 10 Northeast States and DC
By Joseph D'Aleo, CCM
The eastern Pacific has driven the climate bus the last two years. The warm water moved into the Gulf of Alaska in 2013 and the Alaska ridge pumped down arctic and at times Siberian air down to the Great Lakes and east. A constant stream of clipper storms brought snow almost every other day to the lakes.
In 2014 the warm water was carried south along the west coast and aided by diminished upwelling with a displaced/weakened Pacific high, helped as it did in the mid 1970s, produce the California drought. See the sea surface temperature anomalies this winter.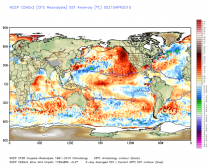 Enlarged
Though the media wants to focus on the western warmth and drought, the bigger story has been the cold and snow to the east the last two winters.
Chicago had its coldest December to March in the record back to 1872 and third snowiest winter in 2013/14, Detroit had its snowiest winter since 1880.
See the brutal 2013/14 winter that focused on the Great lakes and Upper Midwest.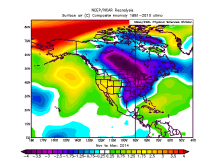 Enlarged
This winter, the trough and the axis of coldest air was in the mean farther east, the expansion east made easier by a cooling North Atlantic. The cold shifted to the northeast and all of the cities in eastern Canada, which had their coldest February and January to March and in many places in the east, the snowiest ever on record (similar to what we saw and earlier wrote about in parts of central New England).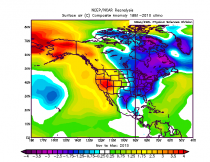 Enlarged
We wrote about the remarkable February 2015 in March.
This week, NCDC updated their Climate pages to include March 2015 and looked at the brutal eastern January to March story for the Northeast, and the cold in the Upper Midwest, Ohio Valley, South and Southeast.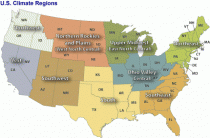 Enlarged
In the northeast region (the 10 eastern states with all the major metros and DC) had their coldest January to March in the record back to 1895.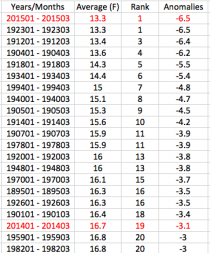 Enlarged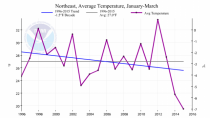 Enlarged
The trend the last 20 years has been down 1.5F/decade!
It has cooled in the last 20 years in the Ohio Valley, Great Lakes/Upper Midwest, South and Southeast.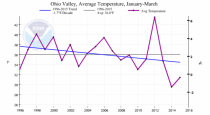 Enlarged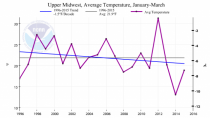 Enlarged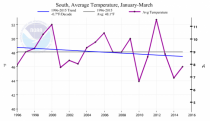 Enlarged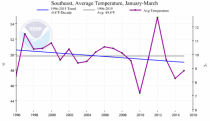 Enlarged
Western, Northwest and Southwest plots, which had two decade cooling trends though 2012 have flattened with the warmer winters the last two years.