Friday, July 17, 2015
Global cooling will follow El Nino warming - more risk on the downside
By Joseph D'Aleo, CCM
El Ninos always produce a global pop in temperatures. So expect that this next 6 months or so even in the only accurate data, from satellites. Strong El Ninos usually are followed by a pendulum like strong La Nina with a cooling. Major volcanoes can override or diminish any warming as El Chicon and Mt. St. Helens did in the early to mid 1980s and Pinatubo/Cerro Hudson did in the early to mid 1990s.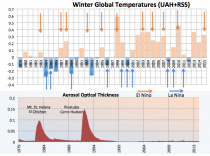 Enlarged
As we have written after the coldest January to March for the northeastern United States (10 states plus DC), and a cooling of 3F for the last 20 years in winters, you may not want to hear what solar scientists are telling us.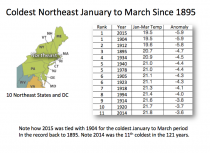 Enlarged
The month, UK astrophysicists in a release (http://www.rt.com/news/273169-solar-cycle-ice-age/) reported that:

"Our planet is just 15 years from a new 'mini ice age' that could cause extremely cold winters characterized by the freezing of normally ice-free rivers as well as by year-round snow fields in areas that have never witnessed such climate conditions before, a group of astrophysicists claim.
The scientists drew this conclusion based on a new model of the sun's activity that reportedly enables the researchers to make "extremely accurate predictions" of changes in solar activity."
The study findings were presented at the National Astronomy Meeting on July 9 and published in the Royal Astronomical Society papers.
Their new model based suggests we will see the conditions last experienced during what was called the Maunder minimum, 370 years ago.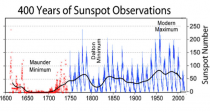 Enlarged
The Maunder minimum is a name of a period between 1645 and 1715 characterized by prolonged low solar activity as well as by extremely cold winters in Europe and North America at the heart of the climatic period between 1550 and 1850 called the 'Little Ice Age.'
This finding is not unique nor new. "My opinion is that we are heading into a Maunder Minimum," said Mark Giampapa, a solar physicist at the National Solar Observatory (NSO) in Tucson, Arizona. "I'm seeing a continuation in the decline of the sunspots mean magnetic field strengths and a weakening of the polar magnetic fields and subsurface flows."
Dr. Habibullo Abdussamatov who heads Russia's prestigious Pulkovo Observatory in St. Petersburg warned in a 2013 paper that: "after the maximum of solar Cycle-24, from approximately 2014, we can expect the start of the next bicentennial cycle of deep cooling with a Little Ice Age."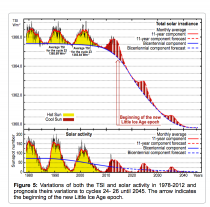 Enlarged

Australian Scientist, Dr. David Evans remarked "As we head to the UN meeting in Paris 2015 where global bureaucracy beckons, a sharp cooling change appears to be developing and set to hit in the next five years. Yet consortia of five-star politicians are not preparing for climate change, only for global warming. Around the world a billion dollars a day is invested in renewable energy, largely with the hope of changing the weather. Given that 20% of the world does not even have access to electricity, history books may marvel at how screwed priorities...of 'bureaucratized science' were".
Do I believe it? Yes! When I taught in college in the cold late 1970s, I had a panel in the second Northeast Storm Conference (now in its 41st year) on factors in climate. The panel included MIT's Hurd 'Doc' Willett, who showed how the sun's cycles (22 years, 180-200 years and others) affected the climate. He predicted then a cool down starting in the 1990s. I have published peer reviewed papers that showed how though the sun's detectable brightness (called irradiance) only changed 0.1% over most 11 year cycles, there were amplifying factors that greatly increased the sun's affect on climate on decadal and century scales (everyone recognizes earth sun orbital parameters affect our days, seasons and the longer term cycles of glaciation it is all the other time frames that try to ignore).
These amplifiers include ultraviolet radiation that varies 6 to 8% in the 11 year cycle and produces heat from ozone chemistry in the high atmosphere in low and middle latitudes, geomagnetic activity that causes the ionization heating and displays called the 'aurora' and also the solar wind modulated galactic cosmic rays that affect the amount of cloudiness (and through that, solar heating) we experience. All of these have been shown from empirical evidence to produce more warming when the sun is active and less when it is quiet.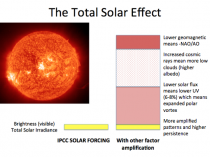 Enlarged
So what remedy should we pursue? I turn again to Dr. Abdussamatov who I met over a year ago in a Las Vegas climate convention. There was the language barrier, but he spoke enough English and I did have some Russian coursework in high school and college so we did understand each other.
Dr. Abdussamatov points out that Earth has experienced such major cooling occurrences five times over the last 1,000 years, and that: "A global freeze will come about regardless of whether or not industrialized countries put a cap on their greenhouse gas emissions. The common view of Man's industrial activity is a deciding factor in global warming has emerged from a misinterpretation of cause and effect."
"The most reasonable way to fight against the coming Little Ice Age is a complex of special steps aimed at support of economic growth and energy-saving production in order to adapt mankind to forthcoming period of deep cooling which will last approximately until the beginning of the 22nd century. Early understanding of reality of the forthcoming global cooling and physical mechanisms responsible for it directly determines a choice of adequate and reliable measures which will allow the mankind, in particular, population of countries situated far from the equator, to adapt to the future global cooling."
Given that cooling produces more mortality and suffering than warming, we should take this seriously and push back at efforts to drastically disrupt our energy solutions to combat a failing prophecy that politicians, our universities and the compliant media have been indoctrinating our children and the masses on for two decades.
Monday, July 13, 2015
The Subversion of Science by Green-Left Politics
By John Reid
The Enlightenment
The development of modern science in the late 18th century went hand in hand with the rise of modern industrial capitalism. Its potteries, mines, steam engines, mechanization, and science itself, were all done by private enterprise. The role of government was to enforce patents and maintain a healthy legal and commercial environment.
Nowadays most scientists are paid by the government. What passes for science has largely become taxpayer-funded Environmentalism. Environmentalism has taken over much of science.
Scientists discover, understand and inform. Environmentalists preach.
Quote
"All of us ... are borrowing against this Earth in the name of economic growth, accumulating an environmental debt by burning fossil fuels, the consequences of which will be left for our children and grandchildren to bear. Marcia McNutt - Chief Editor, Science Magazine."
This is preaching. There is no scientific justification for this statement, which was made by the editor of one of the world's most prestigious science journals. It is a statement of militant Environmentalism, pure and simple. To say that she should have known better is to misunderstand the situation. It would be like saying that the Communists, who controlled big chunks of the Australian trade union movement in the 1950s, "should have known better". Environmentalists are way ahead of those old Communists; their "Long March through the Institutions" is now a fait accompli.
It works like this: activists use science to push for international action on a science-related issue in an area such as health or environment. Then, an international agreement is established, and the science on which it is has been based becomes institutionalized and funded by government. Time and again, when this happens, "the science" stops being science. This is because the scientists working on the relevant topic start being advocates and stop being researchers. After all, they are now being paid by the bureaucracy to support a particular doctrine, not to discover new stuff.
Real science, which requires a sceptical and innovative frame of mind, then withers on the vine.
Here are some examples:
Radiation Health
In 2012 I received 7000 milli-Sieverts of radiation as treatment for prostate cancer. I found out from the Web that this is twice the fatal dose! I became curious about how I came to survive this assault and I discovered that radiation administered in moderate doses is not cumulative and is not especially harmful. In my case it was definitely beneficial.
But the International Committee for Radiological Protection says otherwise . They say radiation effects are always cumulative and that there is no safe dose: see here about Wade Allison's book, Radiation and Reason.
But you can't be too careful, I hear you say. Well, yes you certainly can be too careful. The Japanese government was too careful when it forcibly relocated 100,000 people following the Fukushima meltdown.
The facts:
Number of deaths: about 1600 people.
Cause of deaths: Suicide mainly.
Number of cases of radiation sickness: 3 people.
Number of deaths caused by radiation: none!
The suicides arose from the social dislocation which occurred when people were compelled to leave their homes and their farms and their jobs and their schools to be relocated to the other side of Japan for reasons of political correctness.
The 1968 London Convention on Ocean Dumping
This forbids the disposal of poisons such as heavy metals in the deep ocean. Hydrothermal vents were discovered in 1977, 9 years after the convention took place. Also known as "black smokers", they lie on mid-ocean ridges and above volcanic hotspots, 2 to 3 kilometres below the surface of the ocean. Every year they pump into the ocean:
500 tonnes of Arsenic, 1500 tonnes of Lead, 50,000 tonnes of Copper, 140,000 tonnes of Zinc and many other metals including Uranium and its radioactive daughters. This has been going on for, perhaps, a billion years or so.
Nature is the biggest polluter of the ocean and the London Convention is a joke. In fact it is worse than a joke because it precludes sensible, practical solutions to important environmental problems. For example, without it we could dispose of radioactive waste in deep ocean trenches where it would be out of harm's way until it is ultimately subducted under the earth's crust by geological processes.
Climate Change
The IPCC, the Intergovernmental Panel on Climate Change, is the most egregious example of this science-destroying institutionalization. It is all the more virulent because it feeds into the pre-existing mindset of Left and Green ideologies about "Corporate Greed" and "Mankind wrecking the planet".
Billions of dollars are being pumped into this. Tens of thousands of climate modellers, their technicians and their computer jocks are the self-righteous recipients. They are not going to give up their funding easily - for them this is the greatest thing since sliced bread and, what is worse, most of them sincerely believe that they are saving the planet.
Over the last 30 years, Climate Science, once a forgotten little wallflower, has become a rock star.
There is really no solid evidence that human activities affect global climate. It is only a theory. Computer models based on this theory have no predictive power; they are complicated curve-fitting exercises and, like all such curve-fitting exercise, they fail catastrophically outside the range of the fit.
On the other hand there is ample evidence that so-called "greenhouse gases" do not affect global temperature to any observable degree (see my UNFCCC Submission to the Federal Government for more detail), viz.:
The observation that the amount of industrial CO2 added to the ocean-atmosphere system since the beginning of the industrial revolution, about 400 Gigatons, is only a tiny fraction of the total amount in the system, 32,000 Gigatons.
The observed rate of decrease in temperature with height, the adiabatic lapse rate, is measured many times a day throughout the world by weather balloons and it fits a simple convective heat transport model of the lower atmosphere. It does not fit a simple radiative heat transport model; there is no blanket of CO2 "holding the heat in".
Careful comparisons of small changes in global average temperature with variations in atmospheric CO2 concentration indicate that the latter lags the former by about ten months indicating that temperature increases cause CO2 increases and not the other way around.
The global distribution of atmospheric CO2 concentration recently observed by NASA's Orbiting Carbon Observatory does not support the view that increases in this gas are largely due to Western industrial activity. Rather, the gas appears to emanate from the rice paddies and rain-forests of the Third World (see here and here).
The observation that global average temperature has a variance spectrum which is "red" at every time scale from one year to 100,000 years (i.e. the longer the time scale the bigger the variation). The small variations (~0.8C) which occurred during the 20th Century are only to be expected. They are random walk excursions. There is nothing to explain. Climate science is like picking patterns in TattsLotto numbers. Meteorologists can predict the weather up to about a week ahead. That's as good as it gets.
But if you are a scientist who is part of the climate change institution this evidence is all irrelevant. The "Science of Climate Change" was frozen sometime back in the 1990s when the IPCC was first set up. Nowadays it is just a matter of running ever more complex computer simulations and making more "projections" of future climate and its alarming consequences.
And, of course, re-jigging the data so that it fits the models better.
We often hear it said that "97 percent of climate scientists agree..." and so on
Well they would, wouldn't they.
About the author: I have a PhD in Upper Atmosphere Physics from the University of Tasmania. I have worked for the Australian Antarctic Division and CSIRO in auroral physics, ocean waves and fluid dynamic modelling. I am a scientist - I discover things. I discovered cosmic noise absorption pulsations and I discovered the physics underlying the frequency down-shifting of surface gravity waves. I am presently working on a method for distinguishing between cyclical behaviour and random walk excursions in natural time series.
Friday, June 19, 2015
The Scientific Pantheist Who Advises Pope Francis
"People will believe a big lie sooner than a little one, and if you repeat it frequently enough, people will sooner or later believe it."
Walter C. Langer
--------
The scientist who influenced Laudato Si, and who serves at the Vatican's science office, seems to believe in Gaia, but not in God.
By William M. Briggs
St. Francis of Assisi's hymn Laudato Si' spoke of "Brothers" Sun and Fire and "Sisters" Moon and Water, using these colorful phrases figuratively, as a way of praising God's creation. These sentimental words so touched Pope Francis that he named his encyclical after this canticle (repeated in paragraph 87 of the Holy Father's letter).
Neither Pope Francis nor St. Francis took the words literally, of course. Neither believed that fire was alive and could be talked to or reasoned with or, worse, worshiped. Strange, then, that a self-professed atheist and scientific advisor to the Vatican named Hans Schellnhuber appears to believe in a Mother Earth.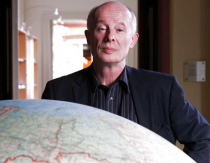 Gaia
The Gaia Principle, first advanced by chemist James Lovelock (who has lately had second thoughts) and microbiologist Lynn Margulis in the 1970s, says that all life interacts with the Earth, and the Earth with all life, to form a giant self-regulating, living system.
This goes far beyond the fact that the Earth's climate system has feedbacks, which are at the very center of the debate over climate change. In the Gaia Principle, Mother Earth is alive, and even, some think, aware in some ill-defined, mystical way. The Earth knows man and his activities and, frankly, isn't too happy with him.
This is what we might call "scientific pantheism," a kind that appeals to atheistic scientists. It is an updated version of the pagan belief that the universe itself is God, that the Earth is at least semi-divine - a real Brother Sun and Sister Water! Mother Earth is immanent in creation and not transcendent, like the Christian God.
What's this have to do with Schellnhuber? In the 1999 Nature paper "'Earth system' analysis and the second Copernican revolution," he said:
Ecosphere science is therefore coming of age, lending respectability to its romantic companion, Gaia theory, as pioneered by Lovelock and Margulis. This hotly debated 'geophysiological' approach to Earth-system analysis argues that the biosphere contributes in an almost cognizant way to self-regulating feedback mechanisms that have kept the Earth's surface environment stable and habitable for life.
Geo-physiological, in case you missed it. Cognizant, in black and white. So dedicated is Schellnhuber to this belief that he says "the Gaia approach may even include the influence of biospheric activities on the Earth's plate-tectonic processes." Not the other way around, mind you, where continental drift and earthquakes effects life, but where life effects earthquakes.
He elaborates:
Although effects such as the glaciations may still be interpreted as over-reactions to small disturbances - a kind of cathartic geophysiological fever - the main events, resulting in accelerated maturation by shock treatment, indicate that Gaia faces a powerful antagonist. Rampino has proposed personifying this opposition as Shiva, the Hindu god of destruction.
Mother Earth gets the flu and instead of white blood cells and a rise in temperature to fend off the infection, it sends white ice and a decrease in temperatures. How? Geophysiologically! I remind the reader that our author, writing in one of the world's most prominent science journals, does not use these propositions metaphorically. He proposes them as actual mechanisms.
Schellnhuber echoes the theme of a cognizant, i.e. self-aware, planet in another (co-authored) 2004 paper in Nature 2004, "Climbing the co-evolution ladder," suggesting again that mankind is an infection, saying that mankind "perturbs ...the global 'metabolism'" of the planet.
Tipping Points
Schellnhuber, a one-time quantum physicist who turned his attention to Mother Earth late in his career, was also co-author of a 2009 Proceedings of the National Academy of Sciences paper "Imprecise probability assessment of tipping points in the climate system," which asked select scientists their gut assessment about the arrival of various "tipping points." Tipping points are a theme of Schellnhuber's research (see inter alia this and this).
Tipping points are supposed moments when some doom which might have been avoided if some action had been taken, is no longer possible to avoid and will arrive no matter what. Tipping points have come and gone in climate forecasts for decades now. The promised dooms never arrive but the false prophets never quit. Their intent is less to forecast than to induce something short of panic in order to plead for political intervention. When the old tipping point is past, theorists just change the date, issue new warnings and hope no one will notice.
One of the tipping points Schellnhuber asked about was the melting of the Greenland ice sheet, depending on what the temperature did. All of the selected experts (who answered the questions in 2004 and 2005) gave moderate (~15-25%) to quite high probabilities (50-80%) for this event to have occurred by 2015. The ice did not melt.
Schellnhuber Michelangelo Gaia
From a paper for the Pontifical Academy of Sciences by Hans Schellnhuber and Maria Martin, illustrating the idea of a methane tipping point. As a modification of Michelangelo's iconic image from the Sistine Chapel, Earth replaces God, and Adam puts Earth at risk of descending into a fiery abyss.
Schellnhuber presented more tipping points to the Pontifical Academy of Sciences in 2014 in the co-authored paper, "Climate-System Tipping Points and Extreme Weather Events." In that paper, Schellnhuber has a "scientific" graph with Michelangelo's Sistine Chapel Adam "flicking" a planet earth over a methane tipping point, such that the earth would roll down into a fiery pit labeled the "Warming Abyss." Hell on earth.
The Problem of People
Schellnhuber is most famous for predicting that the "carrying capacity" of the earth is "below" 1 billion people. When confronted with this, he called those who quoted him "liars." But he then repeated the same claim, saying, "All I said was that if we had unlimited global warming of eight degrees warming, maybe the carrying capacity of the earth would go down to just 1 billion, and then the discussion would be settled." And he has often said that this temperature tipping point would be reached - unless "actions" were taken.
The man is suspicious of people. In that same interview he said, "If you want to reduce human population, there are wonderful means: Improve the education of girls and young women." Since young women already know where babies come from, and since this knowledge tends neither to increase nor decrease population, the "education" he has in mind must be facts about how to avoid the consequences of sex. Austin Ruse discovered a 2009 talk in which Schellnhuber said the earth "will explode" due to resource depletion once the population reaches 9 billion, a number that the UN projects in 2050. Presumably he wants earth to avoid that fate, so he must support the population control that Pope Francis so clearly repudiated in his encyclical.
Bad Religion
Confirmation bias happens when a scientist manipulates an experiment so that he gets the outcome he hoped he would get. When Schellnhuber invites only believers in tipping-points-of-doom to characterize their guesses of this doom, his view that the doom is real will be confirmed. And when he publishes a paper that says, "Scientists say world is doomed" the public and politicians believe it. Scientists skeptical of the doom are dismissed because they are skeptics. This isn't good science. It's really bad religion, and a pagan one at that.
Global warming research is characterized by an insider's club. If you believe, you're in. If you doubt, you're out. This is also so at the Pontifical Academies of Science where Schellnhuber was appointed by Bishop Marcelo Sanchez Sorondo. The bishop locked scientists with contrary views out of the process, scientists he has repeatedly dismissed as "funded by the oil industry." Given this, how likely is it that the Holy Father was fully aware of the views of the chief scientist who advised him.
----------
Biden: If You Don't Believe in Manmade Global Warming, You Must "Deny Gravity" As Well
By Philip Hodges
Yeah, well, if you do believe in manmade global warming, you probably also believe that bailing out the green industry and bankrupting other energy sectors will convince the weather to stop being so "unpredictable."
John Kerry said something similar not too long ago, that manmade global warming is an "elementary truth" like gravity. I don't think it's quite the same thing. Gravity has been observed since the beginning of time. People may have not had all the equations that described it, but everyone knew it was there. Everyone knew that if you dropped an apple, it would fall to the ground. No one disputed it.
The fact that there is such scientific opposition to the idea of manmade global warming, and the fact that so much of the data have been "adjusted" in order to yield more "suitable" dire global warming predictions, shows how unsettled it is. It's the opposite of something like gravity. And like one commenter noted, "I'd think we'd have noticed if gravity had just stopped for over 18 years."
Manmade global warming is not science. It's mostly politics, mixed in with unfounded assumptions and just enough scientific half-truths that people believe in it.
The Blaze reported:
In his first public speech since the death of his son, Vice President Joe Biden tore into skeptics of man-made climate change.
Biden criticized the House Republican budget he said would cut the Energy Department's renewable energy budget by 40 percent.
"As hard as it is to believe, many of these same people continue to deny the reality of climate change," Biden said Tuesday at the White House Clean Energy Investment Summit. "They also deny gravity. But they also deny there is such a thing as climate change. That's the problem. The point is the safety and security of the United States of America and every community across the country."
"As a consequence of this, many investors are pulling back from early-stage research in clean energy, labs and startups," Biden said. "There has been an 85 percent decline in traditional state early stage venture capital investment in clean energy over the last seven years."
He noted the reports of a leaked Vatican document from Pope France calling for action on climate change and blaming human activity.
"The front page of the Washington Pope Post," Biden corrected himself and joked. "They sometimes think they are pope."
He read the headline and quoted from the article that said the leaked encyclical said, "The poor of the earth are shouting." They will be screaming if your administration gets their way.
Biden warned the United States was a threshold for taking action.
"This is a critical moment for our country - not only for us but for our children and grandchildren," Biden said. He's right, their future will be dim if we follow the scientifically illiterate ideologically driven prescriptions of the administration.
He later added, "By 2025 we expect to double fuel efficiency to 54.5 miles per gallon -saving American families $1.7 trillion at the pump."
He's worried about green energy investors. I wonder how much he's got invested. It's in his best interest to get as many people jumping on the green energy bandwagon so that his investments and those of his liberal buddies grow. That's what this whole global warming thing is about. Everyone knows it's not science. It's about investments and "market trends." The EPA's Gina McCarthy admitted the EPA policy is not about ecology but an 'investment'.
Read more
-----------
EPA Clean Power Plan Will Hit Blacks And Hispanics Hardest
By Harry Alford, Investor's Business Daily
The Obama administration, the Environmental Protection Agency and environmental activists frequently claim that climate change will disproportionately affect poor and minority communities.
This, they argue, justifies unprecedented environmental regulations like the EPA's soon-to-be-finalized "Clean Power Plan" to cut U.S. greenhouse gas emissions by 30% by 2030.
But what effect will the regulation itself have on minority communities? A new study commissioned by my organization, the National Black Chamber of Commerce, answers this question.
The Clean Power Plan will lead to lost jobs, lower incomes and higher poverty rates for the 128 million blacks and Hispanics living in America. This should serve as a warning to federal and state lawmakers as they prepare for this sweeping regulation to go into effect in the coming months.
The underlying economics explain why this regulation will inflict the most severe harm on our communities.
The study estimates that restructuring America's energy grid, which the EPA's rule will require, will lead to $565 billion in higher annual electricity costs by 2030, when the regulation will be fully implemented.
With blacks and Hispanics spending a larger share of their income on energy than whites, the burden of higher costs will fall hardest on minorities. We will be hurt again through job losses, as businesses take steps to mitigate the damage of higher overhead.
The study estimates that this single regulation will cause cumulative job losses for blacks and Hispanics of roughly 7 million and 12 million, respectively, over the next 20 years. Over the same time period, black families can expect their annual incomes to fall by $455, while Hispanics will take home $515 less per year.
This regulation will also impose higher costs of living, which again hit minority families the hardest. Today, blacks spend 10% more of their income on housing, 20% more on food, 40% more on clothing and 50% more on utilities than do white families.
Similar disparities exist for Hispanics: 5% more on housing, 10% more on utilities, 40% more on clothing and fully 90% more on food.
By raising energy prices, EPA's rule will make these essential items more expensive - knocking minority communities down another rung on the economic ladder.
These factors - fewer jobs, lower incomes and higher costs of living - threaten to impoverish millions. The study estimates that the regulation will increase black and Hispanic poverty by 23% and 26%, respectively. We work hard to provide a better future for our children, yet this regulation only pushes the American dream even further out of reach.
The only good news is that it doesn't have to be this way. There are ways that states can mitigate, or altogether avoid, this regulation's impending impact.
Already, more than a dozen states have sued the EPA over the rule, which faces legal opposition from experts on both sides of the aisle. Other states should join this suit.
State leaders could also refuse to implement the plan altogether. As currently written, the regulation calls on unelected state environmental agencies to draft their own state plans and submit them directly to the EPA for review and approval. Oklahoma Gov. Mary Fallin has signed an executive order blocking her state's environmental agency from submitting a plan. Other states have introduced legislation to the same effect.
The grim reality is that the EPA wants states to do their dirty work for them. By submitting a plan, states will become complicit in the agency's plan to shut down reliable power plants, impose higher energy costs and plunge minority families deeper into poverty.
For the sake of their constituents, elected officials have an obligation to fight this federal takeover of state authority.
Lawmakers in Washington and state capitals should act soon. The EPA is scheduled to release its final regulation next month, kicking off a one-year period before states will be forced to comply. As this deadline approaches, our elected officials should determine how best to confront - and resist - the Clean Power Plan. They should remember that the well-being of millions of minorities hangs in the balance.
Alford is president and CEO of the National Black Chamber of Commerce.
Wednesday, June 17, 2015
Media hypes 'monster storm Bill', so called record heat pace for 2015 - reality check
By Joseph D'Aleo, CCM
Here is what many main stream media outlets are calling 'monster storm Bill' or a massive storm...hyperbole to the extreme.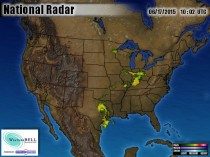 Enlarged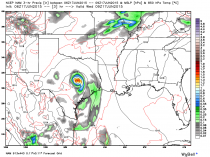 Enlarged
Over a dozen Bills would fit comfortably inside of Texas (as well as the entire world's population with quarter acre homes and property despite the proclamations of some very big name people worried about the world running out of room and calling for an effort to depopulate the planet from 7 to under 1 billion). One will be standing aside the Pope Thursday when he reads his encyclical.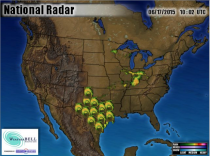 Enlarged
I don't mean to minimize any pain for those who a few years back suffered from drought and now flooding. We are reliving the 1950s as honest brokers like Huug van den Dool at CPC have noted based on analogs of global ocean temperatures. Devastating Hurricane Audrey occurred in June 1957 following the megadrought that lasted 7 years in Texas (this drought was less than half that one).
The rains this past year have been promoted as unprecedented. You may recall the drought the last 4 years (June to May to incorporate this wet May) was called the start of a permadrought from Climate change. See how the last 12 wet months or the prior 48 months of dryness were both not unprecedented. The trend flat a few years ago is up slightly.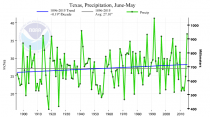 Enlarged
After it leaves the too wet south central states, the storm will help improve soil moisture to the northeast where the last two months have been too dry.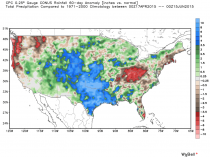 Enlarged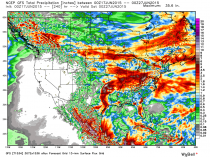 Enlarged
Thinkprogress has continued their hype campaign based on NASA data shenanigans
"Historically, the global temperature trend-line is more like a staircase than a ramp. We now appear to be headed for a step-jump in global temperatures - one that scientists have been expecting. NASA reported this week that this was the hottest five-month start (January to May) of any year on record. Climate expert and UK Guardian columnist John Abraham put together this chart of how the start to 2015 compares to previous years. As Abraham notes, "2015 is a whopping 0.1C (0.17F) hotter than last year, which itself was the hottest year on record."

Sorry John you are wrong again (I can't remember a day when Soros funded TP and Abraham have even been correct). Note I would have used the word right, but of course TP is far, far left.
The global data that goes into the models run by NOAA four times a day (not manipulated because they need to get the forecasts right) says this year to date is unremarkable (middle of the pack back to just 2005).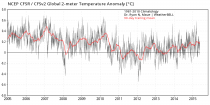 Enlarged
The satellite data (average of RSS and UAH6.0) also shows no warming since 1996 and certainly nothing remarkable in 2015.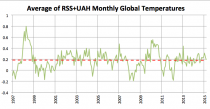 Enlarged
Yes there will be a poke up with the El Nino in upcoming months (always does) but with the Atlantic colder and the sun heading toward a long, deep slumber, watch out below the last years of this decade. The Royal Society say the pause (now 18.5 years) would have to last 50 years before they would regard their theory as questionable. I hope I am around long enough to watch them (all of them) admit their failures. I suspect like Erlich's doom projections of the 1970s of millions of death starting in the 1980s from starvation from overpopulation and scarcity of resources/famine, this whole scare may just disappear into the dustbin of history. My fear though is that the damage to our economy and way of living will be unrepairable as they are discovering too late in Europe.
Friday, June 05, 2015
NOAA Fiddles With Climate Data To Erase The 15-Year Global Warming 'Hiatus'
Update: See this excellent, comprehensive review of the Karl/Peterson Science paper finding that there is no hiatus by Dr. Calvin Beisner.
See this from No Tricks Zone on how NCDC destroyed Maine's true temperature history by every means possible to achieve their goal of erasing the pause.
------------
Michael Bastasch, Daily Caller
Scientists with the National Oceanic and Atmospheric Administration released a study Thursday claiming there's no hiatus in global warming. But new satellite-derived temperature measurements show there's been no global warming for 18 years and six months.
"For 222 months, since December 1996, there has been no global warming at all," writes climate expert Lord Christopher Monckton, the third viscount Monckton of Brenchley
"This month's [satellite] temperature - still unaffected by a slowly strengthening El Nino, which will eventually cause temporary warming - passes another six-month milestone, and establishes a new record length for the Pause: 18 years 6 months," Monckton adds.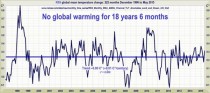 Enlarged
Monckton's data comes as NOAA scientists release updated data purporting to show there's actually been no hiatus in global warming. NOAA scientists made adjustments to temperature records to show more than twice as much warming as the old analysis at the global scale from 1998 to 2012.
"Newly corrected and updated global surface temperature data from NOAA's [National Centers for Environmental Information] do not support the notion of a global warming 'hiatus,'" wrote NOAA scientists in a new study.
The difference between Monckton's data and NOAA's data is that satellites measure the lowest few miles of the atmosphere, temperature measurements from government scientists rely on thousands of weather stations, buoys and ships across the world's surface.
Both satellites and surface temperature readings, however, showed prolonged periods without statistically significant warming trends - 15 years for surface temperatures and more than 18 years for satellites.
Scientists have already pushed back against NOAA's new study. The news site Mashable interviewed about a dozen climate scientists not involved in the study, and nearly all of them said "the study does not support the authors' conclusion that the so-called warming pause never happened."
"Instead, they said it simply proves that changing the start and end dates used for analyzing temperature trends has a big influence on those measurements, a fact that was already widely known," Mashable reported.
"The main claim by the authors that they have uncovered a significant recent warming trend is dubious," scientists with the libertarian Cato Institute wrote in an open letter on the NOAA study.
"The significance level they report on their findings (.10) is hardly normative, and the use of it should prompt members of the scientific community to question the reasoning behind the use of such a lax standard," they wrote.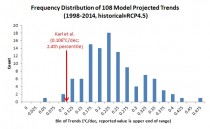 Enlarged
--------
See Ross McKitrick's analysis of the different data sources and artifacts here.
As Canadian Climatologist Tim Ball observed:
"Once Environment Canada bureaucrats convinced the politicians that CO2 and global warming was a problem they were on a treadmill. They ignored evidence, such as the complete failure of their predictions. They are very unlikely to tell politicians, who have based strong public positions on the information that they were wrong. They effectively said the science was settled, which is never true.
This is what happens when scientists are bureaucrats. It's time to close down Environment Canada and take scientists out of bureaucracies completely because their scientific integrity is inherently compromised." (Tim Ball)
The radical environmentalist/bureaucrat in charge of the NOAA data sets (which by the way are provided to NASA and Hadley for their use) describes his efforts to save the world as a knife fight.


Enlarged
Peterson's data goes to NASA for their own set of 'adjustments'. See how since 1980, every new data set version has been cooler in the early 20th century and warmer late. Yes there is man made global warming but the men are in Asheville and the Bronx.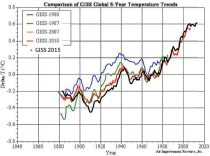 Enlarged
Einstein said
If the facts don't fit the theory, change the facts.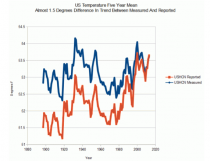 Enlarged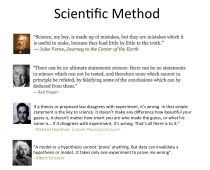 Enlarged
It is time to rid our national data center of the bureaucrats.
Saturday, May 30, 2015
Environmental Journalism Has Become Ideological Warfare
Ron Arnold, Executive Vice-President of the Center for the Defense of Free Enterprise
Why do so many climate-related news reports sound like propaganda written by zealous, even fanatical, environmentalists who could never be called impartial or objective?
Why have reporters belonging to the Society of Environmental Journalists (SEJ) abandoned the Society of Professional Journalists' code of ethics, which includes a pledge to support "open and civil exchange of views, even views they find repugnant," and instead promoted retaliation against scientists with whom they disagree, often calling for the censorship of climate-alarm skeptics?
Deep-Seated Emotions
The evidence suggests SEJ's actions weren't based solely on the perennial need for sensational headlines or the usual left-wing politics of covering the environment beat. It's more personal. Many environmental journalists seem driven by emotions aroused before they entered journalism school: fear and loathing of modern technology and the flourishing human populations it brings.
That's the core of the environmental catechism as taught by Rachel Carson's Silent Spring, Paul Ehrlich's The Population Bomb, and The Club of Rome's Limits to Growth.
Many green beat reporters appear to harbor feelings of misanthropic self-loathing, as National Book Award novelist Jonathan Franzen said of himself in The New Yorker: "I was raised as a Protestant and became an environmentalist, but I've long been struck by the spiritual kinship of environmentalism and New England Puritanism. Both belief systems are haunted by the feeling that simply to be human is to be guilty."
This makes environmentalism and journalism a treacherous coupling. The father of the U.N.'s Intergovernmental Panel on Climate Change (IPCC), Bert Bolin, said as much. In his 2008 A History of the Science and Politics of Climate Change, Bolin wrote, "There has been an unfortunate polarization of the way the media report the climate change issue. ...It was non-governmental groups of environmentalists, supported by the mass media, who were the ones exaggerating the conclusions that had been carefully formulated by the IPCC."
The scientific evidence was weak, but the environmental journalists' belief was strong, so they lied. Period.
Once greens attained real influence, environmental reporters emerged as vengeful authoritarians driven by power and a furious intolerance toward doubters who threatened their belief and personal status. The science, as Heartland Institute Policy Advisor Norman Rogers pointed out, is just window dressing.
Joyfully Wearing 'Pareto's Blindfold'
Rogers took his cue from the Italian economist and sociologist Vilfredo Pareto, who, in 1901, wrote in The Rise and Fall of Elites: An Application of Theoretical Sociology: "The greater part of human actions have their origin not in logical reasoning but in sentiment [emotion]. Man, although impelled to act by non-logical motives, likes to tie his actions logically to certain principles; he therefore invents these a posteriori in order to justify his actions."
We can think of this as "Pareto's Blindfold" and apply it to climate reporting: Reasoning about science with many environmental reporters is futile because you're not dealing with science or reason, you're dealing with illogical principles invented to justify their fear, loathing, human guilt, and retribution. Reporters can't see this, much less admit it to themselves.
With the Obama administration's Machiavellian collusion, reporters who are more environmentalist than journalist now rule the climate beat.
Big Money Supports Alarmism
You can credit the SEJ, a 501(c)(3) tax-exempt organization with more than 1,200 member reporters and academics in the United States, Canada, Mexico, and 27 other countries, with the general decline in journalistic standards among environmental journalists. SEJ has received 119 grants from 35 notorious anti-development foundations, totaling $9.5 million since 1999. With this financial prompting, the SEJ's stalwarts, including Andrew Revkin (The New York Times), Seth Borenstein (Associated Press), and Suzanne Goldenberg (The Guardian), have led the decline of climate news into ideological warfare.
To many SEJ writers, it is not possible for them to be biased, because issues have only one side: their own.
Associated Press' Borenstein asserted, "The nature of reporting is to get two sides to an issue. But the nature of science reporting is to get what's really happening."
SEJ thinks whatever isn't environmental dogma is a lie, as indicated by its reference webpage "Climate Change: A Guide to the Information and Disinformation."
SEJ writers also promote "false balance," the notion that giving opposing views concerning climate change any mention at all is not real balance because skeptics are liars paid to undermine the truth. Thus, Pareto's Blindfold justifies total censorship.
Public Sees Through Hype
Fortunately, the public has resisted this biased climate journalism. A March Gallup Poll found the number of people saying they worried "a great deal" about global warming peaked in 2000 at 72 percent. Despite increasingly hyperbolic media coverage, the number of people greatly worried about climate change fell to 55 percent in 2009 and has remained there since. Significantly, 42 percent of Americans think reporters exaggerate the seriousness of global warming, and only 21 percent think media reports are generally correct.
Perhaps a big reason behind newspapers' declining readership is reporters' increasing abandonment of their traditional fourth-estate role as government watchdog and defender of dissent in favor of promoting the "official" views of government and large bureaucratic institutions.
Climate reporters have stooped to reprehensible smears to destroy skeptic scientists with false "science-for-sale" allegations in orchestrated campaigns with extremists such as Greenpeace. The true colors of their yellow journalism are showing, loud and ugly. Link.
--------
When will Climate Scientists admit they were wrong?
By Patrick Michaels, CATO
This article appeared in TownHall.com on May 29, 2015.
Day after day, year after year, the hole that climate scientists have buried themselves in gets deeper and deeper. The longer that they wait to admit their overheated forecasts were wrong, the more they are going to harm all of science.
The story is told in a simple graph, the same one that University of Alabama's John Christy presented to the House Committee on Natural Resources on May 15.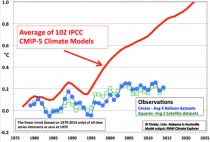 The picture shows the remarkable disconnect between predicted global warming and the real world.
The red line is the 5-year running average temperature change forecast, beginning in 1979, predicted by the UN's latest family of climate models, many of which are the handiwork of our own federal science establishment. The forecasts are for the average temperature change in the lower atmosphere, away from the confounding effects of cities, forestry, and agriculture.
The blue circles are the average lower-atmospheric temperature changes from four different analyses of global weather balloon data, and the green squares are the average of the two widely accepted analyses of satellite-sensed temperature. Both of these are thought to be pretty solid because they come from calibrated instruments.
"The longer that they wait to admit their overheated forecasts were wrong, the more they are going to harm all of science."
If you look at data through 1995 the forecast appears to be doing quite well. That's because the computer models appear to have, at least in essence, captured two periods of slight cooling.
The key word is "appear." The computer models are tuned to account for big volcanoes that are known to induce temporary cooling in the lower atmosphere. These would be the 1982 eruption of El Chichon in Mexico, and 1992's spectacular Mt. Pinatubo, the biggest natural explosion on earth since Alaska's Katmai in 1912.
Since Pinatubo, the earth has been pretty quiescent, so that warming from increasing carbon dioxide should proceed unimpeded. Obviously, the spread between forecast and observed temperatures grows pretty much every year, and is now a yawning chasm.
It's impossible, as a scientist, to look at this graph and not rage at the destruction of science that is being wreaked by the inability of climatologists to look us in the eye and say perhaps the three most important words in life: we were wrong.
Sunday, May 24, 2015
Lindzen: Global warming believers a 'cult'; EPA Plan to Ban Coal Hits Major Roadblock
An MIT professor of meteorology is dismissing global-warming alarmists as a discredited "cult" whose members are becoming more hysterical as emerging evidence continues to contradict their beliefs.
During an appearance on this writer's radio show Monday, MIT Professor emeritus Richard Lindzen discussed the religious nature of the movement.
"As with any cult, once the mythology of the cult begins falling apart, instead of saying, oh, we were wrong, they get more and more fanatical. I think that's what's happening here. Think about it," he said. "You've led an unpleasant life, you haven't led a very virtuous life, but now you're told, you get absolution if you watch your carbon footprint. It's salvation!"
Lindzen, 74, has issued calm dismissals of warmist apocalypse, reducing his critics to sputtering rage.
Last week, government agencies including NASA announced that 2014 was the "hottest year" in "recorded history," as The New York Times put it in an early edition. Last year has since been demoted by the Times to the hottest "since record-keeping began in 1880."
But that may not be true. Now the same agencies have acknowledged that there's only a 38 percent chance that 2014 was the hottest year on record. And even if it was, it was only by two-100ths of a degree.
Lindzen scoffs at the public-sector-generated hysteria, which included one warmist blogger breathlessly writing that the heat record had been "shattered."
"Seventy percent of the earth is oceans, we can't measure those temperatures very well. They can be off a half a degree, a quarter of a degree. Even two-10ths of a degree of change would be tiny but two-100ths is ludicrous. Anyone who starts crowing about those numbers shows that they're putting spin on nothing."
Last week, after scoffing at Vermont socialist Sen. Bernie Sanders' call for a Senate vote on global warming, Lindzen was subjected to another barrage of diatribes. At his listed MIT phone number, Prof. Lindzen received a typical anonymous call:
"I think people like you should actually be in jail," the male caller told him, "because you must know where this is all leading not the people you support and take your money from to make these outrageously anti-human comments (also 'know'

… In other words, you're a sociopath!"
Lindzen chuckled when the voicemail was replayed.
This writer asked him if, as has been alleged in some of the warmist blogs, he is taking money from the energy industry.
"Oh, it would be great!" he said with a laugh. "You have all these people, the Gores and so on, making hundreds of millions of dollars on this, Exxon Mobil giving $100 million to Stanford for people who are working on promoting this hysteria. The notion that the fossil-fuel industry cares - they don't. As long as they can pass the costs on to you, it's a new profit center."
Lindzen said he was fortunate to have gained tenure just as the "climate change" movement was beginning, because now non-believers are often ostracized in academia. In his career he has watched the hysteria of the 1970's over "global cooling" morph into "global warming."
"They use climate to push an agenda. But what do you have left when global warming falls apart? Global normalcy? We have to do something about 'normalcy?'"
As for CO2, Lindzen said that until recently, periods of greater warmth were referred to as "climate optimum." Optimum is derived from a Latin word meaning "best."
"Nobody ever questioned that those were the good periods. All of a sudden you were able to inculcate people with the notion that you have to be afraid of warmth."
The warmists' ultimate solution is to reduce the standard of living for most of mankind. That proposition is being resisted most vigorously by nations with developing economies such as China and India, both of which have refused to sign on to any restrictive, Obama-backed climate treaties. Lindzen understands their reluctance.
"Anything you do to impoverish people, and certainly all the planned policies will impoverish people, is actually costing lives. But the environmental movement has never cared about that."
---------
EPA Plan to Ban Coal Hits Major Roadblock
By Phil Kerpen
The EPA proposal to impose a de facto ban on new coal-fired power plants received more than two million comments from the public - but it looks like it was just one five-page comment from the Energy and Environment Legal Institute (E&E Legal) that sent EPA scrambling back to the drawing board.
The draft rule mandated the use of so-called carbon capture and storage, a technology that would inject carbon dioxide underground but which has so far proved to be little more than a white elephant experiment. To mandate this technology, the law required the EPA to prove it was "adequately demonstrated" and "commercially available." Thanks to E&E Legal, they failed.
Dawn Reeves at Inside EPA broke the story that carbon capture and storage has apparently been dropped from the agency's final rule regulating greenhouse gas emissions. She also, curiously, reports that the White House may not allow the EPA to back down, instead forcing the agency to defend the legally indefensible in court.
But whether they win now or not until the issue is litigated, E&E Legal has scored a huge victory for the rule of law and economic common sense.
I reached out to Chris Horner, their lead author on the comment that carried the day.
"We submitted comments for the record explaining that EPA had made a mockery of the interagency review process, ignoring the government's own experts in order to push an ideological agenda," Horner said.
That's a crucial point because if the EPA is demonstrably not serving as an expert but an ideological actor, it would not warrant deference in court, making its whole global warming agenda vulnerable.
E&E Legal obtained information proving that expert analysis from the Department of Energy actually concluded the opposite of what the EPA claimed when they asserted that carbon capture and storage had been "adequately demonstrated."
"The truth is that the experts had persuasively argued the opposite, in effect, that carbon capture and storage has been demonstrated to be not viable," Horner said. "Making this more egregious, the Department of Energy had paid a quarter of a billion taxpayer dollars to learn this information and lesson that EPA ignored and even misrepresented."
The EPA was caught red-handed faking science and ignoring expert opinion, in effect requiring a technology that they knew did not practically exist. It is therefore reasonable to conclude that their actual intended purpose was indeed to impose a de facto ban on coal-fired power plants. And they might have gotten away with it if E&E Legal hadn't busted them.
----------
States Rebel Against EPA's Clean Power Plan

State Officials have gone on the offensive against the Environmental Protection Agency's Clean Power Plan (CPP) limiting carbon-dioxide emissions at existing fossil-fuel-fired power plants.
The CPP would establish state-by-state carbon emissions rate reduction targets.
Gov. Mary Fallin, R-Okla., in late April issued an executive order arguing that the EPA "has exceeded its authority under the Clean Air Act," the 1970 federal law requiring the EPA to take steps to reduce air pollution that harms the public's health, from which the EPA claims authority for the CPP.
Fallin also prohibits the state's Department of Environmental Quality from participating with the development of plans to implement CPP regulations.
And she said that if the CPP is adopted this summer, she "will not submit" a State Implementation Plan (SIP) intended to ensure full compliance with the federal mandate, Thomas K. Lindsay disclosed in an article for realclearpolicy.com.
Nine days after Fallin issued the executive order, Texas' Republican Gov. Greg Abbott met with Senate Majority Leader Mitch McConnell and Texas Sens. John Cornyn and Ted Cruz to discuss what Abbott predicted would be "grave consequences for the State of Texas" if the CPP is enforced.
Abbott's press advisory said the CPP "will certainly result in higher energy prices for Texans, killing jobs and stagnating Texas' unprecedented economic growth."
The Texas House of Representatives is considering a bill that would require the state, like Oklahoma, to deny the EPA's request that it submit a SIP for the federal mandate.
Texas and Oklahoma are not alone, observes Lindsay, director of the Centers for Tenth Amendment Action and Higher Education at the Texas Public Policy Foundation. He cited one survey disclosing that there are now 32 states "in which elected officials have expressed firm opposition" to the CPP.
Several U.S. senators have proposed legislation to combat the CPP. Sen. Shelley Moore Capito, R-W.Va., head of the Senate Environmental and Public Works Committee's Clean Air and Nuclear Safety Subcommittee, and six other senators introduced the Affordable Reliable Energy Now Act (ARENA).
The bill would extend the CPP's compliance deadlines pending review by federal courts, and bar any state from being forced to implement a SIP or a Federal Implementation Plan if the state's governor concludes that doing so would harm the state's economy.
ARENA would also prohibit the EPA from withholding federal highway funds from states that are found to not be in compliance with the CPP.
FOOTNOTE: According to The Atlantic, the EPA itself admits that the CPP's effect against the threat of climate change will be so small, reducing warming by 0.016 degrees Fahrenheit over the next century, that it will be impossible to measure.
See how EPA's 3,373 regulations are 6,552 times as long as the Constitution; 46 times ss long as the bible here.
Wednesday, April 29, 2015
New UAH Lower Troposphere Temperature Data Show No Global Warming for More Than 18 Years
See these two stories in the Patriot Post:
Satellite Data Defies NOAA and NASA Claims
See more on the Coldest February and January to March in the entire record back to 1895 in the Northeast (10 states and DC) here.
It was also the snowiest February in parts of the northeast.
--------------
Guest Post by Bob Tisdale
Dr. Roy Spencer introduced the updated and much corrected UAH atmospheric temperature data in his blog post Version 6.0 of the UAH Temperature Dataset Released: New LT Trend = +0.11 C/decade. The new temperature anomaly data for the lower troposphere, mid troposphere and lower stratosphere are presently in beta form for comment. That is, they're not official...yet. I suspect the update will not go over well with the catastrophic-anthropogenic-global-warming crowd. Links to the version 6.0 beta data are at the bottom of Roy's post, which also contains a detailed discussion of the updates. So if you have questions, please ask them at Roy Spencer's blog through the above link. This post is a simple data presentation.
The version 6.0 beta temperature anomaly data for the lower troposphere used in this post are here.
In this post, we'll take a quick look at the new UAH version 6.0 beta lower troposphere temperature anomaly data, comparing it to: (1) the current UAH version 5.6 data and (2) the RSS lower troposphere temperature data.
But first…
BASED ON LINEAR TRENDS, THE NEW UAH LOWER TROPOSPHERE TEMPERATURE DATA SHOW NO WARMING FOR 18+ YEARS, LIKE RSS
For Figure 1, I've extended the new UAH version 6.0 beta and the RSS lower troposphere temperature anomaly data as far back in time as they could go while showing no warming based on their linear trends. The new UAH data show no warming for 219 months, and for the RSS data, it's 220 months.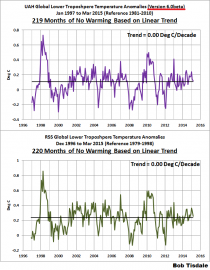 Figure 1 Enlarged
A QUICK OVERVIEW OF LOWER TROPOSPHERE TEMPERATURE DATA
The following is a reprint of the initial discussion of lower troposphere temperature data from the monthly updates. The most recent update is here.
Special sensors (microwave sounding units) aboard satellites have orbited the Earth since the late 1970s, allowing scientists to calculate the temperatures of the atmosphere at various heights above sea level. The level nearest to the surface of the Earth is the lower troposphere. The lower troposphere temperature data include the altitudes of zero to about 12,500 meters, but are most heavily weighted to the altitudes of less than 3000 meters.
See the left-hand cell of the illustration here. The lower troposphere temperature data are calculated from a series of satellites with overlapping operation periods, not from a single satellite. The monthly UAH lower troposphere temperature data is the product of the Earth System Science Center of the University of Alabama in Huntsville (UAH). UAH provides the data broken down into numerous subsets. See the webpage here [version 5.6 data]. The UAH lower troposphere temperature data are supported by Christy et al. (2000) MSU Tropospheric Temperatures: Dataset Construction and Radiosonde Comparisons. Additionally, Dr. Roy Spencer of UAH presents at his blog the monthly UAH TLT data updates a few days before the release at the UAH website. UAH uses the base years of 1981-2010 for anomalies. The UAH lower troposphere temperature data are for the latitudes of 85S to 85N, which represent more than 99% of the surface of the globe.

UAH VERSION 5.6 VERSUS UAH VERSION 6.0 BETA
Figure 2 compares the current version 5.6 UAH lower troposphere temperature anomaly data to the recently released version 6.0 beta. The comparisons start in the Januarys of 1979, 1998 and 2001 and run through March 2015. The first full year of the UAH lower troposphere temperature data is 1979, while 1998 and 2001 are commonly used as start years during discussions of the recent slowdown in global surface and global lower troposphere temperatures. They are the same time periods we present in the monthly surface and lower troposphere temperature anomaly updates. See the most recent update here.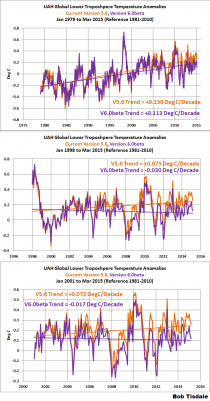 Figure 2 Enlarged
Since 1979, the new version (v6.0 beta) of the UAH lower troposphere temperature data show a noticeably lower warming rate than current version 5.6 data. For the periods starting in 1998 and 2001, the new beta version data show cooling of the lower troposphere based on the linear trends, while the current 5.6 version data show warming.
RSS VERSUS UAH VERSION 6.0 BETA
The warming rate since 1979 for the new UAH data is slightly less than (basically the same as) the lower troposphere temperature anomaly data from RSS. The shorter term cooling rates since 1998 and 2001 are also comparable. See the graphs in Figure 3.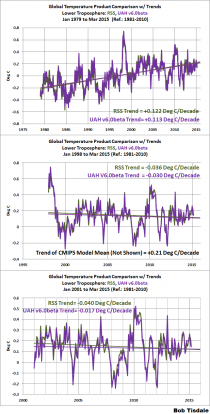 Figure 3 Enlarged
CLOSING
The RSS lower troposphere temperature data used to be an outlier, showing much lower trends than the surface temperature data and the UAH lower troposphere data. That will no longer be the case with the new UAH version 6.0 data.
SOURCES
The UAH version 6.0 beta lower troposphere temperature anomaly data are here.
The UAH version 5.6 lower troposphere temperature anomaly data are here.
The RSS lower troposphere temperature anomaly data are here.

Friday, April 10, 2015
2015 was the coldest January through March in the entire record in the 10 Northeast States and DC
By Joseph D'Aleo, CCM
The eastern Pacific has driven the climate bus the last two years. The warm water moved into the Gulf of Alaska in 2013 and the Alaska ridge pumped down arctic and at times Siberian air down to the Great Lakes and east. A constant stream of clipper storms brought snow almost every other day to the lakes.
In 2014 the warm water was carried south along the west coast and aided by diminished upwelling with a displaced/weakened Pacific high, helped as it did in the mid 1970s, produce the California drought. See the sea surface temperature anomalies this winter.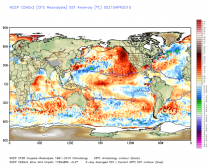 Enlarged
Though the media wants to focus on the western warmth and drought, the bigger story has been the cold and snow to the east the last two winters.
Chicago had its coldest December to March in the record back to 1872 and third snowiest winter in 2013/14, Detroit had its snowiest winter since 1880.
See the brutal 2013/14 winter that focused on the Great lakes and Upper Midwest.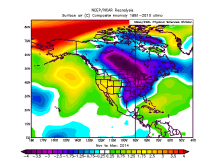 Enlarged
This winter, the trough and the axis of coldest air was in the mean farther east, the expansion east made easier by a cooling North Atlantic. The cold shifted to the northeast and all of the cities in eastern Canada, which had their coldest February and January to March and in many places in the east, the snowiest ever on record (similar to what we saw and earlier wrote about in parts of central New England).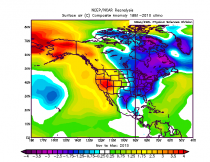 Enlarged
We wrote about the remarkable February 2015 in March.
This week, NCDC updated their Climate pages to include March 2015 and looked at the brutal eastern January to March story for the Northeast, and the cold in the Upper Midwest, Ohio Valley, South and Southeast.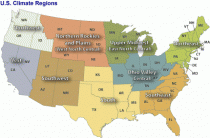 Enlarged
In the northeast region (the 10 eastern states with all the major metros and DC) had their coldest January to March in the record back to 1895.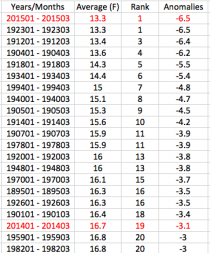 Enlarged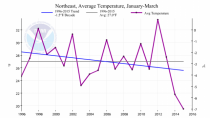 Enlarged
The trend the last 20 years has been down 1.5F/decade!
It has cooled in the last 20 years in the Ohio Valley, Great Lakes/Upper Midwest, South and Southeast.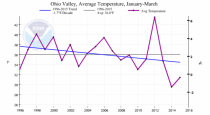 Enlarged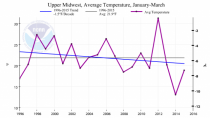 Enlarged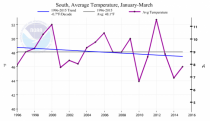 Enlarged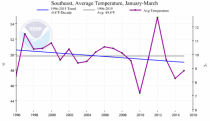 Enlarged
Western, Northwest and Southwest plots, which had two decade cooling trends though 2012 have flattened with the warmer winters the last two years.
Wednesday, April 08, 2015
In the Northeast, February like no other in our lifetime, JFM harshest since the Little Ice Age
The last two winters have been throwback winters for the Great Lakes and northeast.
No one who has lived in central New England including the Boston area has experienced a 6-week and calendar month as extreme for the combination of cold and snow as we have this late winter. Here in the Nashua area, February 2015 was the coldest month ever recorded with an average temperature of 12.2F. It beat out January 1888, which had averaged 12.9F. A record 18 days had low temperatures zero or below (as cold as 14F below). 25 days remained freezing or below, also a record.
In Boston where temperature records began in 1872, this month was exceeded only by February 1934, which brought Boston their all-time record of -18F. Temperatures never rose out of the 30s this year in February in Boston though it topped 40 four times in 1934.
The cold in February 2015 was not confined to the Boston-Nashua area. It was the coldest month ever in Worcester, Hartford and Portland. It was the coldest February in Chicago and Cleveland and 3rd coldest in New York City, 5th coldest month ever in Detroit and Baltimore, both with records back into the early 1870s.
The year Nashua replaced, 1888, was the year was the year of the Blizzard of '88 in March. That storm called 'The Great White Hurricane' dumped as much as 50 inches of snow in parts of Connecticut and Massachusetts, while parts of New Jersey and New York had up to 40 inches. Drifts were reported to average 30-40 feet, over the tops of houses from New York to New England, with reports of drifts covering three-story houses. That storm spared eastern New England its worst as milder Atlantic air dominated the early stages of that storm with less than 2 feet here in the Nashua area and just 12" in Boston although 42" fell in southwest New Hampshire at Dublin.
2015 in Nashua had a record February for snowfall, though Boston had more with 64.6 inches and 100.4 inches in the 39 days following January 24th. The 110.6 inches exceeded the 107.6 inch record from 1995/96. The snow that year was spread out over 6 months with thaws, not concentrated so much in less than 6 weeks. The snow blitz and the intense cold is why the snow piles were so high this year.
ONLY 1717 BEAT THIS?
Looking back through accounts of big snows in New England by the late weather historian David Ludlum, it appears for the eastern areas, this winters snowblitz may have delivered the most snow since perhaps 1717.
That year, snows had reached 5 feet in December with drifts of 25 feet in January before one great last assault in late February into early March of 40 to 60 more inches. The snow was so deep that people could only leave their houses from the second floor, implying actual snow depths of as much as 8 feet or more. The New England Historical Society's account indicated New Hampshire, Massachusetts and Connecticut were hardest hit, a lot like 2015 in what was known as the year of the great snows.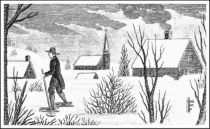 "Entire houses were covered over, identifiable only by a thin curl of smoke coming out of a hole in the snow. In Hampton, N.H., search parties went out after the storms hunting for elderly people at risk of freezing to death… Sometimes they were found burning their furniture because they couldn't get to the woodshed. People maintained tunnels and paths through the snow from house to house."
The driver for this winter was a peculiar configuration of ocean warm and cold pools, similar to the frigid winters of 1916/17, 1917/18, 1976/77 and 1977/78. We correctly forecasted the last two historic winters many months in advance based on the ocean patterns. The models suggest the ocean temperatures remain in this configuration this spring and summer resulting in a cool spring and relatively cool and wet summer.
You may hear or read the increased snow is consistent with global warming because warmer air holds more moisture. In actual fact, only 1 of the 14 years with more than 60 inches of snow in Boston was warmer than normal.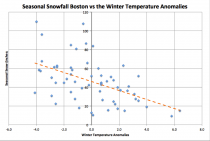 Enlarged
During the 40 days of snowy weather this winter, we averaged over 11F below normal. Cooling increases snowfall not warming. Indeed winter temperatures have cooled over the last two decades in the United States which fits with the fact that 10 year running mean of Boston area snowfall has increased to the highest level since snow records were first kept in 1890.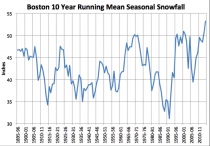 Enlarged
The cold continued in March here in New England. The month averaged 5.8F below normal here in Nashua and 5.1F below in Boston. There were only four 50F days after no 40F days in February in Boston. This compares with seventeen 50F days, eleven 60F days, seven 70F days and one 80F day in March 2012.

JANUARY TO MARCH RECORD COLD
The January to March average temperatures were the coldest in the entire record in Nashua, Worcester, Providence, Hartford and third coldest in Boston behind only 1885 and 1895.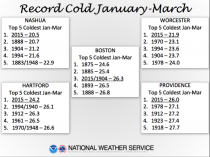 Enlarged
Ironically 2012 was the warmest first quarter in the record. Despite that spike then, temperatures in the winter (and cold season) in the US (including the northeast states) have declined for over 20 years, which fits with the fact that 10 year running mean of Boston and eastern New England area snowfall has increased to the highest level since snow records were first kept in 1890. This season, most areas of central New England had the snowiest mid to late winter and many spots the snowiest season on record.
The combination of cold and snow here to northern areas and back to the Great Lakes the last two winters, harkens back to the Little Ice Age that ended in the early 20th century.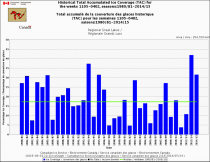 Enlarged
In 2013/14, Chicago had their coldest December to March back to 1872 and third snowiest while Detroit had their snowiest back to 1880.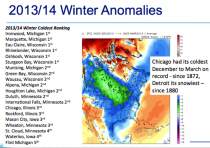 Enlarged
The Adirondacks in these years usually gets the worst of the arctic cold. Saranac Lake in February 2015 was 13.6F below normal with 23 sub-zero days, no day reaching freezing and 4 record lows. March had 15 days zero or below with 10 record lows. Last March (2014), Saranac Lake was 11.4F below normal with 10 sub-zero days and 7 record lows. These were two amazing late winters.
WHAT IS BEHIND THE EXTREMES?
I learned early in my career from the some of the giants in the field like Jerome Namias how ocean temperature pools that change locations with changes in the global ocean current circulation patterns in conjunction with strong El Nino and La Nina events are important to where the jet stream sets up and how strong and persistent it is. This determines how extreme winters and summer are for both temperature and precipitation.
A super La Nina in 2010/11 (2nd strongest in 120 years by some measures), set up warm water in the central Pacific and cold water near the west coast of North America, which lead to that record warm and droughty 2011/12 central and eastern winter, spring and summer. That warm water came east first to off of Alaska last year leading to the historic winter near the western Lakes and North Central and then the warm water was carried by the currents southeast to the entire west coast forcing the cold to take aim more on the eastern Lakes and Northeast.
Similar changes occurred in the Atlantic. Starting in 2007, warm North Atlantic helped build high pressure in the Polar Regions and drive Siberian air west to Europe where in December 2010, the UK had their second coldest December since 1659 in the Little Ice Age.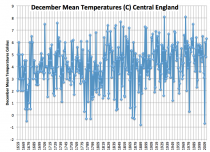 Enlarged
Though scientists had warned them snow was a thing of the past, the UK and much of northern Europe had all-time record snows and cold in 5 of 6 years. The North Atlantic turned cold last year and more so this year and Europe turned milder. But a cold North Atlantic means colder and snowier winters in eastern Canada, the Great Lakes and northeast. The Atlantic thus helped exaggerate the Pacific driven cold last two winters.
At Weatherbell.com, where we use the oceans and sun in our statistical models for long-range prediction, we successfully predicted many months in advance these historic winters.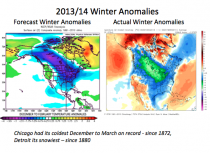 Enlarged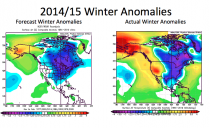 Enlarged
Monday, March 16, 2015
Boston breaks all-time seasonal snow record; California drought an outlier not a trend
By Joseph D'Aleo
A quick 2.9 inches of snow at the end of a weekend cold rain storm followed by another 2.3 inches in the following weeks brought Boston to an all-time snow record of 110.6 inches (over 9 feet) beating out the all-time record of 107.6 set in 1995/96. In that year, the snow was spread out over 6 months.
This year it has been mostly concentrated in 40 days centered on the second coldest month in the city's history. Records for snowfall began in 1891, temperatures in 1872 in Boston. The snowy recent years have the 10 year running mean at a new high in the entire record.


Enlarged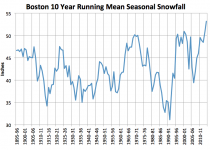 Enlarged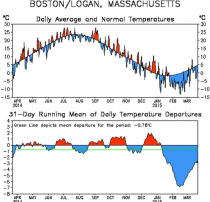 Enlarged
----------
California is seeing the reverse of 2012 when the eastern Pacific was cold and the coastal areas cold and wet. Now the eastern Pacific is warm due to downstream effects after the super La Nina of 2010/11 and the cluster of La Ninas since 2007. This warming in the eastern Pacific is similar to what happened in the 1970s when La Ninas were dominant and some strong in the last cold PDO. In 1976, water warmed off the west coast and a two year devastating drought followed despite, like this year, a weak El Nino. 1977/78 was legendary big snow year in Boston which 2014/15 will surpass or at least rival in the minds of the populace that experienced both years.
See the warm water now.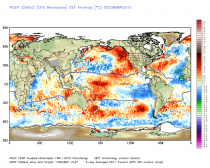 Enlarged
See the California precipitation plot since 1895. It is obious there is no 'trend' anymore than the dry warm year in 2012 in Texas was anything unusual or the start of a permanent drought.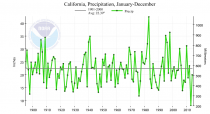 Enlarged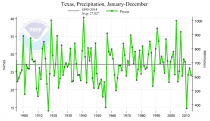 Enlarged
The warmists decided several years ago to play ambulance chasing games to try and alarm the public into believing every natural event was man made and required eliminating fossil fuel from the energy equation because it emits CO2, a beneficial gas, which by the way we emit 40,000 ppm in every breath we take into air containing near 400 ppm. Record crop yields have occurred as a benefit of the increased CO2, allowing us to feed more of the world's people at a lower cost.
Tuesday, March 10, 2015
A remarkable February 2015
By Joe D'Aleo, CCM
Despite the fact that winters have been cooling in the CONUS (all 9 climate regions) for the last 20 years and snows have been increasing, the Union of Concerned 'Scientists', an advocacy group whose environmentalists have taken over most universities at least here in the northeast have been advising the state goverments that warming was producing less snow and threatening the ski and maple sugar industries. They have been repeating this since at least 2007, ignoring new snow records not only in ski areas but in the big cities. Boston 10 year running mean is at a new high. A lot of bad energy and regulatory policy has been already enacted based on 'failing climate models' on the state and federal level.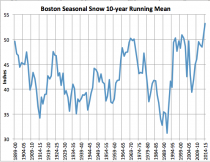 Enlarged
While some democrats with full mainstream media support, are trying to silence scientists who don't accept the so called consensus 'warming' position, mother nature is voting 'Nay'.
Last three years had heavy snows and last March was coldest ever in VT. 2nd coldest in NH, ME, 5th in MA. It was the coldest and snowiest December to March ever in Chicago and snowiest ever in Detroit. NOAA and Enviornment Canada had projected at the end of November 2013 a warm winter for the Great lakes and east in 2013/14. NOAA's winter outlook in October for 2014/15 smarting from a busted 2013/14 headlined the politically correct forecast
"Repeat of last year's extremely cold, snowy winter east of Rockies unlikely."
Note that we have high respect for NOAA forecasters at all levels who strive hard to provide accurate forecasts and life saving warnings. However, the last two years were high confidence cold forecasts based on ocean temperature patterns. I was told over dozen years ago, NOAA seasonal forecasters are not permitted to work with any factors not statistically determined by the universities or labs to be valid. Private sector forecasters can play detective and look at all factors- like ocean warm and cold pools outside the tropical Pacific and solar. See how well the ocean pools and other factors' analog pattern (left) fit the actual November to February mean (through February 27) (right).


Enlarged
After a frigid November, in late December, mild weather got the official winter off to a slow start nationwide. January brought cold to the central and east but the thaw mid month central knocked down the anomalies there. Then came this February. The month has been a remarkable one from the Great Lakes to the Northeast and Mid Atlantic.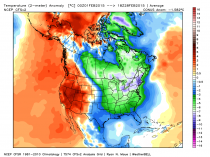 Enlarged
This February has been 2nd coldest winter month EVER in BOS behind only February 1934. BOS had 8 feet of snows since January 24th and will set the all-time record this week (they are now at 102", record 107.6 inches in 1995/96).
In Boston, where they have had 8 feet of snow since January 24th, it was the 2nd coldest February and month ever. It was the snowiest winter (DJF) on record and will be the snowiest season perhaps by Monday. There is some evidence this may be the snowiest year since the Pilgrims were here in 1717.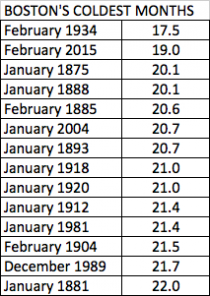 Enlarged
It was the coldest month ever in Worcester and Hartford, 2nd coldest in Providence (like Boston trailing 1934).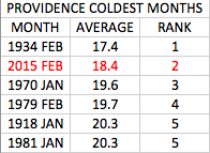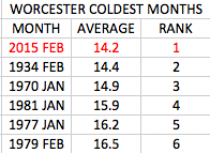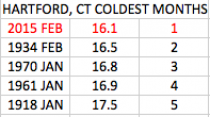 In Concord it was the 2nd coldest February just 0.1F behind 1934. In Nashua the next town west from me, it was the coldest month ever beating out January 1888! Records go back to 1886. Nashua had 18 days at 0 or below and 25 days below freezing, both records for any month. We are foot away from the all time record.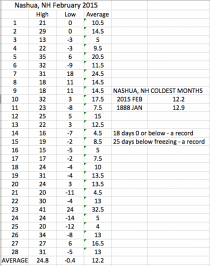 Enlarged
In Chicago where it was the 3rd snowiest February, it was the coldest since records began in 1872. February 2014 was 8th coldest.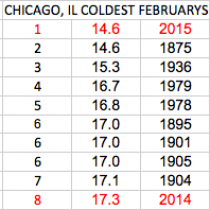 It ranked between 2nd and 5th coldest month in lower Michigan.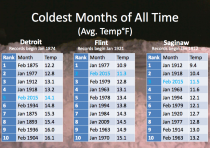 Enlarged
In Cleveland it was the coldest February and trailed only 1977 for the coldest month.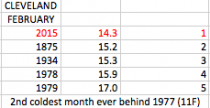 The ice cover has increased to 88.8%. Last year this is when the ice made its run for the gold, topping out at 92.5%. They were 85.4% on the same date.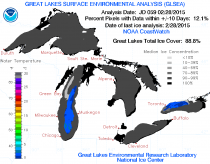 Enlarged
The next 5-10 days, cold temperatures will help challenge the record. As with Antarctica, when the facts are inconvenient, expect the media to dredge up some story that implies the opposite. The last two weeks there were stories that Lake Superior may be warming faster than any other lake in the world. The last two years it has frozen over (rare because it is so deep) and last year ice flows remained into June with lake temperature 7F below normal.
In New York CIty it was the 3rd coldest February and 9th coldest month since records began in 1869.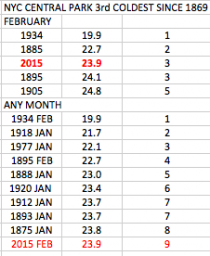 Enlarged

In Baltimore, it was the 5th coldest month since 1871.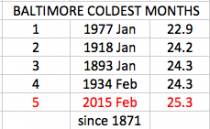 Speaking of icy water, this is from a photographer on Nantucket. It should be looked at from the perspective that some scientists were blaming the snows in Boston on a warm Atlantic pool east of Cape Cod (MMann - as much as 21F above normal). In actual fact specific humidity during the cold period was well below normal and each of the three major snowstorms occurred in Bston with temperatures in the teens.
The waves captured by NBC photographer Jonathan Nimerfroh are so thick with ice that they've drawn comparisons to 'Slurpees' and other frozen beverages, but the texture and shape of the wave also suggest a giant, grey tongue, licking the shores of Nantucket.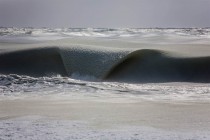 Enlarged
Here's what the photographer had to say about his images: "When I pulled up to the beach I could see the horizon just look strange. When I got to the top off the dunes I saw that beginning about 300 yards away from the shoreline the ocean was starting to freeze. The high temp that day was around 19 degrees. The wind was howling from the southwest which would typically make rough or choppy conditions not so good for surfing, but since the surface of the sea was frozen slush the wind did not change the shape. What resulted was perfect, dreamy, slush waves. Most waves were around 2 feet with some larger sets slushing through around 3 foot or waist high. What an experience to be absolutely freezing on the beach watching these roll in while I mind-surfed them! I wonder if a shaper can make me a special designed slurfboard?"
"The next day I drove up to see if they melted but beginning that same 300 yards away from shore the water had frozen solid and there were no waves at all. I've been asking all the fishermen and surfers I know if they have ever seen such a thing and they have all reported that this is a first, a result of it being the coldest winter we've had in 81 years. I guess the people I asked weren't old enough to remember a colder winter than this!"
One last thought, we hear that warming is why we are seeing more snow because warm air holds more water. Meteorologists know that cold weather produces snow. When it is cold, the atmospheric water content is less. See this prior analysis. Indeed most big snow years are cold years, warm years lean on snow.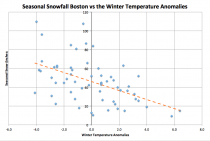 Enlarged
Monday, March 09, 2015
Climate change does not cause extreme winters, new study shows
Cold snaps like the ones that hit the eastern United States in the past winters are not a consequence of climate change. Scientists at ETH Zurich and the California Institute of Technology have shown that global warming actually tends to reduce temperature variability.
Repeated cold snaps led to temperatures far below freezing across the eastern United States in the past two winters. Parts of the Niagara Falls froze, and ice floes formed on Lake Michigan. Such low temperatures had become rare in recent years. Pictures of icy, snow-covered cities made their way around the world, raising the question of whether climate change could be responsible for these extreme events.
It has been argued that the amplified warming of the Arctic relative to lower latitudes in recent decades has weakened the polar jet stream, a strong wind current several kilometres high in the atmosphere driven by temperature differences between the warm tropics and cold polar regions. One hypothesis is that a weaker jet stream may become more wavy, leading to greater fluctuations in temperature in mid-latitudes. Through a wavier jet stream, it has been suggested, amplified Arctic warming may have contributed to the cold snaps that hit the eastern United States.
Temperature range will decrease
Scientists at ETH Zurich and at the California Institute of Technology, led by Tapio Schneider, professor of climate dynamics at ETH Zurich, have come to a different conclusion. They used climate simulations and theoretical arguments to show that in most places, the range of temperature fluctuations will decrease as the climate warms. So not only will cold snaps become rarer simply because the climate is warming. Additionally, their frequency will be reduced because fluctuations about the warming mean temperature also become smaller, the scientists wrote in the latest issue of the Journal of Climate.
The study's point of departure was that higher latitudes are indeed warming faster than lower ones, which means that the temperature difference between the equator and the poles is decreasing. Imagine for a moment that this temperature difference no longer exists. This would mean that air masses would have the same temperature, regardless of whether they flow from the south or north. In theory there would no longer be any temperature variability. Such an extreme scenario will not occur, but it illustrates the scientists' theoretical approach.

Extremes will become rarer
Using a highly simplified climate model, they examined various climate scenarios to verify their theory. It showed that the temperature variability in mid-latitudes indeed decreases as the temperature difference between the poles and the equator diminishes. Climate model simulations by the Intergovernmental Panel on Climate Change (IPCC) showed similar results: as the climate warms, temperature differences in mid-latitudes decrease, and so does temperature variability, especially in winter.
Temperature extremes will therefore become rarer as this variability is reduced. But this does not mean there will be no temperature extremes in the future. "Despite lower temperature variance, there will be more extreme warm periods in the future because the Earth is warming," says Schneider. The researchers limited their work to temperature trends. Other extreme events, such as storms with heavy rain or snowfall, can still become more common as the climate warms, as other studies have shown.
North-south shift makes the difference
And the jet stream? Schneider shrugs off the idea: "The waviness of the jet stream that makes our day-to-day weather does not change much." Changes in the north-south difference in temperatures play a greater role in modifying temperature variability.
Schneider wants to explore the implications these results have in further studies. In particular, he wants to pursue the question of whether heatwaves in Europe may become more common because the frequency of blocking highs may increase. And he wants to find why these high pressure systems become stationary and how they change with the climate.
Read more.

Richard Lindzen: The Political Assault On Climate Sceptics
Richard Lindzen, The Wall Street Journal

Research in recent years has encouraged those of us who question the popular alarm over allegedly man-made global warming. Actually, the move from "global warming" to "climate change" indicated the silliness of this issue. The climate has been changing since the Earth was formed. This normal course is now taken to be evidence of doom.

Individuals and organizations highly vested in disaster scenarios have relentlessly attacked scientists and others who do not share their beliefs. The attacks have taken a threatening turn.

As to the science itself, it's worth noting that all predictions of warming since the onset of the last warming episode of 1978-98 - which is the only period that the United Nations Intergovernmental Panel on Climate Change (IPCC) attempts to attribute to carbon-dioxide emissions - have greatly exceeded what has been observed. These observations support a much reduced and essentially harmless climate response to increased atmospheric carbon dioxide.

In addition, there is experimental support for the increased importance of variations in solar radiation on climate and a renewed awareness of the importance of natural unforced climate variability that is largely absent in current climate models. There also is observational evidence from several independent studies that the so-called "water vapor feedback," essential to amplifying the relatively weak impact of carbon dioxide alone on Earth temperatures, is canceled by cloud processes.

There are also claims that extreme weather - hurricanes, tornadoes, droughts, floods, you name it - may be due to global warming. The data show no increase in the number or intensity of such events. The IPCC itself acknowledges the lack of any evident relation between extreme weather and climate, though allowing that with sufficient effort some relation might be uncovered.

World leaders proclaim that climate change is our greatest problem, demonizing carbon dioxide. Yet atmospheric levels of carbon dioxide have been vastly higher through most of Earth's history. Climates both warmer and colder than the present have coexisted with these higher levels.

Currently elevated levels of carbon dioxide have contributed to increases in agricultural productivity. Indeed, climatologists before the recent global warming hysteria referred to warm periods as "climate optima." Yet world leaders are embarking on costly policies that have no capacity to replace fossil fuels but enrich crony capitalists at public expense, increasing costs for all, and restricting access to energy to the world's poorest populations that still lack access to electricity's immense benefits.

Billions of dollars have been poured into studies supporting climate alarm, and trillions of dollars have been involved in overthrowing the energy economy. So it is unsurprising that great efforts have been made to ramp up hysteria, even as the case for climate alarm is disintegrating.

The latest example began with an article published in the New York Times on Feb. 22 about Willie Soon, a scientist at the Harvard Smithsonian Center for Astrophysics. Mr. Soon has, for over 25 years, argued for a primary role of solar variability on climate. But as Greenpeace noted in 2011, Mr. Soon was, in small measure, supported by fossil-fuel companies over a period of 10 years.

The Times reintroduced this old material as news, arguing that Mr. Soon had failed to list this support in a recent paper in Science Bulletin of which he was one of four authors. Two days later Arizona Rep. Raul Grijalva, the ranking Democrat on the Natural Resources Committee, used the Times article as the basis for a hunting expedition into anything said, written and communicated by seven individuals - David Legates, John Christy, Judith Curry, Robert Balling, Roger Pielke Jr. , Steven Hayward and me - about testimony we gave to Congress or other governmental bodies. We were selected solely on the basis of our objections to alarmist claims about the climate.

In letters he sent to the presidents of the universities employing us (although I have been retired from MIT since 2013), Mr. Grijalva wanted all details of all of our outside funding, and communications about this funding, including "consulting fees, promotional considerations, speaking fees, honoraria, travel expenses, salary, compensation and any other monies." Mr. Grijalva acknowledged the absence of any evidence but purportedly wanted to know if accusations made against Mr. Soon about alleged conflicts of interest or failure to disclose his funding sources in science journals might not also apply to us.

Perhaps the most bizarre letter concerned the University of Colorado's Mr. Pielke. His specialty is science policy, not science per se, and he supports reductions in carbon emissions but finds no basis for associating extreme weather with climate. Mr. Grijalva's complaint is that Mr. Pielke, in agreeing with the IPCC on extreme weather and climate, contradicts the assertions of John Holdren, President Obama's science czar.

Mr. Grijalva's letters convey an unstated but perfectly clear threat: Research disputing alarm over the climate should cease lest universities that employ such individuals incur massive inconvenience and expense - and scientists holding such views should not offer testimony to Congress. After the Times article, Sens. Edward Markey (D., Mass.), Sheldon Whitehouse (D., R.I.) and Barbara Boxer (D., Calif.) also sent letters to numerous energy companies, industrial organizations and, strangely, many right-of-center think tanks (including the Cato Institute, with which I have an association) to unearth their alleged influence peddling.
--------
In their own words, their real agenda:
At a news conference in early February, 2005 in Brussels, Christiana Figueres, admitted that the goal of environmental activists is not to save the world from ecological calamity but to destroy capitalism.
"This is the first time in the history of mankind that we are setting ourselves the task of intentionally, within a defined period of time, to change the economic development model that has been reining for at least 150 years, since the Industrial Revolution," she said. Referring to a new international treaty environmentalists hope will be adopted at the Paris climate change conference later this year, she added: "This is probably the most difficult task we have ever given ourselves, which is to intentionally transform the economic development model for the first time in human history."--Investor's Business Daily, 10 February 2015


And, as EPA Administrator Gina McCarthy testified before the Senate Environment and Public Works Committee on July 23, 2014:
"The great thing about this [EPA Power Plan] proposal is that it really is an investment opportunity. This is not about pollution control."
Wednesday, February 18, 2015
Petroleum: A Magnificent Material Much Maligned
By Steve Goreham
Originally published in Communities Digital News.
The use of petroleum is under attack as never before in today's society. But contrary to the cries of critics, petroleum and the things people can do with petroleum are a modern miracle and a foundation of modern society.
Last year, the Intergovernmental Panel on Climate Change of the United Nations called for the world to move to "near zero emissions" of carbon dioxide by the year 2100. President Obama has threatened to veto the Keystone XL pipeline bill. Activist Bill McKibben has launched a national effort to persuade universities and colleges to divest financial holdings in oil companies. These efforts target the oil industry with the aim of eliminating the societal use of petroleum.
But have you ever stopped to consider what petroleum products do for people each and every day?
Back in 1620, it took the 120 passengers and crew of the Mayflower 25 days to travel from England to what was to become America. Two passengers died on the voyage. Today, a jumbo jet safely carries more than 300 passengers the same distance in less than seven hours. Each day, 25,000 commercial aircraft transport 9 million passengers a combined total of 10 billion miles, all powered by aviation fuel from petroleum.
Back in the late 1800s, the horse-drawn carriage became a preferred mode of transportation in major cities. By 1890, the average New York citizen took 297 horse car rides per year. The 200,000 horses of New York deposited three to six million pounds of manure in stables and on streets each day. When the "horseless carriage" replaced the mess and smell of the horse-drawn carriage, many regarded the car as a pollution-control invention. Each day today, fuel from petroleum powers more than one billion automobiles across the world.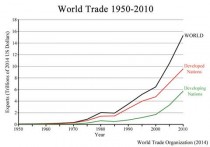 Historically, goods traded between societies were transported by camel, wagon, and sail. While trade has grown throughout history, the value of total world exports amounted to only about $10 billion per year in 1900, measured in today's dollars. Since 1900, world exports have exploded, increasing 1,800 times to a total of $18 trillion per year in 2013. Each day, more than 100 million tons of freight is carried by ship, train, truck, and plane, with more than 90 percent powered by fuel from petroleum.
Back in 1809, Emperor Napoleon Bonaparte of France had a problem. When his armies marched across Europe, food supplies for his troops quickly spoiled. He offered a reward of 12,000 francs for a solution, which led to the invention of sterilized food sealed in tin cans. Historically, food was "packaged" in animal skins, glass, paper, metal cans, and wooden crates. Today, plastics from petroleum and other hydrocarbons provide safe, convenient, and inexpensive packaging for food and other products. More than two million plastic bottles and 1.3 billion plastic bags are consumed each day globally.
Each day, one-half million in-patient surgeries are performed across the world. Plastics from oil and natural gas play an essential role in modern medicine. Thousands of items, such as disposable catheters, surgical gloves, pharmaceutical drugs, hip implants and heart valves, bandages, and various parts of lab equipment are plastic, made from petroleum and other hydrocarbons.
Today we live in a golden age of low-cost energy. Just two hundred years ago, wood burning and human- and animal-muscle power provided more than 90 percent of society's energy. Since 1800, global energy usage has increased by 26 times. Today, more than 30 percent of the world's energy is provided by petroleum and more than 80 percent is provided by coal, natural gas, and oil.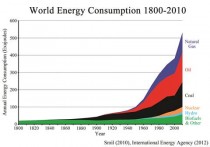 Since 1800, global Gross Domestic Product has increased by a factor of 10, human life expectancy has more than doubled, and infant mortality is down by a factor of six. Since 1950, the years of education for world populations have more than doubled. In our golden age of hydrocarbon energy, people are wealthier, healthier, better educated, and enjoy more consumer goods and leisure time than any era in history.
Despite climate change warnings by the Obama administration and the United Nations, there is no evidence that carbon dioxide emissions from the petroleum industry have harmed a single person on Earth. Senior citizens continue to retire to southern states, disregarding foolish US government claims that warm climates are "dangerous."
Satellite data shows global temperatures have been flat for the last 18 years, that storms are neither stronger nor more numerous than those of history, and that global sea ice extent remains at the 30-year average. Satellites further show that world vegetation has increased over the last 20 years, nourished by rising atmospheric CO2. And today's polar bear populations are double the levels of 1960.
Nor is there evidence that petroleum use is causing increasing pollution of Earth's environment. Today, air and water pollution is declining in all major industrialized nations. Nations that use the most energy and petroleum have the best air and water quality and the best methods for handling disposal of wastes. Trends indicate that developing nations will also achieve declining pollution levels as their national incomes rise.

We're fortunate to be living in a golden age of energy, fueled by petroleum.

Steve Goreham is Executive Director of the Climate Science Coalition of America and author of the book The Mad, Mad, Mad World of Climatism: Mankind and Climate Change Mania.