Sep 25, 2023
Alarmists Turn Up Heat with Climate, Weather 'Records'!
by Larry Bell, on Cornwall Alliance
Tedros Ghebreyesus, Director-General of the World Health Organization (WHO), wrote on X, formerly known as Twitter, "the hottest month [July] just ended. We witnessed scorching heat, extreme weather events, wildfires, and severe health consequences."
He added, "It's a stark reminder of the urgent need for collective action to address climate change. Let's use this alarming milestone to fuel our determination for bold climate action.
"Together, we can turn up the heat on sustainable solutions and create a cooler, more resilient world for generations to come."
Myron Ebel, director and senior fellow at the Center for Energy and Environment, notes that while June and July were hot in many locations, others - such as Los Angeles with the 10th coolest June on recent record according to the National Oceanic and Atmospheric Administration (NOAA) - experienced below-average temperatures.
On July 27, President Biden stated that "record temperatures - and I mean record - are now affecting more than 100 million Americans. Puerto Rico reached a 125-degree heat index last month. San Antonio hit an all-time heat index high of 117 last month."
Rather than citing actual temperatures where, according to the National Weather Service (NWS), Puerto Rico on the day referenced was 95 degrees - not 125 - since index measurements combine temperature and relative humidity.
According to the NWS, San Antonio's 117-degree heat index that month resulted from just three days of 105-degree temperatures from June 19-21.
And whereas Houston experienced 10-degree-higher-than-average July temperatures, some rural Texas towns such as Water Valley at 99.8 degrees compared with a prior 97-degree average reflected little change.
Climatologist and professor John Christy, director of the University of Alabama Huntsville Earth Science Center, points out that "regionally, the West has seen its largest number of hot summer records in the past 100 years, but the Ohio Valley and Upper Midwest are experiencing their fewest."
As Dr. Christy, also a former NASA scientist, observes, "for the conterminous U.S. as a whole, the last 10 years have produced only an average number of records...The 1930s are still champs [for producing the most 100-plus temperature days in a year].
Conveniently omitted in alarmist reports is the U.S. Historical Climate Network (USHCN) temperature data for contiguous states, revealing that the number of days over 100 degrees Fahrenheit (37.8 degrees Celsius), which peaked in the 1930s has been in an 80-year overall decline.
Bear in mind that this preceded the 1940s when World War II weapons industries released massive amounts of CO2 into the atmosphere.
Nevertheless, global temperatures declined in fits-and-starts from the mid-1940s until the late 1970s, when most of the climate science establishment and media were predicting the beginning of the next Ice Age with galloping glaciers threatening Manhattan.
A decade later, abetted by then- Sen Al Gore's feverish 1988 hearings in Congress in concert with the U.N.'s obsession with passing the Kyoto Protocol global wealth redistribution plan capping CO2 in developed countries - mainly the U.S. -its Intergovernmental Panel on Climate Change (IPCC) declared an opposite and imminent global warming emergency which continues to give a pass to China, the world's largest emitter.
Whereas Christy and virtually all other informed climatologists fully recognize that climate obviously changes due to numerous complex natural factors and that a warming trend has ensued since the three-century-long so-called "Little Ice Age" ended in the mid-1800s, we shouldn't confuse 30-year-long climate attributions with decadal and shorter regional weather patterns and occurrences.
Christy told the Epoch Times that global satellite readings he measured with meteorologist colleague Roy Spencer which go back only to 1979, show that while last July was the warmest by about a quarter of a degree, an "early and strong El Nino" was a "major factor" in the increase.
The term "El Nino" refers to entirely natural, relatively short multi-year periodic events in the Pacific Ocean leading to warmer temperatures in North and South America which are typically followed by La Nina's that reverse results to cooler circumstances with trade winds that push warm water toward Asia.
All-in-all, the National Oceanic and Atmospheric Administration (NOAA) data does show that average global surface temperatures have increased by two degrees Fahrenheit (1 degree Celsius) since the pre-industrial era (1880-1900), and few will argue that CO2 hasn't had some (yet unmeasurable) contribution.
Confirming that recent satellite data shows global temperatures rising steadily at about 0.23 degrees Fahrenheit every decade, Christy nevertheless emphasizes that we should understand that this current trend is bouncing back from the 19th century, which was one of the coldest in the last 10,000 years.
The Roman Warm Period two thousand years ago was just as warm or warmer, as was the Medieval Warm Period a thousand years ago - long before mankind introduced smokestacks and SUVs
Let's also be mindful that CO2 is essential to plant food that satellites reveal is making our world greener, extending growing seasons, feeding more people and other of God's creatures, and fundamentally extending and improving our lives.
Whereas President Biden claims, "I don't think anybody can deny the impact of climate change anymore," where "the No. 1 weather-related killer is heat - 600 people die annually from its effects," he fails to mention that cold weather conditions kill far more each year.
According to the Breakthrough Institute, heat is responsible for about 500,000 annual deaths worldwide, while cold temperatures account for 4.6 million excess fatalities.
It's also high time for Director-General Tedros Ghebreyesus to come clean and set records straight on WHO's botched information about COVID-19 before again misrepresenting facts about weather.
----------------
See the years with the highest all-time state temperatures here.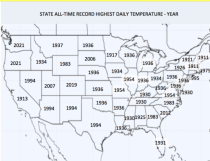 Enlarged
And see the all-time heat record history for stations with a long record.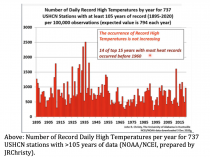 Enlarged
And here is the departures for the summer of 2023. Most states averaged near to even below normal this summer despite some July heat.