Dec 04, 2018
Excess winter deaths in England and Wales highest since 1976
ICECAP Note: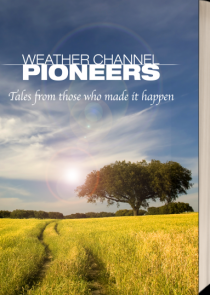 Weather Channel Pioneers (5 stars) on sale for the entire holiday season (discounted 25% from the original price). If you or a loved one have an interest in weather and the weather industry, please consider this image-rich book, which details how the cable TV giant - The Weather Channel - was created and launched in record time. It is told by many of the original 'Pioneer' staff that made it happen. Read more about it and see some images and videos in this preview web site (https://weatherchannelpioneers.com/). Order now for delivery before Christmas.
------------------
Update: Please see this email by Federico Pecchini that draws on Tony Heller's work captures a lot of what has been done and the reasons to 'Gruber' (MIT's Jonathan Gruber who advised Obama on health care and how to sell it with the complicit media's help to the public who are 'stupid' ) the world and industry on the issue the elitists have invented to control the masses Should_Global_Warming_be_our.pdf.
This is something Eisenhower warned about in his Farewell address:
"The prospect of domination of the nations scholars by Federal employment, project allocations, and the power of money is ever present and is gravely to be regarded.
The story that follows is what happens when they attempt to enforce it and people feel the pain.
Call for more NHS resources as elderly people and women among most vulnerable
By Denis Campbell Health policy editor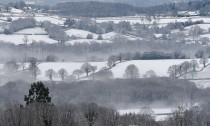 Snow in Derbyshire last December. The temperatures last winter are thought to have been partly to blame for the excess deaths. Photograph: Joe Giddens/PA
There were 50,100 excess deaths in England and Wales last winter, when there was a prolonged spell of extreme cold, making it the highest number since 1976, figures have shown.
The Office for National Statistics said flu and the ineffectiveness of the flu vaccine were key reasons for the rise of excess winter deaths in 2017-18.
The deaths occurred during the NHS's most serious "winter crisis" for many years. A lack of staff and beds meant all types of health services, particularly hospitals, were unable to cope with both the number of patients needing treatment and the severity of many of their conditions.
Women and people aged over 85 were among those most likely to die last winter, although the rate of winter deaths among males aged up to 64 doubled in just a year, the ONS found. A third of the deaths were due to serious breathing difficulties, including flu, asthma and bronchitis.
The 50,100 excess deaths were about 15,000 (45.1%) more than those that occurred in 2016-17 and double the total in 2015-16.
Nick Stripe, a specialist in health analysis and life events at the ONS, said: "It is likely that last winter's increase was due to the predominant strain of flu, the effectiveness of the influenza vaccine and below-average winter temperatures."
Doctors and groups representing older people said too little was being done to keep older people warm and safe, and to give the NHS the resources it needs.
Caroline Abrahams, Age UK's charity director, said: "A toxic cocktail of poor housing, high energy prices and ill-health can make winter a dangerous time for many older people, and tragically it is the oldest and those who are the most vulnerable who particularly suffer the consequences.
"Last winter, there were nearly 46,000 excess winter deaths among people aged 65 and over - a shocking 92% of all excess deaths - equating to 379 older people a day. These distressing figures are now the highest we've seen in over 40 years."
Dr Nick Scriven, the president of the Society for Acute Medicine, said the figures raised concerns about the persistent winter problems being encountered across the NHS every year.
The NHS was operating year-round under such pressure that it was in a state of "eternal winter", he said. As a result, "by the time winter actually hits, it leaves hospitals struggling to cope, having been maxed out all year round".
He said the NHS was not well-equipped to deal with its many challenges, which included "an older, frailer population with increasingly complex medical problems, a lack of funding across health and social care to meet demand, a recruitment crisis and persistently poor performance.
"Ultimately, despite reassurances from the government and NHS leaders that enough funding has been made available and the service is coping with the additional demands placed on it, the reality is clearly different given these statistics."
See this on how cold kills far more than heat from last year.
---------
French PM suspends fuel tax hike
After weeks of mass protests, government backs down.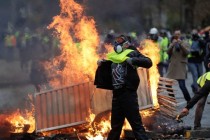 By ZOYA SHEFTALOVICH 12/4/18
French Prime Minister Edouard Philippe on Tuesday announced a six-month suspension of a controversial fuel tax rise.
The climbdown comes after three weeks of mass demonstrations by the Yellow Jackets movement against the planned tax increase.
An earlier government concession in the form of a tax tweak - suspending carbon taxes during periods of high petrol prices - failed to get Yellow Jackets off the streets.
Macron decided to suspend the fuel tax hikes late Monday, AFP reported, after his government spent the day meeting leaders from all of France's political parties.
Seventy-two percent of the French back the Yellow Jackets, according to a weekend survey, while Macron's approval rating has dropped to 23 percent and Philippe's to 26, according to a new IFOP poll.