May 06, 2020
Undersea volcanism and our weather
By Joseph D'Aleo, CCM, Co Chief Meteorologist at Weatherbell Analytics, LLC
I have long followed and written about volcanism and its effect on the weather. I have wondered with my colleagues whether undersea volcanism could be playing a role in ocean surface thermal patterns and through that affect our weather.
We wondered whether it played a role in the 2013-2015 warmth in the NPAC that drove two incredible NAM winters like it did in 1916/17, 1917/18, 1919/20, 1933/34, 1963/64, 1977/78, 1987/88, 1993/94, 2002/03, 2004/05 - all cold and big NE snow winters.
We know El Ninos and La Ninas affect global weather patterns (with differences depending on the strength and structure) and the AMO and PDO influence global temperatures, blocking tendencies, and the frequencies of extremes like hurricanes, tornadoes, floods/droughts, snow and ice). But as the great Jerome Namias noted, warm and cold ocean pools that are not really associated with these oscillations can affect the jet stream and weather patterns. These ocean oscillations and transient thermal anomalies are a large part of the analog methods we at apply at WeatherBell.
We wondered if the very strongly positive IOD last summer might be driven by a warm pool that blossomed in the western Indian Ocean. It favored the MJO staying in cold phases from October to early December. At the same time, we observed the NPAC turn warm resulting in early snow and cold as we mentioned above occurred in some of the wildest winters.
But then that pattern flipped as the +IOD collapsed as a 5C warm blob developed in the South Pacific east of New Zealand. The MJO readjusted to the warm phases.
We recently saw this paper that provided some support for that thinking of warm pools and their influence on the weather regimes and their relation to geothermal heat from volcanism.
2019-2020 South Pacific Blob and Antarctica Warming in February 2020
By Alvin Wong and Wyss Yim
Volcanoes Study Group, Hong Kong
Hot blobs beneath the sea surface formed by the release of geothermal heat through submarine volcanic eruptions and/or sub-aerially erupted hot volcanic materials including lava flows into the sea are an underestimated natural cause of ocean heat waves. Recent examples include the 2013-2016 North Pacific Blob and the 2018-2019 Southwest Indian Ocean Blob. The present study on the development of a blob in the South Pacific Ocean referred to as the 2019-2020 South Pacific Blob has provided evidence to account for the observed recent warming in Antarctica including a new hottest temperature record on February 6, 2020 and heat wave conditions dramatically changing Antarctica in just 9 days.
At least three volcanic eruptions (Figure 1) have been identified to contribute geothermal heat during August to December 2019 (spring and early summer in the southern hemisphere) to create the South Pacific Blob with an ocean surface temperature maximum attained on December 30, 2019 (Figure 2). Out of these, two were initially submarine volcanoes located in the territorial waters of Tonga and one was an island volcano with a crater just above sea level off the North Island coast in New Zealand waters.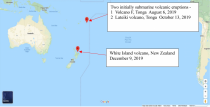 Figure 1 Volcanoes contributing geothermal heat to the 2019-2020 South Pacific Blob.
In August 6-8, 2019 submarine volcano F in the Tofua Arc, Tonga located about 40 kilometers south of Fonualie Island had a major eruption. The detection of this large explosive eruption was assisted by a pumice raft greater than 136.7 km2 in area on the ocean surface captured by imagery from ESA's Sentinel-2 satellite. In October 13-22, 2019 another submarine volcano erupted destroying Lateiki Island in the Tongan archipelago followed by the birth of a new island 100 m wide and 400 m long in October 30, 2019 which subsequently disappeared beneath the waves in mid-January 2020. Meanwhile in December 9, 2019 the White Island volcano in the Bay of Plenty erupted with a 3.7 km ash plume and hot materials was discharged into the ocean through the eruption cloud.
An examination of NOAA satellite sea surface anomalies map archives has revealed that the South Pacific Blob located about 800 kilometres east of New Zealand attained maximum temperature and largest areal extent in December 30, 2019 (Figure 2). The sea surface temperature was more than 5C above normal.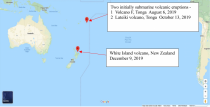 Figure 2 Sea surface temperature anomalies showing the development of the South Pacific Blob east of New Zealand on December 30, 2019. Source: NOAA
See the 2013/14 warm blob in the NPAC that led to two wild central and eastern winters.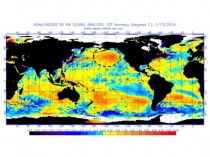 See the west Indian Ocean warm pool that drove the +2 STD IOD late last summer.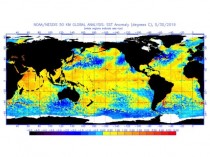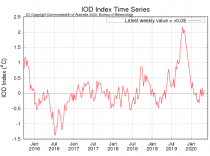 See how that drove heavy convection in the Indian Ocean and India and kept the MJO corralled in the cold phases in the late fall.
Meanwhile the NPAC warm pool blossomed as it did in 2013 - leading to ideas about cold in NAM.
But then the IOD dipole faded and the warm blob developed east of New Zealand. The MJO moved into the warm phases with heavy precipitation shifting east, the NPAC warm blob faded and the arctic trough and ++AO took away winter.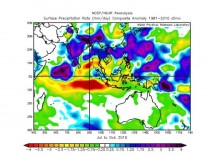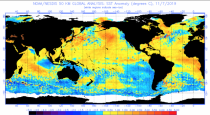 Alaska had a top 3 cold winter after the heat of early summer 2019.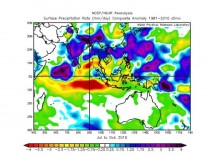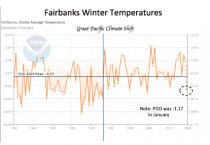 Fairbank's average 2019/20 daytime high was -2.1F, while the daytime low -20F, average daily mean was -11F! The coldest was -43F while the warmest was 31F December 9. 33 days were at or below -30F, 5 fell at or below -40F. The winter average 4.7F below normal, the coldest (3rd) since before (1975/76) the Great Pacific Climate Shift (a shift of the so called Pacific Decadal Oscillation to positive) in the late 1970s when warmer Pacific waters favored warmth in Alaska and western North America.
See how the AO was off the scale positive as the entire arctic atmosphere top to bottom was cold February to March.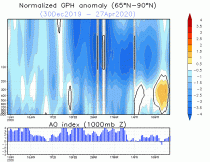 Now we see more warm pool action north and south. We will be following this carefully.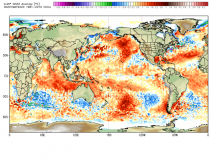 Nature is awesome… forecasting is challenging, we have to look up, and globally but are at the mercy of changes from beneath too it appears.