Aug 04, 2017
Cable Series (7 shows to date) and Research Reports Challenge 'Consensus Science'
Joseph D'Aleo, CCM, AMS Fellow
Update: Fake News NYT has a story here on a junk science interagency report. Tony Heller shows this is a fraud.
-------------
Peter Lanzillo, host of Pete's Corner on Hudson NH cable offered me and a team of scientists an opportunity to present an alternative view on the so called 'consensus science' that has driven policies that have devastated Europe's economies and started our region and country on the same path.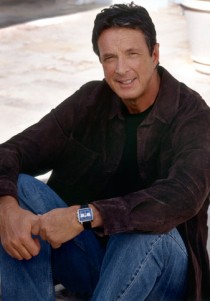 Michael Crichton (pictured), Biology degree then MD from Harvard, taught at MIT, Cambridge (UK), did research at the Salk Institute before becoming a writer, playwright, lecturer wrote about consensus:
"Historically the claim of consensus has been the first refuge of scoundrels; it is a way to avoid debate by claiming the matter is already settled."

"Let's be clear: the work of science has nothing whatever to do with consensus. Consensus is the business of politics. In science, consensus is irrelevant. What is relevant is reproducible results. The greatest scientists in history are great precisely because they broke with the consensus. (Galileo, Newton, Einstein, etc)"
Science has been politicized. The politicization of science is the manipulation of science for political gain. It occurs when government, business, or advocacy groups use legal or economic pressure to influence the findings of scientific research or the way it is disseminated, reported or interpreted. The global warming hoax may be the biggest example of the politicization of science in the history of man. It continues in the universities, the media and the next few weeks unfortunately in the theatres.
The UK courts required all UK schools that showed the first Al Gore movie, had to distribute a list of the 9 most major egregious errors. A judge ruled that the "apocalyptic vision" presented in the film was politically partisan and thus not an impartial scientific analysis of climate change. It is, he ruled, a "political film". In the next story and cable show we will outline all the exaggerations and falsehoods in the sequel. Gore predicted in the 2007 movie, that we had 10 years to save the planet, that sea levels would rise and flood places like New York City. Sea levels have risen less than 1 inch at the Battery since 2007.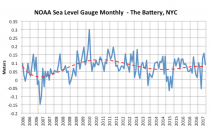 Enlarged
But Al uses Sandy's storm surge in the sequel to say he was right. Much stronger hurricanes in the past have come ashore in NYC - like the category 3 storm in 1821 with similar storm surges, but back then there were no subways or tunnels to flood and the city had a population of just 155,000 compared to over 8.2 million today.
Also, the number of polar bears, a movie icon, have increased to record highest population levels.
THE WINDS OF CHANGE
Peter, I and the very capable production team at Hudson Cable have produced so far 7 shows. They can be viewed here .
Part 1: CO2 the 'Demon Gas' showed how the demonized CO2 is a trace gas, just 0.04% of our atmosphere. We showed evidence how it has little effect on temperatures but instead is a highly beneficial gas. It is a plant fertilizer that has greatly greened the planet and increase crop yields 3 to 5 fold. CO2 combines with water, nutrients and sunlight to grow plants through photosynthesis. We pump CO2 into greenhouses. As for it being a harmful pollutant, every breath you take emits 100 times more CO2 than the air you took in.
Part II: Taking the Earth's Temperatures showed the many issues in attempting to assess what is happening globally. 75% of the global stations were dropped after 1990, up to 90% of the remaining stations have missing months each year, a large percentage of the stations are now not properly sited. Oceans cover 71% of the globe and full accurate global coverage was not achieved until 2004. Dodgy models are used to adjust temperatures. Yet we claim we can assess global temperatures to hundredths of degrees.
Part III: In Weather Extremes, we (guest Michael Sununu and I) showed though after Hurricane Katrina in 2004, scientists (and Al Gore) predicted devastating storms would be the 'new normal'. Yet since 2005, we have this week surpassed 4300 days without a major hurricane making landfall in the U.S. (more than double the 19th century record).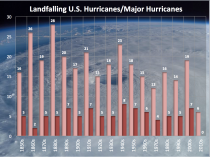 Enlarged
The annual number of strong tornadoes are decreasing. There is no change in flood or drought frequency. Sea level rise globally has slowed to a 4 inch/century rate while models and the movie suggested changes in meters. Polar ice is just going through normal cyclical changes.
Part IV: In the Natural and Man-made Causes of Climate Change, we show how El Nino and La Nina cause warming and cooling and how decadal ocean basin cycles lead to a tendency for one or the other to dominate and lead to decadal temperature trends. We looked at the sun, which the climate models ignore and show how solar cycles and the different solar outputs affect the climate and likely drive land and ocean temperature cycles. Volcanoes have a very strong affect but it tends to be shorter term. Man's primary influence is through land use changes most specifically urbanization.
Part V: We looked at the energy story. Guest Michael Sununu and I joined Peter to discuss the energy story. We showed how we here in New Hampshire and the northeast pay, along with California, the highest electricity prices in the nation because of bad policies and how the Paris Accord would devastate our nation's economy and hurt the poor and middle class and those on fixed incomes the most.
Part VI: We had a NASA Expert on sea level, Tom Wysmuller who confirmed the slowing of sea level rise and the beneficial nature of CO2 and Part VII a college professor Dr. Larry Gould who talked about how the schools and the media are indoctrinating our young and the public to support harmful and unnecessary policies.
RESEARCH REPORTS
As we have reported here, since April, 2016, I worked with a team of expert co-authors and highly competent reviewers to produce two research reports here and here. Like the shows, the papers were done pro bono.
Although, alarmists could not attack the solid science or our rigorous statistical analyses, they argued for all to dismiss the works because they did not pass through their controlled peer review process. But our review was more rigorous and our reviewers even shared their names as well as their endorsement.
See how we followed the scientific method properly unlike most well paid researchers in science and medicine and how their peer review is failing with serious consequences here.
-------------------
Our country needs your help. Please consider writing letters to the editors to papers from the big city to local weekly papers, give talks (we can help with slides and even PPTs). Point out WUWT, Icecap, Carlin Economics,The Deplorable Climate Science Blog, Climate Depot, SEPP, DrRoySpencer, NoTrickZone and other blogs and the series on Hudson Cable and forward and post stories challenging the false consensus junk science.
Debate or challenge the local teachers or at least investigate what is in the science books.
Contact Peter Lanzillo at Hudson Cable to get access to his series and to contact me. You may consider doing your own shows on your local cable system. Most are looking for content beside the selectman meetings to show on the Local Access channels. Play a role in your community to combat the never ending main stream media and politically driven scare stories. The result of the CAP and many of the local plans underway would lead to like in Europe skyrocketing electricity costs and lost jobs as we showed in the series for no benefit. Look into those local plans and you will be motivated to submit letters to the media and your local representatives. I assure with literally billions of dollars to work with, the radical environmental groups and wind and solar opportunists are making their voices heard and funding supportive politicians on all levels.
Icecap has surpassed 88 million page hits - have been increasing to about over 2.5 million/month. We appreciate your donations. We have a staff of '1' which is why there can be no comments. WUWT and others will tell you moderation is a big job. My commitment to Weatherbell is 7 days a week, but this is just too important so despite my age, I am fully engaged after my day there on Icecap, on research reports and videos. You can see from the shows, it takes its toll. And lastly, pray for all of us.