Apr 26, 2019
No… CO2 not causing killer torrential rain in South Africa
Steve Milloy
Climate bedwetters wipe out (again) while trying to surf another tragedy.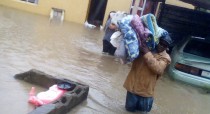 This morning Reuters blames 70 torrential rain-related deaths on "climate change."
It took only a few seconds to "recall that in history."
From the October 3, 1987 edition of the New York Times (60 ppm CO2 ago):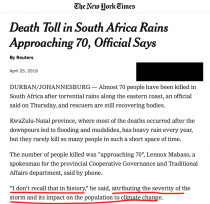 Enlarged
Torrential rains are not new to this part of the world. The deaths are due to the various unfortunate conditions associated with poverty. None can be blamed on "climate change."

Enlarged
See this report citing NASA findings that show removal of CO2 would wipe out civilization as we know it.
Read the details in this Natural News post.
See NASA's video that supports this.