Jan 17, 2019
Ten Reasons for Australia to Exit Paris Now (and US to stay out!)
by Viv Forbes
It is urgent that all Australian politicians understand the dangers in the Paris Climate Agreement. Here are TEN REASONS to EXIT PARIS NOW:
1. The science is NOT settled - hundreds of scientists in Australia and thousands more throughout the world reject the theory that human production of carbon dioxide is driving dangerous global warming. And the 102 computerized climate models have always predicted more warming than has occurred. (They got it right once, 39 years ago.)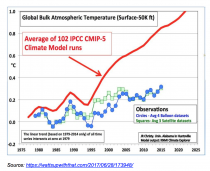 2. There is no unusual global warming. Since the last ice age ended there have been warm eras hotter than today's modern warming - the warm peaks are getting lower, not higher. Climate has always changed in response to forces far greater than human activities. The endless procession of man-made scare campaigns about cooling, warming, ice melting, sea levels, ocean acidity, cyclones and droughts have all proved false.
3. Carbon dioxide is NOT a pollutant - it is an invisible natural gas that supplies the whole food chain. More carbon dioxide is beneficial to the biosphere - forests, grasses and crops grow better thus benefitting all animal life that relies on plants.
4. The populous world nations are unlikely to curb their CO2 emissions - China, India, Russia, Brazil, USA, Japan, SE Asia, Indonesia, Africa and the Arab world will ignore Paris limits.
5. Despite 20 years of favorable promotion, subsidies, taxes, targets and propaganda the contribution of the intermittent energy producers (wind and solar) to world energy supplies is trivial - about 3% (see if you can find "solar" in the graph below.)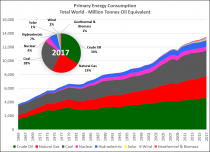 6. Australian energy policies, taxes and targets are making electricity more costly and less reliable, hurting consumers and driving industry off-shore. And once they have ruined electricity and coal their next targets will be agriculture and motorists.
7. With no nuclear power, no geothermal power, limited hydro potential and increasing barriers to gas exploration, Australia has few options except coal for cheap reliable grid power, and oil products for transport.
8. With a huge continent, a small population and heavy reliance on exports, each Australian will be heavily penalized by the Paris Agreement for the emissions associated with exports consumed by others.
9. Compliance with the Paris Agreement will destroy industries and jobs, encourage bureaucracy and transfer controls and money to affiliates of the United Nations.
10.Should the world experience even modest cooling in the decades ahead Australia will urgently need increased supply of reliable power for homes and industry and the global atmosphere will need more carbon dioxide plant food.
Viv Forbes
Executive Director
www.saltbushclub.com
forbes@saltbushclub.com
https://saltbushclub.com/wp-content/uploads/2019/01/saltbush-founding-members.pdf
This is the first Saltbush Chain Letter entitled Exit Paris Now.
Make sure you pass it on to at least FIVE recipients within 48 hours or the fleas of one thousand camels from the Saltbush country will infect your armpits.
----------------
Hundreds of Consumers, Business people and Scientists say: "Get out of the Paris Agreement."
"The Saltbush Club"
Skilled and Thinking Australians concerned at the huge costs and unproven benefits of the climate, energy and infrastructure policies on both sides of Federal Parliament.
A new lobby group comprising scientists, farmers, consumers, small business and big business is urging both sides of Australian politics to put aside party interests and global agendas to focus on what's best for Australian business, workers, consumers and the environment.
The Saltbush Club calls for Australia to withdraw from the Paris Climate Agreement and to cease financing or supporting the international bodies promoting it.
It challenges the whole idea of a consensus on man-made global warming.
Jerry Ellis, retired chairman of BHP, and Founding Chairman of the Saltbush Club says:
"It is clear that Australia's push to meet the Paris carbon dioxide emission targets is leading to higher electricity prices and unreliable supply. We have lost the balance between working for environmental outcomes and working for economic outcomes. These things need to be balanced, and this balance is missing with the Paris Agreement. The world would be a better placed with strong economies generating money to spend on poverty, health, infrastructure and the environment."
Hugh Morgan, CEO of Western Mining 1990-2003 and a director of the Saltbush Club agrees:
"People think the Paris Accord is just about commitments to lower CO2. It is really about transferring wealth via the UN to the so-called Less Developed Countries. It's about advancing centralized control of people's lives on a global scale. This climate alarm movement has got so far because of backing by Western millennials who have been indoctrinated during their education. Enjoying living standards unprecedented in world history, they have embraced alarmism as a new secular religion."
Ellis and Morgan are supported by a large, skilled and experienced group of other Australians calling themselves "The Saltbush Club". The group was organized by Viv Forbes (with a few helpers), from a country farm-house in Queensland with no landline, no NBN and less than $3,000 in financial support.
Forbes says:
"The Saltbush Club has over 200 foundation members, plus a bigger group of "silent" members. It will be a voice for those who are rarely heard in the climate and energy debate - those consumers of electricity who are concerned that the war on hydro-carbon energy has increased the costs and reduced the reliability of electricity for industry and private consumers. It welcomes anyone with a similar view, regardless of their political affiliations or leanings. We must reject the UN Agenda which is crippling western industry with high-cost unreliable electricity in a futile attempt to control global climate. Our top priority is to have Australia withdraw from the Paris Climate Agreement and to cease financing or supporting the international bodies promoting it."
Jo Nova (a well-read blogger and Saltbush Media Director) added"
"Who speaks for consumers? Our elected reps are supposed to, but few are willing to speak up. There is a $1.5 trillion dollar global industry that wants Australia to accept Paris, but no debate about the vested interests that stand to profit while Australian consumers and businesses pay carbon taxes they have voted against every time they had the chance."