Jul 04, 2015
Food for all
Scientific Alliance
Although not a household name, Sir Fazle Hasan Abed is credited with helping tens of millions of people in poor countries; for this, he has been awarded the 2015 World Food Prize (Anti-poverty pioneer wins 2015 World Food Prize). The organisation he founded as the Bangladesh Rural Advancement Committee in the early 1970s has become BRAC, the largest development organisation in the world, operating in 11 countries in Asia, Africa and the Caribbean.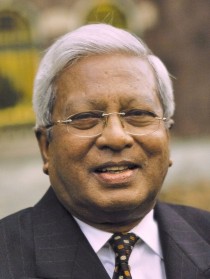 To quote from the organisation's website, "BRAC...catalyses lasting change, creating an ecosystem in which the poor have the chance to seize control of their own lives. We do this with a holistic development approach geared toward inclusion, using tools like microfinance, education, healthcare, legal services, community empowerment, social enterprises and BRAC University. Our work now touches the lives of an estimated 135 million people..."
The World Food Prize was established in 1987 by Norman Borlaug, whose development of dwarf rice and wheat varieties ushered in the Green Revolution which proved the predictions by Ehrlich and others of a Malthusian catastrophe comprehensively wrong (or simply ahead of their time, depending on your point of view). Borlaug received the Nobel Peace Prize for his work, and instituted the World Food Prize to recognise "outstanding individuals who have made breakthrough achievements contributing to improving the quality, quantity or availability of food throughout the world".
Food insecurity often does not get the attention it truly deserves, except in the case of devastating local famines. But it underlies our entire civilization. If life is simply a struggle to get enough food to survive, people's potential contribution to society is almost completely snuffed out. BRAC addresses this in particular by empowering women. As Sir Fazle says "Only by putting the poorest, and women in particular, in charge of their own lives and destinies, will absolute poverty and deprivation be removed from the face of the Earth."
His organisation's role is broader than simply ensuring people have sufficient food, but this is the first basic need fulfilled when people lift themselves out of poverty. With enough nutritious food, adults can work productively. Well-nourished mothers give birth to babies of normal weight. Well-fed infants avoid stunting and develop both physically and mentally into healthy, productive adults.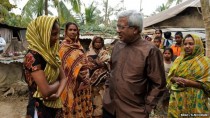 All of this is good, but it also introduces a philosophical dilemma. As people no longer struggle to survive day to day, they want more out of life and they want a better life for their children. It isn't possible just to turn struggling subsistence farmers into well-fed subsistence farmers. Some will develop businesses, small farms will coalesce into larger, more productive ones and many people will leave the land for a new life in the city.
Society will change, and today's poor people will want the same things that today's rich countries enjoy. Not that the path of development will necessarily be identical. For example, it is becoming obvious that many developing countries are by-passing fixed-line telephone networks almost entirely and adopting mobile phones for internet access as well as calls. Similarly, a distributed electricity supply to rural areas may be difficult to deliver in the short term, so there is a real role for small-scale solar power, at least in the interim.
But all this relies on people being able to feed themselves properly. A recent Economist analysis (Is the world running out of food?) shows that sufficient food is being produced to feed today's population, but points out the problems associated with increasing harvests by perhaps a further two-thirds to feed nine billion increasingly prosperous people by mid-century.
It is widely recognised that this is not just about farmers producing enough food. Crops also have to be delivered to consumers in good condition. In the rich world, there is a large amount of food wasted in the home - one of the downsides of prosperity - but poor roads, lack of refrigeration and attacks by pests mean that a significant amount of food harvested in developing countries never reaches the consumer at all.
Growing enough food and avoiding waste are both important, but so is affordability. Poor people who do not grow enough of their own food often don't have any money to buy more. This is where helping people lift themselves out of poverty is so important. Once that first step on the development ladder has been taken, there is a natural build-up in momentum which transforms societies. It has already happened in the south-east Asian 'tiger economies'. We are witnessing it in China today, and tomorrow even the poorest countries in Africa will hopefully be set on the same path.
These changing societies will have an impact on their environment; whether this is negative, positive or neutral is in the eye of the beholder. What we do know, however, is that more prosperous societies value the natural environment more and are more willing to spend to improve water and air quality and conserve species.
One of the consequences of these trends is what has become known as 'sustainable intensification' of farming. The aim is to produce more food from the same area of land, so avoiding further encroachment on natural habitats. The modern 'industrialised' and globalised food chain is anathema for supporters of the rich world fashion for organics and localism, but the reality is that this is the only way to global population will be properly fed.
Another consequence is the increasing importance of large multinational businesses in supplying seed and other farming inputs. The present handful of companies is likely to become even more concentrated, with Monsanto trying hard to take over Syngenta and, failing that, having the agricultural division of Bayer in its sights. But their dominance of the start of the food chain is only made possible because they provide better seeds and crop protection methods than smaller competitors. Farmers make a free choice.
In fact, the supposed dominance by the big six agricultural supply companies is the subject of an interesting perspective in a Forbes article: Who controls the food supply?, in which the author makes a case for the influence of the anti-GMO activist lobby being at least as strong. Whatever the rights and wrongs of this, the system delivers at the moment and innovation and free markets look set to continue to deliver for the foreseeable future. In the meantime, congratulations to BRAC for making a difference to the lives of so many people.