May 09, 2015
Media beats up Willie Soon, turns a blind eye to EPA-funded researchers shilling for EPA $$$
Steve Milloy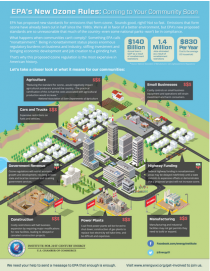 PDF
The Energy Institute is concerned about EPA's proposed ozone regulations, which studies have found could be the most expensive regulation every implemented. EPA's new regulations will dramatically increase "nonattainment areas" throughout the country. The rules will immediately add red tape to economic development that is vital to growing new jobs. Nonattainment areas face even more severe requirements that significantly curtail business development. Companies building or expanding facilities in nonattainment areas are required to reduce ozone-forming emissions regardless of cost, and economic development cannot move forward unless such emissions are reduced from other sources. These impacts are illustrated in the Energy Institute's ozone infographic, available as a PDF here and shown above.
We have steadily reduced ozone levels - which are now at their lowest levels in three decades - and grown our economy significantly while doing so. But EPA's latest regulatory push goes too far, too fast, and will strangle jobs and economic growth across much of the country. America's communities need to know the dramatic negative impact of these proposed regulations, share this infographic with your friends today.
See more here. More. http://www.energyxxi.org/what-does-epas-ozone-regulation-mean-your-community
Icecap Update: See Judith Curry's insightful look into government funding of scientific research "Is federal funding biasing climate research?" CATO has published a very interesting analysis by David Wojick and Pat Michaels entitled Is the Government Buying Science or Support? A Framework Analysis of Federal Funding-induced Biases".
---------------
By Steve Milloy
Remember just two months ago when the media savaged climate skeptic Willie Soon for supposedly failing to disclose industry funding? It's a pity the media doesn't.
Yesterday, the media trumpeted a new article in the journal Nature Climate Change supporting EPA's claim that its carbon dioxide rule would save thousands of lives per year. Here's the New York Times headline:


EPA study headline NYTimes 050515
The study authors,


Driscoll study authors
were simply and innocuously described by the media as:
"researchers at Syracuse and Harvard Universities" (New York Times);
"scientists from Harvard and Syracuse universities and four other institutions" (Washington Post)
"from Harvard and Syracuse University" (Associated Press).
And, of course, why would the articles authors be described in any other way since they made the following disclosure at the end of the article:


Driscoll disclosure
Article co-author Driscoll even told the Buffalo News that he had "no dog in the fight":


Driscoll no dog in fight comment
But is this really true? Do Charles Driscoll, Joel Schwarz and Jonathan Levy really have NO competing financial interests?
Anyone who follows EPA air quality "research" is no doubt convulsing at this claim.
Below are listed the article's authors and the dollar amounts of EPA grants with which they are associated as principal investigators":
Charles T. Driscoll: $3,654,608
Jonathan J. Buonocore: $9,588
Jonathan I. Levy: $9,514,391
Kathleen F. Lambert: 0
Dallas Burtraw: $1,991,346
Stephen B. Reid: 0
Habibollah Fakhaei: 0
Joel Schwartz: $31,176,575
Now how could Schwartz's $31,176,575 or Levy's $9,514,361 or Driscoll's $3,654,608 from EPA possibly be considered as a "competing financial interest" in an article they wrote in support of EPA's flagship regulatory effort?
Comically, the US News and World Report reported:


Driscoll EPA not part clip
A Harvard School of Public Health described the researchers as "independent":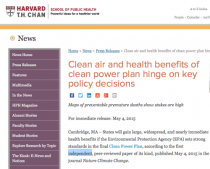 Driscoll Harvard clip independent
Right… the $45 million these researchers have been paid by EPA over the years - plus the prospect of more money - had no influence over them.
Let's not overlook that Driscoll admitted to the Pittsburgh Post-Gazette that the result of this study was predetermined:



Driscoll wanted to bring attention
It's like shooting fish in a barrel. Anyway…
Willie Soon was repeatedly raked over the coals by the media for his alleged failure to disclose industry funding of his work. Democrats in Congress (Rep. Raul Grijalva, and Sens. Boxer/Markey/Whitehouse) launched attacks on universities and businesses for funding climate skeptics.
Soon defended himself by saying:
...In submitting my academic writings I have always complied with what I understood to be disclosure practices in my field generally, consistent with the level of disclosure made by many of my Smithsonian colleagues.
"If the standards for disclosure are to change, then let them change evenly. If a journal that has peer-reviewed and published my work concludes that additional disclosures are appropriate, I am happy to comply. I would ask only that other authors-on all sides of the debate-are also required to make similar disclosures. And I call on the media outlets that have so quickly repeated my attackers' accusations to similarly look into the motivations of and disclosures that may or may not have been made by their preferred, IPCC-linked scientists…
The hypocrisy (is there a stronger word?) is breathtaking.
Oh and by the way, the claim that EPA's carbon dioxide rules is going to save lives is total nonsense.
Update: Lord Monckton has filed a research misconduct complaint with Harvard University.