Feb 11, 2008
China Loses One-tenth of Forest Resources to Snow Havoc
China View
A total of 17.3 million hectares of forests, about one-tenth of China's forest resources, have been damaged by the unprecedented snow wreckage, worst in at least five decades, with forests, bamboo and seedlings in some parts of the country seriously destroyed. In its latest report released on Friday, th State Forestry Administration (SFA) confirmed the total losses of forest in 18 provinces in southern China, saying that in the worst-hit region, nearly 90 percent of forests had been ruined. The administration didn't give any figure for the value of the losses. Previous SFA report showed that by Jan. 31, disastrous winter weather had levied a toll of 16.2 billion yuan (about 2.5 billion U.S. dollars) in China's forestry sector. See snow photo gallery here.
See satellite view of snow in China courtesy of NOAA OSEI below.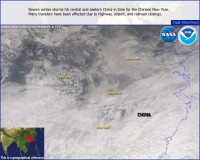 See a high resolution version here.