Aug 05, 2008
Chucky and the U.S. CCSP
By Steve McIntyre, Climate Audit
Last year, I reported on the resurrection of Chucky, with even Mann's PC1, repudiated by Wegman and the NAS Panel, being illustrated in IPCC AR4. Chucky is back with a vengeance in the U.S. CCSP report, entitled "Unified Synthesis Product Report by the U.S. Climate Change Science Program and the Subcommittee on Global Change Research", released in July 2008 for comment here , full report pdf here (33 MB); comment submission here. The report states that it is classified as "highly influential".
On the second page of the running text of the report (pdf page 19, following the executive summary and many colorful pictures), we see the following graphic with the caption shown beneath it: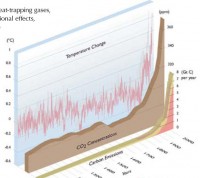 Original Caption: This 1000-year record tracks the rise in carbon emissions due to human activities (fossil fuel burning and land clearing) and the subsequent increase in atmospheric carbon dioxide (CO2) concentrations and air temperatures. The earlier parts of the Northern Hemisphere temperature reconstruction shown here are derived from historical data, tree rings, and corals, while the later parts were directly measured. No source is given for this graphic, but CA readers will recognize this as, using Hu McCullough's phrase, "MBH with whiskers".
It is the Mann reconstruction spliced with CRU temperatures in an interesting way. The graphic below shows the splice of the MBH98-99 proxy data up to 1901 with the CRU version archived in connection with MBH98, which opportunistically included instrumental data from warm 1998 after the actual publication of MBH98 (see script in first comment for splicing). In a commentary at RC, Pierrehumbert, stated: there is no legitimate reason in a paper published in 2007 for truncating the temperature record at 1992 as they did. However, I guess that in Team-world it's OK for a paper published in 2008 to truncate the temperature record in 1998.
I also did a word search on "benefits" to see whether climate change in the U.S. was such an ill wind that it brought no "benefit" to anyone. Well, there were a few exceptions: "weeds, disease and insect pests" were noted as benefiting from warming and, in the case of weeds, also from higher CO2 levels. Read full post and note about one of the images enhanced in "photoshop" here. See more on how NCDC Goes Hollywood in this Watts Up With That post.