Mar 18, 2008
CO2 and Global Warming
Dr. Richard Lindzen in Ecoworld
Climate models forecast increasing temperatures on earth because of increasing levels of atmospheric CO2, but observational data appears to contradict this claim.
Subsequent to publishing the feature "The Fluid Envelope - A Case Against Climate Alarm" by Dr. Richard Lindzen, we received an email from a science journalist questioning one of the central assertions in Lindzen's report. The writer wanted to know on what basis Dr. Lindzen was claiming there has been no significant warming in the last 10+ years. In response, Lindzen emailed the following table, showing temperature trends for the last 27 years. This data is based on global (including over the ocean) average temperature readings per year, per altitude, as reported by the U.K.'s Hadley Climatic Research Unit: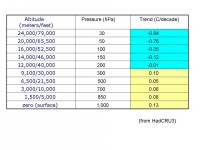 See larger table here
As the data indicates, over the past two decades, temperatures have actually declined in the upper troposphere, even though there has been some minor upward trends in temperature at sea level and lower altitudes. This completely contradicts conventional global warming models. As Dr. Lindzen explained in his follow up email:
"I used this data to show that the trend at 300 hPa was not about 2.5 x the surface trend which is what greenhouse warming [models] requires." Apparently climate models that predict global warming ala increasing levels of atmospheric CO2 assume increasing temperature trends in the troposphere, where CO2 concentrates, and the reality is the troposphere is not getting hotter, it is getting cooler.
Before we radically rearrange the political economy of the world because some scientists claim anthropogenic CO2 is the cause of climate change, it might be worthwhile for anyone taking a position on the topic to consider whether or not this is indeed "well settled science."