Oct 30, 2008
Arctic Blast Brings London Earliest Snow in 70 Years. Cold and Snow in US Too!
By Mark Prigg, Science Correspondent
Londoners today woke up to the earliest snow cover for more than 70 years as a freezing blast of wind from the Arctic hit the capital. Some areas of north London saw two inches of snow fall in two hours when temperatures hit zero. Snow fell across much of the city from around 10pm, despite Met Office predictions that the city would escape the wintry showers that have swept across the north of England and Scotland leaving a thick covering.
In Brent, a heavy snow flurry caught residents by surprise as streets and cars were quickly covered in a white blanket. Graduate Charlotte Hussey, 21, said: "I was really excited and surprised, it was like Christmas had come early. I am going to go to the park today to build a snowman and go sledding." Amid the snowfall, a man was taken to hospital after his car skidded off the M25 near Enfield. The Renault rolled over before landing in a ditch.
The cold snap with its widespread frost and crisp air is being caused by air from the Arctic replacing the normal south-westerly Atlantic breezes. "What we saw was the back edge of a weather system being blown down from the Arctic catching London," said Byron Chalcraft, a Met Office forecaster. "The Arctic has been experiencing very cold temperatures this year, so it was an unusually cold front. Some unusual wind patterns meant it was blown over Britain very quickly, meaning the temperatures stayed very low. It is certainly very, very unusual to see snow in London this early," said Mr Chalcraft. "The last time there was October snow [in the South-East] was in 1974, but the last time we actually had snow cover in October [in London], which we did late last night, was in 1934." Read more here. See how this occurred on the same day the stubborn old fools in parliament passed the binding UK Climate Bill with 80% effect on emissions but zero effects on climate. See more on that ironic twist here.
It seems the louder the alarmists scream the colder the climate gets. If they keep it up, a new ice age is almost certain.
Here in the United States an arctic blast brought rare pre-Halloween heavy snows to parts of the east as far south as New Jersey and suburbs of Philadelphia. Up to 27" inches was reported in the Catskills. Here is a picture from Brunswick, New Jersey from a reader: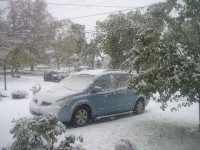 The snow extended down to North Carolina. See this video here.
The eastern cold reaches all the way down to southern Florida where Ft. Myers is expecting the coldest October temperatures in history (mid 40s). Read more here.
See the long list of record low temperatures set the last few days Oct_29_record_cold.pdf" title="here">here.