May 12, 2008
Very Active Tornado Season Another Classic La Nina Effect
By Joseph D'Aleo, CCM
The winter and spring brought heavy, in places all-time record snowfall, flooding, and now an active tornado season. All of these are classic strong La Nina phenomena. Brush fires now ablaze in Florida are is also a common springtime La Nina hazard. Almost daily tornadoes have been in the news with 910 reported to date (as of 5 am Tuesday). 97 deaths have also been reported. We have not had a superoutbreak (yet) as we did in 1974 (The Great Superoutbreak) or 1965 (Palm Sunday Outbreak), but a lot a very active days. Given the pattern with a strong suppressed jet stream and lots of high latitude blocking more active days can be expected.
The most fatalities from tornadoes occurred in the 1920s (peak 1928) (source NSSL). In recent decades, deaths were less with the exception of the two years with SUPER OUTBREAKS, 1965 and 1974 (both years coming off La Nina winters, in 1974, one of the strongest)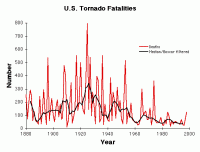 See larger graph here.
See this entire story with more on those superoutbreaks here.
Don't let anyone tell you this is the result of global warming. This May has with the exceptions of a few pockets, been a cold month so far thanks to high latitude blocking and a suppressed jet stream. With that forecast to continue, expect more widespread unseasonably cool temperatures and severe weather ahead.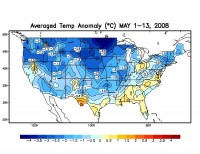 See larger image here.