Jul 23, 2008
Fossil Suggests Antarctica Much Warmer in Past
By Andrea Thompson, Live Science
A college student's new discovery of fossils collected in the East Antarctic suggests that the frozen polar cap was once a much balmier place. The well-preserved fossils of ostracods, a type of small crustaceans, came from the Dry Valleys region of Antarctica's Transantarctic Mountains and date from about 14 million years ago. The fossils were a rare find, showing all of the ostracods' soft anatomy in 3-D. The fossils were discovered by Richard Thommasson during screening of the sediment in research team member Allan Ashworth's lab at North Dakota State University. Because ostracods couldn't survive in the current Antarctic climate, their presence suggests that the southern-most continent hasn't always been as frigid as it is today.
"Present conditions in this Antarctic region show mean annual temperatures of minus 25 degrees C (Celsius) [minus 13 degrees Fahrenheit]," said Mark Williams of the University of Leicester, co-author with Ashworth of the fossil-find report in the journal Proceedings of the Royal Society B. "These are impossible conditions to sustain a lake fauna with ostracods."
Marchant estimated that the summer temperatures in Antarctica would have been about 30.6 degrees F (17 degrees C) warmer than they are now.
This warmer period started to end when the first continent-sized ice sheets began appearing on Antarctica around 34 million years ago, around the end of the Eocene epoch. These ice sheets expanded and contracted until around 14 million years ago, during the Miocene epoch, when a dramatic cooling took place and transformed the tundra into an environment "that today looks like Mars," Marchant told LiveScience.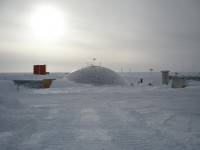 See South Pole Amundsen Scott Station. See larger image here. Lows on July 21 and 22 were -88F.

Marchant said climatologists are uncertain exactly what caused this intense period of cooling. Read more here. Note the answer likely is "what you see when you look up on a cloudless day".