Oct 05, 2008
Peru Studies Climate Riddle
By Terry Wade, Reuters
Scientists are using everything from a yellow submarine to weather balloons and special airplanes to solve a climate conundrum: why is Peru getting colder while the rest of the world heats up? Researchers from Europe, the United States and South America started collecting reams of data this week from clouds, the shoreline and deep underwater to try to figure out the dynamics of the southeastern Pacific. The area, home to a fifth of the world's fish stocks, plays a crucial part in global weather patterns and scientists want to discover why temperatures have dropped on the desert coast.
"Peru has a very important role in global climate," said Alexis Chaigneau, a French scientist leading experiments in Peru. "Over the past 50 years, the Peruvian coast has gotten colder, mainly because of stronger winds that have pulled up the deep cold waters of the ocean current." The Humboldt current, which flows north to Peru from the frigid southern waters off Chile, is considered the world's most productive marine ecosystem, in part because deep cold waters rich in nutrients interact with the sun's energy to create life.
For the next three months, everything from a small satellite-controlled submarine to cloud-hugging airplanes will feed computers with information on oxygen levels in the water, temperature, salinity, wind speeds and current. Along the way, they also hope to solve the riddles of the famous El Nino and La Nina weather phenomenon that occur in the southeastern Pacific—the periodic oscillations in surface water temperatures that are linked to floods and droughts. Read more here.
Icecap Notes: A few things should be noted. Some of the world's warming (most peer-reviewed studies suggest 50%) in the last half of the 20th century was due to urbanization and land use changes not properly accounted for by the national centers. Of course neither population nor land use is an issue in the waters off Peru. As the late John Daly showed here, most non-urban stations, island locations may have shown cyclical but no net changes long term.
Secondly the PDO cycle which went from cold 50 years ago to warm from 1979 to 1998 then cold again should produce no net change over 50 years but a net cooling over 30 years. Here is a plot of temperatures from the eastern most NINO regions (NINO12) - annual mean surface ocean temperatures fron 0 to 10 degrees south and between 80 and 90 degrees west. You see a no net change since 1950 but a warming from the first few decades to the 1980s and 1990s as in the Warm PDO, more El Ninos occurred and then a slight cooling recently with a return to a cold PDO.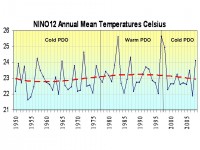 See larger image here.
The TAO Triton buoy network established in 1984 after the super El Nino of 1982/83 provides a lot of valuable information about surface and depth water temperature patterns. Additional data analyses and plots are available here.