Apr 27, 2008
An Urgent Signal for a Coming Ice Age
By Peter Harris
When paleoclimatologists met in 1972 to discuss how and when the present warm climate would end , termination of this warm climate we call the Holocene seemed imminent and it was expected that rapid cooling would lead to the coming ice age. These ideas were based on the 1M year analogue for climate transitions first proposed by Milankovitch over 60 years ago, which has been demonstrated to show the correlation of glacial and interglacial climate with solar insolation as it is modulated by our changing distance from the sun. These data sets may be used to serve as a signal for the coming ice age. Orbital geometry was approaching similar conditions to those of the previous transitions to ice.
But soon it was observed that global temperature was increasing and at about this time Global Climate Modeling GCM received more attention and the Milankovitch analogue was forgotten. There has been no further discussion about the coming ice age. The data below was compiled by the mathematicians Quinn, Levine et al in 1991 and Insolation values due to Precession, Obliquity and Eccentricity as well as total insolation or Solar Forcing are charted on the same time scale as Stages of Glaciation representing climate. This climate data was provided by Lisieckie and Raymo and is based on sediment proxies. The climate data shows close agreement with ice core data based on a different proxy. Produced in 1991 this chart confirms the correlation of climate transitions with insolation which is modulated by Earth position in orbit and was first proposed by Milankovitch over 60 years ago.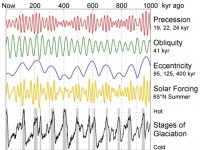 See full size graph here
In studying the analogue there is no use of a GCM which is subject to limitations and interpretation. Use of the analogue is based on simple observation of clear empirical data and the archeological record of temperature. The data and the correlation are sound. The geological record shows that the transitions are sudden, long term and extreme. All of the Milankovitch parameters for a transition are satisfied by the present orbital position. We have already seen extreme winter conditions and T appears to be declining in the short term. The decline will continue under rapidly declining insolation and the coincident effect of reduced solar activity which has also been correlated with temperature in the past. Read full opinion piece here.
Peter Harris is a retired Queensland Engineer