Apr 08, 2008
Snow World - What a Year for Snow in Unusual Places
By Joseph D'Aleo on Intellicast
For years, I wrote stories on weather and climate on Intellicast.com. I will be doing weekly stories on the weather there again starting today. The first summarizes the unusual snowy winters of 2007 in the Southern Hemisphere and 2007/08 in the Northern Hemisphere. It snowed in places where snow is rare or unheard of, and many all-time snow records were set in other places used to snow in winter.
Since the article was penned last week, St. Johnsbury, Vermont came in with a new seasonal snow record at the Fairbanks Museum and Planetarium with 139.1 inches, just eclipsing the mark of 139.0 inches set in 1968-69. According to Mark Breen the Museum's meteorologist, records go back to 1894, and the observing site is essentially the same throughout the period of record. It has been an amazing winter there Mark noted. The snowiest winter season - December, January, and March - with 119 inches, the snowiest December of record - 54.1 inches, the only winter with two months exceeding 40 inches of snowfall, and one of the longest continuous snowcover seasons (they still have 15 inches of snow at the stake).
Also all the way acrosss the country to the northwest, Spokane, Washington found their seasonal total move into second place all-time with 89.4 inches, second only to 1949-50. Stowe, Vermont is pushing 400 inches and Vail, CO 420 inches with another storm brewing. In fact in all these places additional snow is very possible before they put away their snow sticks.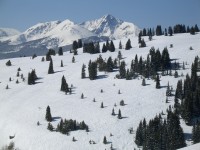 Photo of Vail this week courtesy of Tim Kelley. See larger image here.
In the middle, Minnesota saw a major snowstorm with up to 32 inches of snow that the Minnesota Climatology Working group wrote about here, with another snowstorm on the way.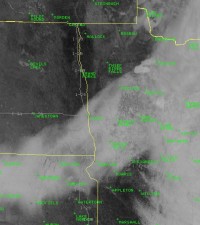 Visible satellite of the recent snowfall 1:15pm CDT on April 7, 2008. There are clouds obscuring the snow over the right side of the photo. Courtesy Grand Forks National Weather Service.
Across the Atlantic, the UK is getting an unusual April snow. Britain saw its worst April snowfall for nearly 20 years yesterday. Up to three inches of snow fell in parts of southern England and temperatures were below freezing in many places even at midday. The Arctic cold snap meant more misery for passengers at Heathrow's Terminal 5, where British Airways cancelled more than 100 flights. Both Heathrow's runways briefly closed for de-icing. Gatwick's runway closed for two hours to clear snow, with 55 flights abandoned.
See the Intellicast story "Snow World - What a Year for Snow in Unusual Places" here.