Mar 12, 2008
Is Climate Sensitive to Solar Variability?
By Nicola Scafetta and Bruce J. West
The causes of global warming-the increase of approximately 0.8plus or minus 0.1C in the average global temperature near Earth's surface since 1900-are not as apparent as some recent scientific publications and the popular media indicate. We contend that the changes in Earth's average surface temperature are directly linked to two distinctly different aspects of the Sun's dynamics: the short-term statistical fluctuations in the Sun's irradiance and the longer-term solar cycles. This argument for directly linking the Sun's dynamics to the response of Earth's climate is based on our research and augments the interpretation of the causes of global warming presented in the United Nations 2007 Intergovernmental Panel on Climate Change (IPCC) report.
Thus the average global temperature record presents secular patterns of 22- and 11-year cycles and a short timescale fluctuation signature (with apparent inverse power-law statistics), both of which appear to be induced by solar dynamics. The same patterns are poorly reproduced by present-day GCMs and are dismissively interpreted as internal variability (noise) of climate. The nonequilibrium thermodynamic models we used suggest that the Sun is influencing climate significantly more than the IPCC report claims. If climate is as sensitive to solar changes as the above phenomenological findings suggest, the current anthropogenic contribution
to global warming is significantly overestimated. We estimate that the Sun could account for as much as 69% of the increase in Earth's average temperature, depending on the TSI reconstruction used. Furthermore, if the Sun does cool off, as some solar forecasts predict will happen over the next few decades, that cooling could stabilize Earth's climate and avoid the catastrophic consequences predicted in the IPCC report. Read the full opinion here.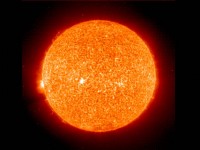 Nicola Scafetta is a research associate in the Duke University physics department. Bruce West is chief scientist in the mathematical and information science directorate, US Army Research Office, in Research Triangle Park, North Carolina.