Aug 01, 2008
Hansen Update
By Steve McIntyre, Climate Audit
No single topic seems to arouse as much blog animosity as any discussion of Hansen's 1988 projections. Although NASA employees are not permitted to do private work for their bosses off-hours (a currying favor prohibition, I suppose) - for example, secretaries are not supposed to do typing, over at realclimate, Gavin Schmidt, in his "private time", which flexibly includes 9 to 5, has provided bulldog services on behalf of his boss, James Hansen, on a number of occasions.
In January 2008, I discussed here and here how Hansen's projections (from 1988) compared against the most recent RSS and MSU data, noting a downtick which resulted in a spread not merely between observations and Scenario A, but between observations and Scenario B, sometimes said to have been vindicated.
However, rather than engaging in further exegesis of the January versions, I thought it would be useful to update the graphics to include satellite data up to June 2008 and GISS data up to May 2008. Ironically, the new data has resulted in a downtick that is more substantial than either of the versions published in January. I've re-centered RSS to match GISS GLB on 1979-1997.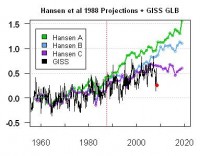 See larger image here.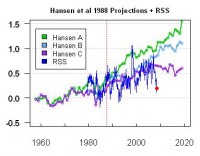 See larger image here.
Read full blog including NASA's Gavin Schmidt's own plot and reader comments here.
Icecap Note: Hansen Scenario C supposes that CO2 are stabilized at 368 ppm in 2000 - a level already surpassed. Yet temperatures from GISS and RSS are trending lower than even Scenario C. We will see if that continues.