Jan 23, 2008
Scientist Says Earth May Soon Face New Ice Age
RIAN News Service
Temperatures on Earth have stabilized in the past decade, and the planet should brace itself for a new Ice Age rather than global warming, a Russian scientist said in an interview with RIA Novosti Tuesday. "Russian and foreign research data confirm that global temperatures in 2007 were practically similar to those in 2006, and, in general, identical to 1998-2006 temperatures, which, basically, means that the Earth passed the peak of global warming in 1998-2005," said Khabibullo Abdusamatov, head of a space research lab at the Pulkovo observatory in St. Petersburg.
According to the scientist, the concentration of carbon dioxide in the Earth's atmosphere has risen more than 4% in the past decade, but global warming has practically stopped. It confirms the theory of "solar" impact on changes in the Earth's climate, because the amount of solar energy reaching the planet has drastically decreased during the same period, the scientist said. Had global temperatures directly responded to concentrations of "greenhouse" gases in the atmosphere, they would have risen by at least 0.1 Celsius in the past ten years, however, it never happened, he said.
"By the mid-21st century the planet will face another Little Ice Age, similar to the Maunder Minimum, because the amount of solar radiation hitting the Earth has been constantly decreasing since the 1990s and will reach its minimum approximately in 2041," he said. Mankind will face serious economic, social, and demographic consequences of the coming Ice Age because it will directly affect more than 80% of the earth's population, the scientist concluded. Read more here.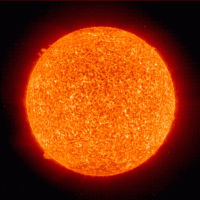 Today's solar image from NASA showing a spotless sun approaching 12 years after the last solar minimum. The last cycle lasted 9.5 years. Longer cycles usually correlate with cooling. A good site to follow the daily solar activity is here.