Mar 14, 2008
NOAA: Coldest Winter Since 2000/01 for the US, Globe
NOAA
The average temperature across both the contiguous U.S. and the globe during climatological winter (December 2007-February 2008) was the coolest since 2001, according to scientists at NOAA's National Climatic Data Center in Asheville, N.C. In the contiguous United States, the average winter temperature was 33.2F (0.6C), which was 0.2F (0.1C) above the 20th century average - yet still ranks as the coolest since 2001. It was the 54th coolest winter out of 114 years since national records began in 1895. It was warmest in the east and south and coldest in the west and central states.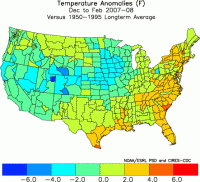 See larger image here
In terms of winter precipitation, Pacific storms, bringing heavy precipitation to large parts of the West, produced high snowpack that will provide welcome runoff this spring. During January alone, 170 inches of snow fell at the Alta ski area near Salt Lake City, Utah, more than twice the normal amount for the month, eclipsing the previous record of 168 inches that fell in 1967. At the end of February, seasonal precipitation for the 2008 Water Year, which began on October 1, 2007, was well above average over much of the West. Mountain snowpack exceeded 150 percent of average in large parts of Colorado, New Mexico, Arizona, and Oregon at the end of February. Spring run-off from the above average snowpack in the West is expected to be beneficial in drought plagued areas.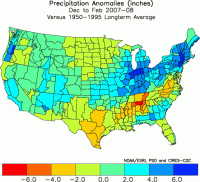 See larger image here
Record February precipitation in the Northeast helped make the winter the fifth wettest on record for the region. New York had its wettest winter, while Pennsylvania, Connecticut, Vermont, and Colorado to the West, had their second wettest. Snowfall was above normal in northern New England, where some locations posted all-time record winter (December to February) snow totals. Concord, N.H., received 100.1 inches, which was 22.1 inches above the previous record set during the winter of 1886-87. Burlington, Vt., received 103.2 inches, which was 6.3 inches above the previous record set during the winter of 1970-71.
See full release here. Note areas of the Midwest also saw record snow including as we have reported Madison, Wisconsin and also Green Bay. See the Green Bay story here.