Jul 07, 2008
Alarmists Use Weather to Promote Global Warming Hoax
By Dr. Tim Ball, Canada Free Press
Claims that recent severe weather and flooding in the US are proof of human CO2 impacts on global climate are scientific nonsense. They are part of a pattern of keeping weather and climate issues in the public mind. Governments and large segments of society accepted the theory. Most bullied by use of fear but also their lack of knowledge and understanding was also exploited.
Now a combination of events are driving them to raise the threat level and make increasingly false claims. forcing a coverup. The world is cooling while CO2 levels continue to rise. In every record for any period in history temperature increases before CO2 not as assumed. Plans to implement carbon taxes to offset warming exacerbate soaring fuel prices. Effects of policies implemented to replace fossil fuels with biofuels are driving food and total living costs rapidly higher. People increasingly question the threats as a recent UK poll showed; "The majority of the British public is still not convinced that climate change is caused by humans - and many others believe scientists are exaggerating the problem, according to an exclusive poll for The Observer." Proponents of the theory that humans are causing global warming or climate change have used fear to push their false belief. Now they're experiencing fear as evidence shows they're wrong and the public perceive a deception.
Robert Frost said, "There's nothing I am afraid of like scared people." Those who perpetrated possibly the greatest deception in human history that CO2 is causing global warming/climate change are scared. Events are driving them to extreme, unsubstantiated and even ridiculous claims and threats.
So they return to their central theme of convincing you that normal weather events are abnormal. An increase in severe weather is a persistent theme, especially in North America. Recently the U.S. Climate Change Science Program and the Subcommittee on Global Change Research issued a report with projected changes in weather and climate extremes in North America and U.S. territories. There are three major problems with what is being said. 1. The severe weather of this spring across the Northern Hemisphere was caused by cooler weather not warmer. 2. The IPCC and the NOAA positions that severe weather will increase with global warming is scientifically wrong. 3. The records show current weather extremes are well within long term natural variability.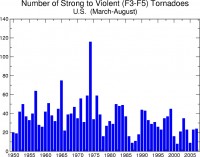 The graph from the National Oceanographic and Atmospheric Administration (NOAA) shows that severe tornadoes were higher in the period from 1950 to 1975. Global temperatures were falling during that time. Since then frequency has decreased as the world warmed to 2000. Since then the world has cooled slightly and the pattern shows a slight increase in severe tornadoes. This trend of severe weather is most likely to increase as the Earth continues to cool. Proponents of human caused climate change will claim it proves them right. They will continue their practice of claiming natural events as unnatural. Unless people understand the basic science they will continue the fraud and pressure politicians into even more damaging energy and environmental policies. Read much more here.