Jul 29, 2008
Snow Greets Visiting Hikers at Mount Rainier
By Howard Meyerson, Grand Rapids Press
Cool ocean temperatures in the southern Pacific Ocean—a phenomenon known as La Nina—chilled sunny expectations this summer for thousands of visitors to Mount Rainier National Park. Those who arrived here in July planning to backpack or hike its famous sub-alpine wildflower meadows found snow instead, six feet in places, though sunny daytime temperatures reach into the 70s.
The popular mountain that draws 1.5 million visitors each year received 950 inches of snow last winter, 300 inches more than its 650-inch average. Park officials said a cooler than usual spring also pushed back the thaw. "A lot of people were disappointed to come and find snowy meadows," said Mike Punches, a park interpreter at the Henry M. Jackson Visitor Center at Paradise, located 5,400 feet above sea level. "Normally the wildflower season is all of July and August. The early bloomers come the first of July.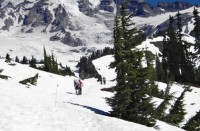 Press Photo/Howard Meyerson
Areas that feature the avalanche lily are limited to certain parts of the mountain."I led wildflower hikes in June on 10 feet of snow. They weren't listed that way. We shifted them to ecology hikes about life on Rainier, and what it takes to adapt here." Climate officials said the Pacific Northwest snowpack is the heaviest it has been since 1999. That's when the last La Nina event occurred. Deep snows remain throughout the region affecting the Olympic and North Cascade mountain ranges along with portions of Oregon, Idaho and British Columbia.
"The main driver is a strong La Nina," said Dave Garen, hydrologist for the National Water and Climate Center in Portland Oregon, part of the U.S. Department of Agriculture. The agency monitors mountain snowpack for its water content, predicting river flow volumes for agricultural use. Read full story here.
Also see this story on the ongoing chill in nearby Vancouver, British Columbia.