Mar 25, 2008
The IPCC: On the Run at Last
By OnTheWeb: Bob Carter
UN climate body is in panic mode as satellite temperatures turn down and a hard winter lashes both hemispheres.
Recently, in their Fourth Assessment Report (4AR), and faced with their failure to convince the public that the sky is falling, the IPCC delivers even more preposterous advice in ever shriller tones, saying that "Most of the observed increase in global average temperatures since the mid-20th century is very likely (>90% probable) due to the observed increase in anthropogenic greenhouse gas concentrations". The press, most of whom have firmly identified with the alarmist cause, continues to appease the Green gods by faithfully running IPCC's now unrealistic scientific propaganda, thereby stoking public alarm; the science is a done deal, they say, and the time has come to stop talking. According to UK journalist, Geoffrey Lean, all that is lacking to solve the global warming "crisis" is political will from governments.
"Global warming theory indicates that temperature rise due to increasing carbon dioxide emissions should be most prominent at heights of 5-10 km in the lower atmosphere; instead, more warming is occurring at the surface. For the lower atmosphere, the satellite data indicate that, since the 1998 El Nino when temperatures spiked 10C due to a rise in water vapour emissions (the principal "greenhouse gas"), global temperatures dropped sharply, then stabilized and now show signs of continuing down - is global cooling next? (data courtesy of Professors John Christy and Roy Spencer, University of Alabama, Huntsville; a best-fitted spline curve represents longer term temperature trends)."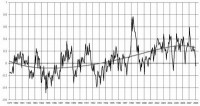 See larger image here
That there is a mismatch between model prediction and 2007 climate reality is again unsurprising. For as IPCC senior scientist Kevin Trenberth noted recently: "there are no (climate) predictions by IPCC at all. And there never have been"; instead there are only "what if"projections of future climate that correspond to certain emissions scenarios. Trenberth continues, "None of the models used by IPCC is initialized to the observed state and none of the climate states in the models corresponds even remotely to the current observed climate".
For the last three years, satellite-measured average global temperature has been declining. Given the occurrence also of record low winter temperatures and massive snowfalls across both hemispheres this year, IPCC members have now entered panic mode, the whites of their eyes being clearly visible as they seek to defend their now unsustainable hypothesis of dangerous, human-caused global warming. Read more here.