Sep 09, 2008
OPINION: Man-made global warming? Worry about the sun
By Nigel Calder in Belfast Today
Last week Environment Minister Sammy WIlson caused anger among some environmentalists by questioning whether global warming was caused by man. The Green Party has already hit back - now NIGEL CALDER, former editor of the New Scientist defends Mr Wilson's position.
There are warnings of gales in Shannon, Rockall, Malin. When shipping forecasts like that occur repeatedly in summertime, you have to wonder if the global cooling feared by the best-informed climate experts has already begun to bite. The UK's rotten summer weather of 2007 and 2008 is a good reason to reopen the debate about global warming, as Northern Ireland's Environment Minister Sammy Wilson proposes.
Unseasonable storms plagued the Spanish Armada too. After the fights in the English Channel, it escaped homeward around Scotland and Ireland. But high winds, in the late summer of 1588, wrecked two dozen ships on the north and west coasts of Ireland. As Queen Elizabeth's Armada medal put it 'God blew and they were scattered'.
Why is that 420-year-old weather bulletin relevant today? Because a worldwide cooling event, the Little Ice Age, was just then becoming serious. A local symptom was summer storms tracking across the British Isles, rather than passing to the north as in warmer medieval times. The gloomy and wet weather brought misery to farmers, and between 1550 and 1600 the price of wheat in England went up by 200 per cent. With occasional intermissions, and a maximum chill around 1700, the Little Ice Age continued until about 1850.
A lazy sun explains it. The solar magnetic shield was weak, and the Earth suffered a larger influx of swift atomic particles coming from exploded stars.
Those cosmic rays helped to make more low clouds, which cooled the world during the Little Ice Age. But in the 20th century the sun doubled its magnetic strength and cut the influx of cosmic rays. That meant fewer clouds and a warmer world.
This is no crackpot theory. A string of discoveries by the physicist Henrik Svensmark at the Danish National Space Institute backs it up. He and his small team have even traced the chemical action of cosmic rays involved in cloud-making. Evidence for the cosmic-ray theory is now far stronger than for the politically fashionable notion that carbon dioxide drives global warming. Dr Svensmark and I explain it all in plain language in our book The Chilling Stars, published by Icon Books in 2007.
So what's the problem? Precisely the lack of debate that Mr Wilson complains about. A group of scientists who make fanciful computer models of the climate for the United Nations have allied themselves with politicians in many Western countries, with environmental lobbyists, and with journalists who have forgotten to take official pronouncements with plenty of salt. The science of man-made global warming is settled, they chorus, and there's nothing to discuss except how to avoid the climatic apocalypse. Read more here.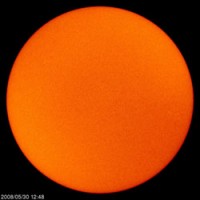 See also this Anthony Watts story on the SIDC debacle on the August sunspot number.