Aug 26, 2008
Snowpack Study Shows No Long-Term Climate Change Signal
By Phyllis Fletcher, KUOW News
A new study from the University of Washington indicates that climate change may not be the reason snowpack is shrinking in the Cascade Mountains. The finding is in contrast with science and policy that have dominated the discussion of snowpack, flood, and water resources.
The new study is authored by several atmospheric scientists, including KUOW regular Cliff Mass. Mass says the amount of snowpack has not changed appreciably in the last 30 years. He and his colleagues argue that much of the change in the last century could be attributed to a weather pattern that has nothing to do with global warming caused by human activity.
It's a conundrum for policymakers. And for everyone else who's not a scientist. Alan Hamlet is a research hydrologist at the University of Washington. He says lawmakers want to hear from scientists before they decide what to do. Hamlet said: "And this whole debate that has been going on about the snowpack was really spawned by a number of policy people citing numbers like a 50% downward trend in snowpack (based on Mote 2005 BAMS) Which some people felt was overstated, and really they were worried about the policy kind of going too far in the other direction."
Hamlet's opinion is that the most recent paper may overstate the case against global warming as a cause for snowpack shrinking in the cascades. He says this kind of disagreement is hard for people who want to regulate water supply and carbon emissions. But it's not so hard for people like him and Cliff Mass. According to Hamlet, "These kinds of debates are normal in the scientific community. And I think there's a lot of consensus here too. So we're wrangling back and forth and I think over time a clearer picture will emerge." Ten years ago it was easy to find scientific reports with confident claims that linked a shrinking snowpack in the northwest to global warming. You could even find policy recommendations in some of them. Today the discussion is more nuanced, and scientists try to keep policy out of their papers. The latest study from U.W. scientists awaits peer review.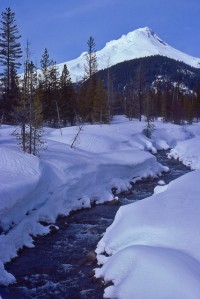 See recent story by George Taylor here and earlier story on Mote's paper here. It will be interesting to see if the AMS which quickly accepted Mote's paper for publication because it fit their AGW advocacy position will accept the Mass etal submission to the Journal of Climate. Dr. Mass is highly regarded in the AMS which will help the cause.