Sep 21, 2008
Never Ending Winter in Some Europe Ski Areas
Posted Friday 19th September 2008, by Dunx on UK Snowboard Club
With skiing and snowboarding continuing at a few European ski areas all year round, it is difficult to know when last winter ends and this winter begins. But some glacier resorts that closed in the Spring or Summer re-open in September and stay open right through to next Spring 2009, so September seems the best candidate for the month of the year in which to declare the new ski season 2008-9 officially underway!
Fortunately, mother nature is playing ball too, with snow in the Alps last weekend. Although it is not yet open, www.Skiinfo.com reported that Val d'Isere received 9cm (just under four inches) of fresh snow at the weekend with more forecast later this week, building up their base ready for the season. It was a similar story across many other ski areas and www.Skiinfo.com works in partnership with the resorts to deliver the latest conditions several times daily.
Elsewhere in the Alps, some ski areas haven't really closed since last winter, are still open today and will stay open through to next winter. These include the Tux and Kitzsteinhorn glaciers in Austria.
Pitztal ski area is now also open for the season.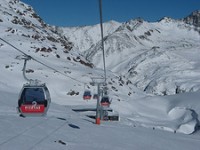 Austria's Stubai ski area will open for winter 2008-9 on Saturday, 27th September.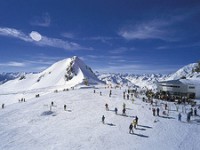 Meanwhile unseasonably cold weather in Poland this week appears to have been curtailing or hampering the Tour of Poland bicycle race.
Well to the south in the southern hemisphere, snow and record cold hit South Africa.