Nov 10, 2013
Super Typhoon Haiyan/Yolanda, another overhyped storm that didn't match early reports
ICECAP UPDATE: Note a big fan of the MSM in covering severe weather but 4 stars to Jason Samenow and Dennis Mersereau of the CWG on WAPO for these two apolitical stories" Why so many people died from Haiyan and past southeast Asia typhoons and Typhoon and hurricane storm surge disasters are unacceptable. Maybe now that Andrew Freeman has moved over to Climate Central, the other scientists can do more honest and balanced coverage.

Note the claim that storms are becoming more extreme is challenged by this graph of 35 typhoons with an atmospheric pressure of 895 mb or less, the figure measured for Yolanda.The chart below plots these by year.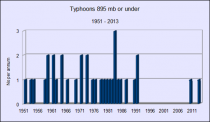 Enlarged
------
Here is the sort of headlines we had Friday, for example this one from Huffington Post where they got all excited about some early reports from The Weather Company's Andrew Freedman:
Super Typhoon Haiyan - which is one of the strongest storms in world history based on maximum windspeed - is about to plow through the Central Philippines, producing a potentially deadly storm surge and dumping heavy rainfall that could cause widespread flooding. As of Thursday afternoon Eastern time, Haiyan, known in the Philippines as Super Typhoon Yolanda, had estimated maximum sustained winds of 195 mph with gusts above 220 mph, which puts the storm in extraordinarily rare territory.

UPDATE 5: from this NYT article:
Before the typhoon made landfall, some international forecasters were estimating wind speeds at 195 m.p.h., which would have meant the storm would hit with winds among the strongest recorded. But local forecasters later disputed those estimates. "Some of the reports of wind speeds were exaggerated," Mr. Paciente said. The Philippine weather agency measured winds on the eastern edge of the country at about 150 m.p.h., he said, with some tracking stations recording speeds as low as 100 m.p.h.
Ah those wind speed estimates, they don't always meet up with reality later - Anthony
==========
By Paul Homewood
Sadly it appears that at least 1000 1200* lives have been lost in Typhoon Yolanda (or Haiyan), that has just hit the Philippines. There appear to have been many unsubstantiated claims about its size, though these now appear to start being replaced by accurate information.
Nevertheless the BBC are still reporting today
Typhoon Haiyan, one of the most powerful storms on record to make landfall...The storm made landfall shortly before dawn on Friday, bringing gusts that reached 379km/h (235 mph).
Unfortunately we cannot always trust the BBC to give the facts these days, so let's see what the Philippine Met Agency, PAGASA, have to say. Here are the surface wind reports: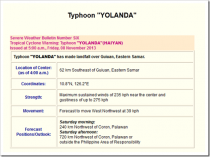 Enlarged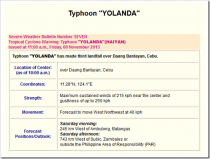 Enlarged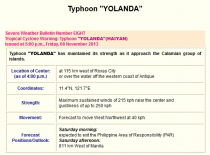 Enlarged
So at landfall the sustained wind was 235 kmh or 147 mph, with gusts upto 275 kmh or 171 mph. This is 60 mph less than the BBC have quoted.
The maximum strength reached by the typhoon appears to have been around landfall, as the reported windspeeds three hours earlier were 225 kmh (140mph).
Terrible though this storm was, it only ranks as a Category 4 storm, and it is clear nonsense to suggest that it is "one of the most powerful storms on record to make landfall".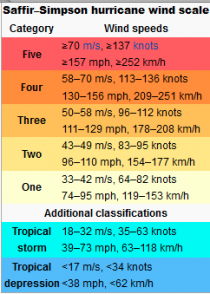 Safir-Simpson Scale
Given the geography of the Pacific, most typhoons stay out at sea, or only hit land once they have weakened. But in total terms, the busiest typhoon season in recent decades was 1964, whilst the following year logged the highest number of super typhoons (which equate to Cat 3 +). Of the eleven super typhoons that year, eight were Category 5's.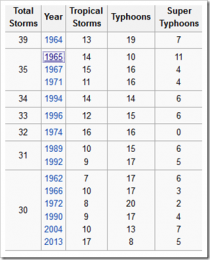 http://en.wikipedia.org/wiki/Typhoon
So far this year, before Yolanda there have been just three Category 5's, none of which hit land at that strength.
Personally I don't like to comment on events such as these until long after the dust has settled. Unfortunately though, somebody has to set the record if we cannot rely on the BBC and others to get the basic facts right.
UPDATE
In case anyone thinks I am overreacting, take a look at the Daily Mail headlines.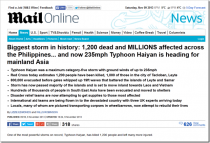 Just looking at it again, is it possible the MSM are confusing mph with kmh? It seems a coincidence that PAGASA report 235 kmh.
UPDATE 2
I have just registered a complaint at the Press Complaints Commission against the Mail article. If anyone spots similar articles elsewhere, and I will add them to my complaint.
UPDATE 3
I seem to have been right about the kmh/mph confusion!
I've just scanned down the Mail article and seen this.
Unless they think"gusts" are less than "winds", it looks like someone has boobed.
===========
UPDATE4: Kent Noonan writes in with this addition -
CNN has had several articles stating the same numbers for wind speed as BBC and Mail. I saw these numbers first last night at 10PM Pacific time.
Today's story: "Powered by 195-mph winds and gusts up to 235 mph, it then struck near Tacloban and Dulag on the island of Leyte, flooding the coastal communities."
If these 'news' agencies don't issue a correction, we will be forever battling the new meme of "most powerful storm in world history".
Look at today's google search for "most powerful storm"
"All you need to know Typhoon Haiyan, world's most powerful storm" by FP Staff Nov 8, 2013
Read more .
Then they go on to correctly state gusts to 170mph !!
UPDATE 6: (update 5 is at the head of the post)
BBC now reporting reduced wind speeds that would make it a Cat4 storm:
Typhoon Haiyan, one of the most powerful storms on record to make landfall, swept through six central Philippine islands on Friday. It brought sustained winds of 235km/h (147mph), with gusts of 275 km/h (170 mph), with waves as high as 15m (45ft), bringing up to 400mm (15.75 inches) of rain in places.
Source . (h/t David S)
==========
* Reports are varying wildly
The Red Cross in the Philippines says 1200 in this report .
But now Reuters is claiming and estimate of 10,000 based on a late night meeting of officials at the Governors Office .
About the same time as the Reuters 10K report, television News in the Philippines says the death toll is 151.
Early reports often vary widely, and it will be some time before accurate numbers are produced.
Our hearts and prayers go to the Philippine people. For those that wish to help, here is the website of the Philippine Red Cross