Dec 08, 2014
Wet California as storms offshore ease the claimed '1200 year' Drought
Joseph D'Aleo, CCM
Note Icecap has reached two milestones - 8700 posts and 60,500,000 page hits. Thank you!
-------
The California drought made the news in Live Science this week:
The drought now plaguing California is the worst to parch the central and southern parts of the state in the last 1,200 years, a new study finds. The 2012 to 2014 drought's lack of rain isn't remarkable on its own, according to tree-ring records reported in the study. There have been three-year periods when less rain and snow fell. But the current drought comes at a time of extreme heat. Record-high temperatures exacerbated the drought, creating the driest soil conditions since the 9th century, according to the study, published Dec. 3 in the journal Geophysical Research Letters.

Based on precipitation alone, the tree-ring records confirmed the researchers' gut instincts: There were past droughts that saw less rainfall. However, in terms of PDSI soil moisture, both 2014 alone and the cumulative three-year drought are the worst in 1,200 years, the study found.

California's climate history is marked by much longer droughts, including megadroughts lasting 100 years, and several decades-long droughts. There were also 66 short-term dry periods that lasted between three and nine years during the 1,200 year study period, which makes the current drought just one of many minor dry spells, if only the lack of rain is considered.
There can be no doubting the drought has been statewide and serious.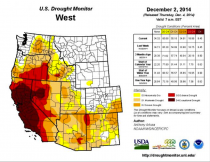 Enlarged
But as noted the last year was not as bad as 1923/24 or the two years 1975/76 -1976/77.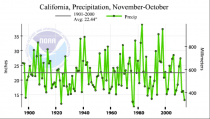 Enlarged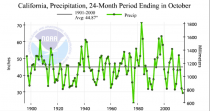 Enlarged
Palmer Hyrological Drought Index 36 months ending October.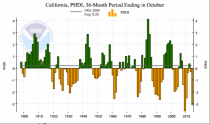 Enlarged
In the Sierra, water year (October to September) precipitation in 2013/14 ranked behind 1923/24, 1976/77, 1938/39, 1930/31, 1975/76, 1986/87 and 1928/29 and in a virtual tie with 1993/94.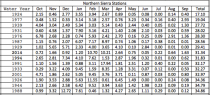 Enlarged
You can see last year ranked well above 1923/24 and 1976/77. This year is running near normal.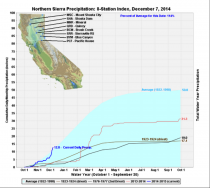 Enlarged
The 60 month temperature fell just behind the 2002-2004 peak. Recall the west coast had a cool summer and year a few years back when the water off the cost was very cold but now reflects the unusual warmth. Note the California trend reflects the urbanization no longer corrected for after USHCN v1 transitioned to USHCN v2 in 2008.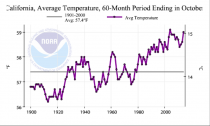 Enlarged
The last 10 days has seen very wet weather in most of California but focused most the northern third.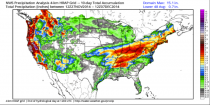 Enlarged
The 7 day forecast has more of the same again focused SFO north.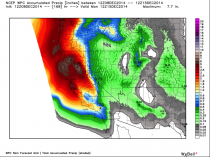 Enlarged
It has been warm to date this month in the southwest.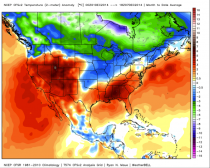 Enlarged
The constructed analog has it biased warm this winter in California. Ocean temperature anomalies support that.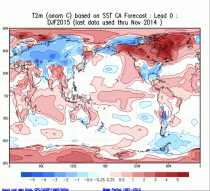 Enlarged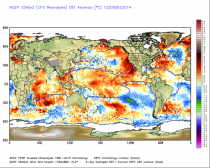 Enlarged
NOAA also reported yesterday:
Natural conditions, not human-caused emissions of greenhouse gases, are the driving force behind California's three-year dry spell, scientists on a federal task force concluded Monday. But the report came under fire from some experts who said it downplayed other factors that have humanity's fingerprints on them.
The evidence suggests a naturally induced "warm patch" of water in the western Pacific helped to create a high-pressure ridge that blocked precipitation from entering California, the experts said at a news conference to release the report.
"We have been able to identify this as a mode of ocean forcing of atmospheric circulation that causes West Coast drought," said Richard Seager, a climate model specialist at Columbia University's Lamont-Doherty Earth Observatory.
The study notes that this ridge - which has resulted in decreased rain and snowfall since 2011 - is almost opposite to what computer models predict would result from human-caused climate change.
-------
Stories like this and timely stories about weather and climate forecasts are done daily by Joe Bastardi and I on Weatherbell.com. Ryan Maue and Tom Downs also post and help us produce the daily forecasts for enthusiasts and industry. Ryan has developed the most complete model page available inlcuding highest resolution EC at unbeatable price. Consider a subscription to Weatherbell as a Christmas present to a weather lover or yourself.
Alternatively please help us pay the bills which come monthly to maintain securely the ICECAP site. We don't seek money from industry but rely on your generosity. The support comes from my pocket many months. We have reached the 60 million mark in terms of visitors this month. We work very hard to try and bring the truth to the public that the mainstream media refuses to report on because they are linked to the radical environmental agenda which wants to decarbonize, deindustrialize and even depopulate the planet and endorse measures that will hurt the poor and middle class they claim to speak for.
We give talks to the public, to state and federal committees, have provided scientific support for written briefs for the courts including SCOTUS. We do interviews, cable shows, newspaper columns. I have published peer reviewed papers. All of these efforts are pro bono. Rest assured those that write the alarmist papers and are spokesmen/women for the 'cause' are paid for their advocacy efforts. This is a case of David versus Goliath in the climate world. Of course Icecap is not alone or the largest but we may be one of the oldest and biggest. Thank you sincerely for your help.