Feb 22, 2018
US Blizzards, Snowfalls Have Increased Since 1950s, Surprising Global Warming Climatologists
By P Gosselin on 20. February 2018
On January 4 NTZ weekly contributor Kenneth Richard published a list of 485 papers dumping cold water on climate alarmism in 2017.
Looking through the list I find published papers showing that snowfall frequency has in fact increased over the the past 60 years!
Blizzard activity jumps fourfold
For example a paper by Coleman and Schwartz, 2017 revealed 713 blizzards over the 55 years with 57 federal disaster declarations resulting. Of these 57 declared disasters, more than a half have occurred since the year 2000.
The published scientific study also founds that "seasonal blizzard frequencies displayed a distinct upward trend, with a more substantial rise over the past two decades".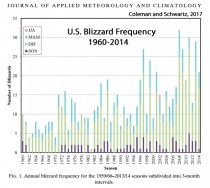 Enlarged
It adds that the modeled increase in blizzard activity showed a "nearly fourfold upsurge between the start and end of the study period at 5.9 and 21.6 blizzards, respectively". If the trend continues, then we would need to expect even more such blizzards.
In a another publication, Changnon, 2017 evaluated heavy 30-day snowfall amounts east of the Rockies in the United States during the period 1900-2016. The comprehensive data assessment identified 507 stations in this long-term climate study.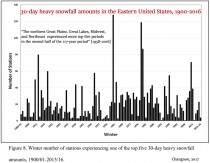 Enlarged
The author examined the top 30-day heavy snowfall amount and the average of the top five 30-day heavy snowfall amounts. The findings also surprised global warming scientists who warned earlier that snowfall would become less frequent as the globe warmed. The publications abstract reads:
The northern Great Plains, Great Lakes, Midwest, and Northeast experienced more top five periods [more snow] in the second half of the 117-year period [1958-2016], where most of the southern states experienced top five periods throughout the study period."
Finally a study conducted by Hatchett et al., 2017 found a "winter snow level rise in the northern Sierra Nevada from 2008 to 2017". Sea surface temperatures offshore California were observed to be related to snow cover.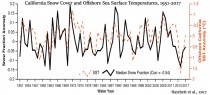 Enlarged
---------
Comment:
I'd like a reference of who exactly was surprised by this. Is that available? A cold location would of course receive more snow with increasing humidity despite increasing temperatures. That seems to be pretty straight forward, doesn't it? A location that barely reaches temperatures low enough for snow (let's say, has only a few days of snow per year), would stop experiencing snow with increasing temperatures. That seems pretty straight forward too. So who was surprised?
Kenneth Richard Reply
IPCC TAR (2001): "Milder winter temperatures will decrease heavy snowstorms"
Kunkel et al., 2002: "Surface conditions favorable for heavy lake-effect snow decreased in frequency by 50% and 90% for the HadCM2 and CGCM1 [models], respectively, by the late 21st Century. This reduction [according to models] was due almost entirely to… an increase in average winter air temperatures."
IPCC AR4 (2007): "Snow season length and snow depth are very likely to decrease in most of North America"

Kapnick and Delworth, 2013: "In response to idealized radiative forcing changes, both models produce similar global-scale responses in which global-mean temperature and total precipitation increase while snowfall decreases… By using a simple multivariate model, temperature is shown to drive these trends by decreasing snowfall almost everywhere" (press release) "In North America, the greatest reductions in snowfall will occur along the northeast coast, in the mountainous west, and in the Pacific Northwest. Coastal regions from Virginia to Maine…
---------
ICECAP NOTE:
Pierre etal are exactly right. The Northeast Snowfall Impact Scale (NESIS) developed by Paul Kocin and Louis Uccellini of the National Weather Service (Kocin and Uccellini, 2004) characterizes and ranks high-impact Northeast snowstorms. These storms have large areas of 10 inch snowfall accumulations and greater. NESIS has five categories: Extreme, Crippling, Major, Significant, and Notable. Three more NESIS storms occurred this winter bringing the total since the mid 1950s to 62.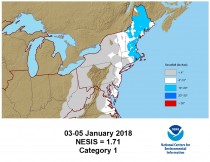 Enlarged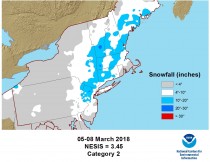 Enlarged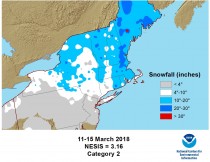 Enlarged
This brings the total for the last 10 years to 29. No other prior 10 year period had more than 10.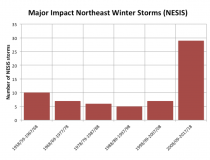 Enlarged
Boston which is a coastal city was said to be the likely first to see reduced snowfall according to government climate assessments because of the proximity to the ocean. Paradoxically, Boston 10 year running mean for snowfall has rising to new heights.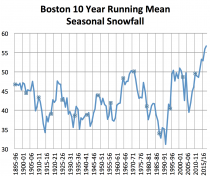 Enlarged
Alarmists run quickly to the idea that warmer winters and warmer air which can hold more moisture mean more snow, forgetting their rationale that the coastal cities are often on the border between rain and snow and even slight warming would tip the scales to rain. Reality is the snows are occurring in colder winters and colder periods within.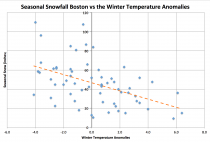 Enlarged