Jul 02, 2014
The data games - the transition from real data to model/data hybrids
By Joseph D'Aleo, CCM
You probably have been following the saga about USHCN data fabrication/estimation at WattsUpWiththat summarized here and illuminated by Judith Curry.

Anthony finds himself agreeing with Steve Goddard aka Tony Heller who deserves the credit for the initial findings including: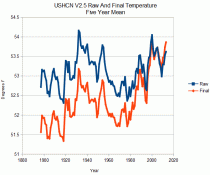 Enlarged
Anthony continues: "Paul Homewood deserves the credit for taking the finding and establishing it in a more comprehensible way that opened closed eyes, including mine, in this post entitled Massive Temperature Adjustments At Luling, Texas.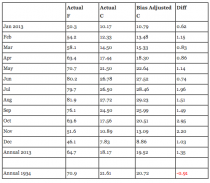 Enlarged
Along with that is his latest follow up, showing the problem isn't limited to Texas, but also in Kansas. "
It appears in summary:
Approximately 40% of the data has been estimated, even though they have a lot of good data in hand. The data isn't making the migration for the RAW to the FINAL USHCN file due to some error in the data flag.

Also, there's the issue of "Zombie weather stations" Closed stations like Marysville, CA that closed due to may expose' in 2007 are still reporting data in the FINAL USHCN file because the FILNET program is "infilling" them with estimated data based on surrounding stations.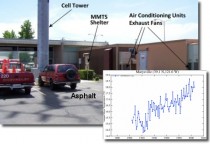 Enlarged

Since 80% of the network has compromised siting, the data used to infill is compromised.

It's a real mess.

Anthony adds "So far just USA for this error, we don't know about GHCN yet."
ICEAP NOTE: I have posted that I had downloaded from NCDC Climate at a Glance the Maine state Annual temperatures in 2013 for a talk and it showed no warming since 1895! (the trend was shown as -0.03/decade). Well after NOAA announced a transition to the CLIMDIV version of USHCN at the end of this brutal winter, I decided to download the new plot. The new CLIMDIV data was supposed to resolve issues with recent station moves, transition to airport, to new MMTS technology and UHI and siting issues with improvements late in the record, we were very surprised to see the biggest changes to the early data set. 1913 went from the warmest year in the record to the middle of the pack with a cooling of close to 5F!. The log term average dropped over 1F. The long term trend rose to +0.23F/decade, the largest of the 50 states.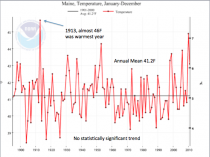 Enlarged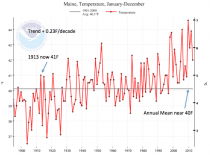 Enlarged
Basing government energy and tax policy on corrupted data ensures nothing but pain for only government gain.
Please help continue our work which has been almost entirely pro bono. Use the donate button in the left column. Any amount is appreciated.