Dec 27, 2014
After a brutal November, December was mild but January will rival January 2014!
Joseph D'Aleo, CCM
Update:
The month to date: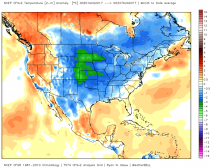 Enlarged
The typhoon Mekkhala is nearing the Philippines and about to recurve north. An old empirical rule is that a recurving typhoon leads to major trough amplification in the central and eastern United States about 10 days later.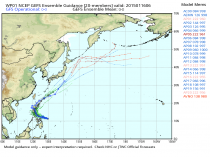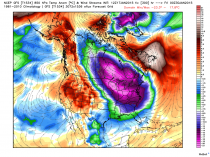 Enlarged
The models suggest January ends bitter cold with anomalies near 40F below normal (pink). This January will rivakl 2014 for US cold.
--------
It was a November to Remember for winter lovers. It was the 16th coldest in the record back to 1895 with 18 states in the east and south in the top ten coldest. California was the exception with continued warmth. It was more like December than November. Natural gas prices soared 50%.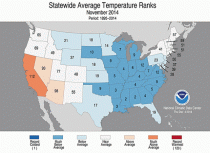 Enlarged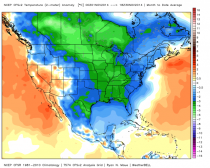 Enlarged
The lake effect machine was busy with oveer 6 feet of snow in places.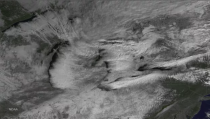 Enlarged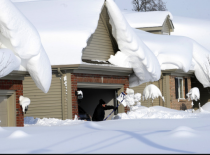 Enlarged
There was a rare Thanksgiving snowstorm with 50% snow cover extent at the peak, higher than Christmas on an average year. For North America, the snow extent was the highest in the record.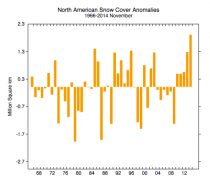 Enlarged
Then in December the cold gradually faded as westerly winds around a strengthening polar vortex in high latitudes ushered milder Pacific air into Canada and the United States. This helped bring rains and mountain snow to drought striken California but not much snow east and temperatures more like we might expect in November. With the mild temperature natural gas prices gave back all the gains from November.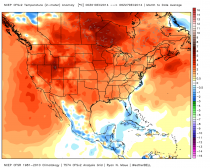 Enlarged
Here is the vortex in the high atmosphere (stratosphere) which usually means maritime air dominates instead of polar.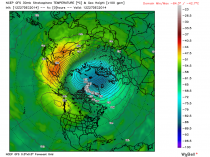 Enlarged
In the most similar years to this one, this vortex broke down in late December and January and cold evolved. And indeed models suggest that happnes the next 10 days with an increased invasion of polar even Siberian air.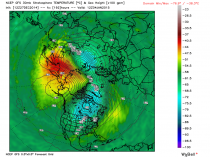 Enlarged
The lower atmosphere adjusts accordingly with the vortex coming south.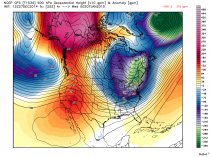 Enlarged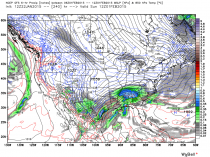 Enlarged
Look at the departures from normal of -36F in the east in this model. Please note the models are having great difficulty adjusting to the changes and are highly variable model to model and run to run.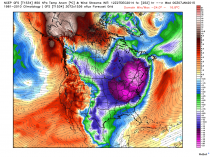 Enlarged
We have a high confidence this change will occur but lower confidence on the details and timing. Once the arctic patterns readjust to the changes and the pattern stabilize, we would expect cold and storminess to prevail for an extended period. We cover this daily on Weatherbell.com which also has the highest resolution modeliing available even at the hobbyiest level.