Jul 31, 2014
An Incredible $7.9 Billion in enviro funding helps back the EPA's radical agenda
Watts Up With That
Update: See more here in the Washington Examiner on The hidden persuaders of the environmental elite by Ron Arnold.
-----------
5 WAYS THE 'BILLIONAIRES' CLUB' RUNS THE EPA
By Ben Shapiro
According to a new report from the United States Senate Committee on Environment and Public Works, a "club of billionaires" including Tom Steyer and Hank Paulson has effectively hijacked the Environmental Protection Agency for its own purposes to grow the EPA and regulate the economy from stem to stern.

Here are the top five takeaways from the report regarding the billionaire takeover of the EPA:
Agency "Capture." According to the report, billionaires work with former colleagues in the non-profit sector who are specifically placed at key points within the agency. The report explains, "the Obama EPA has been deliberately staffed at the highest levels with far-left environmental activists who have worked hand-in-glove with their former colleagues." Furthermore, the EPA sends "grants to their former employers and colleagues."
The Revolving Door. The report reveals a huge number of EPA officials shuttling into and out of the agency and into and out of associated non-profits funded by the so-called Billionaires' Club. These include Bob Sussman, Senior Policy Counsel at the EPA under former administrator Lisa Jackson; he came from the Center for American Progress. Other revolving door EPA staffers: Michelle DePass, former Assistant Administrator for the Office of International and Tribal Affairs, who came to her position from the Ford Foundation and actually worked for both organizations simultaneously at one point; Michael Goo, former Associate Administrator of EPA, who worked for Congressman Ed Markey (D-MA); Dr. Al Armendariz, Region 6 Administrator, who worked for the Environmental Integrity Project.
The Secret Emails. Jackson was caught using her private email address to send sensitive material, but she was hardly the only one. Sussman was caught using "his personal email to communicate with environmentalists in violation of EPA policy." James Martin, former Region 8 Administrator, was similarly caught "using his personal email account to communicate with environmentalists...about official agency business in violation of official EPA policy." Michael Goo, former Associate Administrator of EPA, also emailed member so the Sierra Club about how to sink Keystone XL.
The Funding. The report shows that EPA regulators have used their influence to send money back to the Billionaires' Club charities. Grants from the EPA have totaled $3 billion over the last decade; Obama's EPA "has given more than $27 million in taxpayer funded grants to major environmental groups." Organizations like the American Lung Association have received $14 million since 2009, even though ALA has repeatedly sued the Agency.
Special Treatment. The report suggests that Region 2 Administrator Judith Enck violated the EPA's standards and ethics by giving EPA grantees "special treatment." For example, even though the activist group El Puente had been ruled out of bounds thanks to breaking the terms of its grant, Enck delayed the killing of its grant for ten months. Enck is currently under inquiry by the Office of the Inspector General. Similarly, the Louisiana Bucket Brigade (LABB, a former project of the Tides Foundation) grabbed cash from Jackson. That cash went to fighting oil and gas projects in Louisiana.

Americans have long known that the regulatory state is a complete disaster area, and that the EPA is one of the worst regulatory agencies in government. The new report confirms that fear and suggests that for all their complaints about money in politics, leftists are quite comfortable with it so long as it serves their ends.
--------------
How a Club of Billionaires and Their Foundations Control the Environmental Movement and Obama's EPA
A new report was released today by the Senate Environment and Public Works committee, and it is damning. All this time that climate skeptics are accused of being in the employ of "big oil" is nothing more than a projection of their own greed.
Some excerpts:
Over 7.9 BILLION in funding between these groups.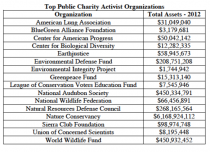 Enlarged
Bill McKibben caught in a lie, he might be "scruffy" be he isn't nearly broke as he once claimed: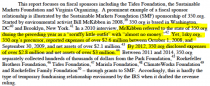 Enlarged
The "epicenter" of funding disclosed: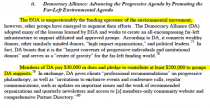 Enlarged
The NRDC "mafia"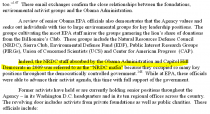 Enlarged
Josh wasn't far off the mark: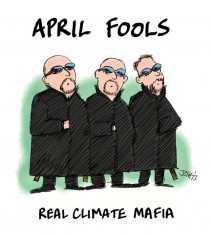 Enlarged
Read the entire report here, then demand action from your legislators.
That is why Podesta and Obama/McCarthy are so aggressive on this watermelon (green on the outside red in the middle) agenda. It is the biggest fundraising scam.
-----------
See Alan Carlin's comments on receiving the whistleblower award at the Heartland ICCC9.
My Remarks on New Proposed EPA Power Plant Regulations at ICCC9
Alan Carlin | July 18, 2014
On July 8 I received the Climate Science Whistleblower Award at the Ninth International Conference on Climate Change sponsored by the Heartland Institute and other cosponsoring organizations held in Las Vegas, Nevada. The following are remarks I prepared for my acceptance statement:
I greatly appreciate receiving this award and for the efforts of the many people involved at many levels in making the award possible. I consider it a great honor and thank you for it. I wrote my negative comments on the Endangerment Finding support document because I believed EPA was using bad science and that EPA's proposed Endangerment Finding would be easier to stop at that stage than later. But it is very encouraging to find that others agree with my decision to do so, which EPA clearly did not.
My offending comments to EPA led to my being immediately muzzled at the same time that Obama was spinning his transparency and scientific integrity line. The Endangerment Finding was issued later that year without any of my suggested changes in the support document, of course. This finding is the legally definitive EPA statement on climate science. It has been tested in the courts and is legally no longer an issue; this is what I hoped to avoid by my challenge to the support document.
For the last few years I have been working on a book-length manuscript describing everything touched on here and much more, including my skeptic efforts, how the environmental movement lost its way since my days as a Sierra Club activist and leader, and the main legal, journalistic, governmental, scientific, environmental, and economic aspects of the climate issue. This manuscript is now complete and up-to-date. If any of you know a good way to get it published so that it will be read, please let me know since I think it has some vital messages for everyone as we approach the showdown over the proposed EPA regulations.
The Endangerment Finding led directly to EPA's proposed regulations for reducing CO2 emissions from power plants earlier this year. The new EPA proposed regulations are even worse than I expected in 2009, perhaps because the blueprint for them was actually written by an environmental organization. First of all, they are illegal, as per any reasonable reading of Section 111(d) of the Clean Air Act. They impose many aspects of the Waxman-Markey bill despite Congress' rejection of it, and try to force red states to adopt the usual market-distorting preferences for power generation promoted by radical environmentalists. The regulations will have major adverse effects on the US economy, all for no or more likely negative benefits, and will result in higher costs for electric ratepayers, with particularly adverse effects on lower income groups. They will also lead to potentially extremely costly electric grid instability and load shedding when electric power is most needed. EPA is effectively trying to rewrite the Clean Air Act without consulting Congress or observing the law or the Constitution.
John Boehner calls Obama's behavior in this and other areas "aggressive unilateralism;" I call it dictatorial. Even if EPA's science were correct, which it is not, the regulations should be rejected on the basis of EPA's illegal power grab. I believe that skeptics need to place greater emphasis on this aspect of the situation. The powers of the Presidency have been an issue since the founding of the Republic and are much more readily understood than climate science will ever be.
So what started out as a scientific issue concerning a proposed Endangerment Finding has now escalated into a major legal and even Constitutional issue concerning Presidential powers. The President roams the country calling us "flat-earthers" and science-deniers. Perhaps it is time to characterize his behavior as illegal and even dictatorial.
Currently the public favors the EPA regulations by 67 to 29 percent so there appear to be many possible recipients for better information if we are to succeed in avoiding the future that radical environmentalists want to impose on our country through unjustified Federal intervention in still another vital sector of the economy. If their efforts should succeed, we can reasonably look forward to much higher levels of mandated CO2 reductions in this sector and probably many others as well. It is better to stop this mission creep now before it metastacizes even further.
We must not fail for the sake of the country's economic and environmental future and the preservation of the rule of law. These new power plant regulations will happen unless a way is found to stop them. There are only three possible ways to do this: A president who will withdraw them, Republican control of both houses of Congress, or rejection by the courts. Obama will not willingly withdraw the regulations before he leaves office in 2017. Rejection by the courts has not proved a dependable strategy to date, but the proposals are becoming increasingly outrageous legally. Congress is the only somewhat dependable avenue in the near term, and there is an election in 2014. A number of environmental groups are already very hard at work trying to influence this election so as to promote their proposed EPA regulations. They have already even sent me two thinly disguised such appeals, probably because I live in a state with a Democratic senator up for reelection!