Aug 04, 2016
Students Learn Climate Change Advocacy, Not Climate Science
By David Legates
ICECAP UPDATE:
Everyone accepts the fact that El Ninos lead to warming and La Ninas cooling globally. Unlike what many believe El Ninos and La Ninas don't alternate is any predictable way but cluster with the stages of the PDO. So....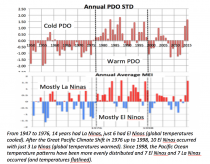 Enlarged
From 1947 to 1976, 14 years had La Ninas, just 6 had El Ninos (global temperatures cooled). After the Great Pacific Climate Shift in 1976 up to 1998, 10 El Ninas occurred with just 3 La Ninas (global temperatures warmed). Since 1998, the Pacific Ocean temperature patterns have been more evenly distributed and 7 El Ninos and 7 La Ninas occurred (and temperatures flatlined). In the graph above MEI is NOAA's Multivariate ENSO Index.
See how the ocean temperature associated with El Ninos and La Ninas and volcanoes alters the annual percent change in CO2. Warmer water emits more CO2, colder absorbs. Volcanoes produce cooling and cut back on insolation thus photosynthesis. Temperatures drive CO2 not the other way around.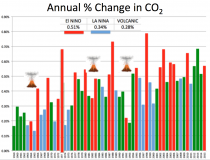 Enlarged
Roger Pielke Jr. shows this Munich re Global Weather-Related Disaster Losses: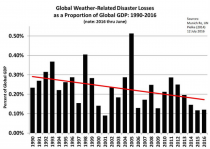 Enlarged
----------
Students Learn Climate Change Advocacy, Not Climate Science
By David Legates
For almost thirty years, I have taught climate science at three different universities. What I have observed is that students are increasingly being fed climate change advocacy as a surrogate for becoming climate science literate. This makes them easy targets for the climate alarmism that pervades America today.
Earth's climate probably is the most complicated non-living system one can study because it naturally is an integration of chemistry, physics, biology, geology, hydrology, oceanography, and cryology and also includes human behavior by responding to and affecting human activities. Current concerns over climate change have further pushed climate science to the forefront of scientific inquiry.
What should we be teaching college students about it?
At the very least, a student should be able to identify and describe the basic processes that cause the climate of the Earth to vary from Pole to Equator, from the coast to the center of the continent, and from the Dead Sea Depression to the top of Mount Everest. A still more literate student would understand how the oceans, the biosphere, the cryosphere, the atmosphere, and the hydrosphere all integrate to produce our very complicated climate…
Making matters worse, consider Senate Bill 3074, which was introduced into the U.S. Senate on June 16 of this year. It authorizes the establishment of a national climate change education program. Once again, the emphasis lies on teaching advocacy rather than teaching science and increasing scientific knowledge and comprehension.
The director of the National Center for Science Education commented that the bill was designed to "[equip] students with the knowledge and knowhow required for them to flourish in a warming world." Unfortunately, it will do little to educate them regarding climate science.
I fear that our education of climate science has been co-opted to satisfy the climate change fearmongering agenda that pervades our society today. Instead of teaching the science behind the Earth's climate, advocates have taken the initiative to convert it to a social agenda of environmental activism.
Climatology, unfortunately, has been transformed into a social science. While there is nothing wrong with the social sciences, the flaws underpinning climate science advocacy are masked by the 'concern for the environment' when climate is no longer treated as a physical science.
Climate science must return to being a real science and not simply a vehicle to promote advocacy talking points. When that happens, students will find that scientific facts are the real "inconvenient truth."
-------------
Russian President says Climate Change is Fraud
October 2015
Guest essay by Eric Worrall
h/t DailyCaller - Russian President Vladimir Putin has stated that he thinks the Western climate scare is a fraud, designed to restrain industrial development in countries like Russia.
According to the New York Times;
While Western media have examined the role of rising temperatures and drought in this year's record wildfires in North America, Russian media continue to pay little attention to an issue that animates so much of the world.
The indifference reflects widespread public doubt that human activities play a significant role in global warming, a tone set by President Vladimir Putin, who has offered only vague and modest pledges of emissions cuts ahead of the December 2015 U.N. climate summit in Paris.
Russia's official view appears to have changed little since 2003, when Putin told an international climate conference that warmer temperatures would mean Russians "spend less on fur coats" while "agricultural specialists say our grain production will increase, and thank God for that."
The president believes that "there is no global warming, that this is a fraud to restrain the industrial development of several countries including Russia," says Stanislav Belkovsky, a political analyst and critic of Putin. "That is why this subject is not topical for the majority of the Russian mass media and society in general."
...
Putin's scepticism dates from the early 2000s, when his staff "did very, very extensive work trying to understand all sides of the climate debate", said Andrey Illarionov, Putin's senior economic adviser at the time and now a senior fellow at the Cato Institute in Washington.
"We found that, while climate change does exist, it is cyclical, and the anthropogenic role is very limited," he said. "It became clear that the climate is a complicated system and that, so far, the evidence presented for the need to 'fight' global warming was rather unfounded."
Read more