Oct 19, 2014
The Breathless Hypocrisy Driving Energy 'Divestment'
Rockefellers would seem to be related to Forrest Gump - "stupid is as stupid does" but are more likely sly as a fox.
Stanford University. The University of Glasgow. The Educational Foundation of America. The British Medical Association. The City of Seattle, Washington. The Rockefeller Brothers (!) Fund. Amid the tolling of church bells and the thunderous self-applause of the environmental left, the fossil-fuel divestment bandwagon is on a roll. In addition to those listed above, 175 institutions, local governments, and individuals, with a total of over $50 billion in assets, as of last month have pledged to "divest" their holdings in the 200 oil, gas, and coal producers with the greatest "carbon" content of their reported reserves.
"Divest" is a curious term; a simpler verb is "sell," and it is a source of some interest that the divesting institutions and individuals are pledging to do so within three to five years. Why not just give the assets away immediately on a first-come/first-serve basis? The obvious answer is that those divesting---selling---the fossil-fuel assets prefer to get the highest prices that they can, an objective not obviously consistent with the purported moral imperative underlying a shift out of fossil fuels and toward the "new energy economy," about which more below.
For now let us consider the implications of the divestment stance. The fossil-fuel sector is huge---about $5 trillion in market capitalization---because other sectors demand energy, and fossil fuels overwhelmingly are the most efficient forms with which to provide it. So if investment in fossil-fuel sectors engenders some sort of moral quandary, does the same principle apply to investment in industries that use energy? After all, they are responsible for the very existence of the energy producers; will the divestment campaign expand to agriculture, manufacturing, transportation, retailing, the household sector, and all the rest? Is investment in government bonds the only moral course? Well, no: Government too uses vast amounts of energy.
And let us not stop there: Precisely why do all sectors demand energy? Obviously, it is because people demand the goods and services made affordable by fossil fuels. Notice that the correlation between energy consumption and household income is high, and rises as income increases; for the bottom three U.S. income quintiles, the respective correlations are 0.75, 0.85, and 0.91. If fossil fuels are evil, so are rising incomes, as the latter drive up the demand for the former. So let us be very clear that one central implication of the divestment campaign---remember, it is a moral imperative---is the desirability of poverty as a tool with which to dampen energy demands and thus incentives to invest in fossil-fuel sectors. This is separate from the impoverishing effect of a substitution of expensive energy in place of conventional energy produced with fossil fuels.
Accordingly, the divestment campaign, perhaps realizing it and perhaps not, has slipped into the anti-human trap that is the hidden but essential core of modern environmentalism: Far from being a resource, ordinary people are a scourge on the planet. They prefer cheap energy, strongly, but the moral imperative of divestment is diametrically opposed, and investments in people---education, health, etc.---make matters worse by increasing human capital and wealth, and thus the demand for energy. Accordingly, the "moral imperative" of the divestment campaign---its very logic---leads not only to disinvestment in virtually all economic activities, it does the same for investments in people, in particular in a third world desperate to emerge from grinding poverty.
Consider also one central dimension of what it means to be human: the application of intelligence to overcome the obstacles that define life outside the Garden of Eden. From backbreaking toil by hand, to the use of animals and tools, to the evolution of energy from wood to whale oil to coal to oil and gas to nuclear power to new technologies yet to be invented or proven competitive: The history of energy is a fundamental component of mankind's evolution, reflecting the inventiveness that is uniquely human, a process utterly at odds with the underlying imperatives of the divestment campaign.
Supporters of divestment might respond that they too favor inventiveness, in the form of the "new energy economy," which means such unconventional technologies as wind and solar power. Let us therefore examine the "moral" dimension of that investment shift. Because unconventional energy sources are unconcentrated, they are expensive, and cannot compete without large subsidies and guaranteed market shares. Because they are intermittent---sometimes the wind blows and sometimes the sun shines, and sometimes not---they must be backed up with conventional power units, which must be cycled up and down depending on wind and sunlight conditions.
In a word, they must be operated inefficiently, yielding an increase---yes, an increase---in the emission of conventional pollutants. And even an impossible 40 percent decrease in global greenhouse gas emissions would reduce temperatures in 2100 by about two-tenths of a degree. Would an enterprising journalist somewhere please ask the supporters of divestment about the morality of a campaign that would (1) impoverish millions of people, (2) increase conventional pollution, (3) yield zero offsetting environmental benefits, (4) forcibly extract resources from ordinary people, while (5) providing the environmental left with a rationale for moral preening?
And as long as we're talking about morals, let us admire the breathtaking hypocrisy of the current generation of Rockefellers, announcing loudly their decision to divest the fossil-fuel assets of their charity, the Rockefeller Brothers Fund, while maintaining a deafening silence about the fossil-fuel investments of the far-larger family investment and wealth management firm Rockefeller & Company. Nor have we heard that they will divest themselves of the lavish lifestyles engendered in past Rockefeller generations by the historical growth of the oil and gas sector. Their central objective is loud applause at the upper-crust cocktail parties for a divestment that will have no effect on the fossil-fuel sector, that will cost them literally nothing, and that is part of a leftist campaign that views ordinary people as a liability. Such are the dimensions of moral cowardice.
Benjamin Zycher is the John G. Searle scholar at the American Enterprise Institute.
Oct 02, 2014
Royal Society shows wind turbines cause hearing loss in new study - one of many problems
Written by Camilla Turner, telegraph.co.uk
Living close to close to wind farms may lead to severe hearing damage or even deafness, according to new research which warns of the possible danger posed by low frequency noise. windfarm sunset
The physical composition of inner ear was "drastically" altered following exposure to low frequency noise, like that emitted by wind turbines, a study has found.
The research will delight critics of wind farms, who have long complained of their detrimental effects on the health of those who live nearby.
Published today by the Royal Society in their new journal Open Science, the research was carried out by a team of scientists from the University of Munich.
It relies on a study of 21 healthy men and women aged between 18 and 28 years. After being exposed to low frequency sound, scientists detected changes in the type of sound being emitted from the inner ear of 17 out of the 21 participants.
The changes were detected in a part of the ear called the cochlear, a spiral shaped cavity which essential for hearing and balance.
"We explored a very curious phenomenon of the human ear: the faint sounds which a healthy human ear constantly emits," said Dr Marcus Drexl, one of the authors of the report.
"These are like a very faint constant whistling that comes out of your ear as a by-product of the hearing process. We used these as an indication of how processes in the inner ear change."
Dr Drexl and his team measured these naturally emitted sounds before and after exposure to 90 seconds of low frequency sound.
"Usually the sound emitted from the ear stays at the same frequency," he said. "But the interesting thing was that after exposure, these sounds changed very drastically."
"They started to oscillate slowly over a couple of minutes. This can be interpreted as a change of the mechanisms in the inner ear, produced by the low frequency sounds. This could be a first indication that damage might be done to the inner ear."
"We don't know what happens if you are exposed for longer periods of time, [for example] if you live next to a wind turbine and listen to these sounds for months of years."
Wind turbines emit a spectrum of frequencies of noise, which include the low frequency that was used in the research, Dr Drexl explained.
He said the study "might help to explain some of the symptoms that people who live near wind turbines report, such as sleep disturbance, hearing problems and high blood pressure".
Dr Drexl explained how the low frequency noise is not perceived as being "intense or disturbing" simply because most of the time humans cannot hear it.
"The lower the frequency the you less you can hear it, and if it is very low you can't hear it at all.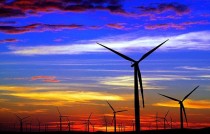 "People think if you can't hear it then it is not a problem. But it is entering your inner ear even though it is not entering your consciousness."
Earlier this week it was reported that bats were being lured to their deaths at wind farms because they think turbines are trees in which they can find shelter, food and sex.
Sep 28, 2014
Justin Gillis NYT and Politifacts get it wrong
By Joseph D'Aleo, CCM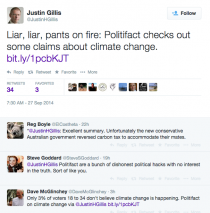 Enlarged
Gillis points to Politifacts story as "justinification' of his blind allegiance to all aspects of AGW. Steve Goddard in his comment has it right. The last comment actually is interesting claiming only 3% of the public doesn't believe the climate is changing. Actually, there is not a skeptic I know that does not believe climate is changing, always has, always will.
In the Tampa Bay Times, Politfacts tackles 10 questions in a very weak analysis. I give them an F for effort and accuracy.
I will only touch on two items. These are their claims:
5. Surface temperatures on Earth "have stabilized." -Mostly False.
Sen. Marco Rubio, R-Fla., has repeatedly questioned the need for proposals that address climate change, but he often tries to do it without sounding anti-science.
In an interview on Fox News in May, Rubio said he never denied that the climate was changing, but he also said that "the left loves to go around saying there is a consensus" when there is no consensus on the sensitivity of the climate, "which is why, despite 17 years of dramatic increases in carbon production by humans, surface temperatures (on) the earth have stabilized."
Rubio has a point that over roughly the past 15 years, global surface temperatures have plateaued, particularly compared to their rapid rise in previous decades. But scientists we interviewed said the evidence suggests that the pause is temporary, with temperatures poised to rise once the oceans start releasing more heat. We rated Rubio's claim Mostly False.
REPLY
Yes that was one of 52 excuses for the pause but where is the proof the oceans are hiding the heat? From the University of Washington and the department of Trenberth's missing heat comes a claim that we'll have to wait another 15 years for global warming to resume. Sounds like a goalpost mover to me.
The Oceans that Slowed 21st Century Global Warming
Why did the rapid global warming that characterized the latter part of the 20th century slow down over the last 15 years or so? Many different theories have been proposed, but a new study suggests that a massive movement of heat from shallow surface waters to deep regions of the Atlantic and Southern Oceans - but not the Pacific Ocean, as many researchers had predicted - might be responsible. Xianyao Chen and Ka-Kit Tung analyzed data from profiling floats, or oceanographic sensors that can move vertically throughout the water column, and traced the pathways that heat has taken through the world's oceans since the turn of the 21st century. The oceans are capable of storing about 90% of the world's surface heat content, and the researchers suggest that most of the excess heat that would have otherwise continued to fuel global warming is currently stored in the basins of the Atlantic and Southern Oceans.
Atlantic Ocean heat Content.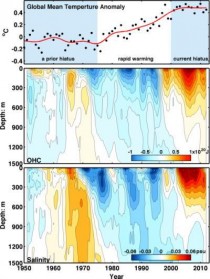 Enlarged
The Atlantic is in its warm phase of the 60-70 year AMO. It explains the increased heat since 1995. When it reenters the cold mode it will accelerate the cooling.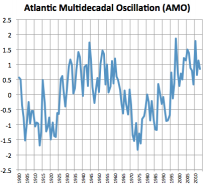 Enlarged
6. "NASA scientists fudged the numbers to make 1998 the hottest year to overstate the extent of global warming." - Pants on Fire.
Fox News host Steve Doocy repeated something that's been all over the Internet: the claim that scientists have fixed numbers to make 1998 the hottest year.
PunditFact found that scientists have adjusted historical data to account for weather stations that have moved or when temperatures were recorded at different times of day. That's hardly the same thing as fudging the numbers in pursuit of a political agenda. We rated Doocy's statement Pants on Fire.
REPLY: Doocy's got it right. Politifacts response if more like Liberal Hair on Fire.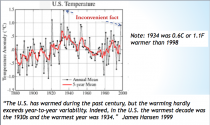 Enlarged
In 1999, NOAA and NASA reported 1998 was 1.1F cooler than 1934. Hansen admitted the 1930s was the warmest decade and 1934 the warmest year. See his quote in the image.
This US data set, though initially widely regarded as the world's best because it was stable and had adjustments for urbanization contamination. But it was at odds with the global data set which did not have the same stability or adjustments.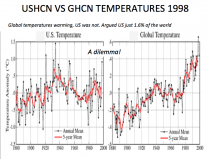 Enlarged
In 2008 under pressure, NOAA redid the data set, removing the urban adjustment.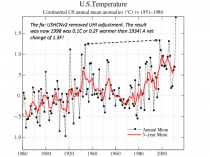 Enlarged
The result is that a 1998 that was 1.1F cooler than 1934 in 1998 became 0.2F warmer, a 1.3F change. I would regard that as fudging the data in pursuit of a political agenda so Doocy was right on.