Jul 14, 2016
When will Africa get healthy and prosperous?
When will its leaders focus on vital issues affecting its people, instead of lining their pockets?
Africa is still battling "transitional periods," from slavery and colonialism, to neocolonialism and eco-imperialism. Its wars, diseases and suffering will never end until we stop having greedy leaders who only care about their families, cronies and tribal members.
The continent has enough natural resources to bring peace, health and prosperity to nearly everyone. And yet 90% of Africans still lack electricity and basic necessities, while corrupt leaders who could help transform our nations embezzle billions and leave parents and children starving and poor.
From Rwanda and Liberia to the Sudan and Uganda, we see every day the horrible effects of war - crippled men, widowed women, orphaned children and frail old people, without hands and legs, with slash marks all over their bodies. They struggle as scavengers, collapse and perish from hunger and disease, while politicians get rich.
Meanwhile, environmental activists, western powers and UN agencies dictate what issues are important - and use them to keep us poor and deprived: manmade climate change, no GMO foods, no DDT to prevent malaria, using wind and solar power and never building coal, natural gas or nuclear power plants. This is a criminal trick that denies us our basic rights to affordable energy, jobs and modern living standards.
Earlier this year, in South Sudan, I saw thousands of starving people suffering from war wounds, malaria, meningitis, hepatitis, vitamin deficiencies, cholera and other diseases. Here in Uganda, I see hundreds trying to survive and recover from these diseases, heart attacks, diabetes, kidney failure and cancer, receiving little or no medication and terribly inadequate care in hospitals and clinics that are falling apart and don't even have window screens or safe running water.
In January 2015, I was in Kampala's Mulago Hospital caring for my friend and mentor, Cyril Boynes, who was dying from a stroke and kidney failure. The doctors and nurses tried to save him, but they had old, broken equipment and constantly battled electricity failures. Many times, the power went out, the lights and equipment stopped working, and people died before the electricity came back on.
For those who cannot fly to Europe for care, death does not distinguish between rich and poor, Ugandan or foreign. The same terrible facilities and lack of medicine affect everyone. In a world with so much money, technology and knowledge, there is no reason this should continue, year after year.
Before war broke out in South Sudan in 2013, there was some stability and a lot of nongovernmental organizations, companies like Ford Motor Company, private investors and other people arrived to do business. Many thought they could earn good profits, and some succeeded.
Some East African people in Uganda, Kenya, Tanzania, Rwanda, Burundi, Somalia, the Republic of Congo and other countries around South Sudan received new opportunities and skills. They were able to feed their families, send their children to school, pay medical bills and cover other expenses.
But today there is war and economic recession, oil prices have collapsed, and Ford and other companies closed their operations and left. Some 80% of the people again have no jobs. Their families are again impoverished and starving.
In South Sudan, most people still practice primitive subsistence farming. A UN Development Program report says 90% of the land in South Sudan is suitable for agriculture, but less than 5% of it is cultivated. This is because oil was the primary source of income for the country, the economy has collapsed, and few farmers have modern equipment, fertilizers or seeds to make any profits.
If South Sudanese people have electricity at all, it is from small diesel-powered generators for homes, businesses and hospitals. It is not sufficient, it's available only some of the time, and there is almost no electricity outside of Juba and other big towns. Few people have motor fuels either, for cars or farm machinery, and the land is too vast to be cultivated by hand hoe or animals.
Calls for us to live "sustainably," use wind and solar and biofuel power, and never use fossil fuels, are a demand that we accept prolonged starvation and death in our poor countries. They mean desperate people will do horrible things to survive, even just another day.
In 2006, I met a lady in Mulago Hospital whose son was dying from malaria. The Congress of Racial Equality people I was with asked her if she knew that DDT could help prevent malaria, by keeping diseased mosquitoes from coming into their homes. She said, yes, "but DDT is bad for the environment," so she opposed using it.
It is crazy how lies about this chemical have made mothers willing to let their children die, rather than spray it on their homes. Malaria has killed millions of people in Uganda and is still the number-one killer disease in Africa. Over 1,000 babies and mothers die every day from this disease. We protect the environment from imaginary problems and die from environmental diseases.
What good is having an environment without people, without me and you?
In 2010, 32 coal miners where shot dead in South Africa. They were protesting for salary increases, which the mine owners and South African government said they could not afford, because of the terrible world economy and low coal prices. Meanwhile, the miners' families are starving.
Our government is planning to construct a pipeline from western Uganda to Tanzania. The project could employ over 15,000 people. Along with other oil operations, it will boost our economy and give us more critically needed energy. But some agencies and organizations oppose it because it would "contribute to global warming," and they would rather see us remain poor beggars to the West.
Like these "environmental" activists, African leaders do not care about the well-being of our citizens. They are incompetent, greedy, callous criminals, driven by ideologies and a love of power over people.
They love their armies and fast cars, treat their own people like terrorists, and have betrayed our continent. They pay no attention to the most critical and fundamental needs and concerns of people who are jobless, poor, hungry, and at the mercy of diseases and the environment. They do not care that most of their people never have clean water, a decent home, enough food to live, or electricity for even one light bulb and a tiny refrigerator.
In 2007, Cyril Boynes organized a 332-kilometer (206-mile) people's march from Kampala to Gulu, Uganda, to support using DDT to eradicate malaria. This year, I participated in a march from Gulu to Kampala, to remember those who suffered during the long war with Joseph Kony's murderous Lord's Resistance Army, to honor my mother, who walked 20 km every day so that her children could eat and live p and to promote health and prosperity for our country and continent.
When will that day come? When will politicians and activists who say their care about the world's poor stop worrying about global warming, pesticides and GMO crops - and start helping us get the energy, food, medical facilities, technology, jobs and economic growth we need to improve our lives?
--------
Steven Lyazi is a student and day laborer in Kampala, Uganda. He served as special assistant to Congress of Racial Equality-Uganda director Cyril Boynes, until Mr. Boynes died in January 2015.
Jul 07, 2016
Climate power play by the AAAS et al.
The AAAS and affiliated professional societies just shot themselves in the foot with the letter to U.S. policy makers.
Last week, the American Association for the Advancement of Science (AAAS) issued a press release entitled Thirty One Top Scientific Societies Speak With One Voice on Global Climate Change. Punchline:
In a consensus letter to U.S. policymakers, a partnership of 31 leading nonpartisan scientific societies today reaffirmed the reality of human-caused climate change, noting that greenhouse gas emissions "must be substantially reduced" to minimize negative impacts on the global economy, natural resources, and human health.
The text of letter to Congress can be found here [link]. The main text of the letter:
Observations throughout the world make it clear that climate change is occurring, and rigorous scientific research concludes that the greenhouse gases emitted by human activities are the primary driver. This conclusion is based on multiple independent lines of evidence and the vast body of peer-reviewed science.
There is strong evidence that ongoing climate change is having broad negative impacts on society, including the global economy, natural resources, and human health. For the United States, climate change impacts include greater threats of extreme weather events, sea level rise, and increased risk of regional water scarcity, heat waves, wildfires, and the disturbance of biological systems. The severity of climate change impacts is increasing and is expected to increase substantially in the coming decades.
To reduce the risk of the most severe impacts of climate change, greenhouse gas emissions must be substantially reduced. In addition, adaptation is necessary to address unavoidable consequences for human health and safety, food security, water availability, and national security, among others.
We, in the scientific community, are prepared to work with you on the scientific issues important to your deliberations as you seek to address the challenges of our changing climate.

The 28 June letter was signed by leaders of the following organizations: AAAS; American Chemical Society; American Geophysical Union; American Institute of Biological Sciences; American Meteorological Society; American Public Health Association; American Society of Agronomy; American Society of Ichthyologists and Herpetologists; American Society of Naturalists; American Society of Plant Biologists; American Statistical Association; Association for the Sciences of Limnology and Oceanography; Association for Tropical Biology and Conservation; Association of Ecosystem Research Centers; BioQUEST Curriculum Consortium; Botanical Society of America; Consortium for Ocean Leadership; Crop Science Society of America; Ecological Society of America; Entomological Society of America; Geological Society of America; National Association of Marine Laboratories; Natural Science Collections Alliance; Organization of Biological Field Stations; Society for Industrial and Applied Mathematics; Society for Mathematical Biology; Society for the Study of Amphibians and Reptiles; Society of Nematologists; Society of Systematic Biologists; Soil Science Society of America; University Corporation for Atmospheric Research.
What's wrong with this picture? Where to start is the main challenge.
This statement is a blatant misuse of scientific authority to advocate for specific socioeconomic policies. National security and economics (specifically called out in the letter) is well outside the wheelhouse of all of these organizations. Note the American Economics Association is not among the signatories; according to an email from Ross McKitrick, the constitution of the AEA forbids issuing such statements. In fact, climate science is well outside the wheelhouse of most of these organizations (what the heck is with the statisticians and mathematicians in signing this?)
The link between adverse impacts such as more wildfires, ecosystem changes, extreme weather events etc. and their mitigation by reducing greenhouse gas emissions hinges on detecting unusual events for at least the past century and then actually attributing them to human caused warming. This is highly uncertain territory - even within the overconfident world of the IPCC. And the majority of the signatories to this letter have no expertise in the detection and attribution of human caused climate change.
The signatories whose membership has some expertise on the detection and attribution of climate change are only a few: American Geophysical Union, American Meteorological Society, University Corporation for Atmospheric Research, Geological Society of America. The rest are professional societies who are not involved with the physics of climate but explicitly profit from the alarm.
Many professional societies have issued their own policy statements on climate change. One notable absence on the list of signatories is the American Physical Society. While I am not a fan of the APS statement on climate change (see my previous post here), their response as to why they did not sign the AAAS letter is interesting (see this WaPo article):
Of prominent U.S. scientific organizations, only the American Physical Society (APS) abstained from participating in both the 2009 and 2016 letter efforts.
"The American Physical Society did not sign the [2016] letter because it was presented as a fait accompli, and there are significant differences between the letter and the APS Statement on Earth's Changing Climate," it said in a statement. "The APS statement went through a two-year vetting process involving multiple committees, the societyís 53,000-plus membership and the board of directors."
Though the APS statement about climate change is more nuanced than the AAAS letter, stating for example "scientific challenges remain in our abilities to observe, interpret, and project climate change," it in no way disputes the scientific consensus on climate change or the risks it poses.
Well, score half a point for the APS. At least they are thinking for themselves, and not mindlessly joining in the overt advocacy of the AAAS.
'Scientists speaking with one voice' on an issue as complex and poorly understood as climate change, its impacts and solutions is something that I find rather frightening. Well, I am somewhat reassured that this is not the population of scientists speaking, but rather the leadership of the professional societies speaking. How many members of the American Society of Ichthyologists and Herpetologists have an educated opinion, or even care very much, about climate change? And many of these society leaders (who were responsible for signing on behalf of their organization) are not scientists themselves, e.g. Chris McEntee, Executive Director of the AGU, whose background is in nursing (Masters in Health Administration). She is quoted in the AAAS press release:

"Climate change is one of the most profound challenges facing our society. Consensus on this matter is evident in the diversity of organizations that have signed this letter. Science can be a powerful tool in our efforts to mitigate and adapt to the impacts of climate change, and we stand ready to work with policymakers as they deliberate various options for action."
Impact?
So, is this letter going to change the minds of ~50% of Congressional members who do not support President Obama's climate change plan, either because they donít like the proposed solutions, or don't think climate change is dangerous, or don't think humans are the dominant cause of recent climate change?
Those in Congress that disagree with Obama's plan have clearly shown themselves not to be susceptible to pressures from scientist/advocates and their consensus enforcement. Further, by broadening the list of signatories to include societies that have little or no expertise in the physics of climate, this whole exercise reinforces the public distrust of these scientific organizations.
It seems that the primary motivation of this is for the leaders of these professional societies to be called to the big table to engage in the Congressional policy deliberations about climate change. So, if you are Lamar Smith or Ted Cruz, would you be calling any of these people to participate in Congressional hearings?
The AAAS and the affiliated professional societies blew it with that letter. They claim the science is settled; in that case, they are no longer needed at the table. If they had written a letter instead that emphasized the complexities and uncertainties of both the problem and the solutions, they might have made a case for their participation in the deliberations.
Instead, by their dogmatic statements about climate change and their policy advocacy, they have become just another group of lobbyists, having ceded the privilege traditionally afforded to dispassionate scientific reasoning to political activists in the scientific professional societies. With a major side effect of damaging the process and institutions of science, along with the public trust in science.
The AAAS et al. have shot themselves in the foot with this one.
Jun 14, 2016
Greenpeace co-founder pens treatise on the positive effects of CO2 - says there is no crisis
Thirty years ago, James Hansen made some spectacularly poor global warming predictions before Congress.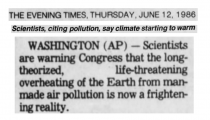 Enlarged
Hansen predicted two degrees global warming by 2006.


Enlarged
He was off by a factor of ten. Earth warmed about 0.2 degrees from June 1986 to June 2006.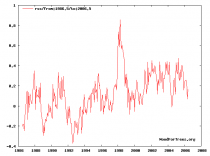 Enlarged Wood for Trees: Interactive Graphs
Hansen predicted 3 or 4 degrees of US warming between 2010 and 2020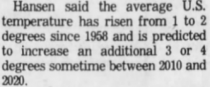 Enlarged
The US has seen little or no warming since 1986.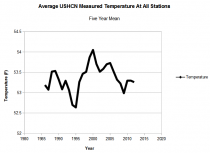 Enlarged
Hansen predicted a huge increase in the number of hot days at Omaha, Nebraska and Washington, DC.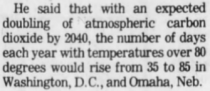 Enlarged
The exact opposite has occurred. Both places have seen a decline in the number of hot days.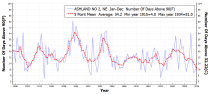 ASHLAND
Climate scientists have no idea what they are talking about, and their CO2 superstition is not based on science.