Nov 19, 2013
Alarmist climate scientists have abused the public trust in science, inflicted serious damage
WARMISTS CAN'T STOP THEMSELVES
By WALTER STARCK
Quadrant Online 11/15/13
Climate alarmists' tactics—exaggeration, misrepresentation, smear and scorn—have hurt the movement more than helped it. No surprise there. Cultist are always the last to recognise the folly of their ways
When the idea of dangerous anthropogenic global warming (AGW) from fossil fuel emissions arose it found strong resonance across a variety of important interests. For researchers it meant funding and recognition. With the media it was attention-grabbing drama. To activists it was the mother of all eco-threats. Business saw huge profits to be made, while bureaucrats recognised the potential for massive increases in power and control.
For politicians it was a no-brainer, with strong popularity on one side and only denigration on the other.
An impressive AGW bandwagon soon assembled and fired-up a luxurious hundred billion dollar gravy train. In late 2009 everything was on track for a glorious triumph by AGW forces at the Copenhagen Climate Summit, which was to have been the gateway to the clean, green new world promised by the eco-prophets.
Then came Climategate and the wheels started to come off.
In reality the whole vast AGW structure was built on a flimsy foundation of highly dubious prophesies by a small coterie of third-rate academics whose reputations and careers have been based almost entirely on dramatic claims about climate change which have proved to be either wrong, doubtful, or at best, yet to be verified. The description of their being "third rate" is used with due consideration. The attention-grabbing claims concerning AGW have been both fraught with uncertainty and subject to diverse unrefuted criticism. Well-founded credentials and reputations in research are not based on iffy speculation and un-verified predictions. Competent scientists avoid such speculation and take care to clearly qualify the limits and uncertainties involved in any opinions or predictions they may offer.
With rare exception, all of the leading scientific proponents of catastrophic AGW have been unknown academics until they climbed onto the climate change bandwagon and began to make dramatic predictions of imminent catastrophe. The few exceptions with established reputations outside of climate catastrophism seem to have been already committed to a catastrophist view of other environmental threats for which AGW is only the latest, greatest and most popular. It also has boasted the added attraction of being by far the most rewarding.
In addition, climatology was a little known, highly interdisciplinary area of study in which researchers from almost any field could participate and call themselves climatologists. Doing so and offering some dramatic claim about AGW virtually assured widespread news coverage with anointment by the media of status as an "expert". Generous grants were sure to follow.
For an academic with only a meagre reputation to risk, the temptation would have been hard to resist especially so for those suffering from that common academic malady, an inflated opinion of one's own importance and intellectual ability. The opening of a shortcut to fame and fortune while bypassing the normal and tedious slog to recognised expertise was surely too right to have been just luck. It must have been meant to be and has accordingly been defended with all the ferocity of true believers.
In climate alarmism the perceived righteousness of the cause has led to a wholesale abandonment of what had previously been considered to be proper scientific practice. In climate research it has become widespread and accepted practice to refuse to reveal methods and materials, ignore opposing evidence, misrepresent findings, exaggerate confidence, suppress publication of conflicting findings and use personal denigration to discredit anyone who dares to raise questions about the latest and endless streams of claims and assertions. While such malpractice has become pervasive, it will usually involve just complex technical matter at a time, requiring a considerable level of background knowledge if arguments are to be fully understood.
However, the fundamental ethical issues are something everyone can understand and it is here where the alarmists have done the most to discredit themselves. Whenever clear evidence of dishonest behaviour by AGW proponents has been exposed, instead of simply condemning it they have followed a pattern of first trying to deny it then, when that fails, attempting to justify it. Finally, when mis-information has been thoroughly exposed, they seek to trivialize "mistakes" as being of no importance in any case. In doing this they have make it clear that any regard for truth is subordinate to the righteousness of their cause.
Before widespread systematic scientific misconduct began to be exposed in climate research, science enjoyed a high level of public trust. In abusing this trust, climate alarmists gained a short-lived advantage. However, the inevitable exposures have inflicted serious and long lived damage to both their own cause and to the reputation of science itself. This will be difficult to repair.
Now, it seems that all of the dire predictions about warming temperatures, species extinctions, extreme weather, melting glaciers, accelerating sea levels, epidemics, crop failures and sundry other climate catastrophes are starting to be seen as having failed. Having denied any possibility of natural variability in the modest rise in global temperature observed in the latter part of the 20th century, the alarmists are now finding it difficult to explain why their most certain hopes have not materialised. That they might have been wrong all along is, of course, unthinkable.
In the face of an ever increasing departure from unfolding reality their response has been to simply ratchet up the level of alarm and claim more certainty than ever. This seems a bizarre strategy, especially from a group which purports to be composed of scientists of the highest calibre. They must deem reality itself to be subordinate to a dubious theory ratified only by group consensus.
From the outside it looks like a retreat to the bunkers for a last stand by fanatical adherents of an extremist cult preparing for martyrdom in a final paroxysm of righteousness. Perhaps itís the prophesied battle of Armageddon featuring the righteous hosts of postmodernism vs. the Satanic idea of an objective reality independent of anything one might choose to believe. Or could it just be that the constant misrepresentation of reality that is now the norm in climate research has become so ingrained that adherents have difficulty differentiating reality from fantasy, not unlike the condition psychiatrists used to call Pseudologia Fantastica?
However it is characterised, the current tactics of climate alarmists in public debate are doing nothing to restore their credibility, serving only to make themselves look ever more foolish and untrustworthy.
If they are really as certain as they profess to be, the best thing they could do at this point would be to shut up. If they are right, reality should prove them so soon enough. And if the science is settled, as they claim, there is no need for more research anyway. Of course they won't do anything of the sort. Shutting up would mean giving surrendering all that flattering attention and funding they have come to accept as their just due.
So, in all probability the show will continue, not as a debate but as a farce, with the lead characters making ever-bigger fools of themselves until the public tires of paying the bills and finds something better to do with its tax money.
Nov 12, 2013
Report Claims Forests In Germany Ailing Due In Part To Climate Change: Winters Have Been Too Frosty
By P Gosselin on 15. November 2013
To illustrate the absurdity that global warming science has become, global warming is claimed to cause climate change, which in turn now causes winters to be too cold! This is what some leading German state officials would like to have people believe.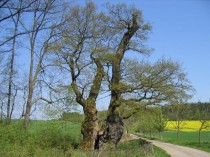 1000-year old oak tree in Germany ailing because of "climate change". Photo released into the public domain by Thomas Berendes.
Today FOCUS here reports that Lower Saxony Forestry Minister Christian Meyer (Green Party) released the 2013 Forestry Status Report, which concludes:
Lower Saxonys forests are suffering from too much nitrogen, sulfur dioxide, and climate change. This is the conclusion of the state Forestry Status Report introduced Friday."
Here it turns out the three causes named above just happen to be by-products of the three things environmentalists love to hate: 1) agriculture, responsible for the nitrogen, 2) industry responsible for the sulfur dioxide and 3) humans responsible for the climate change. In summary, when you get down to it, all three are because of man. Precisely who activists want to frame. Meyer says:
Especially old beech and oak trees are ailing".
Imagine that, old trees aren't healthy!
Report confirms cooling
Climate change, i.e. global warming, being cited as one of the reasons would lead a normal person to believe that German forests are likely suffering from too much warmth due to the global warming. But the report says the climate-related ailments that forests are suffering are because of the "drier summers and more frosty winters."
Forests are ailing because the winters have been too cold, the report claims. How is this due to global warming? This tells me global cooling is the problem, and not warming.
10 of the last 11 summers have been normal or too wet
And have summers really been drier? According to meteorologist Dominik Jung, 10 of the last 11 summers have been normal or wetter than normal in terms of precipitation. There's only one conclusion we can reach about Meyer's report: It is seriously flawed and more a political instrument that has little or no merit.
What's another sign that the forest report is lots of activist hooey? The above pictured oak tree, for example, has been around 1000 years. Obviously it endured a broad range of conditions that occurred during the Medieval Warm Period, the Little Ice Age and the current Modern Optimum. It's seen and survived it all.
And because it is 1000 years old, nobody should be surprised that the tree is sick.
- See more at: NOTRICKSZONE
------
German Scientists: Solar Cycle 24 Points To Dalton Or Maunder-Like Minimum, Boding Ill For A Climate Cooling
By P Gosselin on 11. November 2013
The Sun in October 2013 Ė Minimum lies ahead
By Frank Bosse and Fritz Vahrenholt
(Translated by P Gosselin)
In October 2013 there was a considerable rise in solar activity as the sunspot number (SSN) climbed to 85.6. Thatís 77% of the mean value reached at this time into a solar cycle since 1750. The following diagram shows the current situation: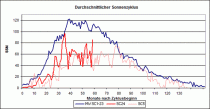 Enlarged SSN versus months since the start of the cycle
October 2013 deviates significantly from solar cycle number 5. However we continue to believe that SC 24 will be similar to SC 5. Just how large the uncertainties of the correct description of the 5th cycle is shown by a recently published paper by Rainer Arlt of the Leibniz Institute Potsdam and Ilya Usoskin of the Finnish University of Oulo, who after examining the solar cycles between 1750 und 1850 reached the conclusion that the sunspot count should be lowered by 20%. SC 24 shown by the red curve is, however, still very much below average of SC 1-23, let alone well below the large cycles of the solar maximums from 1940 Ė 1990.
Also in October 2013 mainly the southern hemisphere (SH) of our sun was active. In a comparison of the cycles with each other (here the SSN anomaly thus far up to the current cycle month) we see that the accumulated sunspot number is between SC5 and SC 14: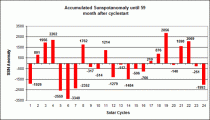 Enlarged Current cycle indicate we are entering a Dalton-like minimum

In a recent publication in Space Science Reviews (2013), renowned solar scientists Ken McCracken, Juerg Beer, Friedhelm Steinhilber and Jose Abreu studied the solar minimums over the last 9300 years. Based on measurements of beryllium and carbon isotopes as indicators for the intensity of cosmic rays, which are modulated by solar activity, the scientists arrived at the result that the minimum of 2007 to 2009 had similar characteristics as the minimums occurring during the time of the Dalton Minimums of 1780 to 1820. They discovered a 208-year periodicity (Suess-de Vries) of a grand solar minimum in the past. Therefore they anticipate in the near future the events of a Dalton Minimum, but not a Maunder Minimum.
Lockwood sees elevated chance of a Maunder-like minimum
Another established solar scientist, Prof. Michael Lockwood of the University of Reading, has pointed out that solar activity since the end of the last century has diminished more strongly than it ever has in all the earlier times of the last 9000 years. Lockwood found 24 solar minimum in the last 9000 years, and nowhere did solar activity drop so strongly as it has in the current period. He now sees the probability of another Maunder Minimums at 25- 30%. Just a few years ago he said the probability of a Maunder Minimum re-occurring was 8%. Consequently Lockwood: "We found a significant relationship between the occurrence of cold winters in Europe and solar activity.ď The probable mechanism is the change in the solar UV radiation, which has an influence of the temperature gradient, ozone formation, and the winds in the stratosphere. This in turn disrupts the Jetstream in the northern hemisphere, leads to blocking weather patterns, and to easterly winds that lead to cold spells.
Already in our September report 2013 concerning the publication by Ermolli et al we pointed to a much more strongly variable UV radiation within a solar cycle then what is observed in the overall total radiation (factor 2-6). Weaker solar cycles have a considerably weaker UV radiation and lead to cold periods in the northern hemisphere. Unfortunately the measurements can no longer be continued because the SORCE satellite, which measures the radiation of the sun above the atmosphere, has stopped functioning because of battery damage, and so the cold winters that lie ahead will have to be endured without satellite UV measurements.
And we introduce a third publication. In it Friedrich Steinhilber and Jurg Beer are venturing a look at the next 500 years using two different methods. Here, phi is a measure of solar activity. M marks the Maunder Minimum, D the Dalton Minimum and G the weaker Gleisberg Minimum of 1900: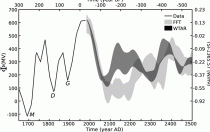 Enlarged
Other reading: wsj.com/news/8.
- See more at: http://notrickszone.com/2013/11/11/german-scientists-solar-cycle-24-points-to-dalton-or-maunder-like-minimum-boding-ill-for-a-climate-cooling/#sthash.72vXTSFA.dpuf
- See more at: http://notrickszone.com/2013/11/11/german-scientists-solar-cycle-24-points-to-dalton-or-maunder-like-minimum-boding-ill-for-a-climate-cooling/#sthash.72vXTSFA.dpuf
------
Not Welcome: UN climate summit in Poland greeted by 50,000 angry Poles rallying against UN

more than 50,000 enthusiastic Poles gathered in downtown Warsaw on Monday to celebrate National Independence Day, with millions more watching on live television, CFACT president David Rothbard was invited to the stage to deliver an impassioned address celebrating freedom and warning against the dangerous and oppressive climate agenda of the UN.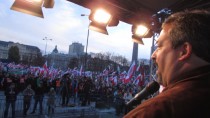 CFACT warns 50,000+ against UN climate agenda


Before what was one of the largest audiences to ever hear a speech denouncing UN global warming policies, Rothbard said he was honored to stand with the Poles in a "new battle for freedom against those who would use environmental and climate alarmism to steal away our liberties and give international bureaucrats control over our energy sources, our daily lives, our prosperity, and our national sovereignty."
The address was carried live on national television and covered by a large number of international media outlets. It took place just as the UN was kicking off its COP19 climate conference a few kilometers away.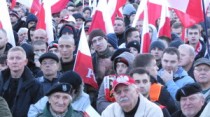 Rothbard noted that at last year's COP meeting, UN climate chief Christiana Figueres said that what the UN was undertaking is "a complete economic transformation of the world."
"This is not good news for those who love freedom, and it is not good news for Poland," Rothbard asserted.
"Standing next to a CFACT banner that read "No to UN Climate Hype" in Polish and surrounded by throngs who wore CFACT stickers bearing the same message in Poland's distinctive red and white, the crowd gave hearty consent to Rothbard's message.
He also quoted from the Book of Proverbs that "the wicked flee when no one pursues, but the righteous are bold as a lion," noting that "the environmentalists and the bureaucrats don't want to debate these issues because they know they are deceiving the world."
"There hasn't been any global warming in more than 15 years," he noted, "and this is simply an excuse for more government oppression."
"We stand for freedom. We stand for opportunity. We stand for our families. And we stand for a strong and prosperous future. Together let us be bold as a lion," he concluded.
The rally took place one day after CFACT keynoted a climate policy conference in Warsaw co-sponsored by Solidarity, the Institute for Globalization, and other Polish and European NGOs. There, members of the European Parliament, along with representatives from the U.S., Italy, Sweden, Hungary, and Poland formally signed the "Warsaw Declaration" calling on the UN to discontinue work on a new treaty until a genuine "scientific consensus is reached on the phenomenon of so-called global warming."
The UN made a big mistake choosing Poland to host its global warming treaty summit. The Poles see right through warming propaganda. Enduring generations of socialism has left them with a deep distaste for propaganda and bureaucratic control. Polish prosperity was blocked first by war and then by ideology. Poland deserves freedom and prosperity and knows it can't move forward without energy. The brave Poles are not about to cede their sovereignty to UN control.
Polish feelings about the UN climate treaty echo what Ronald Reagan and Margaret Thatcher told the Soviet Union. "Let Poland be Poland!"
CFACT, which has been an officially recognized NGO at UN conferences for nearly two decades, will be in Warsaw throughout the two weeks of COP 19. Its delegation will be headlined by Apollo VII astronaut Col. Walter Cunningham who is highly critical of UN climate science.

Nov 02, 2013
Obama uses executive order in sweeping takeover of nation's climate change policies
See also here a story on how The Media remains silent as Obama makes another big power grab.
----------
Published November 01, 2013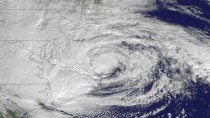 Satellite image from October 2012 of superstorm Sandy on the eastern seaboard. Many say the monster storm was a result of climate change while skeptics say that weather patterns give no real indication of changes in the climate. NOAA
Through the stroke of a pen, President Obama on Friday used his executive powers to elevate and take control of climate change policies in an attempt to streamline sustainability initiatives and potentially skirt legislative oversight and push a federal agenda on states.
The executive order establishes a task force of state and local officials to advise the administration on how to respond to severe storms, wildfires, droughts and other potential impacts of climate change. The task force includes governors of seven states all Democrats and the Republican governor of Guam, a U.S. territory. Fourteen mayors and two other local leaders also will serve on the task force.
All but three of those appointed are Democrats. The task force will look at federal money spent on roads, bridges, flood control and other projects. It ultimately will recommend how structures can be made more resilient to the effects of climate change, such as rising sea levels and warming temperatures.
"We're going to need to get prepared. And thatís why this plan will also protect critical sectors of our economy and prepare the United States for the impacts of climate change that we cannot avoid," Obama said last June, when he first launched a Climate Action Plan.
"States and cities across the country are already taking it upon themselves to get ready...And we'll partner with communities seeking help to prepare for droughts and floods, reduce the risk of wildfires, protect the dunes and wetlands that pull double duty as green space and as natural storm barriers."
The White House added in Friday's statement that even as the United States acts to curb carbon pollution, officials also need to improve how states and communities respond to extreme weather events like last year's Superstorm Sandy. Building codes must be updated to address climate impacts and infrastructure needs to be made more resilient.
Critics of the order charge, among other things, that it groups together everything from forest fires to heavy rains as evidence of climate change - despite scientific testimony from both sides of the debate.
"The devil is in the details," a former senior government official said to FoxNews.com earlier this month, referring to a recently released study that proposed the streamlining between federal and state agencies. "Who gets to decide what sustainability is? Or what its outcome means?"
The chair of the study, Thomas Graedel, a professor of chemical engineering, geology and geophysics, and currently head of the Center for Industrial Ecology at Yale University, said at the time of its release that the study "provides encouragement for parts of the government to get together on projects of concern. There is no formula for how it all works out."
Officials for the EPA released a statement on Friday afternoon praising the order, saying it will be vital in their attempts to help local-level communities "adapt to a changing climate."
"To meet our mission of protecting public health and the environment, EPA must help communities adapt to a changing climate," EPA Administrator Gina McCarthy said in the statement. "These Implementation Plans offer a roadmap for agency work to meet that responsibility, while carrying out President Obama's goal of preparing the country for climate-related challenges."
But critics say the order has the potential to do much more, including:
* Hold back money to communities unless they meet new standards on various items and agendas set by the federal government. For example, using new policies that will encourage communities to rebuild to pre-disaster standards instead of stronger ones.
* A possible mandate to bring sweeping new changes to land use and resource policies.
* More control and refocus of climate change data and use of it to push a new agenda into every priority of the federal government.
* Create the need for a new internal organization for coordination efforts during a government sequestration and possible future shutdowns.
The task force includes Govs. Jerry Brown of California, Jay Inslee of Washington and Neil Abercrombie of Hawaii, as well as Delaware Gov. Jack Markell, Maryland Gov. Martin O'Malley, Vermont Gov. Peter Shumlin and Illinois Gov. Pat Quinn. The panel also includes several big-city mayors, including Los Angeles Mayor Eric Garcetti, Philadelphia Mayor Michael Nutter and Houston Mayor Annise Parker. All three are Democrats.
The task force builds on efforts Obama announced for his Climate Action Plan last June, which include the first-ever limits on climate pollution from new and existing power plants.
The plan is intended to reduce domestic carbon dioxide emissions by 17 percent between 2005 and 2020. The plan also would boost renewable energy production on federal lands, increase efficiency standards and prepare communities to deal with higher temperatures. The 12 hottest years on record all have occurred in the past 15 years.
Climate change skeptics, as well as scientists, argue there is no proven link between extreme events and global warming. Indeed, Roger Pielke, Jr., a professor of environmental studies at the Center for Science and Technology Policy Research who has called for climate mitigation, argued recently that—heat waves aside—there is little evidence for an increase in extreme events themselves. John Christy testified to the Senate however that when you consider state all-time heat records, 38 of them occurred before 1960 and 23 in the 1930s and there have been more cold records than warm record since the 1940s. Also for long term 90 year stations, last year's heat wave was merely a blip compared to the 1930s.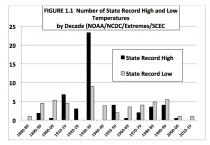 Others find small links between climate change and some specific natural disasters, saying storms like Sandy were worsened by rising sea levels. Not true the main culprit was angle of attack and high tide and full moon which added 6 feet to the storm surge. But for other events, notably droughts and downfalls, there's no evidence of a global warming effect.
A Sept. 2012 editorial in the prestigious journal Nature urged caution in drawing any such connection: "Better models are needed before exceptional events can be reliably linked to global warming."
Fox News' George Russell and The Associated Press contributed to this report.