Mar 07, 2020
The Real New York Times, Or A Parody?
Feb 13, 2020
What if Hydraulic Fracking was Banned?
Global Accountability Series 2010
The recent growth in U.S. oil and natural gas production has been a boon to both our economy and the environment. From new jobs and higher tax revenues to lower energy costs and reduced greenhouse gas emissions, there is no question the shale energy renaissance has greatly improved America's energy outlook.
Recently, however, some candidates for elected office have pledged to ban the very technology that has enabled this boom - hydraulic fracturing (HF), or fracking. This raises an important question: what would happen to American jobs and the economy if hydraulic fracturing was banned? In this report, the Global Energy Institute has undertaken the modeling and analysis to answer that question.
Simply put, a ban on fracking in the United States would be catastrophic for our economy.
Our analysis shows that if such a ban were imposed in 2021, by 2025 it would eliminate 19 million jobs and reduce U.S. Gross Domestic Product (GDP) by $7.1 trillion. Job losses in major energy producing states would be immediate and severe; in Texas alone, more than three million jobs would be lost. Tax revenue at the local, state, and federal levels would decline by nearly a combined $1.9 trillion, as the ban cuts off a critical source of funding for schools, first responders, infrastructure, and other critical public services.
Energy prices would also skyrocket under a fracking ban. Natural gas prices would leap by 324 percent, causing household energy bills to more than quadruple. By 2025, motorists would pay twice as much at the pump for gasoline as oil prices spike to $130 per barrel. The report also details the impacts that a ban would have on seven states, including five that are major energy producers - Colorado, New Mexico, Ohio, Pennsylvania, and Texas.
Not surprisingly, the results would devastate each of those energy states' economies. But a fracking ban's impacts would be felt well beyond energy producing regions, so the report also examines the impacts of a ban on the economies of Michigan and Wisconsin, which are large manufacturing states. There, too, the results are significant. For example, cost-of-living impacts to residential consumers in Wisconsin and
Michigan would grow by approximately $4,700 and $5,100 respectively between 2021 and 2025.
Under a fracking ban, less domestic energy production also means less energy security, as the United States once again returns to a heavy dependence on imported oil and natural gas. This would quickly reverse America's rise as a major oil and natural gas exporter, an achievement that has reduced our trade deficit while helping our allies and trading partners enhance their energy security, reduce emissions, and ensure the energy they purchase is produced under one of the most stringent environmental regulatory regimes in the world.
Additionally, increased prices for natural gas would undermine the progress we have made in reducing greenhouse gas emissions. Since 2005, the increased use of natural gas has helped reduce U.S. carbon dioxide emissions by more than 2.8 billion metric tons1 roughly the equivalent of annual emissions from Australia, Brazil, Canada, France, Germany, and the United Kingdom combined.
In short, America's energy revolution is delivering enormous rewards for jobs, the economy, and the environment. We must recognize these achievements and expand the benefits of U.S. shale to even more American families, while ensuring that progress achieved to date is not suddenly reversed by an ill-advised ban on hydraulic fracturing.
19 MILLION JOBS LOST
Starting in 2021, a ban would cost the economy 4 million jobs in 2021 alone, and 19 million jobs by 2025.
GASOLINE PRICES DOUBLE
Consumers would pay 37 percent more for petroleum products such as gasoline and diesel in 2021, with prices continuing to rise through 2025, when they would be roughly double what they are today. This is largely driven by skyrocketing oil prices that will exceed $130 per barrel in 2025.
NATURAL GAS PRICES INCREASE 324 PERCENT
The price for U.S. natural gas - currently the largest source of power generation in the country - would surge, increasing costs for American families, businesses, and power generators. Our analysis finds that natural gas prices would be $12.30 per million British thermal unit (MMBtu) in 2025, an increase of 324 percent over the baseline or the Business As Usual (BAU) scenario.
HOUSEHOLD POWER PRICES QUADRUPLE
U.S. households would pay over four times more for their electricity in 2025, driven in large part by rising natural gas prices.
HIGHER OVERALL COST OF LIVING
Through 2025, consumers would pay $5,661 more per capita in higher prices for energy and other goods and services. Over the same period, nationwide household incomes would fall by $3.7 trillion, leaving consumers to pay higher bills with less income.
NEARLY $1.9 TRILLION IN LOST TAX REVENUE
Local, state and Federal tax revenues would decline by nearly $1.9 trillion through 2025.
$7.1 TRILLION LOSS OF GDP
GDP would immediately decline by $523 billion in 2021 relative to a world where the shale revolution is allowed to continue. This decline in GDP escalates to $2.3 trillion in lost GDP in 2025 - a loss of 11 percent of our 2018 GDP ($20.5 trillion). Through 2025, GDP would decline by $7.1 trillion.
ENERGY AND MANUFACTURING DEVASTATED
In this report, we take a closer look at five states with large energy economies, including Ohio, Pennsylvania, Colorado, Texas, and New Mexico, and two other states with significant manufacturing sectors, Michigan and Wisconsin. Below is a snapshot that a ban on hydraulic fracturing would have on these states in 2025 due to higher prices for petroleum products, natural gas, and electricity.
INCREASED IMPORTS AND REDUCED ENERGY SECURITY
A ban on hydraulic fracturing would be a geopolitical setback for the United States, which would return to reliance on international suppliers of oil and natural gas, including Russia and members of OPEC, giving these countries greater clout in international energy markets. Higher global prices because of reduced U.S. production would benefit our economic and geopolitical competitors and cede valuable market share to countries like Venezuela, all at a time when demand for oil and natural gas is set to grow considerably around the world, according to the International Energy Agency (IEA).
-----------
This analysis is supported by these studies: here and here.
Feb 05, 2020
Allan MacRae's Summary of Recent Posts
"To embrace the possibilities of tomorrow we must reject the perennial prophets of doom and their predictions of the Apocalypse. They are the heirs of yesterday's foolish fortune tellers, and they want to see us do badly but we won't let that happen. They predicted an overpopulation crisis in the 1960s, mass starvation in the 70s, and an end of oil in the 1990s. These alarmists always demand the same thing: absolute power to dominate, transform and control every aspect of our lives."
- US President Donald Trump, World Economic Forum, Davos, 21 January 2020
I believe this quote will define the Trump Presidency, in much the same way that Franklin Roosevelt trumpeted "A day of infamy: and Winston Churchill extolled "Our finest hour".
Because we are at war, as surely as Britain was in 1939 and the USA was in 1941. And this war is for our democracies and our freedoms. It is abundantly clear that the global warming/climate change scam was never about the climate - it was always a smokescreen, a false front for a Marxist takeover of our democracies - the end of freedom.
- Allan M.R. MacRae
---------------
See Alan's latest post entitled: The Catastrophic Anthropogenic Global Warming (CAGW) and the Humanmade Climate Change Crises are Proved False
-----------------------
By Allan MacRae
The current climate hysteria is a well-funded global political campaign, conducted by the wolves to stampede the sheep. Why now? Because the global warming scam will soon come tumbling down, where even the most devoted warmist acolytes will realize they have been duped. How will this happen?
The failed catastrophic very-scary catastrophic global warming (CAGW) hypothesis, which ASSUMES climate is driven primarily by increasing atmospheric CO2 caused by fossil fuel combustion, will be clearly disproved because fossil fuel combustion and atmospheric CO2 will continue to increase, CO2 albeit at a slower rate, while global temperatures cool significantly. This global cooling scenario has already happened from ~1940 to 1977, a period when fossil fuel combustion rapidly accelerated and atmospheric temperature cooled - that observation was sufficient to disprove the global warming fraud many decades ago.
Contrary to global warming propaganda, CO2 is clearly NOT the primary driver of century-scale global climate, the Sun is - the evidence is conclusive and we've known this for decades.
--------------

In June 2015 Dr. Nir Shaviv gave an excellent talk in Calgary - his slides are posted here.
Slides 24-29 show the strong relationship between solar activity and global temperature.
Here is Shaviv's 22 minute talk from 2019 summarizing his views on global warming: Science Bits, Aug 4, 2019
At 2:48 in his talk, Shaviv says:
"In all cores where you have a high-enough resolution, you see that the CO2 follows the temperature and not vice-versa. Namely, we know that the CO2 is affected by the temperature, but it doesn't tell you anything about the opposite relation. In fact, there is no time scale whatsoever where you see CO2 variations cause a large temperature variation.
At 5:30 Shaviv shows a diagram that shows the close correlation of a proxy of solar activity with a proxy for Earth's climate. More similar close solar-climate relationships follow.
Shaviv concludes that the sensitivity of climate to increasing atmospheric CO2 is 1.0C to 1.5C/(doubling of CO2), much lower than the assumptions used in the computer climate models cited by the IPCC, which greatly exaggerate future global warming.
At this low level of climate sensitivity, there is NO dangerous human-made global warming or climate change crisis.
------------
Willie Soon's 2019 video reaches similar conclusions - that the Sun is the primary driver of global climate, and not atmospheric CO2.
Willie Soon's best points start at 54:51, where he shows the Sun-Climate relationship and provides his conclusions.
There is a strong correlation between the Daily High Temperatures and the Solar Total Irradiance (54:51 of the video):
... in the USA (55:02), Canada (55:16), and Mexico (55:20).
---------------

Link
Solar Total Irradiance is now close to 1360 W/m2, close to the estimated lows of the very-cold Dalton and Maunder Minimums. Atmospheric temperatures should be cooling in the near future -maybe they already are.
We know that the Sun is at the end Solar Cycle 24 (SC24), the weakest since the Dalton Minimum (circa 1800), and SC25 is also expected to be weak. We also know that both the Dalton Minimum and the Maunder Minimum (circa 1650-1700) were very cold periods that caused great human suffering.
I wrote in an article published 1Sept2002 in the Calgary Herald that stated:
"If [as we believe] solar activity is the main driver of surface temperature rather than CO2, we should begin the next cooling period by 2020 to 2030."
That prediction was based of the end of the Gleissberg Cycle of ~80-90 years, dated from 1940, the beginning of the previous global cooling period from ~1940 to 1977.
Since about 2013, I have published that global cooling will start by 2020 or earlier. Cooling will start sporadically, in different locations.

Planting of grains in the Great Plains of North America was one month late in both 2018 and 2019. Summer was warm in 2018 and the grain crop was successful. However spring was late and wet in 2019, and much of the huge USA corn crop was never planted due to wet ground; then the summer was cool and winter snow came early, resulting in huge crop failures.
Thousands of record cold temperatures were experienced in North America in October 2019, and temperatures in Britain and parts of northern Europe were also extremely cold.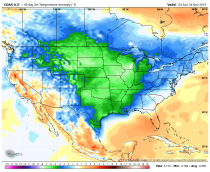 Enlarged


Enlarged
Recent analysis of the 2019 harvest failure is here:
THE REAL CLIMATE CRISIS IS NOT GLOBAL WARMING, IT IS COOLING, AND IT MAY HAVE ALREADY STARTED
By Allan M.R. MacRae and Joseph D'Aleo, October 27, 2019

and here.
GROWING SEASON CHALLENGES FROM START TO FINISH
By Joseph D'Aleo, CCM, AMS Fellow, Co--‐chief Meteorologist at Weatherbell.com, Nov 18, 2019
Bundle up - it's getting colder out there.