Mar 06, 2015
Ontario hears truth; EPA's McCarthy Can't Answer Climate Questions; Deception From Joe Romm
Daily Caller
Climate Change: Gina McCarthy, head of the EPA, can't answer basic questions about global temperatures, climate models or numbers of hurricanes. She didn't know being a global warming zealot requires knowledge of math.
If the science of climate change was "settled," you'd think one of the generals in the war on global warming would have memorized the numbers that point to our planetary doom from a menace the administration says is a greater threat than terrorism.
But McCarthy was asked some pretty simple questions Wednesday at a Senate hearing Wednesday on her request for $8.6 billion to help fight the claimed imminent doom of climate change, and her performance didn't help her case.
One of the questions involved droughts and the claim that their frequency has increased due to warming that is said to be caused by mankind's increased production of greenhouse gas, such as carbon dioxide, the basis for all life on Earth but judged by the EPA to be a pollutant.
"Let me ask you this," said Sen. Jeff Sessions, R-Ala., inquired of McCarthy. "There was an article from Mr. (Bjorn) Lomborg… from the Copenhagen Institute. He says, along with Dr. (Roger) Pielke from Colorado, that we've had fewer droughts in recent years. Do you dispute that?"
The seemingly clueless McCarthy pathetically responded that she didn't "know in what context he's making statements like that." Context? Truth has its own context, and the inconvenient truth that McCarthy wasn't aware of, or didn't want to face, is that Pielke and Lomborg are right.
Pielke, a professor at the University of Colorado, told the Senate environment and public works subcommittee in July 2013 that droughts have "for the most part become shorter, less frequent and cover a smaller portion of the U.S. over the last century." Globally, he said, "there has been little change in drought over the last 60 years."
Sessions also asked McCarthy if we've had more or fewer hurricanes in the last decade. It was another question she said she couldn't answer because "it's a very complicated issue." Well, no, not unless basic math is a complicated issue. Sessions noted that we have in fact gone nearly a decade without a Category 3 storm or higher making landfall in the U.S.
The last hurricane to hit America as a Category 3 or higher was Wilma, which struck Florida on Oct. 24, 2005. Superstorm Sandy had wind speeds barely reaching Category 1 status when it slammed into New Jersey in 2012 and wreaked havoc.
More from CEI here.
-----------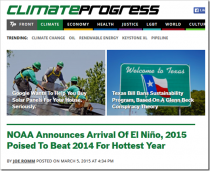 Joe Romm
More misdirection from Joe Romm and NOAA.
The National Oceanic and Atmospheric Administration (NOAA) has announced that the long-awaited El Nino has arrived. NOAA's Climate Prediction Center says we now have "borderline, weak El Nino conditions," and there is a "50-60% chance that El Nino conditions will continue" through the summer.
An El Nino is "characterized by unusually warm ocean temperatures in the Equatorial Pacific," as NOAA has explained. That contrasts with the unusually cold temps in the Equatorial Pacific during a La Nina. Both are associated with extreme weather around the globe (though a weak El Nino like this will tend to have a muted effect). El Ninos tend to set the record for the hottest years, since the regional warming adds to the underlying global warming trend. La Nina years tend to be below the global warming trend line.
If even a weak El Nino does persist through summer, 2015 will almost certainly top 2014 as the hottest year on record. But there is a good chance it will do so in any case (unless a La Nina forms). After all, 2014 was the hottest year on record even though there was no official El Nino during the year. It's just hard to stop the march of human-caused global warming - without actually sharply cutting greenhouse gas emissions.
The reality is that we have had El Nino conditions since last April, which was why 2014 was warmer than average.


ENSO MEI
There were many warnings that El Nino would strengthen over the NH winter, which is the norm. Whether it continues in its current weak state for the next few months remains to be seen. However, what is noticeable is that this episode follows on from a similar one in 2012.
The odds are that La Nina will soon follow.
Romm then goes on to show this graph, supposedly from NASA, purporting to show that there has been no significant change in temperature trends since 1998.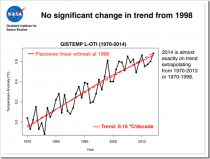 Enlarged

The idea is frankly laughable, and it is difficult to believe that even GISS would attempt such nonsensical deception. Even finishing at the El Nino year of 2014, GISS's own data show that temperature trends have been flat since 2001.
Mar 03, 2015
Statement by Dr. Willie Soon
By Willie Soon
In recent weeks I have been the target of attacks in the press by various radical environmental and politically motivated groups. This effort should be seen for what it is: a shameless attempt to silence my scientific research and writings, and to make an example out of me as a warning to any other researcher who may dare question in the slightest their fervently held orthodoxy of anthropogenic global warming.
I am saddened and appalled by this effort, not only because of the personal hurt it causes me and my family and friends, but also because of the damage it does to the integrity of the scientific process. I am willing to debate the substance of my research and competing views of climate change with anyone, anytime, anywhere. It is a shame that those who disagree with me resolutely decline all public debate and stoop instead to underhanded and unscientific ad hominem tactics.
Let me be clear. I have never been motivated by financial gain to write any scientific paper, nor have I ever hidden grants or any other alleged conflict of interest. I have been a solar and stellar physicist at the Harvard-Smithsonian Center for Astrophysics for a quarter of a century, during which time I have published numerous peer-reviewed, scholarly articles. The fact that my research has been supported in part by donations to the Smithsonian Institution from many sources, including some energy producers, has long been a matter of public record. In submitting my academic writings I have always complied with what I understood to be disclosure practices in my field generally, consistent with the level of disclosure made by many of my Smithsonian colleagues.
If the standards for disclosure are to change, then let them change evenly. If a journal that has peer-reviewed and published my work concludes that additional disclosures are appropriate, I am happy to comply. I would ask only that other authors - on all sides of the debate - are also required to make similar disclosures. And I call on the media outlets that have so quickly repeated my attackers' accusations to similarly look into the motivations of and disclosures that may or may not have been made by their preferred, IPCC-linked scientists.
I regret deeply that the attacks on me now appear to have spilled over onto other scientists who have dared to question the degree to which human activities might be causing dangerous global warming, a topic that ought rightly be the subject of rigorous open debate, not personal attack. I similarly regret the terrible message this pillorying sends young researchers about the costs of questioning widely accepted "truths."
Finally, I thank all my many colleagues and friends who have bravely objected to this smear campaign on my behalf and I challenge all parties involved to focus on real scientific issues for the betterment of humanity.
See more here.
Mar 01, 2015
Global Warming: Follow the Money
by HENRY PAYNE February 25, 2015 4:00 AM
It isn't the fossil-fuel companies that are polluting climate science. Citing documents uncovered by the radical environmental group Greenpeace, a group of media outlets - including the New York Times and the Boston Globe - have attacked global-warming skeptic Wei-Hock (Willie) Soon for allegedly hiding $1.2 million in contributions from "fossil fuel companies." The articles were the latest in an ongoing campaign by greens and their media allies to discredit opponents of the warming agenda.
But in allying themselves closely with activist groups with which they share ideological goals, reporters have fundamentally misled readers on the facts of global-warming funding. In truth, the overwhelming majority of climate-research funding comes from the federal government and left-wing foundations. And while the energy industry funds both sides of the climate debate, the government/foundation monies go only toward research that advances the warming regulatory agenda. With a clear public-policy outcome in mind, the government/foundation gravy train is a much greater threat to scientific integrity. Officials with the Smithsonian Institution which employs Dr. Soon told the Times it appeared the scientist had violated disclosure standards, and they said they would look into the matter. Soon, a Malaysian immigrant, is a widely respected astrophysicist, and his allies came quickly to his defense. "It is a despicable, reprehensible attack on a man of great personal integrity," says Myron Ebell, the director of Global Warming and International Environmental Policy for the Competitive Enterprise Institute, who questioned why media organizations were singling out Soon over research funding.
Indeed, experts in the research community say that it is much more difficult for some of the top climate scientists - Soon, Roger Pielke Jr., the CATO Institute's Patrick Michaels, MIT's now-retired Richard Lindzen - to get funding for their work because they do not embrace the global-warming fearmongering favored by the government-funded climate establishment. "Soon's integrity in the scientific community shines out," says Ebell. "He has foregone his own career advancement to advance scientific truth. If he had only mouthed establishment platitudes, he could've been named to head a big university [research center] like Michael Mann."
Mann is the controversial director of Pennsylvania State's Earth System Science Center. He was at the center of the 2009 Climategate scandal, in which e-mails were uncovered from climatologists discussing how to skew scientific evidence and blackball experts who don't agree with them. Mann is typical of pro-warming scientists who have taken millions from government agencies. The federal government - which will gain unprecedented regulatory power if climate legislation is passed - has funded scientific research to the tune of $32.5 billion since 1989, according the Science and Public Policy Institute. That is an amount that dwarfs research contributions from oil companies and utilities, which have historically funded both sides of the debate. Mann, for example, has received some $6 million, mostly in government grants - according to a study by The American Spectator - including $500,000 in federal stimulus money while he was under investigation for his Climategate e-mails. Despite claims that they are watchdogs of the establishment, media outlets such as the Times have ignored the government's oversized role in directing research. And they have ignored millions in contributions from left-wing foundations ' contributions that, like government grants, seek to tip the scales to one side of the debate.
Last summer, a minority staff report from the U.S. Senate Committee on Environment and Public Works gave details on a "Billionaire's Club" - a shadowy network of charitable foundations that distribute billions to advance climate alarmism. Shadowy nonprofits such as the Energy Foundation and Tides Foundation distributed billions to far-left green groups such as the Natural Resources Defense Council, which in turn send staff to the EPA who then direct federal grants back to the same green groups. It is incestuous. It is opaque. Major media ignored the report. Media outlets have also discriminated in their reporting on Freedom of Information Act (FOIA) requests.
The Times trumpeted Greenpeace FOIA requests revealing Soon's benefactors, yet it has ignored the government's refusal of FOIA filings requesting transparency in pro-warming scientists' funding. The Competitive Enterprise Institute, for example, has submitted FOIA requests asking for the sources of outside income of NASA scientist James Hansen (a key ally of Al Gore). The government has stonewalled, according to Ebell. Media reporting further misleads readers in suggesting that "fossil fuel" utilities such as the Southern Company (a $409,000 contributor to Soon's research, according to the Times) seek only to undermine climate science. In truth, energy companies today invest in solar, biomass, and landfill facilities in addition to carbon fuels. Companies such as Duke Energy, Exelon Corporation, NRG Energy, and Shell have even gone so far as to join with green groups in forming the U.S. Climate Action Partnership - an industry/green coalition that wants to "enact strong national legislation to require significant reductions of greenhouse gas emissions."
This alliance worries a scientific community that is hardly unanimous that warming is a threat. Continued funding of contrarians such as Soon and Lindzen is essential to getting the best scientific research at a time when the EPA wants to shut down America's most affordable power source, coal - at enormous cost to consumers. The lack of warming for over a decade (witness this winter's dangerous, record-breaking low temperatures) and Climategate are proof that the establishment has oversold a warming crisis. Attempts by the media to shut up their critics ignore the real threat to science.
Henry Payne is auto columnist for the Detroit News, an editorial cartoonist with United Feature Syndicate, and a regular contributor to National Review, the Wall Street Journal, and other publications.
--------
Herein lies the major issue. In September 2014, SEPP produced a handout "Climate Fears and Finance" in which SEPP calculated that, based on US government reports, from Fiscal Year (FY) 1993 to FY 2013 total US expenditures on climate change amounted to more than $165 Billion. More than $35 Billion was identified as climate science. The Federal government has not produced a systematic accounting since FY 2013.
For these massive expenditures, we have expensive climate models that grossly overestimate current temperature trends ( of no warming). Virtually nothing has gone to understanding the natural causes of climate change, a glaring omission because climate change has been occurring for hundreds of millions of years - long before humanity existed. As Fred Singer pointed out, each of the five major reports by the UN Intergovernmental Panel on Climate Change (IPCC) have major defects in evidence and/or logic. Americans are getting a very poor return on these massive expenditures.