Dec 03, 2013
Michael Economides, International Energy Expert, Dead at 64
Robert Bryce, Energy Tribune Tribute
Michael J. Economides, an international authority on petroleum engineering, died late Saturday evening while onboard a jetliner bound for Santiago, Chile. He was 64.
A voluble and colorful character, the fact that Economides perished while traveling the globe is hardly surprising. Over the course of his career, he did technical or managerial work in more than 70 countries. He was constantly on the move, working as a professor, speaker, and consultant. He authored or co-authored more than a dozen books as well as more than 300 journal papers and articles on a myriad of subjects related to oil and gas production, including hydraulic fracturing, and reservoir engineering. As the founder and editor-in-chief of Energy Tribune, a Houston-based online publication, he also wrote dozens of articles on the geopolitics of energy.
His career in the energy sector included jobs at Celanese Chemical Company as a process engineer, Shell Oil as a reservoir engineer, and the University of Alaska as an assistant professor of petroleum engineering. In the 1980s, he worked for Dowell Schlumberger. In the early 1990s, he taught petroleum engineering at Leoben Mining University in Leoben, Austria. In the mid-1990s, he was the founding director and chief scientist of the Global Petroleum Research Institute at Texas A&M University. In 1998, he became a professor of chemical engineering at the University of Houston, a position he held until his death. As a consultant, he worked for some of the biggest energy companies on earth, including Chevron, Shell, and Petrobras. He spent a great deal of time working in both Russia and China.
Economides loved to antagonize the Green Left. He was a frequent and vocal critic of the pundits who promote global warming. For his effort, he was named to the "climate denier list," a badge he gladly embraced. He even offered a cash prize on multiple occasions to anyone who could definitively prove that humans were causing climate change. He loved to write about Iran, Russia, and Venezuela, and their leaders. He called the leaders of those three countries the "axis of energy militants."
Now to the particulars: Economides was born on September 6, 1949, in Famagusta, Cyprus. He arrived in the US on July 20, 1969 to attend the University of Kansas on a Fulbright Scholarship. He earned a BS and MS in chemical engineering from the University of Kansas and went on to get a PhD in petroleum engineering from Stanford University in 1984. He became a US citizen in 1982.
Michael married Christine Ehlig in 1976 in Lawrence, Kansas. Christine is a distinguished petroleum engineer in her own right. Like her husband, she received an MS in chemical engineering from the University of Kansas. And like him, she earned a PhD in petroleum engineering at Stanford, but she got hers in 1979, five years earlier than he did. Christine Ehlig-Economides now teaches at Texas A&M University, where she holds the Albert B. Stevens endowed chair in petroleum engineering.
Economides is survived by his wife, Christine, as well as his brothers, Dimitris, of Rhodes, Greece; Charalampous, of Athens, Greece; and Andreas, of Nicosia, Cyprus. He is also survived by two sons, John and Alexander. John lives in San Francisco, California, and Alexander lives in Houston, Texas with his wife Elisabeth.
No date has been set for a memorial service. As I'm writing this on Sunday evening, Economides' body remains in Chile and it's not clear when it will be returned to the US.
I worked with Economides from 2006 to 2010 at Energy Tribune. I was attracted to him by his sense of humor and by his technical knowledge. I first heard his name in about 2004, when he was quoted in a newspaper article as saying something to the effect of "not even the cows would believe that." In 2006, when he told me he wanted to go into publishing, I warned him that he could make a small fortune in publishing, but only if he started with a big one. We went forward despite the costs.
During my years working at Energy Tribune as the publication's managing editor, it became obvious that Economides knew more about oil and gas production and oilfield technology than anyone I'd ever met. He could talk about nearly any subject on energy, do so at length, and explain the mathematics behind it. He was constantly working, constantly traveling. And while those discussions were often illuminating, I will also say that frankly, Michael Economides could also be one of the biggest bullshit artists I've ever met; he always had a boast, a joke, or a funny story. After delivering one or more of those in rapid succession, he'd tilt his head back, and his entire body would shake with laughter.
And then, he'd offer an excuse in his familiar accent - "leeesen" he would say, or, "I am beezy" - as to why he couldn't talk any longer. He had to do a speech, a lecture, or catch a plane to somewhere and he had to leave immediately.
Being around Economides could be great fun. It could also be maddening. But it was never boring and seldom quiet.
I last spoke to him about six weeks ago. I was traveling through the Houston airport when my mobile phone rang. I recognized the voice immediately. Economides was on fire (a common occurrence) to write a book about the energy politics in Israel. He and Christine had been doing some work for an energy company working in Israel and he thought the book was a great idea. (Again, a common occurrence.) I agreed that Israel's new-found wealth of offshore natural gas was an interesting development. But I went on to explain that I was busy finishing my own book and that we should discuss the Israel idea further when I had more time. We never had that opportunity.
See more.
Icecap Note: Michael was a speaker at my suggestion at one of the first ICCC Climate Conferences. He and my daughter, Donna, working on her doctorate in Russian Energy/Politics co-authored the book From Soviet to Putin and Back. He was a brilliant man and always on the go. I never knew which country he was calling from. He was an expert in Energy and a well informed skeptic. We will miss him.
Nov 29, 2013
132 countries exit Warsaw climate talks
Thank God.
Poor countries walk out of UN climate talks as compensation row rumbles on, we heard from the Guardian and many others earlier in the morning. These 132 countries were apparently expecting that they would be paid "compensations for extreme weather events"". It seems that they took this meme (so radical one that we haven't even heard much about it in the richer parts of the world) for granted and already demanded a new U.N. bureaucratic body to 'oversee' the compensatory payments.
Many of the countries are governed by shamans who believe that thunderstorms are created by witches. Almost all of these countries are dominated by folks who just don't grasp science, not even at the elementary level. The IPCC was produced to support these beliefs that Exxon creates hurricanes, McDonald's creates typhoons, the Great Devil is responsible for the floods, and the Little Devil (renamed to the rabid dog by the mullah-in-chief today) brought the wildfires to the world. And everyone will be living in a happy paradise once the assets of these villains are confiscated and redistributed.
Well, science says something different. All these weather events much like the Earth and the Solar System have been around for 4.6 billion years. Up to noisy fluctuations and some potentially understandable, mild, regular, persistent climate cycles, not necessarily periodic ones, nothing has detectably changed about the frequency or probabilistic distributions of these events in the last several thousands of years. If we improve the theory by the glaciation cycles, nothing has changed for one million of years.
The qualitative nature of the climate has been really the same for 4.6 billion years although in details, it was always changing. But there has never been an era in which extreme weather events were absent. There has never been any "paradise on Earth". And the weather without extreme events wouldn't be a paradise, anyway. Many of the higher life forms wouldn't even arise and evolve in such a "paradise".
A part of the climate industry is powered by greedy opportunists like Al Gore who once saw the opportunity to benefit. Many of the others are however classic leftwingers who just believe in the redistribution schemes. They don't know whether they believe that the richer nations are "guilty"; they want to believe it because it's their strategy to benefit.
Nothing essential has changed about these international conferences on redistribution for decades, perhaps centuries. Richard Feynman once attended such a conference (the overall theme was "fragmentation of knowledge") which has used the "threats of war" to advocate a global wealth redistribution. He wrote:
There was a special dinner at some point, and the head of the theology place, a very nice, very Jewish man, gave a speech. It was a good speech, and he was a very good speaker, so while it sounds crazy now, when I'm telling about it, at that time his main idea sounded completely obvious and true. He talked about the big differences in the welfare of various countries, which cause jealousy, which leads to conflict, and now that we have atomic weapons, any war and we're doomed, so therefore the right way out is to strive for peace by making sure there are no great differences from place to place, and since we have so much in the United States, we should give up nearly everything to the other countries until we're all even. Everybody was listening to this, and we were all full of sacrificial feeling, and all thinking we ought to do this. But I came back to my senses on the way home.
The next day one of the guys in our group said, "I think that speech last night was so good that we should all endorse it, and it should be the summary of our conference."
I started to say that the idea of distributing everything evenly is based on a theory that there's only X amount of stuff in the world, that somehow we took it away from the poorer countries in the first place, and therefore we should give it back to them. But this theory doesn't take into account the real reason for the differences between countries that is, the development of new techniques for growing food, the development of machinery to grow food and to do other things, and the fact that all this machinery requires the concentration of capital. It isn't the stuff, but the power to make the stuff, that is important. But I realize now that these people were not in science; they didn't understand it. They didn't understand technology; they didn't understand their time.
The conference made me so nervous that a girl I knew in New York had to calm me down. "Look," she said, "you're shaking! You've gone absolutely nuts! Just take it easy, and don't take it so seriously. Back away a minute and look at what it is." So I thought about the conference, how crazy it was, and it wasn't so bad. But if someone were to ask me to participate in something like that again, I'd shy away from it like mad -I mean zero! No! Absolutely not! And I still get invitations for this kind of thing today.
When it came time to evaluate the conference at the end, the others told how much they got out of it, how successful it was, and so on. When they asked me, I said, "This conference was worse than a Rorschach test: There's a meaningless inkblot, and the others ask you what you think you see, but when you tell them, they start arguing with you!
Even worse, at the end of the conference they were going to have another meeting, but this time the public would come, and the guy in charge of our group has the nerve to say that since we've worked out so much, there won't be any time for public discussion, so we'll just tell the public all the things we've worked out. My eyes bugged out: I didn't think we had worked out a damn thing!
Finally, when we were discussing the question of whether we had developed a way of having a dialogue among people of different disciplines our second basic "problem" - I said that I noticed something interesting. Each of us talked about what we thought the "ethics of equality" was, from our own point of view, without paying any attention to the other guy's point of view. For example, the historian proposed that the way to understand ethical problems is to look historically at how they evolved and how they developed; the international lawyer suggested that the way to do it is to see how in fact people actually act in different situations and make their arrangements; the Jesuit priest was always referring to "the fragmentation of knowledge"; and I, as a scientist, proposed that we should isolate the problem in a way analogous to Galileo's techniques for experiments; and so on. "So, in my opinion," I said, "we had no dialogue at all. Instead, we had nothing but chaos!"
Of course I was attacked, from all around. "Don't you think that order can come from chaos?"
"Uh, well, as a general principle, or… I didn't understand what to do with a question like "Can order come from chaos?" Yes, no, what of it?
There were a lot of fools at that conference- pompous fools - and pompous fools drive me up the wall. Ordinary fools are all right; you can talk to them, and try to help them out. But pompous fools - guys who are fools and are covering it all over and impressing people as to how wonderful they are with all this hocus pocus - THAT, I CANNOT STAND! An ordinary fool isn't a faker; an honest fool is all right. But a dishonest fool is terrible! And that's what I got at the conference, a bunch of pompous fools, and I got very upset. I'm not going to get upset like that again, so I won't participate in interdisciplinary conferences any more.

Good that there was no IPCC half a century ago and that Feynman wasn't forced to attend the conference of these pompous fools because their pomposity and stupidity has grown so significantly in the last 50 years that Richard Feynman wouldn't have survived the conference.
The silver lining is that at least the Warsaw climate conference was capable of de facto ending sharply and cleanly. But the richer nations that assured the looting nations that they wouldn't get anything now suggested that things might change after 2015. So it's very likely that these attempts aren't over and the pseudoscientifically justified witch hunts will resume in a foreseeable future.
A British terrorist who could have been shot during her/their terrorist attack in the Arctic but instead, she was saved and now released on bail, probably because Putin found her cute. Do you think that she's grateful that her life that she was ready to sacrifice through her unlimited stupidity was saved?
Update Thursday: Poland sacked the very environment minister who hosts the talks, with the apparent intent to accelerate the fracking revolution and destroy the remainders of the Warsaw conference. The lame duck may still finish the COP meeting.
Nov 27, 2013
World agricultural output continues to rise, despite dire predictions of decline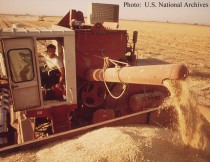 By Steve Goreham
Originally published in The Washington Times

The year 2013 has been a great year for global agriculture. Record world production of rice and healthy production of wheat and corn produced strong harvests across the world. These gains were achieved despite continuing predictions that world agricultural output is headed for a decline.

The US Department of Agriculture (USDA) reports that world rice harvests for 2012/2013 were a record 469 million metric tons. Corn and wheat harvests were also strong, following record harvests for both grains during the 2011/2012 season. The USDA is now projecting world record harvests for corn, wheat, and rice for 2013/2014.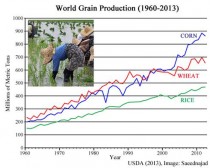 Enlarged

These numbers cap a 50-year trend of remarkable growth in world grain production. Since 1960, global wheat and rice production has tripled, and corn production is almost five times higher.

For decades, doomsayers predicted that food production would fail to keep up with the needs of humanity. In 1972, Donella Meadows and others of the Massachusetts Institute of Technology published The Limits to Growth, which asked the question, "Do these rather dismal statistics mean that the limits of food production on the earth have already been reached?" Paul Ehrlich wrote in The End of Affluence in 1974, "Due to a combination of ignorance, greed and callousness, a situation has been created that could lead to a billion or more people starving to death."

But Norman Borlaug's development of disease-resistant, high-yield strains of wheat and rice had already revolutionized twentieth century agriculture. A few years before Meadows and Ehrlich warned about coming famines, Borlaug's wheat and rice were introduced into Latin America and Asia with astounding results. Mexico's wheat production soared six-fold by 1970 from levels in the 1940s. India's wheat production jumped from a huge deficit in 1965 to a surplus only five years later.

Food production continues to grow faster than population. Data from the Food and Agriculture Organization (FAO) of the United Nations shows a 30 percent gain in the per capita agricultural production index from 1980 to 2010. World citizens have access to more grain, meat, dairy products, and fruits and vegetables. Even fish production is climbing with large gains in aquaculture fish farming.

The increased availability of food reduced the undernourished portion of the world's population from 18.6 percent in 1990 to 12.5 percent in 2010, according to the FAO. A total of 868 million people are still classified as undernourished.

Today's leading agriculture alarmists are proponents of the ideology of Climatism, the belief that man-made greenhouse gases are destroying Earth's climate. Earlier this month, a leaked draft report from Working Group II of the Intergovernmental Panel on Climate Change predicted that man-made climate change would reduce global agricultural production yields by up to two percent per decade throughout the twenty-first century.

Lester Brown's Earth Policy Institute has long been a predictor of agricultural collapse. His website states, "...climate change is heightening the likelihood of weather extremes, like heat waves, droughts, and flooding, that can so easily decimate harvests." Even the USDA warns that man-made climate change threatens US agriculture.

Yet, one must wonder when the climate-damaging effects on agriculture will appear. The IPCC states that 1983-2012 was likely the warmest 30-year period in the Northern Hemisphere of the last 1,400 years. Certainly we should have seen some negative agricultural impact by now?

Maybe rising agricultural production is like rising polar bear populations (at record highs) - the decline begins tomorrow.

Steve Goreham is Executive Director of the Climate Science Coalition of America and author of the book The Mad, Mad, Mad World of Climatism: Mankind and Climate Change Mania.