May 03, 2015
Silencing skeptics, conservatives and free speech
See this story entitled "Catholic Churchmen Dance to Enviro-Pagan Puppet Masters" in Catholic Family News.
Columbia University professor and former World Bank official Jeffrey Sachs spread his global warming alarmism and pro-population control message at the "summit" on global warming and sustainable development hosted in Rome last week. This week he lashed out at global warming "deniers" on Project Syndicate (ironically appropriate for the global climate mafia) and Heartland in particular, so Heartland's Joseph Bast replies.
The Heartland and the Cornwall Alliance and Climate Depot were in rome to bring some truth to the papal party. See Dr. Calvin Beisner's address
See more on the Open Letter to Pope Francis and all the presentations here.
-------
Congressional Democrats and Vatican join White House and Leftist assaults on basic rights
Our scientific method and traditions of free speech and open debate are under assault as never before, by intolerant inquisitors in our media, universities, government agencies, and even Congress and the Vatican.
They threaten our most basic rights and freedoms, our political and scientific processes and ultimately our continued innovation and invention, energy reliability and affordability, job creation and economic growth, and modern living standards, health and welfare.
Congressman Grijalva and Senators Markey, Boxer and Whitehouse sent letters to universities, think tanks and companies, demanding detailed information on skeptics' funding and activities in an attempt to destroy their funding, reputations and careers, while advancing "crony climate alarm science." Equally intolerable, Democrats and the White House are blocking efforts to ensure that environmental regulations are based on honest, unbiased, transparent, replicable science that accurately reflects real-world evidence.
The Secret Science Reform Act (S. 544) and its House counterpart would require that the Environmental Protection Agency develop its regulations and the science behind them in the open, and allow experts and other interested parties to examine data, evidence and studies that supposedly support EPA standards and mandates that could cost billions of dollars and millions of jobs. This should not be controversial.
But Democrats on the Senate Environment and Public Works Committee wanted Chairman James Inhofe to drop the bill from a planned markup. He refused, the bill passed on a party-line vote, and a Senate vote will be set soon. President Obama says he will veto the legislation. Why this opposition?
Obama said his would be the most transparent administration in history. But transparency quickly took a back seat to his radical climate change, renewable energy and other plans to "fundamentally transform" the United States. EPA practices epitomize what goes on throughout his Executive Branch, why our economy is growing at 0.2% and what congressional Democrats are apparently determined to perpetuate.
The problem is not only EPA's private email accounts and deleted emails, a la Hillary Clinton. It's illegal experiments on humans with test results ignored when they don't support EPA's agenda of removing the last vestige of soot from coal-fired power plants. It's rules for 0.5% of the mercury in U.S. air, justified with claims that they would bring a 0.00209 point improvement in IQ scores; economy and job-killing climate regulations that would reduce warming by 0.03 degrees by 2100, assuming carbon dioxide actually does drive climate change; and equally bogus health and environmental benefits of every description that ignore adverse human health and welfare impacts of the EPA regulations themselves.
The President and Democrats claim the "secret science" bill would "unduly burden" regulators. Baloney. The rules would simply require that promulgators of government edicts live according to the same rules they impose on us: Be honest and transparent. Show us your data, calculations and analyses. Demonstrate that you have examined all relevant studies, not just what supports your agenda, while you ignore everything else. Back up your analyses and decisions with actual evidence. Answer our questions. Recognize that collusion, deceit and fraud have no place in public policy, and will no longer be tolerated.
What can possibly be wrong with those guidelines - unless the regulators have a lot to hide?

And now the Vatican is adopting the same secretive, agenda-driven, inquisition tactics.
Its Pontifical Academy of Sciences recently held a workshop on climate change and sustainability. But only religious leaders, scientists, bureaucrats and regulators who support alarmist perspectives on these issues were invited. Those with contrary views were neither invited, welcomed nor tolerated.
However, a dozen climate, health and theological experts skeptical of "dangerous manmade climate change" allegations hosted a press event the day before the workshop. Three of them managed to get into the Vatican event. But when Climate Depot director Marc Morano tried to ask the UN Secretary General to advise Pope Francis that many Catholics and other Christians believe the papal position on global warming is ill-advised, a security guard took Morano's microphone away and told him, "control yourself, or you will be escorted out of here." Apostates have no rights at climate confabs, Vatican or otherwise.
Apparently, in the Vatican's view, there is nothing to discuss - only anti-fossil fuel laws and treaties to implement. Computer model predictions and other assertions of looming disaster are all the Pope and workshop attendees seem to need to support this agenda - even though they are consistently and completely contradicted by real-world observations. Instead of protecting Earth's poorest people from energy deprivation, disease, poverty and death imposed in the name of preventing global warming, Pope Francis seems more devoted to newly green Liberation Theology concepts of "fairness" and "justice."
As IPCC leaders have explained, the climate change agenda is no longer about the environment. It is now about "intentionally transforming" the global economy and negotiating the redistribution of the world's wealth and natural resources, in the name of "social justice" and equal distribution of misery.

These developments are far too typical. Left-Liberal thought police refuse to debate their failed ideas and policies, because they have no answers to inconvenient questions and cannot stomach dissenting views.

On campuses, free expression is limited to boxing-ring-sized "free speech zones." Conservative speakers are banned from university events, or shouted down if they do appear. The Universities of Michigan and Maryland tried to ban "American Sniper" because a couple hundred students out of 27,000 objected. Oberlin and Georgetown students railed that Christina Hoff Sommers' mere presence required "trigger warnings," caused them "distress" and "discomfort," and "constituted violence" against women.
Brandeis disinvited Ayan Hirsi Ali, because her views on women's rights might offend some Muslim men. Scripps revoked its invitation to conservative political analyst George Will, who later observed:
"Free speech has never been… more comprehensively, aggressively and dangerously threatened than it is now. Today's attack is ... an attack on the theory of freedom of speech ... on the desirability of free speech and indeed ... on the very possibility of free speech.
The Democratic Party's leading and prohibitively favored frontrunner candidate for the presidential nomination… said she wants to change the First Amendment in order to further empower the political class to regulate the quantity, content and timing of political speech about the political class - and so far as I can tell there's not a ripple of commentary about this on the stagnant waters of the American journalistic community."
Meanwhile, NYU happily hosted delegates from Iran, which hangs people for the crime of being gay. President Obama's Internal Revenue Service harasses conservative donors and organizations, keeps groups out of the political process, stonewalls investigators and lies with impunity. His Federal Communications Commission plans to micromanage internet access, content and operations. At the behest of hyper-partisan Milwaukee District Attorney John Chisholm, police swat teams burst into homes belonging to Governor Scott Walker supporters, ransacked them, took computers, and told families "Don't call a lawyer - or else."

The abuses and intolerance are becoming broader, deeper, more frightening by the day: from Christendom to Islam and Climate Orthodoxy; from universities to the Congress, Vatican, EU and United Nations.
Good people everywhere need to rise up, speak out and fight back, if they still believe in individual rights, freedom of thought and expression, and honest, transparent, trustworthy, accountable government and religious institutions. Otherwise, these fundamental values will disappear and with them will go modern society and living standards, and efforts to improve the lives of billions of people who still lack the lifesaving energy and technologies so many of us take for granted.

Paul Driessen is senior policy analyst for the Committee For A Constructive Tomorrow (www.CFACT.org), author of Eco-Imperialism: Green power - Black death, and coauthor of Cracking Big Green: Saving the world from the Save-the-Earth money machine.
May 01, 2015
Satellite Data Sets and Monthly Trends Defy NOAA and NASA Claims
By Joseph D'Aleo, CCM
March saw the cold ease in the north central and southeast U.S. as global anomalies fell in the NOAA analysis data (base period of 1981-2010) that goes into the computer models. Despite this global anomaly of just 0.233C, NOAA and NASA announced it was the warmest March in the record back to 1895.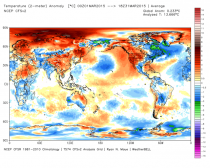 Enlarged
Satellite remote sensing cover the entire globe far better than the land station and ocean data sources and can be trusted to give a more accurate data assessment. On land in the current global data sets, some1200 stations are used. Many are biased warm, especially at night by urban heat island contamination. Also as the GAO found over 41% of the stations did not meet NOAA's own established minimum requirements for siting and had warm biases,
The situation with the oceans, which cover 71% of the globe, is no better especially with historical data. We currently have a global buoy data set with good coverage since 2004 but before we relied on patchwork data from ships with slowly changing methodology to estimate the global temperatures for the oceans.
To make matters worse, NOAA and NASA have also added adjustments to the data that enhance the apparent warming by cooling the past, perhaps to better match the climate models they run. This allows them and the media to proclaim each month and year was the warmest or among the warmest ever. An investigation in ongoing into how much they have changed the data and what the real data says. We have old data sets and they tell us the adjustments are larger than justified and always in the same direction (more warming). But we will let the experts have their say.
RSS showed this March was 10th warmest in 37 years. 2014 March was 13th warmest.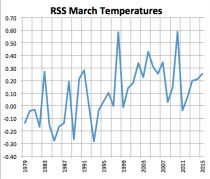 Enlarged
RSS March Global



Enlarged
UAH had March as the 11th warmest and 2014 March the 14th warmest.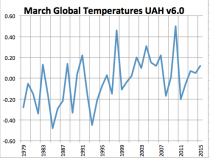 Enlarged
UAH 6.0 March Global



Enlarged
The new UAH data show no warming for 219 months, and for the RSS data, it's 220 months.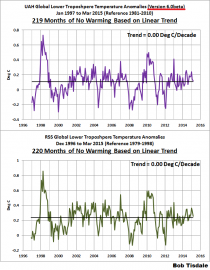 Enlarged
Longer term, there is slow erratic rise up to about 1998 but the apparent warming is greater due to the cooling volcanic periods in the early 1980s (El Chichon and Mt. St. Helens) and early 1990s (Pinatubo and Cerro Hudson).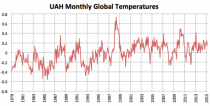 Enlarged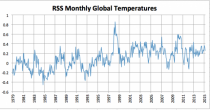 Enlarged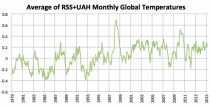 Enlarged
Next will come April where Africa, Australia, India, eastern Europe, the Middle East and western and eastern FSU and much of Antarctica was cold. Observation data compiled for the models show a cooling to just 0.097C above normal. We will see whether NCDC and NASA proclaim it the warmest April.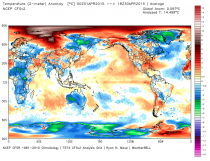 Enlarged
Apr 27, 2015
A message for Pope Francis
Note see also Paul's Silencing Skeptics on the Congressional Democrats and Vatican join White House and Leftist assaults on basic rights.
-----------
Saint Edith Stein, also known as St. Teresa Benedicta of the Cross, (12 October 1891 - 9 August 1942), was a German Jewish philosopher who converted to the Roman Catholic Church and became a Discalced Carmelite nun. She is a martyr and saint of the Catholic Church. She said "Don't accept anything as love that lacks truth". The poor is entitled to the Holy Father's love. The Holy Father loves the poor but does he have the truth?
April 28, the Vatican's Pontifical Academy of Sciences will hold a "workshop" on climate change, to outline the Pope's positions and pave the way for his forthcoming encyclical on the topic. A team of experts from the Committee For A Constructive Tomorrow and Heartland Institute will be there.
This message to Pope Francis summarizes many of the points they will make as discussed in my previous articles, and in an open letter to the Pope by the Cornwall Alliance's Dr. E. Calvin Beisner, who joins the CFACT/Heartland team in Rome. The article explains how the "dangerous manmade climate change" agenda violates the scientific method, Judeo Christianity's commitment to true science as the basis for tremendous improvements in human lives and environmental quality, and our obligation to care for the poorest and most vulnerable among us.
Thank you for posting the article, quoting from it, forwarding it to your friends and colleagues and perhaps adding your name to Dr. Beisner's letter to Pope Francis.
Best regards,
Paul
-------
A message for Pope Francis
It's not climate change but energy restrictions based on climate fears that threaten the poor
Pope Francis plans to deliver an encyclical on climate change this summer. To pave the way and outline the Pope's positions, the Vatican's Pontifical Academy of Sciences is holding a workshop on the topic, April 28 in Rome. The Committee For A Constructive Tomorrow and Heartland Institute will be there.
Cardinal Peter Turkson, director of the Pontifical Council for Justice and Peace and an author of the draft encyclical, says the UN's Intergovernmental Panel on Climate Change has determined that "our planet is getting warmer." Christians have a duty to help the poor, "irrespective of the causes of climate change," and address what Pope Francis apparently believes is an imminent climate crisis. The encyclical will likely present global warming as "a critical moral issue" and increase pressure for a new climate treaty.
That raises serious questions, which I have addressed in many articles and which prompted Dr. E. Calvin Beisner and the Cornwall Alliance for the Stewardship of Creation to write an open letter to Pope Francis. The articles and letter reflect our years of studying climate change assertions and realities, and the ways climate-related restrictions on energy harm poor families far more than climate change will.
At the most fundamental level, too many IPCC reports and the apparent new papal position represent the rejection of Judeo-Christianity's illustrious tradition of scientific inquiry, which has brought monumental improvements to our understanding of nature and creation and to humanity's once "nasty, brutish and short" lives on this planet. As Nobel Prize-winning physicist Richard Feynman explained, we begin with a guess about a law of nature. Then we compute the consequences that would result if our hypothesis is correct and compare actual observations, evidence and experimental data to the predicted consequences.
If the hypothesis and predictions are borne out by the observations, we have a new rule. But if the hypothesis "disagrees with the experiment, it is wrong," Feynman says. That is honest, genuine science.
Alarmist climate science is precisely the opposite. That distorted version of science began with the hypothesis that carbon dioxide and greenhouse gas emissions from fossil fuels cause global warming. It served as the basis for computer models that assume rising CO2 and GHG levels will cause planetary temperatures and sea levels to soar, and hurricanes, tornadoes, floods and droughts to increase in number and intensity. The models predicted many such "scenarios" over the coming decades.
But Earth stopped warming 18 years ago; no major hurricane hit the USA for a record 9-1/2 years; seas are rising at barely seven inches per century; and even IPCC experts agree that long-term trends in weather disasters are not out of historic norms and are not attributable to human causes. The CO2-driven global warming disaster hypothesis and models do not reflect reality and are obviously wrong.
So alarmists began talking about "climate change," blaming extreme weather events on human emissions and manipulating temperature data. They say terrible things are happening at unprecedented levels, when they are not. Worst, they say we must slash hydrocarbon energy use that has brought once unimaginable health, prosperity, living standards and life spans to billions of people, after countless millennia of crushing poverty, malnutrition, disease, and death before age 40. Fossil fuels still represent 85% of the world's energy and they are essential if the rest of humanity is to catch up and improve their lives.
Denying humanity the use of still bountiful hydrocarbon energy is thus not simply wrong. It is immoral and lethal. This is the real reason that climate change is a critical moral issue. No one has a right to tell the world's poor they cannot use fossil fuels to improve their lives, or to tell others they must reduce their living standards, based on speculation and unfounded fears about a manmade climate crisis.
As Dr. Beisner notes, "Alongside good science in our approach to climate policy must be two preferential options: for humanity and, among humanity, for the poor." This does not mean pitting humanity against nature, any more than to pit the poor against the rich. It means any effort to protect the environment must be centered on scientific truth and human well-being, and in particular the well-being of the poor, because they are more vulnerable, and less able to protect themselves. Climate alarmism does not do that.
Over the past three decades, fossil fuels helped 1.3 billion people get electricity and escape debilitating energy poverty over 830 million because of coal. China connected 99% of its population to the grid and increased its steel production eight times over, mostly with coal, energy analyst Roger Bezdek points out.
Abundant, reliable, affordable motor fuels and electricity empower people and support mobility, modern agriculture, homes and hospitals, computers and communications, lights and refrigerators, job creation, life and study after sundown, indoor plumbing, safe drinking water, less disease and longer lives. In conjunction with property rights and entrepreneurship, protected by laws enforced by limited, responsive, responsible governments, fossil fuels will continue transforming lives and nations the world over.
They will also enable people to respond and adapt to future climate changes and extreme weather events, floods and droughts, heat waves, new "little ice ages" and other disasters, natural or manmade. More plant-fertilizing carbon dioxide in the atmosphere would enhance wildlife habitats and food production.
However, 1.3 billion people (the population of the United States, Canada, Mexico and Europe combined) still do not have electricity. In India alone, more people than live in the USA still lack electricity. In Sub-Saharan Africa, 730 million (equal to Europe) still cook and heat with wood, charcoal and animal dung. Hundreds of millions get horribly sick and four million die every year from lung and intestinal diseases, due to breathing smoke from open fires and not having clean water, refrigeration and safe food.
Imposing fossil fuel restrictions and renewable energy mandates in the name of stabilizing planetary climate that has never been stable would perpetuate Third World poverty, disease and death. In developed nations, it would reduce living standards, affect everything we make, grow, ship, eat and do and cause thousands to die during cold winters, because they cannot afford to heat their homes properly.
It would be a needless tragedy, an unconscionable crime against humanity, if the world implemented policies to protect the world's still impoverished and energy-deprived masses from hypothetical manmade climate dangers decades from now, by perpetuating poverty and disease, and killing millions tomorrow.
Just eight years ago, Pope Benedict XVI warned that any proposed "solutions" to global warming and climate change must be based on solid evidence, and not on computer models, unsupported assertions and dubious ideology. He suggested that concerns about man-made emissions melting ice caps and causing waves of unprecedented disasters were little more than fear-mongering. He argued that ecological concerns must be balanced against the needs of current and future generations of people.
Pope Francis apparently does not share his predecessor's view about climate change fears. However, if he is truly committed to advancing science, the poor and creation, he should reject climate chaos claims unless and until alarmists can provide solid evidence to back up their assertions and models.
He should recognize that the issue is not global warming or climate change. It is whether human actions now dominate climate and weather fluctuations that have been common throughout Earth and human history and whether those actions will cause dangerous or catastrophic changes in the future. Science-based answers to these questions are essential if we are to forecast future climate and weather accurately and safeguard poor families, modern living standards and environmental quality.
Dr. Beisner has posted his letter to Pope Francis, for others to endorse this commonsense approach.
It is unwise and unjust to adopt policies requiring reduced use of fossil fuels, unless it can be conclusively shown that doing so will stabilize Earth's fickle climate and prevent future climate disasters, Dr. Beisner concludes. "Such policies would condemn hundreds of millions of our fellow human beings to ongoing poverty." We therefore respectfully ask Pope Francis to advise the world's leaders to reject those policies.
Paul Driessen is senior policy analyst for the Committee For A Constructive Tomorrow (www.CFACT.org), author of Eco-Imperialism: Green power Black death, and coauthor of Cracking Big Green: Saving the world from the Save-the-Earth money machine.
See also this insightful letter FROM Rome about the possible outcomes.
See what the EPA which has orchestrated the assault on the Catholic religion really is trying to do here. The EPA's Gina McCarthy has been advising the Vatican Scientific Advisory Board.