Nov 28, 2016
Cognitive Dissonance will return as the pause resumes - but will it be too late?
By Joseph D'Aleo, CCM, Fellow
Until the last strong El Nino brought the normal spike in global temperatures, there was much ado about what was being called a pause of almost 19 years in global temperature rise. Eventually even the once professional societies like the AMS, had to admit to it and had papers published and many panels at annual meetings discussing why the accelerated warming predicted by climate models and the UN IPCC was not occurring even as global CO2 levels continued to rise.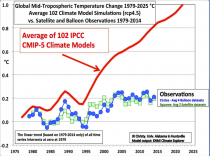 Enlarged
The first efforts made were to modify the data sets (surface and some balloon and satellite) to bring the data closer into agreement with the models (instead of rethinking the theory and models). Then the got the help from El Nino. A weak La Nina and a declining sun should cause temperatures to fall off and the pause resume but the train may have left the station after the Paris Treaty.
This conflicting data had for several years brought an uncomfortable feeling among many believers, what is called 'cognitive dissonance', but most all were able to shake it off especially when they have so many colleagues riding the same grant gravy trains that benefit from the failing theory or have business financial potential and/or personal political ideologies that the plans to address the so-called Catastrophic Anthropogenic Global Warming fits so nicely into.
A fine work over five decades ago by Leon Festinger, a social psychologist helps explain how they can do that and why we may not see a widespread rapid return to sanity on global climate change even as the pause resumes and other evidence mounts the prevailing greenhouse theories are flawed, global warming has ceased and climate change may be largely due to natural variability.
When discomfirmatory (contrary) evidence is presented, Festinger found one condition that often determined whether the belief is discarded or maintained with new fervor by belief with a strongly held belief. That was whether or not the individual believer has social support. It is unlikely that one isolated believer could withstand strong discomfirming evidence. If, however, the believer is a member of a group of convinced persons who can support one another, you might expect the belief to be maintained and the believers to attempt to proselytize or persuade non-members that the belief is correct even in the face of data suggesting otherwise.
Today there is a huge 'social support' group of grant toting modelers and researchers, agenda driven or ratings driven journalists, environmentalists and corporations that have realized green is their favorite color and and see this as a way to keep green paper flowing into their coffers and pockets, farmers who are benefiting from the misplaced focus on alternative fuel from crops which has sent the cost for their crops to record levels, traders and major market firms licking their chops at the prospects of big time money from carbon trading, big oil and alternative energy companies that have realized this is the vector to bigger profits and the politicians and political activists who see it as a way to accomplish ulterior goals about changing society and increasing their powerbase.
In reality although there is claimed consensus, scientists and the public are not so convinced. It will only be after the public realizes they have been snookered or like in the UK, they realize the pains for adhering to the green assault on humanity is insufferable (Brexit was largely due to this) that the situation may turn on them. We can only hope damage done here is not great or irreparable when that day finally comes. That is why you must consider your vote seriously next month.
Perhaps, the greens and the administration and untrustworthy mainstream media with the outrageous claims saying 'global warming is the greatest peril that humanity faces" has them sensing a snake oil salesman situation.
The late great Michael Crichton, author of State of Fear on this topic, said "Historically, the claim of consensus is the first refuge of scoundrels; it is a way to avoid debate by claiming the matter is already settled." "Whenever you hear the consensus of scientists agrees on something or other, reach for your wallet, because you're being had."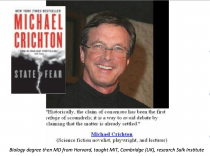 Enlarged
"Let's be clear: the work of science has nothing whatever to do with consensus. Consensus is the business of politics. In science, consensus is irrelevant. What is relevant is reproducible results. The greatest scientists in history are great precisely because they broke with the consensus." (Galileo, Newton, Einstein, etc)
He concluded: "There is no such thing as consensus science. If it's consensus, it isn't science. If it's science, it isn't consensus. Period."
We all miss the man and his work. Read more on 'cognitive dissonance' and Festinger's work "When Prophecies Fail" here.
HELP IF YOU CAN
I know so many of you are trying to contribute to political candidate races now (very important), but if you can help ICECAP cover its expenses, we would greatly appreciate it. We have no advertising and unlike many of the warmist sites don't have money from big financiers. Many of the pieces published including the research paper covered in several spots on this home page and over the years numerous AMICI briefs (sample) to the courts trying to curb the regulatory assault on our energy and businesses, large and small have all been done pro-bono. I and my colleagues have all written pro-bono pieces in newspapers and on-line and participated in radio interviews and even hour long local cable TV shows to try and bring reality about the science and awareness of the dangers from the proposed remedies (Climate Action Plan and the EPA regulations) to the public. We get abuse for doing so and claims we are tied to big oil when their heroes are the recipients of the $1.5 trillion that has fed this monster.
The donate button is secure or if you prefer write me at frostdoc@aol.com and I can give you an address you can mail a check to. Small amounts are welcome. Thank you for helping over the last 8 years - 76 million page hits to date and counting. God bless you.
-----------
The public is not buying what the world 'leaders' proclaim - US and UN polls. In fact they fear clowns more the global warming.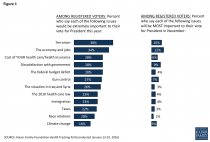 Enlarged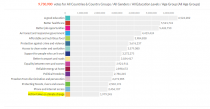 Enlarged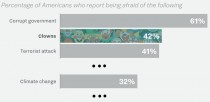 Enlarged
One of the claims made is that CO2 increases are now or will soon cause crop yields to decline. Roy Spencer replies:
Global Warming be Damned: Record Corn, Soybeans, Wheat
Dr. Roy Spencer
For many years we have been warned that climate change is creating a "climate crisis", with heat and drought reducing agricultural yields to the point that humanity will suffer. Every time there's a drought, we are told that this is just one more example of human-caused climate change.
But droughts have always occurred. The question is: Are they getting worse? And, has modest warming had any effects on grain yields?
We have yet to experience anything like the Dust Bowl drought of the 1930s, or the mega-droughts the western U.S. tree ring record suggests occurred in centuries past.
And even if they do occur, how do we know they were not caused by the same natural factors that cause those previous droughts? While "global warming" must cause more precipitation overall (because there is more evaporation), whether this means increased drought conditions anywhere is pretty difficult to predict because it would require predicting an average change in weather patterns, which climate models so far have essentially no skill at.
So, here we are with yet another year (2016) experiencing either record or near-record yields in corn, soybeans, and wheat. Even La Nina, which was widely feared would cause reduced crop yields this year, did not materialize.
How can this be?
How has Climate Changed in the U.S. Corn Belt?
Let's start with precipitation for the main growing months of June-July-August over the 12-state Corn Belt (IL, IN, IA, KS, NE, ND, SD, MO, WI, MN, MI, OH). All data come from official NOAA sources. Since 1900, if anything, there has been a slight long-term increase in growing season precipitation: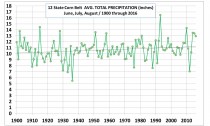 Enlarged
In fact, the last three years (2014-16) has seen the highest 3-yr average precip amount in the entire record.
If we examine temperature, there has been some warming in recent decades, but nothing like that predicted for the same region from the CMIP5 climate models: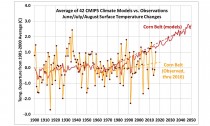 Enlarged
That plot alone should tell you that something is wrong with the climate models. It's not even obvious a statistically significant warming has occurred, let alone attribute it to a cause, given all of the adjustments (or lack of proper adjustments) that have been made to the surface thermometer data over the years. Note the models also cannot explain the Dust Bowl warmth of the 1930s, because the models do not mimic the natural changes in Pacific Ocean circulation which are believed to be the cause.
So, has Climate Change Not Influenced Grain Yields?
Let's assume the temperature and precipitation observations accurately reveal what has really happened. Has climate change since 1960 impacted corn yields in the U.S.?
As part of some consulting I do for a company that monitors grain markets and growing conditions around the world, last year I quantified how year-to-year variations in U.S. corn yields depend on year-to-year changes in precipitation and temperature, over the period 1960 through 2014. I then applied that relationship to the long-term trends in precipitation and temperature.
What I found was that there might be a small long-term decrease in yields due to climate change, but it is far exceeded by technological advancements that increase yields.
In fact, based upon studies of the dependence of corn yield on CO2 fertilization, the negative climate impact is even outweighed by the CO2 fertilization effect alone. (More CO2 is well known to fertilize, as well as increase drought tolerance and make plants more efficient in their water use).
The people I know in the grain trading business do not even factor in climate change...primarily because they do not yet see evidence of it.
It might well be there...but it is so overwhelmed by other positive factors, especially improved varieties, that it cannot be observed in corn yield data. In fact, if varieties can be made more heat tolerant, it might be that there will be no climate change impact on yields.
So, once again, claims of severe agricultural impacts from climate change continue to reside in the realm of science fiction...in the future, if at all.

Nov 22, 2016
Dear America, the Developing Nations of the World Thank You
Vijay Jayaraj, MSc, University of East Anglia, Townhall
Democrats, global mainstream media, celebrities, and even some in Republican circles, were totally shocked when Donald Trump emerged victorious in the presidential election.
But there was one group of people who were even more upset - the radical environmentalists who invested millions on climate alarmism based global energy and developmental policies.
A Trump victory has now caused the global warming elites to hit the panic button.
The working middle class people of America were awakened when their jobs started disappearing due to radical regulations on fossil fuel production, and various other manufacturing industries. Barack Obama's war on coal has left thousands without jobs, and destroyed entire towns.
President-elect Trump has said he will make big changes to U.S. energy policy, and with a Republican majority in the House and Senate, he should be able to keep his word. Ending the Paris agreement and reducing regulations on coal should be top priorities.
But the impact of Trump's victory will be felt beyond the US. In fact, it has begun to shake the very foundations of the climate alarmist agenda. The market shares responded first, with renewable stocks plunging while the rest of DOW booked a 256-point gain.
Greens' panic followed. The European Union's carbon market chief, climate alarmist elites at the current UN climate-event in Marrakech, co-chairs of the European Green Party, leaders of anti-fossil-fuel campaigns, and the French Environment Minister all expressed their concerns regarding the inevitable death of the Paris agreement on climate change.
Not that the Paris agreement was particularly successful anyway. It was more of a PR coup for alarmists than anything else. China has increased its coal production targets for 2020 and India is already on path for a massive increase in its coal production - both countries having already ratified the Paris agreement using makeshift commitments that hardly have any impact on the expansion of their fossil fuel industry. The U.K. and Germany meanwhile have distanced themselves from their proposed agreements to reduce emissions. The Philippines has completely disassociated itself from the Paris agreement.
Trump's presidency will hopefully contribute towards reestablishing the public's confidence in the scientific community. Over the last eight years especially, although misuse of power is not a new thing, scientific methodology was undermined and misused to produce preconceived results, especially regarding climate change.
This election has consequences reaching much farther than just across the United States of America. In rejecting radical environmentalism and radical energy policies, American citizens are paving the way for millions of people in developing nations around the world to access clean, affordable, and reliable energy sources.
As a citizen of one of those developing countries, I thank you.
Nov 12, 2016
"Making America great again" requires deep-sixing punitive energy and environmental rules
"Making America great again" requires deep-sixing punitive energy and environmental rules
Paul Driessen
The American people have roundly rejected a third Obama term and legacy of deplorable policies that were too often imposed via executive edicts, with minimal attempts to work with Congress or the states.
This election shows that hard-working Americans do not want their country and its constitutional, energy and economic systems "fundamentally transformed." They want America to be great and exceptional again. They want all people to live under the same laws and have the same opportunities, rights and responsibilities for making their lives, families, communities and nation better than they found them.
We the People also made it clear that we have had a bellyful of unelected, unaccountable bureaucrats, media moguls and intellectual elites dictating what we can read, think and say, how we may worship, what insurance and doctors can have, what rules, jobs and living standards we must live with.
With the elections over, the truly difficult tasks lie before us. Filling Supreme Court vacancies with jurists who believe in our Constitution, repealing and replacing ObamaCare, reforming the politicized IRS, DOJ and FBI, immigration issues, and fixing the VA and incomprehensible tax code are all high on every list.
However, abundant, reliable, affordable energy remains the foundation of modern civilization, jobs, health and prosperity. So these suggestions for President Trump's first years focus on critical tasks that can be accomplished by his Executive Branch alone or in conjunction with Congress and the states.
As you read them, thousands of politicians, regulators, scientists and activists are gathered for yet another "climate conference," this time in Marrakech, Morocco. They are shocked and despondent over the election results, and worried that the Trump Administration won't support their agenda. They're right.
Under the guise of preventing "dangerous manmade climate change" and compensating poor countries for alleged "losses and damages" due to climate and weather caused by rich country fossil fuel use, they had planned to control the world's energy supplies and living standards, replace capitalism with a new UN-centered global economic order, and redistribute wealth from those who create it to those who want it. So:
Job One) Let the assembled delegates and world know America has a president - and a Congress - not a king. Suspend and defund any initiatives and orders issued under the Paris climate treaty, and send it to the Senate for Advice and Consent (and assured rejection) under Article II of the Constitution. Its impacts are so onerous and far-reaching that it is clearly a "treaty" within the meaning of our founding document, even if President Obama prefers to call it a "nonbinding agreement" to avoid Senate review.
2) Review the assertions, models, "homogenized" data, science and research behind the multitude of climate and renewable energy mandates - to see if they reflect Real World empirical evidence. Many, most or all will be found to be biased, wildly exaggerated, faulty, falsified or fraudulent.
The recent listing of polar bears as "endangered" was based on junk science and GIGO computer models that claim manmade global warming will send the bears' record population numbers into oblivion. EPA's Clean Power Plan assumes shutting down US coal-fired power plants will stop climate change, even if China, India and other countries build thousands of new coal-fueled generators over the next 20 years.
The all-encompassing "social cost of carbon" scheme attributes every imaginable harm to carbon dioxide emissions from fossil fuels. It ignores the incredible benefits of carbon-based energy, and dismisses the horrendous impacts that abandoning these fuels would have on human health and welfare.
Every one of these EPA, Interior and other regulatory diktats assumes that CO2 has suddenly replaced the powerful natural forces that have driven climate fluctuations throughout Earth's history - and ignores this miracle molecule's role in making crops, forests and grasslands grow faster and better, with less water.
As reviews are completed, agenda-driven rules and executive orders should be suspended, rescinded and defunded, so that they are no longer part of the $1.9 trillion regulatory drag on job and economic growth.
Grants for biased research can be terminated, agency personnel assigned to climate programs can be reassigned, and those found falsifying data or engaging in other corrupt practices should be punished.
3) A recent White House report lists $21.4 billion in annual spending on climate research and renewable energy programs. That's in addition to EPA and other federal agency regulatory budgets - and on top of the burdensome impacts the programs have had on families, businesses, jobs and our future.
Terminating biased, needless or punitive programs would go a long way toward balancing the budget and getting our nation back on track. Ending crony corporatist deal-making, power grabbing and enrichment schemes would ensure that The Billionaire's Club and its government and industry allies no longer have access to taxpayer billions, no longer have a stranglehold on our energy and economy, and no longer get still richer on the backs of American workers, taxpayers and consumers.
4) Revise Endangered Species Act provisions and regulations to require that any listings, permit denials or penalties reflect honest empirical science - not computer models or baseless assertions. Exemptions for bird and bat-killing wind turbines must no longer be permitted, and ESA rules must be applied with equal force to all projects, not just drilling, mining, pipelines, power plants, grazing and timber cutting.
5) Approve the Keystone XL and Dakota Access Pipelines; end the obstructionism and finish the projects. Standing Rock Sioux Indians had multiple opportunities to participate in the review process, but refused to do so. Now they and Soros-supported radicals are preventing work, destroying expensive equipment, butchering ranchers' cattle and bison, and harassing local families. This can no longer be tolerated.
6) Prohibit and terminate sue-and-settle lawsuits, under which activists and regulators collude to secure a sympathetic judge's order implementing regulations that they all want. (Or initiate a series of sue-and-settle actions by energy and manufacturing interests against Trump agencies - and then stop the practice!)
7) Reform the 1906 Antiquities Act. Intended to protect small areas of historic or scenic value, it has been abused too often to place millions of acres off limits to energy development and other economic uses, by presidential edict. Losing Senate candidate Katie McGinty engineered a massive land lock-up in Utah that double-crossed the state's governor and congressional delegation, and even President Clinton.
Congress must more clearly define its purposes, limit the acreage that can be designated by presidential decree, and provide for congressional review and approval of all decisions.
8) Reform the Environmental Protection Agency, and devolve many of its powers and responsibilities back to the states, under a consortium representing all 50 state EPAs. We have won the major pollution battles that EPA was created to address. Now we must devote appropriate funding and personnel to real remaining environmental problems – and shrink or terminate Obama-era agenda-driven programs.
Recent EPA actions on climate, air quality, human experiments, the Clean Power Plan, the war on coal, and "waters of the United States" were used to expand its budget, personnel, and powers over the nation's environment, energy and economy. EPA needs a shorter leash, less money and a smaller staff.
9) Shrink the renewable energy programs, and jumpstart onshore and offshore leasing, drilling, fracking and mining on federally managed lands. America can again produce the fossil fuel blessings that lifted billions out of poverty, disease and early death - and created jobs, prosperity, health, living standards and life spans unimaginable barely a century ago. We should also encourage other nations to do likewise.
10) If President Obama finishes his term with a tsunami of regulations and executive orders, it should be met with similar suspend, defund and rescind reactions. Mr. Obama, congressional Democrats and their riot-prone base should understand that programs and rules imposed with the stroke of a pen, and without the support of Congress and the American people, can and should also be undone with the stroke of a pen.
Without these difficult but necessary (and fun) steps, it will be very hard to make America great again.
Paul Driessen is senior policy analyst for the Committee For A Constructive Tomorrow (www.CFACT.org), and author of Eco-Imperialism: Green power - Black death and other books on the environment.