Apr 19, 2015
"To the Museums of Science and Natural History" - An Open Response
A recent public letter, "To the Museums of Science and Natural History," demands that museums in the United States accept no charitable donations from companies involved with fossil fuels. The idea that the world can or should abandon fossil fuels is deeply wrong-headed, not just from a scientific perspective, but also from a humanitarian perspective.
For thousands of years only a small fraction of mankind lived well while the rest faced poverty, filth, hunger and disease. That has all changed over the past century and a half, thanks to the use of fossil fuels. The benefits of low-cost and abundant energy from fossil fuels have permitted a standard of living for most of society that exceeds the wildest dreams of past elites. Today China, India and other developing countries are lifting hundreds of millions of people out of deprivation by the greater use of fossil fuels. Despite these clear benefits, a movement has emerged that demonizes fossil fuels and anyone who questions the dogma that a near-term climate catastrophe is upon us. The letter is a good example of the movement's tactics.
Nearly everyone today is instinctively an environmentalist. Most recognize that fossil fuels must be extracted responsibly, minimizing environmental damage from mining and drilling operations, and with due consideration of costs and benefits. Similarly, fossil fuels must be used responsibly, deploying technologies that minimize emissions of real pollutants such as fly ash, carbon monoxide, oxides of sulfur and nitrogen, heavy metals, and volatile organic compounds. If fully cleansed of such real pollutants, the exhaust from fossil-fuel combustion contains very nearly the same components, and in comparable proportions to those of a baby's breath: a little oxygen, nitrogen, water vapor (H20) and carbon dioxide (CO2). So far the movement has not declared water vapor to be a pollutant, but for several decades it has mounted a vigorous, extensive and expensive propaganda campaign to demonize CO2.
Atmospheric CO2 is beneficial and it is not a pollutant. It is, in fact, the most important food for life on Earth. Without CO2 in the atmosphere our planet would be as dead as Mars. At current CO2 levels of about 400 parts per million, the Earth remains in a CO2 famine compared to levels of 1000 parts per million and higher that have prevailed since the Cambrian period, some 550 million years ago. The world has already shown noticeable "greening" because plants are growing better and more extensively due to the modest increases of atmospheric CO2 seen over the past century.
However, the movement has promoted a multitude of scary scenarios associated with CO2, none of which have come to pass. Why doesn't the letter contain the earlier favored phrase, "global warming?" Most likely because precise satellite measurements have shown there has been no global warming of Earth's atmosphere for nearly 20 years, in stark contrast to the alarming predictions of the movement and deeply flawed computer models, most of which do not predict catastrophe anyway.
Instead of arguments based on science and facts, the movement labels any who question their dogma as "deniers," funded, according to the letter, by "climate-change-denying organizations spending over $67 million since 1997 to fund groups denying climate change science." The hypocrisy is breathtaking. Orders of magnitude more funding has been given by governments and foundations to organizations and individuals charged with "scientifically" proving the alleged evils of CO2 and inventing ways to cope with it. In 2011 alone, ten large foundations donated $577 million to environmental causes, nearly ten times more than the total funding since 1997 to the so-called "deniers." And that does not count tens of billions of dollars from the government and other foundations. Apparently the movement's scientific case is so weak that they feel threatened by any research that does not support their doctrine.
We applaud support for informative studies of the climate, for example, ocean monitoring programs, satellite instruments, or meteorological networks with high-quality data archives. This work needs no defense from scientific challenges, regardless of the source of funding. The honest scientists responsible for much of this excellent work cannot be blamed for the excesses of the anti-fossil fuel movement. But the signers of the letter include some of the biggest feeders at the climate trough, who benefit from millions of dollars of funding every year for research empires, which, in many cases, stoke a propaganda mill instead of producing real science. In the interests of transparency and intellectual integrity, the signatories of the "To the Museums" letter should have each revealed their annual and cumulative climate funding.
The criterion for valid science has been succinctly stated by physics Nobel Laureate, Richard Feynman: "If it disagrees with experiment, it's wrong. In that simple statement is the key to science. It doesn't make a difference how beautiful your guess is, it doesn't make a difference how smart you are, who made the guess or what his name is, if it disagrees with experiment it;s wrong." Experiments-observations-do not support the movement's alarming scenarios.
We, the undersigned, urge museum managements to reject the exceptionally bad and misguided advice in the letter. Abandoning fossil fuels, aside from the economic impossibility of that proposition, would not help the environment but would likely harm it, and would be profoundly anti-human and immoral. Without the benefits of low-cost and abundant energy from fossil fuels, much of the world's poor today and in the future would be condemned to continued poverty, ignorance and exploitation.
SIGNATORIES
Click here to view a pdf file of the signatories of this letter.
TO ADD YOUR NAME
We welcome additional signers, both US and non-US citizens, who are informed about CO2 and climate. If you would like to add your name, please send an email to climatesigners@gmail.com. Include your name and a short affiliation, analogous to that of other signers. Also include a brief paragraph to show that you are familiar with the facts of climate and CO2, either as a scientist, a meteorologist, an engineer, or an informed person with another occupation. We will review this paragraph and add your name to the list if we judge that you base your opinions on knowledge. Neither information from this paragraph, nor your e-mail address, will be made public.
Apr 09, 2015
Global warming didn't give Malia asthma; WV students can debate global warming
President Obama Plays the Asthma Card
Marlo Lewis
"President Obama says that climate change became a personal issue for him when his older daughter Malia, now 16, was rushed to the emergency room with an asthma attack when she was just a toddler," ABC News reports.
The President explained in a one-on-one interview with ABC News health editor, Dr. Richard Besser: "Well you know Malia had asthma when she was 4 and because we had good health insurance, we were able to knock it out early… And if we can make sure that our responses to the environment are reducing those incidents, that's something that I think every parent would wish for..."
Is there any sillier justification for pricing low-income families out of affordable power, or for EPA to seize control of State electricity markets, than the one the President just gave?
Carbon dioxide, the substance targeted by EPA's Clean Power Plan, is not a lung irritant and does not contribute to respiratory problems. At most, the CPP would reduce atmospheric CO2 concentrations a few parts per million by century's end. What biological difference could that make to children, when their exhaled breath contains about 40,000 parts CO2 per million?
Obama argues that CO2 emissions cause global warming, which in turn increases ozone smog, which then causes asthma. But how can that be so when, despite global warming, smog-forming emissions and ozone levels have declined, decade-by-decade, since the 1970s? Besides, asthma-related hospital admissions are lower in summer than in winter, and childhood asthma rates have gone up as smog levels have gone down. Those facts indicate that air quality is an increasingly unimportant factor in childhood asthma.

Enlarged
Obama plays the asthma card because, as explained in a secret strategy memo, obtained via FOIA by my colleague Chris Horner, the public won't care about climate change unless it is repackaged as a threat to children's health.
-----------
Global warming didn't give Malia asthma
James S. Robbins USATODAY
President's smoking more likely to cause daughter's health problem than climate change.
President Obama blames global warming for his daughter's asthma. Today that's politically useful spin, but the science says something different. If you're looking for a culprit, it just might be Malia's dad.
In an interview Wednesday, in support of a new White House climate change awareness campaign, the president noted that his 16-year-old daughter had asthma when she was 4. He said that as a father, when your child says she has trouble breathing, "the fright you feel is terrible." Fortunately, doctors were able to treat Malia's condition quickly.
The president connected his daughter's malady to global climate change. In a discussion Tuesday, he said "all of our families are going to be vulnerable" to global warming-induced health risks because "you can't cordon yourself off from air or from climate."
A White House fact sheet connected the dots, saying that asthma rates have more than doubled in the past 30 years, and that "climate change is putting these individuals and many other vulnerable populations at greater risk of landing in the hospital" like Malia.
The good news is that there is less reason for alarm than the White House suggests. The Environmental Protection Agency cautions that "outdoor air pollution and pollen may also worsen chronic respiratory diseases, such as asthma." Yet the EPA also reports that our air quality has substantially improved; aggregate emissions of common pollutants have decreased 62% between 1980 and 2013. It is unlikely that cleaner air is causing the increase in asthma.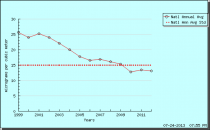 Enlarged
Source: EPA
Whether there is a link between asthma and global warming, Malia herself hasn't really experienced much. The high school junior was born in 1998, when temperatures spiked. By some measurements, the world hasn't warmed significantly since then.
Which brings us back to her father and his Marlboros. The president, who quit smoking years ago, has long kept his tobacco use out of doors. That's a common-sense tactic for folks who have trouble quitting. But sometimes, science can show that common sense has less sense than you think.
Research funded by the National Institutes of Health has shown that smoking outside doesn't totally protect children from secondhand smoke. Even when smoking is done outside, nicotine in infants' hair is five times higher for babies with outside smoking parents than non-smoking parents. Smoking-related chemicals in infants' urine is seven times higher. Other studies have found similar results.
According to the Centers for Disease Control and Prevention, "tobacco smoke is one of the most common asthma triggers," and "if you have asthma, it's important that you avoid exposure to secondhand smoke."
-----------
Still organizations I once supported (I had asthma as my father smoked cigars) like the American Lung Associations allowed themselves to be infiltrated by the EPA (one of the board members) and benefiting from a $20M grant, they were willing to do unsupportable ads like the baby carriage in front of congress to appeal to emotions and support the EPA's regulatory war on the economy,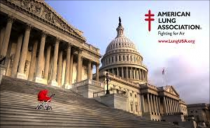 ----------
Victory as WV School Board allows students to debate global warming
April 9, 2015 by CFACT Ed
The West Virginia Board of Education voted yesterday to put an end to months of controversy and open up teaching standards to permit students to consider both sides in the climate debate.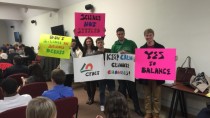 The Board voted 6-2 in favor of amending the standards to, as the Charleston Daily Mail reports, "allow students to use scientific models to form their own conclusions on the debated topic."
"Supporters of the changes, including board members Wade Linger and Tom Campbell, argued that 'science is never settled' and that debate will lead students into a deeper understanding of the issue," the paper added.
The vote represents a significant victory for student rights and for science. The scientific method demands consideration of all data, without regard for the impact this may have on a cherished theory. Open minds and free debate are essential to science and climate science is no exception.
When the Board voted in December to amend teaching standards to allow students to consider both sides in the climate debate, global warming pressure groups were apoplectic.
They ridiculed the Board and demanded it drop its revised standards and ban facts which question the man-made global warming narrative from the classroom.
CFACT Executive Director Craig Rucker, Marc Morano, who edits CFACT's Climate Depot news and information service and a contingent of students from CFACT Collegians chapters at the University of West Virginia and Marshall University testified before the Board, which voted in January to temporarily pull back the amended standards and further consider the matter.
CFACT also asked readers to submit comments to the Board and large numbers did. Sources close to the West Virginia Board report that CFACT readers submitted thoughtful and persuasive comments that made a significant impact on the proceedings.
The original standards forced students to only consider "rises" in temperature. The amended standards substitute "changes" and permits students to consider "natural forces" as well as human activity when they study the climate.
The United Nations Intergovernmental Panel on Climate Change would do the world a lot of good if it adopts similar standards.
Thanks to everyone who emailed their comment to the Board. Your voices were heard. Well done!
----------
Here's the comment CFACT sent in
Subject line:
Protect students' rights to all the facts about the climate
Email:
The Board of Education should ensure that its science standards permit students to examine and learn from all the data and analysis about global warming.
Must students be made ignorant of scientific data which shows that over the last 18 years climate computer models have consistently projected a warmer world than scientific observations record? Global warming has not occurred as projected during the entire lifetime of today's school children.
Should the actual recorded data of world temperature, sea levels, storms, droughts, floods and all the rest be banned from our classrooms? Is comparing this data to the pronouncements of highly funded global warming pressure groups heresy?
Claims of an overwhelming scientific global warming consensus have been repeatedly and thoroughly debunked.
The discussion is far from over. The true mind of science remains open to new data and alternative explanations. Whether and how much of the approximately 1/2 degree C of warming which occurred in the latter half of the 20th century is due to human industry has not been conclusively established. Neither have any of the incredibly expensive "solutions" proposed to address any global warming been shown to be meaningfully effective or worth their tremendous cost.
The Board owes every child an open-minded education free of indoctrination.
--------
Alarmists, greens, the administration, the minority party and the compliant media all with their heads up their a.., would prefer to see the public and young people kept in the dark with their heads…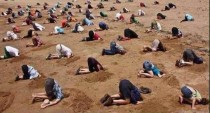 --------
P. J. O'Rourke said it best:
"There's not a goddamn thing you can do about it. Maybe climate change is a threat, and maybe climate change has been tarted up by climatologists trolling for research grant cash. It doesn't matter. There are 1.3 billion people in China, and they all want a Buick. Actually, if you go more than a mile or two outside China's big cities, the wants are more basic. People want a hot plate and a piece of methane-emitting cow to cook on it. They want a carbon-belching moped, and some CO2-disgorging heat in their houses in the winter. And air-conditioning wouldn't be considered an imposition, if you've ever been to China in the summer.
"Now I want you to dress yourself in sturdy clothing and arm yourself however you like - a stiff shot of gin would be my recommendation - and I want you to go tell 1.3 billion Chinese they can never have a Buick.
"Then, assuming the Sierra Club helicopter has rescued you in time, I want you to go tell a billion people in India the same thing."
My advise is to stop wasting time on stuff you can't change and focus your efforts on the real climate change - "let's work on making our culture less toxic and harmful to children and families."
Thanks to FiddlingAnt.blogspot for this.
Apr 02, 2015
The tip of the climate spending iceberg
March 31, 2015 by Paul Driessen
Lockheed Martin, a recent Washington Post article notes, is getting into renewable energy, nuclear fusion, "sustainability" and even fish farming projects, to augment its reduced defense profits. The company plans to forge new ties with Defense Department and other Obama initiatives, based on a shared belief in manmade climate change as a critical security and planetary threat. It is charging ahead where other defense contractors have failed, confident that its expertise, lobbying skills and "socially responsible" commitment to preventing climate chaos will land it plentiful contracts and subsidies.
As with its polar counterparts, 90% of the titanic climate funding iceberg is invisible to most citizens, businessmen and politicians. The Lockheed action is the mere tip of the icy mountaintop.
The multi-billion-dollar agenda reflects the Obama Administration's commitment to using climate change to radically transform America. It reflects a determination to make the climate crisis industry so enormous that no one will be able to tear it down, even as computer models and disaster claims become less and less credible – and even if Republicans control Congress and the White House after 2016. Lockheed is merely the latest in a long list of regulators, researchers, universities, businesses, manufacturers, pressure groups, journalists and politicians with such strong monetary, reputational and authority interests in alarmism that they will defend its tenets and largesse tooth and nail.
Above all, it reflects a conviction that alarmists have a right to Big Green follow the moneycontrol our energy use, lives, livelihoods and living standards, with no transparency and no accountability for mistakes they make or damage they inflict on disfavored industries and families. And they are pursuing this agenda despite global warming again being dead last in the latest Gallup poll of 15 issues of greatest concern to Americans: only 25% say they worry about it "a great deal," despite steady hysteria; 24% are "not at all" worried about the climate. By comparison, 46% percent worry a great deal about the size and power of the federal government.
But Climate Crisis, Inc. is using our tax and consumer dollars to advance six simultaneous strategies.
1) Climate research. The US government spends $2.5 billion per year on research that focuses on carbon dioxide, ignores powerful natural forces that have always driven climate change, and generates numerous reports and press releases warning of record high temperatures, melting icecaps, rising seas, stronger storms, more droughts and other "unprecedented" crises. The claims are erroneous and deceitful.
They are consistently contradicted by actual climate and weather records, and so alarmists increasingly emphasize computer models that reinvent and substitute for reality. Penn State modeler Michael Mann has collected millions for headline-grabbing work like his latest assertion that the Gulf Stream is slowing, contrary to 20 years of actual measurements that show no change. Former NASA astronomer James Hansen received a questionable $250,000 Heinz Award from Secretary of State John Kerry's wife, for his climate crisis and anti-coal advocacy. Al Gore and 350.org also rake in millions. Alarmist scientists and institutions seek billions more, while virtually no government money goes to research into natural forces.
2) Renewable energy research and implementation grants, loans, subsidies and mandates drive projects to replace hydrocarbons that are still abundant and still 82% of all US energy consumed. Many recipients went bankrupt despite huge taxpayer grants and loan guarantees. Wind turbine installations butcher millions of birds and bats annually, but are exempt from Endangered Species Act fines and penalties.
Tesla Motors received $256 million to produce electric cars for wealthy elites who receive $2,500 to $7,500 in tax credits, plus free charging and express lane access. From 2007 to 2013, corn ethanol interests spent $158 million lobbying for more "green" mandates and subsidies - and $6 million in campaign contributions – for a fuel that reduces mileage, damages engines, requires enormous amounts of land, water and fertilizer, and from stalk to tailpipe emits more carbon dioxide than gasoline. General Electric spends tens of millions lobbying for more taxpayer renewable energy dollars; so do many other companies. The payoffs add up to tens of billions of dollars, from taxpayers and consumers.
3) Regulatory fiats increasingly substitute for laws and carbon taxes that Congress refuses to enact, due to concerns about economic and employment impacts, and because China, India and other countries' CO2 emissions dwarf America's. EPA's war on coal has already claimed thousands of jobs, raised electricity costs for millions of businesses and families, and adversely affected living standards, health and welfare for millions of families. The White House and EPA are also targeting oil and gas drilling and fracking.
Now the Obama Administration is unleashing a host of new mandates and standards, based on arbitrary "social cost of carbon" calculations that assume fossil fuel use imposes numerous climate and other costs, but brings minimal or no economic or societal benefits. The rules will require onerous new energy efficiency and CO2 emission reduction standards that will send consumer costs skyrocketing, while channeling billions of dollars to retailers, installers, banks and mostly overseas manufacturers.
As analyst Roger Bezdek explains, water heaters that now cost $675-1,500 will soon cost $1,200-2,450 - with newfangled exhaust fans, vent pipes and condensate removal systems. Pickup trucks with more fuel efficiency and less power will nearly double in price. Microwaves, cell phones, vacuum cleaners, hair dryers, toasters, coffee pots, lawn mowers, photocopiers, televisions and almost everything else will cost far more. Poor and middle class families will get clobbered, to prevent perhaps 5% of the USA's 15% of all human CO2 emissions toward 0.04% of atmospheric CO2, and maybe 0.00001 degrees of warming.
4) A new UN climate treaty would limit fossil fuel use by developed countries, place no binding limits or timetables on developing nations, and redistribute hundreds of billions of dollars to poor countries that claim they have been harmed by emissions and warming due to rich country hydrocarbon use. Even IPCC officials now openly brag that climate policy has "almost nothing" to do with protecting the environment - and everything to do with intentionally transforming the global economy and redistributing its wealth.
5) Vicious personal attacks continue on scientists, businessmen, politicians and others who disagree publicly with the catechism of climate cataclysm. Alarmist pressure groups and Democrat members of Congress are out to destroy the studies, funding, reputations and careers of all who dare challenge climate disaster tautologies. At President Obama's behest, even disaster aid agencies are piling on.
New FEMA rules require that any state seeking disaster preparedness funds from the Federal Emergency Management Agency must first assess how climate change threatens their communities. This will mean relying on discredited, worthless alarmist models that routinely spew out predictions unrelated to reality. It likely means no federal funds will go to states that include or focus on natural causes, historical records or models that have better track records than those employed by the IPCC, EPA and President.
6) Thought control. In addition to vilifying climate chaos skeptics, alarmists are determined to control all thinking on the subject. They are terrified that people will find realist analyses and explanations far more persuasive. They refuse to debate skeptics, respond to NIPCC and other studies examining natural climate change and carbon dioxide benefits to wildlife and agriculture, or even admit there is no consensus.
They want the news media to ignore us but cannot put the internet genie back in the bottle. The White House is trying, though. It even sent picketers to FCC Chairman Tom Wheeler's home, to demand that he knuckle under and apply 1930s' telephone laws to the internet, as a first step in content control
States must refuse to play the climate crisis game. Through lawsuits, hearings, investigations and other actions, governors, legislators, AGs and other officials can delay EPA diktats, educate citizens about solar and other natural forces, and explain the huge costs and trifling benefits of these draconian regulations.
Congress should hold hearings, demand an accounting of agency expenditures, require solid evidence for every climate claim and regulation, and cross-examine Administration officials on details. It should slash EPA and other agency budgets, so they cannot keep giving billions to pressure groups, propagandists and attack dogs. Honesty, transparency, accountability and a much shorter leash are long overdue.