Oct 29, 2019
California Democrats waste billions on useless climate alarmist schemes while the state burns
Note see this rebuttal that global warming is causing wildfires here. See a rebuttal of 12 common alarmist claims here. See other detailed wildfire assessments here and here.
The winds are driven by extremely cold air in the Great Basin - not global warming. The cold, dense air flows through the western mountains passes and fans the flames of fires natural, made worse by radical enviro policies in the state.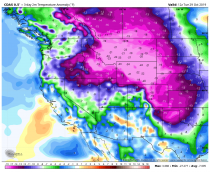 Enlarged
------------
The Wall Street Journal published a superb article that exposes the government lunacy in California where its climate alarmist propaganda driven Democratic politicians have wasted tens of billions of dollars on energy schemes that are totally useless in having any meaningful impacts on global emissions levels while ignoring the statewide wildfire disaster that is destroying massive amounts of property, thousands of homes and taking hundreds of lives.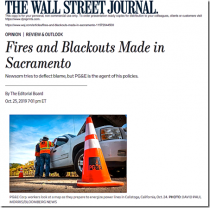 The article notes the following Democratic Party California government driven climate alarmist absurd climate actions being taken while ignoring the critical need for aggressive statewide highest priorities and resources commitments to addressing long standing failures by the state in addressing its forest management responsibilities.
"State law mandates that utilities obtain 33% of electric generation from renewables such as wind and solar by 2020 and 60% by 2030."
Utilities must spend hundreds of millions of dollars each year to reduce the cost of green energy for low-income households. PG&E has prioritized political obeisance over safety.
In 2018 PG&E spent $509 million on electric discounts for low-income customers in addition to $125 million for no-cost weatherization and efficiency upgrades for disadvantaged communities.
Utilities also receive allowances from the state's cap-and-trade program - $7.5 billion since 2012 - to pay for other "ratepayer benefits" that reduce emissions.
For instance, the Legislature in 2015 mandated that utilities spend $100 million annually on solar systems in low-income communities.
This is on top of the $2.2 billion in customer rebates for rooftop solar installations, which utilities charged to ratepayers between 2007 and 2016. Under the state's net-metering program, solar customers also get a break on their bills.
Last year PG&E invested more than $150 million in battery storage and "sustainable" technologies, which was paid for by a special charge on ratepayers. PG&E is also spending $130 million over three years to install 7,500 electric-car charging stations and offers drivers a $800 "clean fuel" rebate.
All of this has been part of a Democratic political strategy to use PG&E to advance their climate agenda without raising taxes.
But Californians have instead paid through higher electric rates - PG&E rates are twice as high as in Oregon and Washington - while utilities have had to redirect capital and ratepayer revenue away from fortifying the grid and tree-trimming."
"PG&E has prioritized serving its political overlords above all else. California's return to the dark ages is a direct result of the Democratic political monopoly in Sacramento."
Democratic Party politicians in Sacramento have created this colossal wildfire debacle mess by their hugely misguided, monumentally incompetent and totally useless climate alarmist policy priorities wasting tens of billions of dollars on globally meaningless actions while ignoring the disastrous failures of the state to deal with its forest management responsibilities.
No doubt the states Democrats will hide their mind-boggling failures and try to shift blame and responsibility elsewhere most likely with the full support of the states corrupt media.
Sep 23, 2019
More buckets of icy cold energy reality
In a recent column, I addressed the icy cold reality that biofuel, wind and solar power would have monumental environmental impacts if they come anywhere close to meeting the needs of our modern industrialized American economy, healthcare system, and transportation and communication infrastructure.
This week's article picks up where that one left off - and throws a few more buckets of icy cold reality on Green New Dealers who want to back up their intermittent, unreliable, weather-dependent industrialized wind and solar energy systems with massive battery arrays. It points out that green energy would require the greatest expansion in mining the world has ever seen - coupled with more of the despicable slave and child labor that extracts some of the critical minerals required for all those wind turbines, solar panels and batteries.
Thank you for posting my article, quoting from it, and forwarding it to your friends and colleagues.
Best regards,
Paul
More buckets of icy cold energy reality "
Democrats, Green New Dealers and UN gabfest attendees need to get 'woke' on eco-energy
Paul Driessen
The full-court press is on for climate chaos disaster and renewable energy salvation. CNN recently hosted a seven-hour climate event for Democrat presidential aspirants. Every day brings more gloom-and-doom stories about absurd, often taxpayer-funded pseudo-scientific reports on yet another natural event or supposed calamity that alarmists insist is due to fossil fuels that provide 80% of US and global energy.
MSNBC just hosted another two-day Democrat presidential candidates climate forum at Georgetown University - where I spoke at a contrarian program. Meanwhile, a big Climate March took place in New York City, while protesters tried to block Washington, DC streets. They were all kicking off the UN's "Global Climate Week" in NYC, featuring a Youth Climate Summit and UN General Assembly event where world leaders will demand "global action" to supposedly stop the supposed climate crisis.
Their standard solution is biofuel, solar, wind and battery power. My recent article dumped buckets of icy cold reality on several of those claims. They obviously need to be doused with a few more icy buckets.
To reiterate: Wind and sunshine are free, renewable, sustainable and eco-friendly. However, the lands and raw materials required for technologies to harness this widely dispersed, intermittent, weather-dependent energy to benefit humanity absolutely are not. In fact, their environmental impacts are monumental.
The Democrat candidates and their supporters want to replace coal and gas backup power plants with batteries, to ensure we have (much more expensive) electricity even when intermittent, weather-dependent wind and sunshine refuse to cooperate with our need for 24/7/365 power for our electricity-based homes, schools, hospitals, factories, businesses, computers, social media and civilization.
So let's suppose we blanket the United States with enough industrial-scale wind and solar facilities to replace the 3.9 billion megawatt-hours Americans used in 2018 - and we manufacture and install enough king-sized batteries to store sufficient electricity for seven straight windless or sunless days.
We would need something on the order of one billion 100-kilowatt-hour, 1,000-pound lithium and cobalt-based battery packs -similar to what Tesla uses in its electric vehicles. (This does not include the extra battery storage required to charge up the cars, trucks and buses we are supposed to replace with EVs.)
All these batteries would support the millions and millions of Green New Deal solar panels and wind turbines we would have to build and install. They would require prodigious amounts of iron, copper, rare earth metals, concrete and other raw materials. And every one of these batteries, turbines and panels would have to be replaced far more often than coal, gas, nuclear or hydroelectric power plants.
Indeed, what are we going do with all those worn-out and broken-down turbines, panels and batteries? The International Renewable Energy Agency has said disposing of just the worn out solar panels that the UN wants erected around the world by 2050, under the Paris Climate Treaty's solar energy goals, could result in two times the tonnage of the United States' total plastic waste in 2017!
So another icy cold reality is this: All this "free, renewable, sustainable, eco-friendly, ethical" energy would require the biggest expansion in mining the world has ever seen. But when was the last time any environmentalist or Democrat supported opening a single US mine? They detest mining.
Which brings us to the dirtiest pseudo-renewable, pseudo-sustainable energy secret of all - the one these folks absolutely do not want to talk about: slave and child labor.
Because of rabid environmentalist opposition, the United States and Europe no longer permit much mining within their borders. They just import minerals - many of them from China and Russia. And the same groups that extol the virtues of wind, solar and battery power are equally opposed to Western mining companies extracting rare earth, lithium, cadmium, cobalt and other minerals almost anywhere on Planet Earth - even under rigorous Western labor, safety, environmental and reclamation rules.
That means those materials are mined and processed in places like Baotou, Inner Mongolia, and the Democratic Republic of Congo, mostly under Chinese control. They are dug out and processed by fathers, mothers and children - under horrific, unsafe, inhuman conditions that few of us can even imagine ... under almost nonexistent labor, wage, health, safety and pollution standards.
Those renewable energy, high-tech slaves get a few pennies or dollars a day - while risking cave-ins and being exposed constantly to filthy, toxic, radioactive mud, dust, water and air. The mining and industrial areas become vast toxic wastelands, where nothing grows, and no people or wildlife can live.
For cobalt alone - say UNICEF and Amnesty International - over 40,000 Congolese children, as young as four years old, slave away in mines, from sunrise to sundown, six or even seven days a week. That's today. Imagine how many will be needed to serve the "ethical green energy utopia."
Green New Dealers demand sustainable, ethical, human rights-based coffee, sneakers, T-shirts, handbags and diamonds. Absolutely no child labor, sweat shop, or toxic, polluted workplace conditions allowed. But they have little or nothing to say about the Chinese, Russian and other companies that run the horrid operations that provide their wind turbines, solar panels, smart grids - and batteries for their cell phones, Teslas, laptops and backup electrical power.
I've never seen them make ethical wind turbines, solar panels and batteries an issue. They've never protested outside a Chinese, Russian or Congolese embassy, or corporate headquarters in Beijing, Moscow or Kinshasa. They probably don't want to get shot or sent to gulags.
And just a few weeks ago, California legislators voted down Assembly Bill 735. The bill simply said California would certify that "zero emission" electric vehicles sold in the state must be free of any materials or components that involve child labor. The issue is complicated, the legislators said. It would be too hard to enforce. It would imperil state climate goals. And besides, lots of other industries also use child labor ... they "explained."
As Milton Friedman said, there is no free lunch. Wind, solar, biofuel and battery power are not free, clean, green, renewable or sustainable. America must not let delusion, dishonesty and ideology drive public policies that will determine our future jobs, prosperity, living standards, freedoms and civilization.
What Green New Dealers are talking about has nothing to do with stopping dangerous manmade climate change - or with real sustainability, resource conservation or environmental protection. It has everything to do with increasingly socialist, largely taxpayer-financed activists, politicians, regulators and crony capitalists controlling people's lives; dictating our energy use, economic growth, job opportunities and living standards; and getting richer, more powerful and more privileged in the process.
Meanwhile poor, minority and working class families – pay the price. And destitute families in hungry, impoverished, electricity-deprived nations pay the highest price. China, India, Indonesia and Africa are not about to give up their determined efforts to take their rightful, God-given places among Earth's healthy and prosperous people. They are not going to stop using fossil fuels to reach their goals.
They are not going to let anyone - including the UN, EU, US Democrats and other eco-imperialists - tell them they can never enjoy those blessings. Or they will be "allowed" to improve their health and living standards only at the margins, only to levels achievable with wind, solar and cow dung power.
That's why, even as the United States reduced its carbon dioxide emissions by 12% between 2000 and 2017 - India's plant-fertilizing CO2 emissions soared by 140% and China's skyrocketed 194% - further greening Planet Earth. In 2019 alone, China alone will add more coal-fired generating capacity than what all existing US coal-fired power plants generate.
While all these countries continue using more and more fossil fuels to improve their economies, health and living standards - why in heaven's name would the United States want to join Green New Dealers and other crazies in an environment-destroying ban-fossil-fuels economic suicide pact?
Paul Driessen is senior policy analyst for the Committee For A Constructive Tomorrow (www.CFACT.org) and author of books and articles on energy, climate, environmental and human rights issues.
Sep 06, 2019
The Real Loser of the Democratic Presidential Candidate Climate Change Debate
by Craig D. Idso, Ph.D., Chairman, Center for the Study of Carbon Dioxide and Global Change
This past Wednesday evening (September 4, 2019) ten candidates for the Democrat party's nomination for President of the United States participated in a town hall-style forum on the cable network CNN to explain their policy positions with respect to climate change. The unanimous loser was the American people.
Surprisingly, there was very little difference among the candidate positions on CO2-induced climate change, which they all claim is the most dangerous threat the world has ever faced, surpassing the human toll and carnage of any preceding economic or military-related disaster, including the Holocaust and World War II.
Seriously?
Yep, they are serious. And apparently the world has only 11 years to reverse the coming climate apocalypse so we had all better shape up and climb aboard their policy prescription bandwagons and get moving to avoid it. No ounce of data to the contrary can convince them otherwise.
So just what are their policy prescriptions?
First, trust them that the science is settled. Don't question them or their authority on this issue. Rising CO2 emissions are causing dangerous climate change that is harming humanity and the natural world. If you think or believe otherwise you better watch out, especially if your job has any connection with the fossil fuel industry. If it does, congratulations, you will be the lucky recipient of financial penalties and lawsuits and even criminal prosecution, for the presidential candidates have spoken and they are coming for you.
The rest of the country, i.e. those not associated with the fossil fuel industry and who are not bankrupt or in jail, will have the privilege of supporting the new President's plan to cut back fossil energy use to prehistoric times by reducing CO2 emissions to zero within the completely inadequate and unrealistic time span of 25 to 30 years. And despite the proven correlation between CO2 emissions and national wealth shown in Figure 1, each of the presidential candidates claim the nation will not be bankrupt. Rather, they insist there will be money and jobs galore! The wind, solar and biofuel industries will all be hiring. If you previously worked in the fossil fuel industry and somehow escaped prosecution, no problem! There will be ample money available to reform and retrain you in your new, climate-friendly profession. And because each of the ten Democrat presidential candidates believes in environmental justice, they will rain free money down from Washington to those disproportionately impacted by the climate catastrophe that they will have somehow averted based on racial or social status.
On the way to establishing climate bliss, the future Democratic President will ensure that the United States will not be the only country committed to this noble cause. After rejoining the Paris Climate Accord, he or she will utilize the full power of the Office of the President to guarantee every other nation on the planet will do likewise because this is a global issue. Obviously, they will obey because the President will have spoken and they all want to return back to the glorious days of the per capita CO2 emissions and GDP scale presently occupied by Burundi, Niger and the Democratic Republic of Congo (see Figure 1).
The policy positions outlined in the Democratic presidential debate on climate change would be laughable if they were not true. But they are, and it is almost unbelievable that these proposals are taken seriously or that they are near unanimously shared among the various candidates seeking the presidential nomination in the Democrat Party. (Click here to view/download a pdf spreadsheet highlighting the ten candidate's positions on CO2 policy along with selected quotes taken from the September 4, 2019 debate.)
Longtime readers of CO2 Science know there is a mountain of scientific evidence that does not support the enaction of the proposed policy prescriptions. Carbon dioxide is not a pollutant and it is most certainly not causing dangerous global warming. Rather, its increase in the atmosphere is invigorating the biosphere, producing a multitude of benefits for humanity and the natural world, notwithstanding the prognostications of the uninformed (or deceptive) Democrat presidential candidates.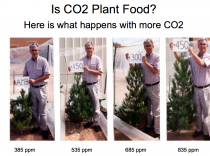 enlarged
The reality is that we need more, not less, fossil fuel use to enhance the future human environment. And so, to help get this positive, science-based message out, we have created a new Institute, the Institute for the Human Environment. We invite you to join us in that effort. The Institute's message is one for all people and all seasons, including the Democrat Party's presidential candidates and the CNN commentators. Carbon dioxide and fossil fuel use is not the bane of biosphere, it is an elixir of life that is advancing human development and improving the natural environment.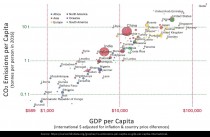 Figure 1. (enlarged)
The economic relationship between per capita GDP and per capita CO2 emissions on a countrywide basis for 2016, demonstrating that fossil energy use is fundamentally linked to economic growth. As countries have embraced and increased their production of fossil energy, their citizens have been amply rewarded with increased economic development and growth. Such fossil fuel-based economic prosperity has been proven over and over again throughout the past century as country after country has moved position along this graph from locations near the bottom left toward the upper right. And it will continue to be the case so long as governments refrain from enacting policy that restricts CO2 emissions and/or fossil fuel use.
--------------
Icecap Note:
Thanks Craig, the real existential threat to humanity is NOT fossil fuel or climate change but radical environmentalism as prescribed by all the democratic candidates and globalists in other countries. Leftist politicians want to bring our country back to the pack and make more and more of our citizens dependent on big government.