Friday, May 05, 2017
Thoughts on the Public Discourse over Climate Change
MIT atmospheric science professor Richard Lindzen suggests that many claims regarding climate change are exaggerated and unnecessarily alarmist.
Introduction:
For over 30 years, I have been giving talks on the science of climate change. When, however, I speak to a non-expert audience, and attempt to explain such matters as climate sensitivity, the relation of global mean temperature anomaly to extreme weather, that warming has decreased profoundly for the past 18 years, etc., it is obvious that the audience's eyes are glazing over. Although I have presented evidence as to why the issue is not a catastrophe and may likely be beneficial, the response is puzzlement. I am typically asked how this is possible.
After all, 97% of scientists agree, several of the hottest years on record have occurred during the past 18 years, all sorts of extremes have become more common, polar bears are disappearing, as is arctic ice, etc. In brief, there is overwhelming evidence of warming, etc. I tended to be surprised that anyone could get away with such sophistry or even downright dishonesty, but it is, unfortunately, the case that this was not evident to many of my listeners. I will try in this brief article to explain why such claims are, in fact, evidence of the dishonesty of the alarmist position.
The 97% meme:
This claim is actually a come-down from the 1988 claim on the cover of Newsweek that all scientists agree. In either case, the claim is meant to satisfy the non-expert that he or she has no need to understand the science. Mere agreement with the 97% will indicate that one is a supporter of science and superior to anyone denying disaster. This actually satisfies a psychological need for many people. The claim is made by a number of individuals and there are a number of ways in which the claim is presented. A thorough debunking has been given in the Wall Street Journal by Bast and Spencer.
One of the dodges is to poll scientists as to whether they agree that CO2 levels in the atmosphere have increased, that the Earth has been warming (albeit only a little) and that man has played some part. This is, indeed, something almost all of us can agree on, but which has no obvious implication of danger. Nonetheless this is portrayed as support for catastrophism. Other dodges involve looking at a large number of abstracts where only a few actually deal with danger. If among these few, 97% support catastrophism, the 97% is presented as pertaining to the much larger totality of abstracts. One of my favorites is the recent claim in the Christian Science Monitor (a once respected and influential newspaper): "For the record, of the nearly 70,000 peer-reviewed articles on global warming published in 2013 and 2014, four authors rejected the idea that humans are the main drivers of climate change." I don't think that it takes an expert to recognize that this claim is a bizarre fantasy for many obvious reasons. Even the United Nations Intergovernmental Panel on Climate Change (this body, generally referred to as the IPCC is the body created by the UN to provide 'authoritative' assessments of manmade climate change) doesn't agree with the claim.
....
Concluding remarks:
The accumulation of false and/or misleading claims is often referred to as the 'overwhelming evidence' for forthcoming catastrophe. Without these claims, one might legitimately ask whether there is any evidence at all.
Despite this, climate change has been the alleged motivation for numerous policies, which, for the most part, seem to have done more harm than the purported climate change, and have the obvious capacity to do much more. Perhaps the best that can be said for these efforts is that they are acknowledged to have little impact on either CO2 levels or temperatures despite their immense cost. This is relatively good news since there is ample evidence that both changes are likely to be beneficial although the immense waste of money is not.
I haven't spent much time on the details of the science, but there is one thing that should spark skepticism in any intelligent reader. The system we are looking at consists in two turbulent fluids interacting with each other. They are on a rotating planet that is differentially heated by the sun. A vital constituent of the atmospheric component is water in the liquid, solid and vapor phases, and the changes in phase have vast energetic ramifications. The energy budget of this system involves the absorption and reemission of about 200 watts per square meter. Doubling CO2 involves a 2% perturbation to this budget. So do minor changes in clouds and other features, and such changes are common. In this complex multifactor system, what is the likelihood of the climate (which, itself, consists in many variables and not just globally averaged temperature anomaly) is controlled by this 2% perturbation in a single variable? Believing this is pretty close to believing in magic. Instead, you are told that it is believing in 'science.' Such a claim should be a tip-off that something is amiss. After all, science is a mode of inquiry rather than a belief structure.
Richard Lindzen is the Alfred P. Sloan Professor of Atmospheric Sciences, Emeritus at Massachusetts Institute of Technology.
---------
ICECAP NOTE:
This screen captures are from Tony Hellers address to the Washington State Senate.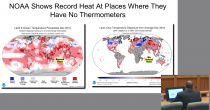 Enlarged
Monday, April 24, 2017
Are Global Warming claims and the so called Consensus a Sinister Betrayal of Science?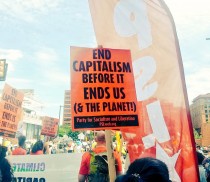 Crowds marched again for Earth Day. Many were really marching in anger because their candidate lost, some probably feared what would happen to their benefits when the bloated government bureaucracy is forced to shrink, others showed the typical march disdain for democracy which gives them the right to march and protest, others were deluded into thinking the critical mission they supported to save the planet was threatened.
The book Extraordinary Popular Delusions and the Madness of Crowds was a study of crowd psychology by Scottish journalist Charles Mackay, first published in 1841.
It was mentioned by astronomer Carl Sagan, Professor and Director of Cornell University's Laboratory for Planetary Studies and host of the series Cosmos a Personal Voyage in a 1995 book The Demon-Haunted World: Science as a Candle in the Dark.
Sagan explained the scientific method and encouraged critical and skeptical thinking. He emphasized the importance of recognizing the difference between what is considered valid science and which is in reality pseudoscience.
Sagan like fellow Cornell physicist/lecturer Richard Feynman argued when new ideas are offered for consideration, they should be tested by means of skeptical thinking and should stand up to rigorous questioning. Feynman lectured:
"If a theory or proposed law disagrees with experiment (or observation), it's wrong. In that simple statement is the key to science. It doesn't make any difference how beautiful your guess is, it doesn't matter how smart you are who made the guess, or what your name is… If it disagrees with experiment, it's wrong. That's all there is to it."
Sir Karl Popper, an Austrian-British philosopher and professor is generally regarded as one of the greatest philosophers of science of the 20th century. Popper is known for his rejection of the classical inductivist views on the scientific method, in favor of empirical falsification: A theory in the empirical sciences can never be proven, but it can be falsified, meaning that it can and should be scrutinized by decisive experiments.
See in this chapter by James R. Fleming, Professor of Science, Technology and Society at Colby College, how the scientific method worked in climate change theories all through history.
That held until politicians with a globalist viewpoint were searching for a cause that would drive their globalization goals. The Club of Rome was an organization formed in 1968 consisting of current and former heads of state, UN bureaucrats, high-level politicians and government officials, diplomats, scientists, economists and business leaders from around the globe. It raised considerable public attention in 1972 with its report The Limits to Growth. The club states that its mission is "to act as a global catalyst for change through the identification and analysis of the crucial problems facing humanity and the communication of such problems to the most important public and private decision makers as well as to the general public." In 1991, the club published The First Global Revolution in which they decided:
"In searching for a new enemy to unite us, we came up with the idea that pollution, the threat of global warming...would fit the bill...It does not matter if this common enemy is "a real one or...one invented for the purpose."
That is when massive investment began into building a case for their cause by funding the UN, global universities, scientists and in government agencies through published work and reports ensuring an alignment around the theory that we are responsible for all bad things that happen and paint them as unprecedented. That investment has exceeded $1 trillion dollars. Meanwhile instead of engaging and supporting critical thinking and testing of hypothesis, there was concerted effort to paint anyone not supporting their theory as deniers with not so subtle attempts to liken them to holocaust deniers and those who denied the dangers of cigarettes.
Scientists practicing the scientific method were demonized, stripped where possible of their role in universities and in government agencies. Many have remained silent to keep their position. A few courageous whistle blowers have emerged from the UN, government and universities but they have been attacked by other scientists and generally ignored by the media, which in many cases are trained in journalism schools, which prepare environmental journalists to battle, discredit or deny air-time to any skeptics.
As Ron Arnold wrote in 2015:
You can credit the Society of Environmental Journalists (SEJ), a 501(c)(3) tax-exempt organization with more than 1,200 member reporters and academics in the United States, Canada, Mexico, and 27 other countries, with the general decline in journalistic standards among environmental journalists.
SEJ has received 119 grants from 35 notorious anti-development foundations, totaling $9.5 million since 1999. With this financial prompting, the SEJ's stalwarts, including Andrew Revkin (The New York Times), Seth Borenstein (Associated Press), and Suzanne Goldenberg (The Guardian), have led the decline of climate news into ideological warfare.
To many SEJ writers, it is not possible for them to be biased, because issues have only one side: their own.
Associated Press' Borenstein asserted, "The nature of reporting is to get two sides to an issue. But the nature of science reporting is to get what's really happening." SEJ thinks whatever isn't environmental dogma is a lie, as indicated by its incredible reference webpage "Climate Change: A Guide to the Information and Disinformation."
SEJ writers also promote "false balance," the notion that giving opposing views concerning climate change any mention at all is not real balance because skeptics are liars paid to undermine the truth, (which) justifies total censorship.... Some go as far as to recommend violence to achieve environmental goals
With the Obama administration's Machiavellian collusion, reporters who are more environmentalist than journalist now rule the climate beat.
It is increasingly clear as MacKay warned 166 years ago, there is a politically-driven, wrong though popular delusion thanks to the help of complicit media. Last weekend also showed a madness of crowds.
The whole aim of practical politics is to keep the populace alarmed (and hence clamorous to be led to safety) by menacing it with an endless series of hobgoblins, all of them imaginary. H. L. Mencken

THE PAUSE THE MEDIA NEVER MENTIONED

Until the last strong El Nino brought the normal spike in global temperatures, there was much ado about what was being called a pause of almost 19 years in global temperature rise. Eventually even the once professional societies like the AMS, had to admit to it and had papers published and many panels at annual meetings discussing why the accelerated warming predicted by climate models and the UN IPCC was not occurring even as global CO2 levels continued to rise.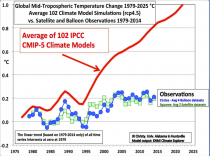 Enlarged
The first efforts made to address this inconvenient truth were to modify the data sets (surface and some balloon and satellite) to bring the data closer into agreement with the models (instead of rethinking the theory and models as Sagan, Feynman and Popper would argue). Then the got the help from El Nino. A weak La Nina and a declining sun should cause temperatures to fall off and the pause resume but the train may have left the station unless we walk away from the Paris Treaty.
This conflicting data had for several years brought an uncomfortable feeling among many believers, what is called 'cognitive dissonance', but most all were able to shake it off especially when they have so many colleagues riding the same grant gravy trains that benefit from the failing theory or have business financial potential and/or personal political ideologies that the plans to address the so-called Catastrophic Anthropogenic Global Warming fits so nicely into.
A fine work over five decades ago "When Prophecies Fail" by Leon Festinger, a social psychologist helps explain how they can do that and why we may not see a widespread rapid return to sanity on global climate change even as the pause resumes and other evidence mounts the prevailing greenhouse theories are flawed, global warming has ceased and climate change may be largely due to natural variability.
When disconfirmatory (contrary) evidence is presented, Festinger found one condition that often determined whether the belief is discarded or maintained with new fervor by belief with a strongly held belief. That was whether or not the individual believer has social support. It is unlikely that one isolated believer could withstand strong disconfirming evidence. If, however, the believer is a member of a group of convinced persons who can support one another, you might expect the belief to be maintained and the believers to attempt to proselytize or persuade non-members that the belief is correct even in the face of data suggesting otherwise.
Today there is a huge 'social support' group of grant toting modelers and researchers, agenda driven or ratings driven journalists, environmentalists, pseudo-intellectualists, government agencies and corporations that have realized green is their favorite color and see this as a way to keep green paper flowing into their coffers and pockets. We have farmers who are benefiting from the misplaced focus on alternative fuel from crops, traders and major market firms licking their chops at the prospects of big time money from carbon trading, big oil and alternative energy companies that have realized this is the vector to bigger profits and the politicians and political activists who see it as a way to accomplish ulterior goals about changing society and increasing their powerbase.
In reality although there is claimed consensus, scientists and the public are not so convinced. It will only be after the public realizes they have been snookered or like in the UK, they realize the pains for adhering to the green assault on humanity is insufferable (Brexit and the French election were largely due to this) that the situation may turn on them. We can only hope damage done here is not great or irreparable when that day finally comes.
Perhaps, the greens and the administration and untrustworthy mainstream media with the outrageous claims saying "global warming is the greatest peril that humanity faces" as Bill Maher opined this past week, "Sarin Gas is not the most dangerous chemical poison, CO2 is," has them sensing a snake oil salesman situation. Someone needs to inform Maher that every exhaled breathe he takes has 100 times more CO2 as in the air.
The late great Michael Crichton, author of State of Fear on this topic, said "Historically, the claim of consensus is the first refuge of scoundrels; it is a way to avoid debate by claiming the matter is already settled." "Whenever you hear the consensus of scientists agrees on something or other, reach for your wallet, because you're being had."
"Let's be clear: the work of science has nothing whatever to do with consensus. Consensus is the business of politics. In science, consensus is irrelevant. What is relevant is reproducible results. The greatest scientists in history are great precisely because they broke with the consensus." (Galileo, Newton, Einstein, etc). He concluded: "There is no such thing as consensus science. If it's consensus, it isn't science. If it's science, it isn't consensus. Period."
We all miss the man and his work. By the way in Has Science Lost its Way? , Dr. Michael Guillen reported that last year Nature, the prestigious international science journal, published a study revealing that "More than 70% of researchers have tried and failed to reproduce another scientist's experiments, and more than half have failed to reproduce their own experiments."
The inability to confirm research that was published in highly respected, peer-reviewed journals suggests something is very wrong with how science is being done. They observed one of the issues was that too many scientists are actually never taught the scientific method.
Before scientists do research they ought to look at the words and work of Sagan, Feynman and Popper. Bad science leads to bad policies. Bad policies harm good people.
The men the American people admire most extravagantly are the most daring liars; the men they detest most violently are those who try to tell them the truth. H. L. Mencken
Sunday, April 23, 2017
The March for … What?
By Joe Bastardi, The Patriot Post
The March for Science is tomorrow and no one in their right mind would say they are against it because of its name. First of all, you are standing against the right of people to march for whatever cause they wish. Second, you would be portrayed as someone who is against science.
I am all for science. I think the climate changes. It always has and always will. Yet I have been portrayed as anti-science and a climate change "denier" by many who will be marching for things I certainly believe in.
Just who does not believe in science? It's a straw man the marchers are marching against.
What is questionable is the way science is being portrayed and used. Here is an example. You have seen this a kajillion times; now it's a kajillion and one.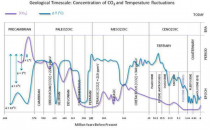 Enlarged
This shows no apparent linkage between CO2 and temperature in a time scale that goes back millions of years. So as someone who is acquainted with the scientific method, I am instantly skeptical of the idea that after all this time, there is now a linkage. That does not mean there can't be, and I am open to that argument and understand it. But as I asked in my last blog, how much linkage is there?
What I am trying to figure out is why there is a march when many of the people in that march have no tolerance for the questioning of their position. While I think it's noble to be inclusive and diverse, are any "skeptics" included as speakers? Is there diversity of thought? Of course not. Because in spite of what you see in the graphs above and below, they ignore the obvious. The planet has always had temperature swings - larger than this and independent of CO2 - that should make any person searching for the truth skeptical as to how much CO2 contributes.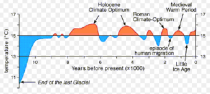 Enlarged
Questioning of dogma need not apply. That sounds more like religion than science. Being for science means being for discussion. So who is anti-science here? A classic case of "blame your opposition for what you are actually doing." It is not the skeptic side shutting down debate.
One must be very careful when questioning the motives in academia. There seems to be two opposing forces today in society in general: people who seek to earn their keep, and people who believe they are owed their keep. There is no question that without research - much of it done in our schools, but also government and the private sector - we would not be where we are today. But guess what fuels the economic engine that allows people the grant money, etc., for research?
I have to question motivation. For instance, if man-made global warming is such a done deal, why are we researching it anymore? Actual settled science (freezing and boiling points of water, gravity, the sun is darn hot) is not being researched. So apparently AGW is not settled science. And for a good reason - if it is true this is all man-made, it's the first time, established by science, in recorded history. Another reason for being skeptical.
But the statement by the former EPA director that the actions have shut down a lot of business in this country and were brakes on the American economic engine really says a lot about what may be behind this. Preventing only .01 Celsius (you can't even measure that with certainty) over 30 years was not the main reason. Instead, it was being a good example for the rest of the world. When I heard that it was so absurd to me I thought it was meant to sabotage the EPA mission. But no one said boo about it.
Finally, there seems to be a mass denial (there is that nasty word) that the progress of humans, and of course researchers, has been huge in the fossil fuel era.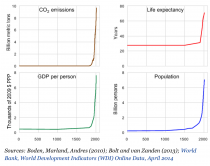 Enlarged
The assumption that this would not continue makes no sense. In addition, a vibrant economy seems to be a moral and ethical positive. As far as researchers worried about grants being cut, would you rather get 10% of 50 or 15% of 10? Yes, it's a bit of an exaggeration, though it makes my point. The population curve and the increase in GDP and life expectancy says to me the pie is expanding and many new challenges that need researching are going to continue to challenge people. And science will have to meet that challenge.
I will not be going to the March for Science. I rather doubt I would be welcome and so I would have to go in a disguise for fear of being torn limb from limb from the open tolerant marchers. But as in all questions in science, which involve why, when I look at the march, I am asking why about that.
No one is anti-science, even if a group of people wish to try to convince you of that.
Joe Bastardi is chief forecaster at WeatherBELL Analytics, a meteorological consulting firm, and contributor to The Patriot Post on environmental issues.
Sunday, April 16, 2017
Real science must guide policy
UPDATE: Mr. President: Stop the Paris Climate Treaty
To President Donald J. Trump:
Don't listen to the Swamp. Please keep your campaign promise to withdraw the United States from the U.N. Paris Climate Treaty and send it to the Senate for a vote.
President Trump should keep his promise to withdraw from the Paris Climate Treaty. The Paris treaty is a key part of President Obama's war on America's most affordable and abundant energy - coal, oil, and natural gas.
But the Washington Swamp and the United Nations establishment are fighting hard to change President Trump's mind. These are not the people who voted to change the direction of the country.
The Paris Climate Treaty requires regulations that will force Americans to pay more and more for energy. Higher energy costs hurt hardworking American families, destroy jobs, and put our nation at a competitive disadvantage.
The Paris Agreement is a treaty. According to the Constitution, treaties require a two-thirds supermajority vote by the U.S. Senate.
The Paris Climate Treaty process was dishonest and unconstitutional. Congress has voted repeatedly against energy-rationing climate legislation time and again. A Senate vote against ratification will re-affirm this position.
---------

Climate alarmists use faulty science and bald assertions to demand end to fossil fuels
Paul Driessen
Driessen_-_Real_science_must_guide_policy.pdf
All too many alarmist climate scientists have received millions in taxpayer grants over the years, relied on computer models that do not reflect real-world observations, attacked and refused to debate scientists who disagree with manmade climate cataclysm claims, refused to share their computer algorithms and raw data with reviewers outside their circle of fellow researchers and then used their work to make or justify demands that the world eliminate the fossil fuels that provide 80% of our energy and have lifted billions out of nasty, brutish, life-shortening poverty and disease.
A recent US House of Representatives Science Committee hearing on assumptions, policy implications and scientific principles of climate change showcased this. Testimony by climate scientists Drs. John Christy, Judith Curry and Roger Pielke, Jr. contrasted sharply with that of Dr. Michael Mann.
Christy noted that Congress and the public have been getting biased analyses and conclusions that begin with and attempt to confirm the belief that human greenhouse gas (GHG) emissions drive climate change. He said government should "organize and fund credible 'Red Teams' that look at issues such as natural variability, the failure of climate models and the huge benefits to society from affordable energy, carbon-based and otherwise." He demonstrated how average global temperatures predicted by dozens of models for 2015 are now off by a full half-degree Celsius (0.9 F) from what has actually been measured.
Curry discussed how she has been repeatedly vilified as an "anti-science" climate change "denier" and "disinformer." But she focused on the role of the scientific method, especially as related to the complex forces involved in climate change - and especially when used to advise on policy and law. Real science means positing and proving a hypothesis with convincing real world evidence. Models can help, but only if they accurately reflect the total climate system and their results conform to real world observations.
Pielke discussed his own mistreatment as a "denier" and showed that there is "little scientific basis" for claims that extreme weather events (tornadoes, hurricanes, floods, droughts) have increased in recent decades due to GHG emissions. In fact, IPCC and other studies reveal that the USA and world have had "remarkable good fortune" with extreme weather in recent years, compared to the past: 23 major hurricanes hit the US East Coast 1915-1964; but only 9 in 1965-2016 and not one since October 2005. He also offered 18 specific recommendations for improving scientific integrity in climate science.
Mann said the other three witnesses represent a "tiny minority" who stand opposed to the 97% who agree that "climate change is real, is human-caused, and is already having adverse impacts on us, our economy, and our planet." He defended his "hockey stick" historic temperature graph, claimed climate models have been "tested vigorously and rigorously" and have "passed a number of impressive tests," insisted that warming [of a couple hundredths of a degree] in recent years proves that manmade global warming "has continued unabated," and accused those who contest these statements of being "anti-science" deniers.
The "97% consensus" is imaginary - a fabrication. One source was a survey sent to 10,256 scientists, of whom 3,146 responded. But their number was arbitrarily reduced to 77 "expert" or "active" climate researchers, of which 75 agreed with two simplistic questions that many would support. (Has Earth warmed since 1800? Did humans play a significant role?) Voila! 97% consensus. But what about the other 3,069 respondents? 75 out of 3,146 is barely 0.02 percent. Purported consensus studies by Cook, Oreskes and others were just as bogus.
Moreover, governments have been spending billions of dollars annually on climate research. The vas majority went to the alarmist camp. If $25,000 or $100,000 a year from fossil fuel interests can "buy" skeptical scientists, as we are often told, how much "consensus" can billions purchase? If many scientists who contest "dangerous manmade climate change" are harassed, or threatened with RICO prosecutions, how many will have the courage to speak out and challenge the "consensus" and "settled science"?
These are timely questions. On April 12, 1633 the Catholic Church convicted astronomer Galileo Galilei of heresy, for refusing to accept its doctrine that the Sun revolves around the Earth.
But far more important, the climate battle is not merely a debate over miasma versus germ theory of disease, AC versus DC current, or geologic mechanisms behind plate tectonics. It's far more even than disagreements over how much humans might be affecting Earth's climate, or how bad (or beneficial) future changes might be, on a planet where climate fluctuations have occurred throughout history.
Manmade climate catastrophe claims are being used to justify demands that the United States and world eliminate the carbon-based fuels that provide 80% of the energy that makes modern industry, civilization and living standards possible - and that continue to lift billions of people out of poverty and disease.
Climate alarmists want that radical transformation to take place right now. McKinsey & Company, the UN and assorted activists say the world must spend some $93 trillion over the next 15 years to convert completely from fossil fuels to "sustainable" energy! Or it will be too late. Our planet will be doomed.
Claims and demands like those require solid, incontrovertible proof that climate alarmists are right. Not just computer models, repeated assertions, "peer review" among like-minded researchers seeking their next government grant, or a partial-degree of warming amid multiple El Ninos and cooling cycles. They require "Red Team" analyses and open, unfettered debate over every aspect of human and natural influences on Earth's climate, the ways carbon dioxide improves plant growth, and the need for abundant, reliable, affordable electricity and motor fuel for every person in every nation.
We haven't had any of that so far. Up to now, climate chaos is just one more Club of Rome supposedly looming disaster, supposedly caused by human intervention in natural processes, supposedly requiring immediate, fundamental changes in human behavior, to avoid supposed global calamities - threats to the very survival of our wildlife, civilization and planet. It's all assertions, devoid of persuasive evidence.
It's true that virtually all nations have signed the Paris accords. However, only President Obama signed it for the USA; the Senate never ratified the decision. And the US reduced its CO2 emissions by 12.5% since 2007, while Europe's carbon dioxide emissions rose 0.7% in one year, 2014-2015.
Britain is looking into rescinding some 2020 clean energy targets and using more coal and natural gas. EU nations are realizing that overpriced, unreliable wind and solar power is hammering families and killing their jobs and economies. Virtually all the developing nations that signed onto the Paris (non)treaty did so because they were promised trillions of dollars in climate "adaptation, mitigation and reparation" money.
That brings us to another April anniversary: the 1815 eruption of Indonesia's Mt. Tambora. This monumental volcanic explosion blew an inconceivable 4,650 feet off the volcano; sent 36 cubic miles of ash, rock, sulfur and other gases into the atmosphere; triggered tsunamis that killed over 10,000 people; and caused serious climate changes and crop failures that killed 80,000 more over the following year.
We may be about to witness another volcanic explosion. Under the Paris insanity, developed nations are expected to de-carbonize, de-industrialize and curb their growth - while sending $100 billion per year to ruling elites in developing countries that are not required to trim fossil fuel use or GHG emissions.
It cannot and will not happen. In fact, industrialized nations are already reneging on their pledges, refusing to contribute to the Green Climate Fund, or recasting current foreign aid as Paris climate money. China, India, Brazil and poor countries are outraged. They want new money, more money - or else they will walk away from their commitments, and the Paris house of cards will collapse. It should collapse.
Billions of people are still energy-deprived, impoverished, diseased and starving. Millions are dying needlessly every year. Faulty, authoritarian climate and "sustainability" claims are being use to perpetuate these travesties. It's time to help poor countries get the same energy, technologies and opportunities we have - so that they can take their rightful places among Earth's healthy and prosperous people.
Paul Driessen is senior policy analyst for the Committee For A Constructive Tomorrow (http://www.CFACT.org) and author of Eco-Imperialism: Green power - Black death.Driessen_-_Real_science_must_guide_policy.pdf
Saturday, April 01, 2017
7 Enviro Predictions From Earth Day 1970 That Were Just Dead Wrong
Nobel Laureate in Physics; "Global Warming is Pseudoscience"
-------
Environmentalists truly believed and predicted during the first Earth Day in 1970 that the planet was doomed unless drastic actions were taken.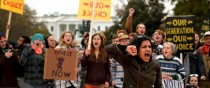 Humanity never quite got around to that drastic action, but environmentalists still recall the first Earth Day fondly and hold many of the predictions in high regard.
So this Earth Day, The Daily Caller News Foundation takes a look at predictions made by environmentalists around the original Earth Day in 1970 to see how they've held up.
Have any of these dire predictions come true? No, but that hasn't stopped environmentalists from worrying.
From predicting the end of civilization to classic worries about peak oil, here are seven environmentalist predictions that were just flat out wrong.
1: "Civilization Will End Within 15 Or 30 Years"
Harvard biologist Dr. George Wald warned shortly before the first Earth Day in 1970 that civilization would soon end "unless immediate action is taken against problems facing mankind." Three years before his projection, Wald was awarded the Nobel Prize for Physiology or Medicine.
Wald was a vocal opponent of the Vietnam War and the nuclear arms race. He even flew to Moscow at one point to advise the leader of the Soviet Union on environmental policy.
Despite his assistance to a communist government, civilization still exists. The percentage of Americans who are concerned about environmental threats has fallen as civilization failed to end by environmental catastrophe.
2: "100-200 Million People Per Year Will Be Starving To Death During The Next Ten Years"
Stanford professor Dr. Paul Ehrlich declared in April 1970 that mass starvation was imminent. His dire predictions failed to materialize as the number of people living in poverty has significantly declined and the amount of food per person has steadily increased, despite population growth. The world's Gross Domestic Product per person has immeasurably grown despite increases in population.
Ehrlich is largely responsible for this view, having co-published "The Population Bomb" with The Sierra Club in 1968. The book made a number of claims including that millions of humans would starve to death in the 1970s and 1980s, mass famines would sweep England leading to the country's demise, and that ecological destruction would devastate the planet causing the collapse of civilization.
3: "Population Will Inevitably And Completely Outstrip Whatever Small Increases In Food Supplies We Make"
Paul Ehrlich also made the above claim in 1970, shortly before an agricultural revolution that caused the world's food supply to rapidly increase.
Ehrlich has consistently failed to revise his predictions when confronted with the fact that they did not occur, stating in 2009 that "perhaps the most serious flaw in The Bomb was that it was much too optimistic about the future."
4: "Demographers Agree Almost Unanimously ... Thirty Years From Now, The Entire World ... Will Be In Famine"
Environmentalists in 1970 truly believed in a scientific consensus predicting global famine due to population growth in the developing world, especially in India.
"Demographers agree almost unanimously on the following grim timetable: by 1975 widespread famines will begin in India; these will spread by 1990 to include all of India, Pakistan, China and the Near East, Africa. By the year 2000, or conceivably sooner, South and Central America will exist under famine conditions," Peter Gunter, a professor at North Texas State University, said in a 1970 issue of The Living Wilderness."By the year 2000, thirty years from now, the entire world, with the exception of Western Europe, North America, and Australia, will be in famine."
India, where the famines were supposed to begin, recently became one of the world's largest exporters of agricultural products and food supply per person in the country has drastically increased in recent years. In fact, the number of people in every country listed by Gunter has risen dramatically since 1970.
5: "In A Decade, Urban Dwellers Will Have To Wear Gas Masks To Survive Air Pollution"
Life magazine stated in January 1970 that scientist had "solid experimental and theoretical evidence" to believe that "in a decade, urban dwellers will have to wear gas masks to survive air pollution...by 1985 air pollution will have reduced the amount of sunlight reaching Earth by one half."
Despite the prediction, air quality has been improving worldwide, according to the World Health Organization. Air pollution has also sharply declined in industrialized countries. Carbon dioxide (CO2), the gas environmentalists are worried about today, is odorless, invisible and harmless to humans in normal amounts.
6: "Childbearing [Will Be] A Punishable Crime Against Society, Unless The Parents Hold A Government License"
David Brower, the first executive director of The Sierra Club made the above claim and went on to say that "all potential parents [should be] required to use contraceptive chemicals, the government issuing antidotes to citizens chosen for childbearing." Brower was also essential in founding Friends of the Earth and the League Of Conservation Voters and much of the modern environmental movement.
Brower believed that most environmental problems were ultimately attributable to new technology that allowed humans to pass natural limits on population size. He famously stated before his death in 2000 that "all technology should be assumed guilty until proven innocent" and repeatedly advocated for mandatory birth control.
Today, the only major government to ever get close to his vision has been China, which ended its one-child policy last October.
7: "By The Year 2000 ... There Won't Be Any More Crude Oil"
On Earth Day in 1970 ecologist Kenneth Watt famously predicted that the world would run out of oil saying, "You'll drive up to the pump and say, 'Fill 'er up, buddy,' and he'll say, 'I am very sorry, there isn't any.'"
Do You Think Environmentalists Make Up Predictions Or They're Genuinely Wrong?
Numerous academics like Watt predicted that American oil production peaked in 1970 and would gradually decline, likely causing a global economic meltdown. However, the successful application of massive hydraulic fracturing, or fracking, caused American oil production to come roaring back and there is currently too much oil on the market.
American oil and natural gas reserves are at their highest levels since 1972 and American oil production in 2014 was 80 percent higher than in 2008 thanks to fracking.
Furthermore, the U.S. now controls the world's largest untapped oil reserve, the Green River Formation in Colorado. This formation alone contains up to 3 trillion barrels of untapped oil shale, half of which may be recoverable. That's five and a half times the proven reserves of Saudi Arabia. This single geologic formation could contain more oil than the rest of the world's proven reserves combined.
(H/T, Ronald Bailey at Reason and Mark Perry at the American Enterprise Institute).
The Cornwell Alliance has a series of videos on India at the crossroads here. Here are three latest videos.
Friday, March 31, 2017
Michael Mann Embarrasses Himself before Congress
by Julie Kelly

March 30, 2017 5:23 PM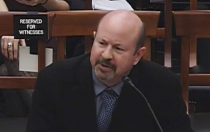 If the climate-change evangelist can't be bothered to take a House hearing seriously, why should anyone take him seriously? In his testimony to the House Science Committee on Wednesday, Michael Mann, one of the world's leading climate scientists, told the story of Trofim Lysenko, a plant scientist who worked for Stalinist Russia: Lysenko was a Russian agronomist and it became Leninist doctrine to impose his views about heredity, which were crackpot theories, completely at odds with the world's scientists. Under Stalin, scientists were being jailed if they disagreed with his theories about agriculture. And Russian agriculture actually suffered, scientists were jailed, many died in their jail cells and potentially millions of people suffered from the disastrous agriculture policies that followed from that.
The gist of Mann's anecdote was that scientists who challenge the ruling government's diktat on any given scientific issue are demonized and punished while innocent bystanders suffer. In the here and now, this would seemingly apply to the minority of scientists brave enough to question the reigning dogma of climate science. After all, these are the folks who have been threatened by top law-enforcement officials, personally and professionally attacked by their peers, and even driven out of their academic positions due to the harassment. But astonishingly, Mann was not talking about those scientists: He was talking about himself. In his alternative universe, he and other climate scientists are the martyrs, oppressed and silenced by the Politburo. Never mind that Mann - a tenured professor at one of the country's top public universities - opened his testimony by reciting a prodigious list of awards he has won, books he has authored, scientific organizations he leads. He is celebrated by the media and environmental groups around the world, and yet in front of Congress he talked like a guy on his way to the Gulag. It takes a special blend of hubris, juvenility, and dishonesty to portray yourself as a victim when you are really the bully.
It was quite a spectacle.
Mann was joined on the panel by Judith Curry, John Christy, and Roger Pielke, Jr. - three scientists who have actually endured the kind of political witch-hunts Mann referred to. Rather than present data or debate the science, Mann mostly engaged in the sophistry that has gradually undermined the credibility of climate science. He repeatedly referred to a bogus "97 percent consensus" about man-made climate change, and accused the Heartland Institute of being a "climate-change denying, Koch brothers-funded outlet."
He engaged in one ad hominem attack after another against his fellow panelists and the committee's chairman, Representative Lamar Smith. He questioned whether Smith really understood the scientific method and read a nasty quote about Smith from a smear piece in Science magazine Mann's rhetoric became so inflamed that he was finally upbraided by Representative Dana Rohrabacher.
"From the get go, we have heard personal attack after personal attack coming from those claiming to represent the mainstream of science," Rohrabacher said to Mann. "Call people 'deniers' all you want, use any kind of name you want...when we talk about Mr. Lysenko, that's the kind of thing they did to the scientists in Russia. Try to call people names and beat them into submission, that's a Stalinist tactic."
Mann's name-calling prompted Representative Darin LaHood (R., Ill.) to bring up his defamation lawsuit against National Review. After getting confirmation from Curry and Pielke that they had been subjected to attacks by Mann - Pielke said he couldn't "keep up with all of Dr. Mann's epithets" - LaHood called Mann on his hypocrisy: "You mention in your opening statement about staying away from that and yet we have a suit that's been filed based on those exact same things. There's a real disconnect between a defamation suit that does the exact same thing you're engaged in that in this public forum."
Turns out Mann appears to be a bit of a denier himself. Under questioning, Mann denied being involved with the Climate Accountability Institute even though he is featured on its website as a board member. CAI is one of the groups pushing a scorched-earth approach to climate deniers, urging lawmakers to employ the RICO statute against fossil-fuel corporations. When asked directly if he was either affiliated or associated with CAI, Mann answered "no." I talked to Pielke after the hearing. He was clearly frustrated about the status of the science he loves. "If these are the leading voices of climate science, they can have it," he told me. "The field is so politicized that it's almost impossible to break through. Now we are being compared to murderers and Stalinists. If their favored policies are so fragile in light of legitimate critique, they might want to rethink their policies." Mann was obviously trolling the committee and humoring his base during the hearing; he didn't even pretend to take it seriously. (He later tweeted that - on a dare - he had referenced the movie The Princess Bride during his testimony.) That is certainly his prerogative. But you would think the day after President Trump decimated the Obama administration's climate-change agenda by rolling back the Clean Power Plan, a leading climate scientist would at least try to make a compelling case against such sweeping action. But Mann put his own ego ahead of science.
Not everyone was amused. "Dr. Mann's hypocrisy was on full public display," Smith told me via e-mail. "Members of the scientific community should be free from such ad hominem attacks. Those who engage in name-calling seldom have the facts on their side." If Mann's behavior is representative of the seriousness of "mainstream" climate scientists, we should all reconsider the credibility of his message.

Julie Kelly is a writer from Orland Park, Ill.
---------
Hump Day Hilarity: Mann-o-War at the House Climate Science Hearing
Anthony Watts
Josh writes:
On this historic Brexit day the fun has not been confined to this continent. Over in the US they have had a 'hearing' on Climate Science with three of the world's most eminent climate scientists. Michael Mann was there too.
The Hearing-Climate Science: Assumptions, Policy Implications, and the Scientific Method, House Committee on Science, Space, and Technology. On the Panel were Dr. Judith Curry, Dr. John Christy. Dr. Michael Mann, and Dr. Roger Pielke Jr.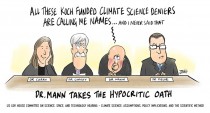 Worth watching (nearly) the whole thing.
Added: links to written testimony are within each name. Anthony
Witnesses
Dr. Judith Curry
President, Climate Forecast Applications Network; Professor Emeritus, Georgia Institute of Technology
Dr. John Christy
Professor and Director, Earth System Science Center, NSSTC, University of Alabama at Huntsville; State Climatologist, Alabama
Dr. Michael Mann
Distinguished Professor of Atmospheric Science, Pennsylvania State University; Director, Earth System Science Center (ESSC), Pennsylvania State University
Dr. Roger Pielke Jr.
Professor, Environmental Studies Department, University of Colorado
-------
See James Delingpole on Mann's loss of memory and false claims here.\
See Fabius Maximus Professor Michael Mann destroys the case for action on climate change

Thursday, March 16, 2017
Why are climate-change models so flawed? Because climate science is so incomplete!
By Jeff Jacoby GLOBE COLUMNIST MARCH 14, 2017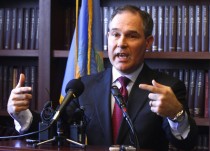 "DO YOU believe," CNBC's Joe Kernen asked Scott Pruitt, the Environmental Protection Agency's new director, in an interview last Thursday, "that it's been proven that CO2 is the primary control knob for climate?"
Replied Pruitt: "No. I think that measuring with precision human activity on the climate is something very challenging to do, and there's tremendous disagreement about the degree of impact. So no - I would not agree that it's a primary contributor to the global warming that we see. But we don't know that yet. We need to continue the debate and continue the review and the analysis."
It was an accurate and judicious answer, so naturally it sent climate alarmists into paroxysms of condemnation. The Washington Post slammed Pruitt as a "denier" driven by "unreason." Senator Brian Schatz of Hawaii called Pruitt's views "extreme" and "irresponsible" - proof of his unfitness to head the EPA. Gina McCarthy, who ran the agency under President Obama, bewailed the danger global warming poses "to all of us who call Earth home," and said she couldn't "imagine what additional information [Pruitt] might want from scientists" in order to understand that.
Yet for all the hyperventilating, Pruitt's answer to the question he was asked - whether carbon dioxide is the climate's "primary control knob"- was entirely sound. "We don't know that yet," he said. We don't. CO2 is certainly a heat-trapping greenhouse gas, but hardly the primary one: Water vapor accounts for about 95 percent of greenhouse gases. By contrast, carbon dioxide is only a trace component in the atmosphere: about 400 ppm (parts per million), or 0.04 percent. Moreover, its warming impact decreases sharply after the first 20 or 30 ppm. Adding more CO2 molecules to the atmosphere is like painting over a red wall with white paint - the first coat does most of the work of concealing the red. A second coat of paint has much less of an effect, while adding a third or fourth coat has almost no impact at all.
There is a popular theory that atmospheric CO2 amplifies the creation of water vapor, thereby increasing warming through a "positive feedback loop." But that theory so far is mostly speculative; climate projections using models based on it have consistently failed, nearly always predicting far more warming than has occurred. It should go without saying that if scientists cannot yet make accurate predictions about future climate change, then their understanding of climate science remains highly incomplete.
Earth's climate system is unfathomably complex. It is affected by innumerable interacting variables, atmospheric CO2 levels being just one. The more variables there are in any system or train of events, the lower the probability of all of them coming to pass. Your odds of correctly guessing the outcome of a flipped coin are 1 in 2, but your odds of guessing correctly twice in a row are only 1 in 4 - i.e., 1/2 x 1/2 Extending your winning streak to a third guess is even less probable: just 1 in 8.
Apply that approach to climate change, and it becomes clear why the best response to the alarmists' frantic predictions is a healthy skepticism.
The list of variables that shape climate includes cloud formation, topography, altitude, proximity to the equator, plate tectonics, sunspot cycles, volcanic activity, expansion or contraction of sea ice, conversion of land to agriculture, deforestation, reforestation, direction of winds, soil quality, El Nino and La Nina ocean cycles, prevalence of aerosols (airborne soot, dust, and salt) - and, of course, atmospheric greenhouse gases, both natural and manmade. A comprehensive list would run to hundreds, if not thousands, of elements, none of which scientists would claim to understand with absolute precision.
But for the sake of argument, say there are merely 15 variables involved in predicting global climate change, and assume that climatologists have mastered each one to a near-perfect accuracy of 95 percent. What are the odds that a climate model built on a system that simple would be reliable? Less than 50/50. (Multiplying .95 by itself 15 times yields 46.3 percent.) Is it any surprise that climate-change predictions in the real world - where the complexities are exponentially greater and the exactitude of knowledge much less - have such a poor track record?
Pruitt got it right: Measuring human impacts on climate is indeed "very challenging." The science is far from settled. That is why calls to radically reduce carbon emissions are so irresponsible - and why dire warnings of what will happen if we don't are little better than reckless fearmongering.
Wednesday, March 08, 2017
Vatican Socialist Official: 'Global Warming Is the Main Cause of Biological Extinction'
The Chancellor of the Pontifical Academy of Sciences has blamed "biological extinction" on global warming, which results from 'rich countries' use of fossil fuels."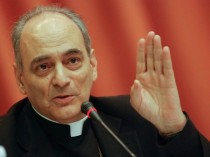 The Chancellor, Argentinian bishop Marcelo Sanchez Sorondo (pictured), told a press conference Thursday that poor countries have been "forced to sell their forests to survive and to use an agriculture that does not employ modern technologies."
In presenting the conclusions of a Vatican workshop on biological extinction, Bishop Sanchez Sorondo said that solutions to the problem lie in "changing to the use of clean energy, new farming techniques and new urban configurations: small, smart cities."
"For this to happen, poverty must be eradicated," he said."
The Pontifical Academy of Sciences, which boasts of being "multi-racial in composition and non-sectarian in its choice of members" released its conclusions Thursday. The declaration makes the astonishing claim that the "current rate of loss of species is approximately 1,000 times the historical rate," while also warning that "perhaps a quarter of all species" are presently in danger of extinction and "as many as half of them may be gone by the end of the present century."
Among its illustrious guests, the Pontifical Academy invited renowned population hoaxer Paul Ehrlich, who gained celebrity status through the publication of his 1968 doomsday bestseller, The Population Bomb.
The book ignited mass hysteria over the future of the world and the earth's ability to sustain human life. Ehrlich launched a series of frightening predictions that turned out to be spectacularly wrong, creating the myth of unsustainable population growth.
Among his predictions, Ehrlich prophesied that hundreds of millions would starve to death in the 1970s, that already-overpopulated India was doomed, and that odds were fair that "England will not exist in the year 2000."
To allow women to have as many children as they want, Ehrlich has said, is like letting people "throw as much of their garbage into their neighbor's backyard as they want."
In his book, Ehrlich concluded that "sometime in the next 15 years, the end will come," meaning "an utter breakdown of the capacity of the planet to support humanity."
While falling into disrepute in serious academia, Ehrlich - who has defended mass sterilization, sex-selective abortion and infanticide - has found a new lease on life thanks to his invitation from the Vatican.
Noting that the world GDP has grown at five times the rate of the global population, the Vatican declaration also alleges that "millions of species" have been threatened with extinction by this "enormous increase in economic activity based on profit and on the use of fossil fuels."
Such unprecedented economic growth is also "putting huge strains on the earth's capacity to function sustainably," the document proposes. "The most obvious associated signs include global climate change and the concomitant damages to the earth's system that it brings in its wake."
The declaration does not, of course, prove any causality between human activity and climate variability, but it does take for granted that such causality exists. "Just as human activities are responsible for these negative effects, today we need positive human action for the sustainable development of biodiversity," the text reads.
Blame for such ecological variability does not fall equally on all of humanity, but predominantly belongs to the wealthy nations.
"The wealthy," the text states, are "substantially responsible for the increase in global warming and, consequently, the decrease in biodiversity."
"The poorest people," the text observes, "do not enjoy the benefits of fossil fuels" and presumably should not be permitted to make us of them, lest they, too, be denounced as enemies of biodiversity.
Not all the news is bad, however.
The declaration states that it would cost only "about $175 billion" to eliminate extreme poverty in the world. One can only assume that the estimated price tag is based on the use of inexpensive fossil fuels in the process rather than wind and solar power.
Ending global poverty would have the added benefit of "protecting our global environment and saving as much biodiversity as possible for the future," the text reads.
Fortunately for humanity, if the workshop's predictions are as laughably far off the mark as Paul Ehrlich's, vast biodiversity may well be with us for the foreseeable.
Monday, February 27, 2017
GIGO-based energy and climate policies
It's like formulating public safety policies using models based on dinosaur DNA from amber
Paul Driessen

Things are never quiet on the climate front.
After calling dangerous manmade climate change a hoax and vowing to withdraw the USA from the Paris agreement, President Trump has apparently removed language criticizing the Paris deal from a pending executive order initiating a rollback of anti-fossil-fuel regulations, to help jumpstart job creation.
Meanwhile, EPA Administration Scott Pruitt says he expects quick action to rescind the Clean Power Plan, a central component of the Obama Era's war on coal and hydrocarbons. The US House Committee on Science, Space and Technology is reopening its investigation into NOAA's mishandling or tampering with global temperature data, for a report designed to promote action in Paris in 2015.
Hundreds of scientists signed a letter urging President Trump to withdraw from the UN climate agency. They warn that efforts to curtail carbon dioxide emissions are not scientifically justified and will kill jobs and exacerbate US and international poverty without improving the environment or stabilizing climate.
Hundreds of other scientists told Mr. Trump he must not waver on climate stabilization efforts or make any moves to defund government or university climate research. Hundreds of businessmen and investors told the President failure to build a low-carbon economy puts American prosperity at risk.
Over in Britain, Members of Parliament say efforts to build a low-carbon economy have led to a 58% rise in electricity prices since 2006, sending manufacturing and jobs overseas, to countries that are under no obligation to reduce fossil fuel use or CO2 emissions. MPs are also angry that carefully hidden "green subsidies" will account for nearly one-fourth of sky-high residential electricity bills by 2020.
All of this is a valuable reminder that the Climate Crisis & Renewable Energy Industry is now a $1.5-trillion-a-year business! And that's just for its private sector components, the corporate rent-seekers.
This monstrous price tag does not include the Big Green environmentalism industry, the salaries and pensions of armies of federal, state, local, foreign country and UN bureaucrats who create and coordinate climate and renewable energy programs, or the far higher electricity and motor fuel costs that businesses and families must pay, to cover the costs of "saving people and planet from climate ravages."

Earth's climate is likely changing somewhere, as it has throughout planetary and human history. Our fuel use and countless other human activities may play a role, at least locally - but their role is dwarfed to near irrelevance by powerful solar, oceanic, cosmic ray and other natural forces. Moreover, real-world ice, sea level, temperature, hurricane, drought and other observations show nothing outside historic fluctuations. Unprecedented disasters exist only in the realm of hypotheses, press releases and computer models.
So there is no reason to cede control over our livelihoods and living standards to politicians, activists and bureaucrats; replace reliable, affordable fossil fuel energy with expensive, unreliable renewables; destroy millions of jobs in the process; and tell billions of impoverished people they must be content with solar ovens, solar panels, wind turbines, and health, nutrition and living standards little better than today's.
There is no reason to honor the document that President Obama unilaterally signed in Paris. As Dr. Steve Allen observed in a masterful analysis: "The decisive action promised in the treaty that is not a treaty consists of governments, most of them run by dictators and thieves, promising, on an honor system, to take steps of their own choosing, to change future weather patterns, and then coming up with ways by which they can measure their own progress and hold themselves accountable by their own standards for the promises they have made, on penalty of no punishment if they break their word."
Mainly, Allen continues, the Paris con is about "taking money from taxpayers and consumers and businesspeople and electricity ratepayers, and giving it to crony capitalists; and taking money from people in relatively successful countries and giving it to rich people in poor countries, to benefit governing elites."
India alone wants hundreds of billions of dollars in climate "adaptation and reparation" money from industrialized nations that are supposed to slash their fossil fuel use, CO2 emissions and economic growth, while pouring trillions into the Green Climate Fund. Meanwhile, India, China and other rapidly developing nations are firing up hundreds of coal-fueled power plants, burning more oil and gas, and emitting more CO2, to industrialize their countries and lift their people out of abject poverty - as well they should.

So just follow the money - and power-grabbing. That is the real source of the religious fervor, the Catechism of Climate Cataclysm, behind the vehement denunciations of President Trump for having the gall to threaten the global high priests who drive and profit from climate change fear mongering.
Those forces are desperate and determined to keep their power and money train on track. They're ramping up indignation and cranking out "research" to justify their demands. For example:
Expert Market (whose core expertise is helping companies compare prices for postage meters, coffee machines and other B2B products) has just released a study purporting to show which US states will suffer most "from Trump's climate change denial" and America's "climate change inaction."
The total cost will be $506 billion by 2050, just for hurricane and other real estate damages, extra energy costs, and more frequent and severe droughts. "Vermont emerged as the state worst equipped to handle the cost," the study contends, while Montana, Wyoming and the Dakotas are also "severely at risk." California and New York are among those best able to endure the imminent chaos.
It sounds horrific - and it's intended to be, the better to pressure the White House and Congress to codify and enforce the nonbinding provisions of the Paris non-treaty, and retain Obama-era anti-hydrocarbon energy policies. But the entire exercise is a classic example of Garbage In/Garbage Out (GIGO) black box computer modeling, carefully crafted to ensure the justifications required for a predetermined political outcome, especially the monumental "nationwide green initiatives" that Expert Market supports.
Thus, carbon dioxide will drive rapidly rising global temperatures that will warm the planet enough to increase sea surface temperatures dramatically - spawning more frequent, more damaging hurricanes, and melting polar ice caps enough to raise sea levels 23 inches by 2050, the Expert Market experts assert.
Global warming measured in hundredths of a degree over the past 19 years will suddenly be replaced by runaway heat waves. Seas now rising at 7 inches per century will suddenly climb at ten times that rate over the next three decades, sending storm surges far inland. Major US land-falling hurricanes that have been absent now for eleven years will suddenly proliferate to unprecedented levels.
How Vermont and the other top-five "worst equipped" states - all of them inland - will be affected by any of this is anyone's guess. But the model says they're at risk, so we must take drastic action now.
Soaring temperatures will increase demand for air conditioning, and thus raise household energy costs, says Expert Market. CA, NY and other "green" state electricity costs are already twice as high as those in coal and gas-reliant states. Imposing wind and solar initiatives on fossil fuel states would likely double their family and business energy costs, but that factor is not included in its calculations.
Droughts "will become more frequent and severe" in states already afflicted by arid conditions - assuming all the dire CO2 depredations, and ignoring both those states' long experience with drought cycles and how California's years-long drought has once again given way to abundant rainfall.

The Expert Market study is symptomatic of the politicized assumptions and data manipulation that have driven climate models and disaster scenarios since the IPCC began studying manmade climate chaos.
Indeed, the entire climate chaos exercise is akin to basing public safety policies on computer models that assume dinosaur DNA extracted from fossilized amber will soon result in hordes of TRexes running rampant across our land. We deserve a more honest, rational basis for policies that govern our lives.
Paul Driessen is senior policy analyst for the Committee For A Constructive Tomorrow (http://www.CFACT.org) and author of Eco-Imperialism: Green power - Black death.
Driessen_-_GIGO-based_energy_and_climate_policies.pdf
Sunday, February 05, 2017
Whistleblower exposes politically driven data manipulation at NOAA
See new: Lawrence Solomon: Finally it's safe for the whistleblowers of corrupted climate science to speak out in the Financial Post.
--------
From Judith Curry's Climate etc. website the Whistleblow, Dr. John Bates spoke:
Climate scientists versus climate data
Posted on February 4, 2017 by John Bates
A look behind the curtain at NOAA's climate data center.
I read with great irony recently that scientists are "frantically copying U.S. Climate data, fearing it might vanish under Trump" (e.g., Washington Post 13 December 2016). As a climate scientist formerly responsible for NOAA's climate archive, the most critical issue in archival of climate data is actually scientists who are unwilling to formally archive and document their data. I spent the last decade cajoling climate scientists to archive their data and fully document the datasets. I established a climate data records program that was awarded a U.S. Department of Commerce Gold Medal in 2014 for visionary work in the acquisition, production, and preservation of climate data records (CDRs), which accurately describe the Earth's changing environment.
The most serious example of a climate scientist not archiving or documenting a critical climate dataset was the study of Tom Karl et al. 2015 (hereafter referred to as the Karl study or K15), purporting to show no 'hiatus' in global warming in the 2000s (Federal scientists say there never was any global warming "pause"). The study drew criticism from other climate scientists, who disagreed with K15's conclusion about the 'hiatus.' (Making sense of the early-2000s warming slowdown). The paper also drew the attention of the Chairman of the House Science Committee, Representative Lamar Smith, who questioned the timing of the report, which was issued just prior to the Obama Administration's Clean Power Plan submission to the Paris Climate Conference in 2015. See here for more and his biosketch.
--------
David Rose in the UK Daily Mail has a detailed expose of the data manipulation:
Exposed: How world leaders were duped into investing billions over manipulated global warming data

The Mail on Sunday today reveals astonishing evidence that the organization that is the world's leading source of climate data rushed to publish a landmark paper that exaggerated global warming and was timed to influence the historic Paris Agreement on climate change.
A high-level whistleblower has told this newspaper that America's National Oceanic and Atmospheric Administration (NOAA) breached its own rules on scientific integrity when it published the sensational but flawed report, aimed at making the maximum possible impact on world leaders including Barack Obama and David Cameron at the UN climate conference in Paris in 2015.
The report claimed that the 'pause' or 'slowdown' in global warming in the period since 1998 - revealed by UN scientists in 2013 - never existed, and that world temperatures had been rising faster than scientists expected. Launched by NOAA with a public relations fanfare, it was splashed across the world's media, and cited repeatedly by politicians and policy makers.
But the whistleblower, Dr John Bates, a top NOAA scientist with an impeccable reputation, has shown The Mail on Sunday irrefutable evidence that the paper was based on misleading, 'unverified' data.
It was never subjected to NOAA's rigorous internal evaluation process - which Dr Bates devised.
His vehement objections to the publication of the faulty data were overridden by his NOAA superiors in what he describes as a 'blatant attempt to intensify the impact' of what became known as the Pausebuster paper.
His disclosures are likely to stiffen President Trump's determination to enact his pledges to reverse his predecessor's 'green' policies, and to withdraw from the Paris deal - so triggering an intense political row.
Read much more detail here
See Tallbloke's coverage here
------
Also the same line,
Bryan Leyland: Things you know that ain't so - 2016 was the warmest year
"Things you know that ain't so - 2016 was the warmest recorded year: global warming is real and dangerous".
Or so they tell you. But you when you examine the facts, you come to the opposite conclusion. It is a classic example of using half-truths to mislead.
They don't tell you how much warmer it actually was. If they did, the myth would be exposed immediately.
The amount of warming depends on which of the five recognized temperature records you use.
If you believe the satellite records - that NASA says are the most accurate - the warming since 1998 is between 0.02 and 0.04C or 0.1 to 0.2C per century. Statistically, it provides no evidence of warming of any sort.
The other measurements are the surface temperature records that have very poor surface coverage - virtually nothing over the ocean and huge areas of the earth - and have been systematically "adjusted" over the years to exaggerate the warming over the last hundred years or so. For instance, according to the GISS 2008 temperature record, the world warmed by 0.45C between 1910 and 2000. By January 2017, the GISS records showed that the warming for the same period had increased to 0.75C. Remarkable!
According to the satellites, the 2016 El Nino was not much hotter than that of 1998 but the surface temperature records indicate a more rapid rate of warming. But there is a big problem with this. El Nino events are natural and unpredictable and, because they are isolated events, they are unrelated to increasing carbon dioxide concentrations that would lead to a steady temperature rise. Measuring from the 1998 peak temperature to 2016 peak temperature gives a much more rapid rate of warming than measuring the average temperature trend over the period. So they use the temperature peaks. Putting it another way, if the 2016 El Nino had been cooler than that of 1998, would they have told us that it heralds global cooling? I think not.
The plain fact is that although the computer models predicted 0.5C temperature rise during the last 18 years the records show that world has not warmed in any statistically significant sense. Even the surface temperature records show a warming of 0.2C over that period. According to the IPCC, half of this warming will be man-made. Nothing to get excited about.
Once again, the global warming fraternity have used half-truths to mislead the public into believing that dangerous man-made global warming is really happening when the information they quote from shows the opposite.
Saturday, February 04, 2017
The War On Irony
I saw a lovely young woman on TV tonight at NYU, New York University. She was in a riot that was designed to silence someone, to keep them from speaking on campus. She was screaming "We will not sit back and allow Nazis to have a platform to feel comfortable and organize and mobilize!"…
I wanted to reach through the TV and shake her and say "Nazis are people who use violence to silence others from speaking, and that's you!" But unfortunately, this bizarre inversion is all the rage these days. I saw an email to a Republican electoral voter that said "You are a hateful bigot, and I hope you die!"
Clearly the writer had not heard of irony.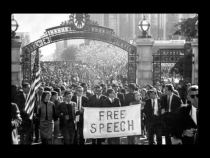 Now, I was a student at the University of California in Berkeley during the Free Speech Movement of 1964-65. I was just a foot soldier, I went to rallies and speeches. It was a movement designed to force the University to use the same rules on campus that apply off campus - the usual American First Amendment rules. The movement was driven by the liberal side of the political spectrum. We sat in and had peaceful demonstrations to demand that the University stop censoring speakers and stop preventing them from speaking on campus. Back then, liberals were all about free speech and non-violence. And we succeeded, the University started letting all speakers have equal access.
So I nearly wept last night to see the University of California once again conspiring to silence a speaker, and the irony was, it was being driven to do so by violence from the very same liberals that once prized free speech and non-violence. When did that change happen? How did I miss it? When did the Democrats become the party of riots, beatings, and intimidation?
The Berkeley speaker in question was Milo Yiannopoulos. He is the ultimate liberal nightmare, because he is a funny gay Jewish Republican. He breaks all the boundaries at once, their minds can't handle it.
Now, the University played an underhanded game. First they said OK, the campus Republican Club can invite you to speak. Then, not long before the event, they said the Republican Club had to pay for the security.
Note that this is not security to protect people from the Republican club. This is security to protect people from liberal rioters.. explain to me why the organizers need to pay for that?
Now, imagine for a minute that you run such a University. If you know that people may riot against a speaker, the obvious response is that you get your campus cops together with the city police. You plan on how you are going to control the crowd. You consider what you will do if various scenarios occur. You design, barricade, and enforce a pathway for people who wish to hear the speaker have safe access. You deploy your women and men to minimize and prevent violence from happening.
However, Janet Napolitano, the head of the University, along with the Mayor of Berkeley, acted in a most cowardly manner. Rather than do any of that planning and coordination and action, they stood idly by while a hundred thousand dollars worth of damage was being done by rioters. I couldn't find a single report of anyone arrested.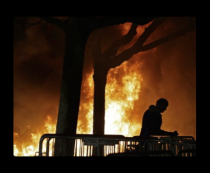 And of course, a predictable riot occurred as an inescapable result of the pusillanimous actions of the authorities. Then the University cravenly used that riot as an excuse to cancel the event, preventing Milo from speaking. Not only that, but another University of California campus followed up by canceling Milo's speaking engagement there. Gutless University cowards. UNIVERSITIES ARE SUPPOSED TO PRESENT AND PROTECT OPPOSING VIEWS!
So we have the irony of the University and the Berkeley Police force, those very institutions who are supposed to promote and protect free speech, standing by on a miniature modern Kristallnacht and watching as the windows of UC Berkeley, my alma mater, where liberals once demanded, promoted, and protected freedom of speech, get shattered to the ground by liberal rioters.
Then we have the irony of the name of the group who led the rioting and broke the windows to stop someone from exercising their Free Speech rights. They call themselves the "AntiFa". This is short for "Anti-fascists".
Who knew? Curiously, at least on my planet, "fascists" are people who riot and break windows to stop someone from speaking, and "anti-fascists" are the people who oppose that violence...in other words, anti-fascists are what the police and University are supposed to be.
Finally, we have the irony of the media. The Bloomberg headline about the UC Berkeley riots says "Milo Yiannopoulos Sparks Riots". The Wrap says "Milo Yiannopoulos Speech at UC Berkeley Sparks Fiery Protest".
Milo sparked the riots? Get real. THE ANTIFA SPARKED THE RIOTS! Milo is a smart, funny conservative comic who terrifies the liberals. The liberals are afraid someone might actually enjoy him and learn something from him. He didn't "spark" anything. He was the victim of the riots, and as is far too common these days when the victim is a conservative, the media is blaming the victim.
So just to make sure I have this straight: white is black, up is down, people exercising their free speech rights are Nazis, a gay Jew is a homophobic anti-Semite, the victim of the riot caused it, and anti-fascists are people who riot and burn things ... OK, got it…
Like the song says, "I fought the irony and the irony won"....
Best to all, liberals and conservatives alike. I do wish the Democrats would get it together. Not one word from the Democratic leadership.
Saturday, January 28, 2017
Peer-Reviewed Survey Finds Majority Of Scientists Skeptical Of Global Warming Crisis
It is becoming clear that not only do many scientists dispute the asserted global warming crisis, but these skeptical scientists may indeed form a scientific consensus.
Dont look now, but maybe a scientific consensus exists concerning global warming after all. Only 36 percent of geoscientists and engineers believe that humans are creating a global warming crisis, according to a survey reported in the peer-reviewed Organization Studies. By contrast, a strong majority of the 1,077 respondents believe that nature is the primary cause of recent global warming and/or that future global warming will not be a very serious problem.
The survey results show geoscientists (also known as earth scientists) and engineers hold similar views as meteorologists. Two recent surveys of meteorologists (summarized one here) revealed similar skepticism of alarmist global warming claims.
According to the newly published survey of geoscientists and engineers, merely 36 percent of respondents fit the "Comply with Kyoto" model. The scientists in this group "express the strong belief that climate change is happening, that it is not a normal cycle of nature, and humans are the main or central cause".
The authors of the survey report, however, note that the overwhelming majority of scientists fall within four other models, each of which is skeptical of alarmist global warming claims.
The survey finds that 24 percent of the scientist respondents fit the "Nature Is Overwhelming" model. "In their diagnostic framing, they believe that changes to the climate are natural, normal cycles of the Earth." Moreover, "they strongly disagree that climate change poses any significant public risk and see no impact on their personal lives."
Another group of scientists fit the "Fatalists" model. These scientists, comprising 17 percent of the respondents, "diagnose climate change as both human and naturally caused. 'Fatalists' consider climate change to be a smaller public risk with little impact on their personal life. They are skeptical that the scientific debate is settled regarding the IPCC modeling." These scientists are likely to ask, "How can anyone take action if research is biased?"
The next largest group of scientists, comprising 10 percent of respondents, fit the "Economic Responsibility" model. These scientists "diagnose climate change as being natural or human caused. More than any other group, they underscore that the 'real' cause of climate change is unknown as nature is forever changing and uncontrollable. Similar to the 'nature is overwhelming' adherents, they disagree that climate change poses any significant public risk and see no impact on their personal life. They are also less likely to believe that the scientific debate is settled and that the IPCC modeling is accurate. In their prognostic framing, they point to the harm the Kyoto Protocol and all regulation will do to the economy."
The final group of scientists, comprising 5 percent of the respondents, fit the "Regulation Activists" model. These scientists "diagnose climate change as being both human- and naturally caused, posing a moderate public risk, with only slight impact on their personal life." Moreover, "They are also skeptical with regard to the scientific debate being settled and are the most indecisive whether IPCC modeling is accurate."
Taken together, these four skeptical groups numerically blow away the 36 percent of scientists who believe global warming is human caused and a serious concern.
One interesting aspect of this new survey is the unmistakably alarmist bent of the survey takers. They frequently use terms such as "denier" to describe scientists who are skeptical of an asserted global warming crisis, and they refer to skeptical scientists as "speaking against climate science" rather than "speaking against asserted climate projections." Accordingly, alarmists will have a hard time arguing the survey is biased or somehow connected to the 'vast right-wing climate denial machine.'
Another interesting aspect of this new survey is that it reports on the beliefs of scientists themselves rather than bureaucrats who often publish alarmist statements without polling their member scientists. We now have meteorologists, geoscientists and engineers all reporting that they are skeptics of an asserted global warming crisis, yet the bureaucrats of these organizations frequently suck up to the media and suck up to government grant providers by trying to tell us the opposite of what their scientist members actually believe.
People who look behind the self-serving statements by global warming alarmists about an alleged "consensus" have always known that no such alarmist consensus exists among scientists. Now that we have access to hard surveys of scientists themselves, it is becoming clear that not only do many scientists dispute the asserted global warming crisis, but these skeptical scientists may indeed form a scientific consensus.
Thursday, December 29, 2016
How To Tell Who's Lying To You: Climate Science Edition
By Francis Menton
Scott Adams—known, among other things, as the cartoonist behind the Dilbert series—has an excellent blog on which he posts something thoughtful nearly every day. His particular interest is in the arts of persuasion. Recently he has dipped his toe into the subject of "climate science," with a focus on the apparent inability of partisans on either side of the debate ever to convince a single person to come over from the other side. Now, suppose you come to this debate with no scientific expertise and no ax to grind for either side. The debate has very significant public policy implications, and understanding it is important to being an informed voter. How are you to supposed to evaluate the arguments and come to a view? Adams comments:
My bottom-line belief about climate science is that non-scientists such as myself have no reliable way to evaluate any of this stuff. Our brains and experience are not up to the task. When I apply my tiny brain to sniffing out the truth about climate science I see rock-solid arguments on both sides of the debate.
I'm going to respectfully disagree with Adams on this one. If you are a reasonably intelligent person, and you are willing to spend a few hours on an issue, there is a very workable method to discern which side of a debate is not playing straight with you. This method is the same method generally used by judges and juries in deciding which side is going to win a trial. The method is this: look to which side has and provides the best answers to the hard questions posed by the other side. If one side refuses to answer hard questions, or is evasive, or refuses to provide the underlying methodology by which it came up with its answers, then that side has a problem. And rightfully so.
I'll give just a few examples of this phenomenon relevant to the climate change issue.
(1) The Hockey Stick graph. The so-called Hockey Stick graph first appeared in a paper by Mann, Bradley and Hughes that was published in Nature magazine in 1998. It purported to show a reconstruction of worldwide temperatures from the year 1000 to present, in which the temperatures had remained almost completely stable for the first 900 years (the "shaft" of the Hockey Stick), and then suddenly shot up in the twentieth century in the time of human CO2 emissions (the "blade"). This reconstruction effectively repealed the prior accepted version of climate history, in which temperatures had been warmer than the present at least in the so-called Medieval Warm Period of about 1000 - 1300, and probably also in the Roman Warm Period around the year 0. When the UN's climate-evaluation body, the IPCC, issued its next Assessment Report in 2001, the Hockey Stick graph had suddenly become the icon of the whole endeavor, appearing multiple times in the Report. The Hockey Stick seemed like the perfect proof of the proposition that global warming must be caused by humans, because anyone could see from the graph that the warming had all occurred in the era of human use of fossil fuels. Here is a version of the Hockey Stick graph from the IPCC Third Assessment Report: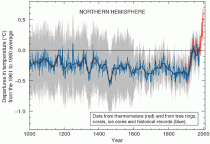 Unfortunately for Mann et al. and the IPCC, numerous people—those nefarious "skeptics" --promptly began to ask questions about the source of the information behind the "shaft" of the stick. Thus these skeptics were questioning the ideas that temperatures had remained essentially stable for a millennium and that there had been no Medieval Warm Period. The most famous of the skeptical researchers was a Canadian named Stephen McIntyre. McIntyre began a blog called Climate Audit, and started writing many long posts about his efforts, all unsuccessful, to replicate the Mann et al. work. Requests to Mann et al. for their data and methodologies were met with hostility and evasion. Over time, McIntyre gradually established that Mann et al. had adopted a complex methodology that selectively emphasized certain temperature proxies over others in order to reverse-engineer the "shaft" of the stick to get a pre-determined desired outcome.
The coup de grace for the Hockey Stick graph came with the so-called Climategate emails, released in 2009. These were emails between and among many of the main promoters of the climate scare (dubbed by McIntyre the "Hockey Team"). Included in the Climategate releases were emails relating specifically to the methodology of how the graph was created. From the emails, skeptical researchers were then able to identify some of the precise data series that had been used by Mann et al. Astoundingly, they discovered that the graph's creators had truncated inconvenient data in order to get the desired depiction. A website called Just the Facts has a detailed recounting of how this was uncovered. As a key example, consider this graph: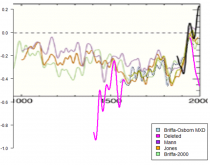 The bright pink represents data that was deleted from the Mann et al. reconstruction because, obviously, it would have thrown off the nice, flat "shaft" of the stick, while also revealing that this particular "proxy" had totally failed at predicting the twentieth century rise in temperatures. Most would call this kind of data truncation "scientific fraud."
Note that the revelations that came out of the Hockey Stick controversy do not prove that the human-caused global warming hypothesis is wrong. However, those revelations did show beyond doubt that the leading promoters of the hypothesis had resorted to fraud in the effort to get the public to accept their position. Once that was established, why would you believe anything else they say?
Even today, the Wikipedia write-up of the Hockey Stick controversy takes a position favorable to Mann et al. If you are willing to devote some time to this issue, read that article next to the write-up at Just the Facts linked above. I would call the Wikipedia article evasive in the face of highly credible allegations of fraud. See if you agree.
(2) Adjustments to the instrumental temperature record. World temperature records based on ground-based thermometers date back to about the late 19th century in most cases. These records are far more accurate than what we have from earlier times (which are mostly "proxies," like tree rings and ice cores); but the ground thermometer records still have plenty of problems. As examples, the location of a ground station could have been moved over time, sometimes multiple times in over 100 years; the physical surroundings of a station could have changed (trees could have grown up, or an adjacent parking lot could have been built); the type of instrument could have changed; and so forth. Most would agree that some sorts of adjustments to the record, known as "homogenization," are appropriate to make the earlier data comparable to the more recent data. However, here the adjustments are in the hands of small numbers of people who are committed to the global warming cause. Most of the adjusters are government employees working for weather agencies like NASA and NOAA in the U.S., and comparable agencies in other countries.
As with the Hockey Stick graph, independent researchers interested in the topic have gone to work at their own expense to try to understand the government's adjustments and evaluate if they are appropriate. Notable among these researchers are Tony Heller at the website Real Climate Science and Paul Homewood at Not a Lot of People Know That. What these researchers find is that, in literally every case, earlier temperatures have been adjusted downward, and to a lesser extent, later temperatures adjusted upward. Obviously, such adjustments can create warming trends where they do not exist in the raw data, and enhance what otherwise might be small warming trends to make them look significant and even scary. Here at Manhattan Contrarian, I have covered this issue in a now ten part series called The Greatest Scientific Fraud of All Time. All ten articles are collected, along with others, here.
And literally every time anyone looks at raw temperature data, and compares it to current "final" version temperature data, the same phenomenon is found. Just this week at Watts Up With That, an Australian meteorologist named Brendan Godwin reports that Australia is subject to the same pervasive corruption as other places:
The Australian Climate Observations Reference Network - Surface Air Temperature (ACORN-SAT) Technical Advisory Forum released a report in 2015 confirming that the Surface Air Temperatures were being adjusted, confirming the process is called Homogenization, confirming that other weather monitoring institutions around the world are making these same adjustments and purporting to justify why the adjustments are being made. Observing practices change, thermometers change, stations move from one location to another and new weather stations are installed. They refused to release their complex mathematical formula used to make the adjustments.
Go to the link to see how a slightly declining temperature trend at Rotherglen, Australia, has been turned into a more-than-one-degree-C-per-century increasing trend through supposed "homogenization" adjustments. Huh?
But the most important part of this story is not the suspicious nature of the adjustments themselves, but rather the flat refusal of the adjusters to reveal the methodology by which the adjustments have been made. Real, honest scientists would gladly provide the full, unedited computer code that made the adjustments, and would answer any questions that would help an independent researcher to replicate the results. Yet read through posts of people reporting on the adjustments, and you will universally find that they have been rebuffed in their attempts to find out what is going on. For example, as I reported in this post in July 2015, a heating consultant in Maine named Michael Brakey, who was just trying to get accurate temperature data to inform his business, stumbled on major recent downward adjustments of earlier temperatures in that state. Attempting to get the details of the adjustments, the best that NOAA would give him was this vague and preposterous statement:
"...improvements in the dataset, and brings our value much more in line with what was observed at the time. The new method used stations in neighboring Canada to inform estimates for data-sparse areas within Maine (a great improvement)."
All you need to do is read my series of posts on this topic, and/or some of the many links found in those posts, and you will know that what is going on is not remotely honest. You don't need any specialized scientific training to figure this out.
(3) Hottest [week/month/year] ever. Readers of my series on The Greatest Scientific Fraud of All Time are aware that our government bureaucrats at NASA and NOAA regularly put out breathless press releases announcing that some given month, or series of months, or year, was the hottest such period on record. For example, in this post from August 2015, I reported on government press releases as to March, May and July 2015, declaring them each to be the "hottest ever" on some or another criterion. That post also reports on how the press releases are then picked up and repeated, more or less word for word, by every news source going under the banner of "mainstream": CNN, Bloomberg, Washington Post, USA Today, BBC, AP, LA Times, CBS News, and many, many more.
But does any one of these press releases, or any one of these news sources, so much as mention that these so-called "records" are based on temperature records that have been "adjusted" to enhance warming trends? Given how widespread is the information on unexplained warming-enhancing "adjustments," it is almost incomprehensible that not one of these news sources would even ask the question, "How much of the warming is in the raw data and how much is in the adjustments?" But if such a thing exists, I can't find it.
I could give many more examples, but undoubtedly you are getting the picture. A reasonably intelligent person who investigates the situation will quickly find that the promoters of the global warming scare refuse to reveal their detailed methodology, refuse to allow independent researchers to try to replicate their work, and refuse to answer any and all hard questions. (By contrast, when, for example, skeptical scientists a few months ago released a major Research Report claiming to invalidate all the bases for the EPA's Endangerment Finding, all data and methods were released simultaneously.) This is all you need to know to make up your mind.
Tuesday, December 27, 2016
Climate Experts Expected To Continue Lying Right Up To January 20, 2017
Now we are down to FOX News and Faux News (all the other television networks and major metro newspapers and most magazines). The lies go on and on not just about politics but everything elitists progressives want you to believe.
By Tony Heller
The fake news Huffington Post says sea level at New York will rise six feet this century and they will have more heat waves.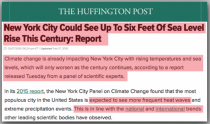 Enlarged
New York City Could See Up To Six Feet Of Sea Level Rise This Century: Report | The Huffington Post
Apparently this panel of scientific experts didn't look at any actual data. Over the past six years, sea level at both New York and Boston has fallen about two inches.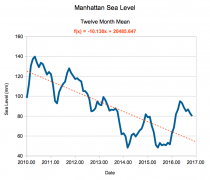 Enlarged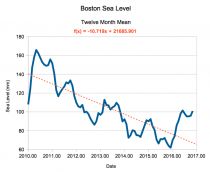 Enlarged
There has been no increase in the number of hot days in New York, which peaked in 1955.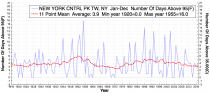 Enlarged
Away from the urban heat island effect of Manhattan, New York State has seen a sharp decline in the number of hot days.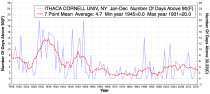 Enlarged
Nationally, the percent of hot days has also plummeted.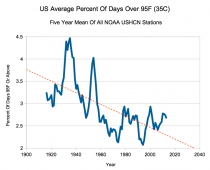 Enlarged
Everything they said was fake news, but to be fair to this team of climate experts morons, NASA's top climate expert believes Lower Manhattan is already underwater.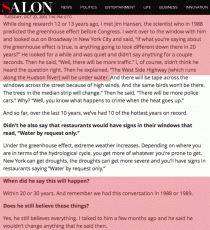 Stormy weather - Salon.com
-------
Note from Willie Soon:
Dear friends in New England…
This is truly a very stupid game they keep playing...they could not make themselves to show the NH resident the proper map of their own state...but blow up the tiny part where you are connected to the sea… See the latest laughable report.
See the local Climate Commission reportplanning to spend (and benefit greatly from billions
Tom Wysmuller is our local expert on sea level here.. I believe that I opted out to be on this NH sea level committee some years ago and told Tom about this and he may have attended some of the "meetings"…
Joe D'Aleo is of course our top meteorologist that can tell you all you need to know about the weather forecasting business using his analogy-based pattern
recognition method…
for a little cure on sea level scare ... here is one of my earlier insights:
Wednesday, December 14, 2016
Even with warm 2015/16 winter, US 20+ year trends are still down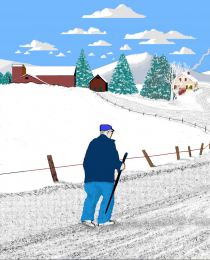 Joseph D'Aleo, CCM, AMS Fellow
This winter has started in December with some frigid cold, especially the central. Here is the last 7 days and the forecast the next 5 days (maps courtesy of Weatherbell.com).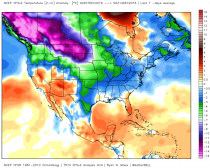 Enlarged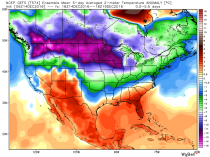 Enlarged
Though many have argued the so called 'pause' was clearly over, it appears not. The pop in 2015/16 was related to El Nino.
NCDC (now NCEI) has the Climate at a Glance tool I frequently use for temperature and precipitation trend. I have used it in recent years to examine trends in winters the last 18 to 20 years. It was argued a few years back the cooling it showed was biased by the significant El Nino of 1997/98. Even after the (1) new NOAA methodology (removal of UHI adjustment, TOBS. homogenization) that made 1997/98 less warm and (2) the 2011/12 and 2015/16 warm spikes (perhaps slightly enhanced by the changes), what was called the pause (really a cooling trend) is still there in the last 20 year period for December to March.
For the nation, we have seen a cooling rate of -1.63F/century.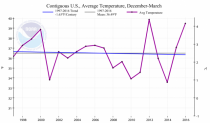 Enlarged
The NCEI CAAG site allows you to look at regional changes. I looked first at U.S. Climate Regions (Upper Midwest/Great Lakes, Ohio Valley and Northeast.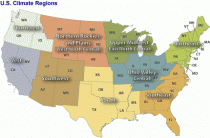 Enlarged
The cooling was greatest in the Upper Midwest (an amazing rate of -11.9F/century).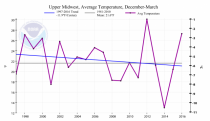 Enlarged
The Ohio Valley has cooled at a rate of - 9.1F/century.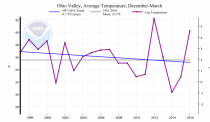 Enlarged
The northeast has cooled at a rate of - 7.4F/century for December to March periods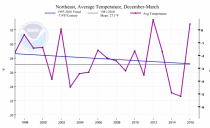 Enlarged
Then I looked at larger NWS regions (administrative):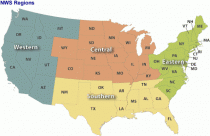 Enlarged
The large 14 state central region shows a cooling rate of -5.9F/century.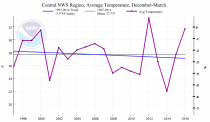 Enlarged
The large 16 state Eastern Region a cooling of -7.1F/century even with the 2011/12 and 2015/16 spikes.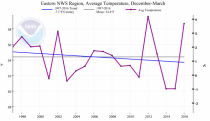 Enlarged
Despite some ups and downs, we expect this year will be colder than last winter and keep the trend going.
To see how far back I could go and get a negative trend, I went to 1995 for the CONUS and found no warming trend (a not statistically significant cooling of 0.25F/century) the last 22 years.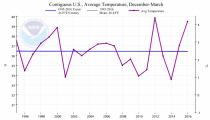 Enlarged
Though the jump in major snows in the east was attributed in the media to global warming and resulting more moisture. I would argue the land cooling is responsible. Sellers back in the middle 1900's speculated snow would increase after warm periods and the increased snowcover would initiate or enhance any cooling that followed.