Tuesday, January 22, 2013
Snowpocalypse Russia: 'Snow tsunami' swallows streets, cars, buildings
An amazing story from Russia today
Unrelenting snowfalls have caused unprecedented chaos in Russia. Over the past week, the country has seen scores of traffic accidents, flight delays and, in some cases, the complete isolation of some remote settlements and towns.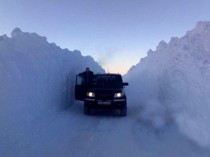 Norilsk (Photo from bigpicture.ru)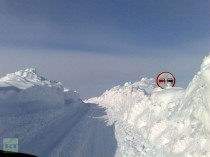 On Friday, Moscow was on a verge of traffic collapse as more than 10 inches of snow fell on the city, which is more than half of January's average. Thousands of passengers were stranded overnight in the capital's major airports, as several dozen flights were delayed. Muscovites woke up and found their cars, driveways and houses buried under a thick layer of snow, with city workers unable to get to smaller streets. Moscow's Yandex app showed traffic at level 10, the highest possible, as strong winds created blizzard conditions and built imposing snow drifts.
Falling snow and ice caused many accidents due to poor visibility and bad road conditions. Moscow witnessed a 13-kilometer jam on MKAD, one of the city's main highways, reducing speeds to 10 to 25 kph in the capital. More than 12,000 snow removal trucks worked around-the-clock to clean up the mess, but their efforts did little, with the city coming to an effective standstill.
The chair of the Duma's transport committee called for local transport officials to face legal sanctions for failing to cope with the winter weather. "Until local bureaucrats face the wrath of the law, winter will always be a surprise occurrence. They will continue to do nothing, as people suffer," Mikhail Bryachak told Kommersant FM radio. However, meteorologists have promised some good news for Moscow: The stormy conditions are expected to recede over the weekend.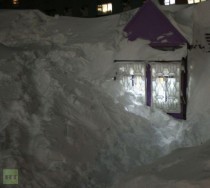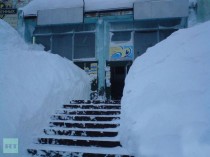 While the snowstorms have caused inconvenience for large population centers in western Russia, they have been life-threatening further east in the country. The polar circle city of Norilsk has been buried under 10 feet of snow, entire apartment blocks, markets, stores and offices were buried under snow overnight.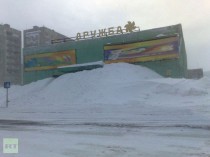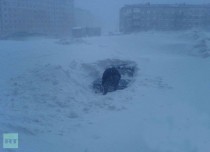 Banks of snow were as high as two people put together, reaching the second-story windows of some apartment buildings. Cars, stores, garages were blocked. Norilsk metropolitan workers were forced to dig passageways through the snow banks to create access between the outside world and the barricaded city. Meanwhile, icicles up to three feet in length have formed off the ledges of buildings, breaking at random and causing a lethal hazard for pedestrians below.
Elsewhere, the extreme weather continues. In the Altai Republic in Western Siberia, 12 Russian settlements were isolated because of the snowstorm. Seven settlements, with a total population of 1,300 people, remain cut off from the outside world due to the snow drifts. Emergency crews are currently en route to deliver needed supplies to the stranded populations. Snow accompanied by strong winds has caused flight delays in the airport of Russia's far eastern town of Petropavlovsk-Kamchatsky. The runway has been cleared, but planes are not risking takeoff due to strong sidewinds. Flights were also delayed in Russia's easternmost cities of Vladivostok and Khabarovsk.
More snow storms are predicted in Western Siberia and the Western Urals over the weekend. In the end of 2012, Russia saw extreme winter not witnessed since 1938. The coldest-ever December in Russia led to the evacuation of hundreds of people in Siberia, where temperatures fell below -50 degrees Celsius; Moscow also saw its coldest night ever for the season.
More than 90 Russians died during the cold snap, and more than 600 people were taken to hospital due to the extremely dangerous weather, which is 10 degrees (C) below the December norm. Nearly 200 people have died throughout Russia as a direct result of weather-related accidents and hypothermia this season, according to official statistics, although the extreme conditions have likely contributed to many more fatalities.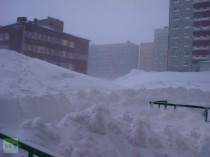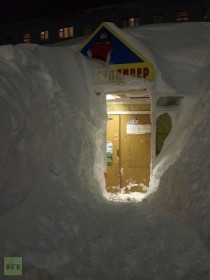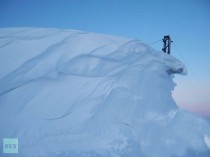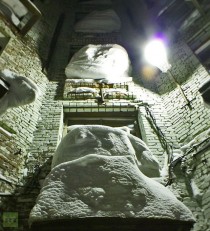 Friday, January 18, 2013
NASA Warns Earth May Be Entering a Period of "Global Cooling"
NASA: We May Be On the Verge of a "Mini-Maunder" Event.
All climate scientists agree that the sun affects Earth's climate to some extent. They only disagree about whether or not the effect form the sun is minor compared to man-made causes.
We noted in 2011:
This week, scientists from the US Solar Observatory and the US Air Force Research Laboratory have discovered - to their great surprise - that the sun's activity is declining, and that we might experience the lowest solar output we've seen since 1645-1715. The Register describes it in dramatic tones:
What may be the science story of the century is breaking this evening.
Scientists who are convinced that global warming is a serious threat to our planet say that such a reduced solar output would simply buy us more time… delaying the warming trend, but not stopping or reversing it.
On the other hand, scientists who are skeptical about global warming say that the threat is a new mini ice age. (Remember that scientists have been convinced in the past that we would have a new ice age, and even considered pouring soot over the arctic in the 1970s to help melt the ice in order to prevent another ice age. Obama's top science advisor was one of those warning of a new ice age in the 1970s. And see this.)
NASA reports this week that we may be on the verge of another Maunder Minimum (a period with an unusually low number of sunspots, leading to colder temperatures):
Much has been made of the probable connection between the Maunder Minimum, a 70-year deficit of sunspots in the late 17th-early 18th century, and the coldest part of the Little Ice Age, during which Europe and North America were subjected to bitterly cold winters. The mechanism for that regional cooling could have been a drop in the sun's EUV output; this is, however, speculative.


Enlarged
The yearly averaged sunspot number for a period of 400 years (1610-2010). SOURCE: Courtesy of NASA Marshall Space Flight Center.
The sun could be on the threshold of a mini-Maunder event right now. Ongoing Solar Cycle 24 is the weakest in more than 50 years. Moreover, there is (controversial) evidence of a long-term weakening trend in the magnetic field strength of sunspots. Matt Penn and William Livingston of the National Solar Observatory predict that by the time Solar Cycle 25 arrives, magnetic fields on the sun will be so weak that few if any sunspots will be formed. Independent lines of research involving helioseismology and surface polar fields tend to support their conclusion.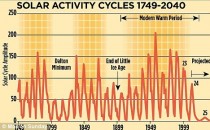 NASA explains that interactions between the sun, sources of cosmic radiation and the Earth are very complicated, and it takes an interdisciplinary team of heliophysicists, chemists and others to quantify what is really going on. And the Earth's climate is also affected by cosmic radiation.
So even if NASA's prediction of a period of an unusually low amount of sun spots is proven correct - it is hard to know whether that will lead to a large or small reduction in temperature trends.
Solar Variability and Terrestrial Climate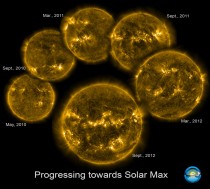 Jan. 8, 2013: In the galactic scheme of things, the Sun is a remarkably constant star. While some stars exhibit dramatic pulsations, wildly yo-yoing in size and brightness, and sometimes even exploding, the luminosity of our own sun varies a measly 0.1% over the course of the 11-year solar cycle.
There is, however, a dawning realization among researchers that even these apparently tiny variations can have a significant effect on terrestrial climate. A new report issued by the National Research Council (NRC), "The Effects of Solar Variability on Earth's Climate," lays out some of the surprisingly complex ways that solar activity can make itself felt on our planet.
------------
New paper finds increase in US sunshine has had 4.4 times more effect than greenhouse gases since 1996
A paper published today in the Journal of Geophysical Research - Atmospheres finds that due to a decrease in cloud cover, solar radiation has significantly increased over the US from 1996 to 2011. The authors note the change in longwave (infrared) surface radiation 'dwarfs the [alleged contribution] from the increase of CO2 during the analysis period." According to the paper, the natural variability due to changes in sunshine has had 4.4 times greater effect on surface radiation than increased greenhouse gases since 1996 [6.6/1.5 = 4.4]. According to the authors,
The paper adds to many other peer reviewed papers documenting a global decrease in cloud cover or 'global brightening' over various periods and locations beginning the the 1980's. This decrease in cloud cover alone could account for all global warming observed since the ice age scare of the 1970's. More
Friday, January 11, 2013
Heat down under, snow in Jerusalem, brutal cold in Asia..will be here next 4- 6 weeks.
by Joe D'Aleo
Interesting weather has been occurring worldwide with snow in the Middle East, earlier frigid weather in Shanghai, snow in Tokyo and continuing brutal weather in Russia and an early heat wave in Australia where the summer monsoon - related to the MUO behavior, was slow to come on.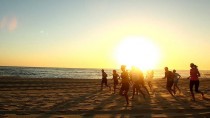 The last Australian heat and drought was in 2009. The strong La Nina of 2010/11 and the follow-up in 2011/12 brought much cooler and wetter conditions. You can see the dryness in the southwest and south the last year not as bad as in 2009. Also reservoirs were near capacity and irrigation was effective for cropping. .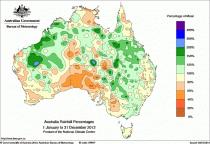 As in the US, the dry winter last year has aggravated the heat central.
Here is the 7 day forecast with heat shrinking to the central.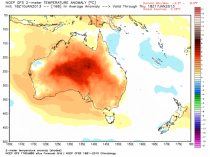 The delayed monsoon, now over Indonesia, would normally be further south and be acting to break up the unremitting heat over central Australia. Darwin, along with much of the country, has had rainfall well below average for the past three months.
"One big question is what's going to happen to the monsoonal trough," said Aaron Coutts-Smith, NSW manager of climate services at the bureau. "It's been a relatively late start to the monsoon." The weak monsoonal conditions mean northern regions aren't getting the cloud cover and rainfall that would normally sap some of the heat collecting in the interior.
"That can really put a lid on extreme temperatures," he said. Sound familiar? That was the story in the US the last two year drought. related to the super La Nina of 2010/11 and the acceleration of global cooling.
An interesting phenomenon occurred similar to the dust storms we see in Arizona at the start of the monsoon season called Haboobs when thunderstorms popped and picked up dust in an awesome display of combined dust and storm clouds.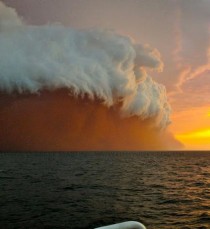 It was reminiscent of the Arizona dust storm (Haboob) in July 2011.
Cooler temperatures arrived in parts of southeastern Australia this Wednesday. This dangerous heat continued until midnight in Sydney after Tuesday's hot temperature of 47F (about 106F). Hundreds of Sydneysiders went for a swim at midnight with a temperature that was still at 35C (95F). Sydney's forecasted high temperature for Wednesday was 25C (77F). Surprisingly, snowflakes were flying a bit at Mount Hotham in Victoria Wednesday morning after the hot temperatures the previous day.
In contrast look at the 8 day anomaly chart for Russia, where normals are well below zero (F). Negative anomalies are approaching 40F. Wow. It shows temperatures easing in central Shanghai where frigid cold caused ice problems in Beijing and even at Shanghai with heavy snows in some spots.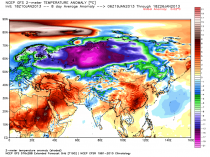 Moscow ice fog, ice bound coastal China, snow in Tokyo and cold in the Middle East and this week Europe and the US.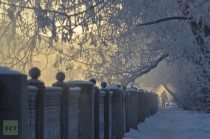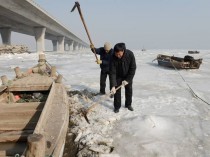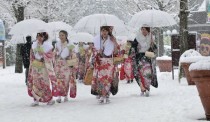 And in Jerusalem, would you believe 8 inches of snow!!!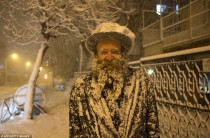 Now you may feel is the time to 'get it on' here in the US. Of course, we have not been short of weather stories the past 4 years with 9 major snows for the eastern cities, more for the Pacific Northwest, floods, droughts, heat weaves, Irene and Sandy also related to global cooling and low solar that causes strong persistence of weather patterns and an amplified Rossby wave pattern.
A major stratospheric warming is taking place that should result in 4 to 6 weeks of harsh weather for the Europe and North America. Sub zero cold will afflict Boston and Chicago and single digit mornings in NYC, Philadelphia and Baltimore/Washington. Snows will increase the snowcover again. The hemisphere had a record snowcover for December.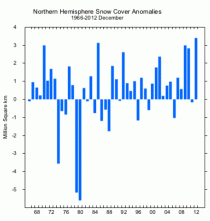 Thursday, January 03, 2013
Al Gore sells AGW TV network to Al Jazeera
Al Jazeera has acquired Current TV, the progressive cable news station co-founded by Al Gore.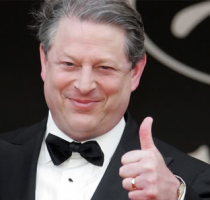 The news was reported by the New York Times' Brian Stelter on Wednesday. Current had been aggressively looking for a buyer for some months.
Al Jazeera will replace Current's programming with its own network. The Doha-based channel has long sought to extend the reach of its English-language service in the United States. The deal gives the network the ability to get in front of more American viewers, which has been one of its biggest challenges. Al Jazeera English launched in New York City last year, but has previously faced resistance from cable operators in other parts of the country. Though it remains controversial for many, its reporting from the Middle East during and after the Arab Spring gave it a vastly increased profile - and a new credibility - inside the US.
Sources familiar with the talks told the Times that the channel, called "Al Jazeera America," will be based in New York, with the majority of its content created in the United States. The rest of the content would come from Al Jazeera's English-language channel.
Current co-founder Joel Hyatt told staffers that he and Gore were "thrilled" about the deal. In a possible sign of the lingering skittishness over Al Jazeera, he said that Time Warner Cable will not carry the new channel because it had not "consented" to the acquisition. (Some accused Time Warner of political cowardice.) This will leave Al Jazeera with carriage in around 40 million homes.
The purchase brings to an end the many attempts by Gore and his partners to make Current viable over its seven-year existence. The network morphed repeatedly, from a center for short videos to a home for documentary reporting to its last iteration as a staunchly liberal cable news and opinion network. None of the moves proved successful enough. Host Eliot Spitzer put his finger firmly on the problem earlier in December when he told Fishbowl NY, "Nobody's watching, but I'm having a great time."
Still, the deal could benefit Gore quite a bit. Forbes estimated that the former vice president could make at least $125 million from the sale.
Thursday, December 27, 2012
Man The Lifeboats! Global Warming Has Oceans Rising At Alarming Rate! (Or Maybe not)
Dr. Larry Bell
Whew! We made it through that Mayan end of the world apocalypse thing. But don't even begin to imagine that our doomsday problems are nearly over.
Even the Wall Street Journal breathlessly reported "Polar Ice Melt Is Accelerating: Shrinking in Greenland, Antarctica Has Sent Ocean Levels Higher, Study Says". This ain't just your typical run-of-the-mill, left of almost everywhere, New York Times or Washington Post global warming alarmist stuff. So it must be truth...right?

To be more specific, the article discusses a study published in the journal Science states that higher temperatures over the past two decades have contributed to a nearly half-inch rise in global sea levels since 1992, attributing about 30% of that increase to melting of polar ice sheets. The study estimates that roughly half of that 0.43 inch rise was caused by thermal expansion of the oceans (as water warms, it becomes less dense and expands), some from from runoff from melting glaciers, and the rest from melting of Greenland and Antarctica ice sheets.
And by the way, it also points out that Greenland has been a bigger contributor to all of that because Northern Hemisphere ocean currents are warmer (yup, it's called the "North Atlantic Oscillation"… a natural cycle that shifts about every 60 to 70 years), while "Antarctica is so cold that even if warming occurs it won't melt" at the rate seen in Greenland (according to the study co-author). The study also admitted that it's a tricky question whether or not the overall accelerated melting of polar ice sheets can be linked to man-made climate change influences; that current climate-change models predict that some parts of the Antarctic ice sheets will grow, while others will melt; that Antarctica is not losing ice as rapidly as suggested by many recent studies; and that "The signals suggest there is no immediate threat" from rising sea levels.
What a relief! I was really worried there for a minute.
In fact, another recent study posted in Science, concluded that polar ice sheet melting has been massively overestimated. That analysis is based upon new methods that filter out "noise" from "Gravity Recovery And Climate Experiment" (GRACE) satellite data. As researcher Frederik Simons of Princeton explains, "Our technique learns enough about the noise to effectively recover the signal, and at much finer spatial scales than was possible before."
Simons and his colleague Christopher Haig directed particular attention to the Greenland ice sheet, noting that the Antarctic ice cap is actually getting bigger. While they found that Greenland's ice loss did consistently increase between 2003 and 2010, the change was very patchy from region to region. In addition, the enhanced detail of where and how much ice melted allowed them to estimate that the annual loss acceleration was much lower than previous research suggested, roughly increasing by 8 billion tons annually, Previous estimates were as high as 30 billion tons more per year.
Such rates of Greenland ice loss were barely larger than the margin of error in their readings, making it difficult to discern any difference between a supposed loss curve on a graph from a straight line. At the current rate, it will cause sea levels to rise about 2.4 inches over the next century. And according to the authors: "At current melt rates, the Greenland ice sheet would take about 13,000 years to melt completely, which would result in a global sea level rise of more than 21 feet (6.5 meters)."
The good news is that we are scheduled for the next Ice Age long before that. It should give Al Gore at least some comfort knowing that.
Sure, but even if Greenland and Antarctica melting is on ice for a while, what about that dreaded sea level-hiking runoff from those glaciers? After all, according to the EPA and the UN's Intergovernmental Panel on Climate Change (IPCC), the main factors driving sea level changes now are: "the expansion of ocean water caused by warmer ocean temperatures, melting of mountain glaciers and small ice caps, and (to a lesser extent) melting of the Greenland Ice Sheet and the Antarctic Ice Sheet."
Besides, we all knew there was a big crisis after the IPCC warned us that the Himalayan glaciers might disappear altogether by the year 2035, leading to flooding of rivers followed by imminent drought and starvation for billions of people. Well, okay, it later turned out that they made this all up, but never-the-less, those glaciers must be melting pretty fast, or they wouldn't have worried their Nobel Peace Prize awarded minds and have scared us all to death about it...would they?
Darn! Maybe we all might have gotten a lot more sleep had we known about recent results of another GRACE satellite study published in the journal Nature that shows that Himalayan glaciers are hardly melting at all. According to John Wahr at the University of Colorado-Boulder, glaciers and ice caps in places other than Greenland and Antarctica lost about 30% less ice than had previously been estimated.
Wahr expressed surprise at these findings, saying: "One possible explanation is that previous estimates were based on measurements taken primarily from some of the lower, more accessible glaciers in Asia and were extrapolated to infer behavior of higher glaciers. But unlike the lower glaciers, many of the high glaciers would still be too cold to lose mass even in the presence of atmospheric warming."
Not only that, it appears that glaciers in the high Asian mountain ranges...the Himalayas, the Pamir and the Tien Sha...were even much better off (presuming they really care). Previous estimates suggesting depletion rates as high as 50 billion tons of ice per year were exaggerated by a plus or minus 20 billion ton error.
And what about those sea levels? Are they rising at a terrifying rate? Although the UN's IPCC, based upon its highly theoretical climate models have predicted an increase in the rate of global average sea level rise during the 20th century, that rate has actually been rather stable, with no significant rise over the past 50 years. The rates in the 1920-1945 period were likely to have been just as large as today's.
So please, someone, tell Al Gore that maybe it's time to relax. When co-anchor Katie Couric asked him on the May 24, 2006 Today show "What do you see happening in 15 to 20 years if nothing changes?...Even Manhattan would be in deep water", he replied: "Yes, in fact the World Trade Center Memorial site would be underwater." Then, much more recently when hurricane Sandy blew in, he knew exactly what to blame. Us of course...due to our coal fired electricity powered laptop computers, fossil fueled climate ravaging SUVs, and a host of other tide-raising influences. Wouldn't you think that informing him about this recent research would make him feel a lot better, knowing that his new $9 million oceanview villa in Montecito, California is safe?
Oh....there's one other thing that I wish to pass along:
Best wishes to you and your family for a cheerful holiday season and a healthy, prosperous and fearless new year!
Reprinted with permission of author. See more Larry's work on Forbes.
Wednesday, December 19, 2012
Another snowjob from UNH and NRDC
By Joseph D'Aleo, CCM
UPDATE: 75% or more of the nation will be snowcovered by end of year (64.4% as of December 27). The hemisphere has again been well above normal w/r snow. For the US, two major snowstorms this week and a frigid new Year's Eve.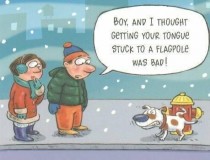 Snows will fall west south and east. Another storm in early January.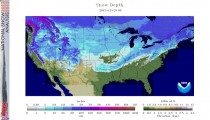 Enlarged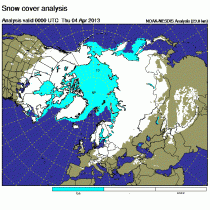 Enlarged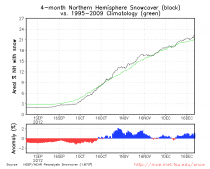 Enlarged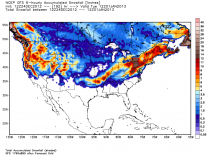 Enlarged
Join us at Weatherbell.com for model maps for the US and globally and much more. Daily discussions and videos. Great for the enthusiasts as well as those requiring specialized commercial services.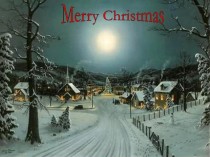 -----------------
Another bout of nonsense from UNH/UCS and NRDC environmental activists who never really look at the data. Back in 2007, the Union of Concerned Scientists (UCS), an environmental advocacy group that has seeded the once great universities with alarmists, had a meeting atop Mt. Washington where they warned ski areas that snow would vanish as global warming accelerated and the maple sugar industry would also suffer as maple trees packed their bags and retreated to Canada.
That very next winter set all types of snow records in the northeast and across all the country west to Colorado and north to Alaska. Across almost all of North America, 2007/08 was the best, or one of the best seasons ever for those who enjoy winter sports. Practically every ski area from Alaska across Canada in the Western U.S. - the Midwest and New England saw plenty of snow; some places reporting all-time record snow. Michael Berry, President of the National Ski Areas Association told the AP that "This could very well be the record year".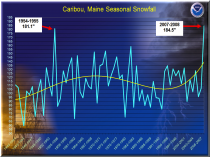 Enlarged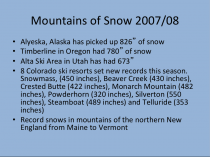 Enlarged
Two years later, another enviro terrorist, RFK Jr., lamented that children in DC would no longer be able to enjoy winter sports like sledding because of global warming. The following winter 2009/10 set all-time snow records for the Mid-Atlantic with sled and snowshoes and skiis the best way to get around.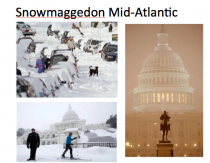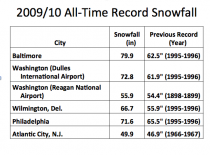 Enlarged
In 2010/11 major snows hit the nation again. Chicago had a blizzard (first photo). The east was buried in snow (second below New Hampshire, third Ohio churches). NYC had their third snowiest year and second snowiest month (behind February 2010).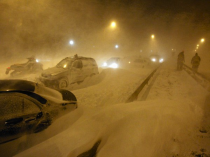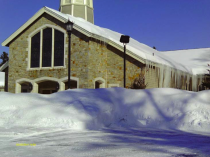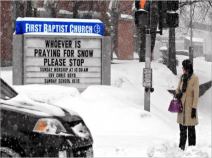 A major blitz of heavy snowstorms occured in the east in the big cities of the east Since 2000, we have had 17 major east coast storms among the 46 major impact storms NOAA has cataloged in the 56 years of the record, a full 10 such storms since the first ludicrous UNH/UCS press release.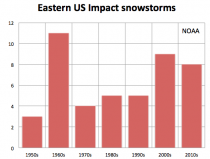 Enlarged
In the hemisphere, 2009/10 had the second highest snow extent behind 1977/78. 20010/11 was third, 2007/08 4th and 2002/03 fifth. So 4 of the 5 snowiest years on record for the hemisphere have occurred in the last decade.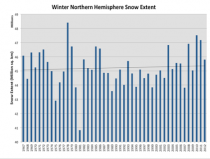 Enlarged
In an ironic twist, instead of greenhouse effect producing less snow, too much snow collapsed greenhouses in China this fall!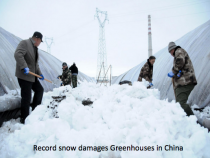 Whats more there has been no warming in any US region in the last 15 years, even with the warm winter last year.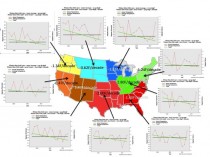 Enlarged
The Concord Monitor in a ridiculous editorial this week fed by the lefty friends at the UNH and NRDC which took advantage of the overdue warm winter last year to try again.
Last winter, fewer people visited the nation's ski areas that at any time in the past 20 years. Half of 100 resorts surveyed opened later than normal, and 48 percent of them closed early. This winter may not be any snowier. The past decade has been the warmest on record, and temperature increases and the greenhouse gas emissions that are driving them show no sign of abating. That could doom the ski industry, and the tourism and recreation economies that depend on it, according to a new study by researchers at the University of New Hampshire, the Natural Resources Defense Council and the group Protect Our Winter.
I expect, like the Gore Effect, these clowns will be proved wrong again. It looks like many feet of snow will fall the next few weeks in the mountains. I look forward to the day when we can purge our colleges of those who are polluting the minds of our young people with their dogma. When I was a college professor for 9 years, I used to teach my students how to think not what to think. In the liberal universities today thought, that no longer happens. Unfortunately the left controls the curricula at the elementary, middle and high school levels in science and other major topics and the brainwashing begins early. We live in the"Misinformation Age". I gave a lecture on climate factors in a Boston area school in recent years and a student stood up and said he was mad....not at me but at his school. He said he played plenty for his tuition but in two courses supposedly covering climate, he had not heard anything about the factors like multidecadal ocean cycles and the various ways cycles on the sun affect climate only greenhouse gases. Another teacher at another school who teaches a weather and climate course - in which he presented a balanced picture including all the theories and factors, was told by his environmental department head to not talk anymore about climate only weather because his students were starting to ask questions about factors he knew little about. Art Horn and I will have more to say about steps we are taking to change this including talks and courses and local cable access programming. Much of this is volunteer, so your support, no matter how small is always appreciated.
Here is an interview I did for Nashua CTV Speakupnh. I will addd the Hudson video I did with Art Horn when it is released.
UPDATE: Dr. Don Easterbrook writes:

In Washington state we have our own version of "ski areas will be a thing of the past". For the past several years, the Univ of Wash climate group has been posting bogus claims of severe snow drought in the Cascades despite above average snowfall. They just posted another prediction that skiing will be a thing of the past, and shortly thereafter we got 80 inches of snow in 7 days, so much that it toppled about 100 tress across the road and closed the road to the ski area. We now have 176 inches, reportedly ahead of the world record year of 1100 inches.

So much for the end of skiing!

Don
Tuesday, December 11, 2012
Extreme weather and superstition
By Ralph B. Alexander
December 10, 2012
Reprinted with permission of author with attribution to the NY POST
Superstorm Sandy. Parching drought across North America. A scorching midsummer heat wave in the Midwest. All these weather extremes are telltale signs that CO2 causes climate change, according to global warmists.
Indeed, the global climate-change nomenklatura gathered last week in Doha, Qatar eagerly (if grimly) cited Typhoon Bopha, which had just wreaked carnage in the Philippines, as the latest proof.
But it's not. The link between extreme weather and global warming has as much scientific basis as the pagan rite of human sacrifice to ensure a good harvest.
Yes, the supposed connection between unusual weather events and global warming is often taken as self-evident.
It's even been propounded in scientific papers - but not persuasively. A recent paper from Goddard Institute for Space Science chief James Hansen, for example, was quickly debunked by climate scientists on both sides of the global-warming debate.
No, the main fodder for the claim is its repetition by climate amateurs, such as New York Times columnist Paul Krugman.
The fact is that anomalous weather events, such as hurricanes, heat waves, floods, droughts and killer tornadoes, show no long-term trend whatsoever over more than a century of reliable data. Weather extremes have occurred from time immemorial, long before industrialization boosted the CO2 level in the atmosphere.
For that matter, even if there had been an uptick in extreme weather, the claim that global warming's the cause would have to contend with the inconvenient truth that global temperatures haven't risen for the last decade or more.
Extremes are a natural part of our climate, which constantly changes and is rarely stable for extended periods. In fact, weather extremes are the "old normal," not a "new normal" as UN Secretary-General Ban Ki-moon proclaimed in Qatar.
Why can't so many rational, well-educated people understand this simple fact? The answer may be superstition.
Superstition, which is rooted in fear and thought to emanate from the reptilian portion of our brains, has been part of the human psyche ever since the emergence of self-awareness in early mankind. Since then, we humans have learned to speak, write, read and live together in comparative peace. But we're still superstitious.
Superstition about the weather in particular is hardly surprising, given the awesome power of nature. Witnessing storms, lightning and even the daily rising and setting of the sun surely induced fear and wonder in primitive cultures. The same fear and wonder are what warmists exploit today in linking weather extremes to global warming.
Scholars tell us that weather superstition often found expression in ritual human sacrifice. The Mayans, for instance, tossed victims into a limestone sinkhole to appease the rain god Chaac.
And it's only a few centuries since superstition over the climate led to intensive witch hunts and widespread executions, usually by burning, for witchcraft.
University of Chicago economist Emily Oster demonstrated in 2004 that the most active era of witchcraft trials in Europe coincided with the Little Ice Age. Since then, other researchers have argued that chilly weather may have precipitated the Salem witch trials in the 1690s - one of the coldest periods of that epoch.
It was widely believed during the late Middle Ages that witches were capable of controlling the weather with their magic powers, and thus cause storms that could destroy harvests and hobble food production.
Things aren't so different now. The same predisposition for superstition that caused medieval populations to fear and hunt witches can explain today's hysteria over extreme weather. The present temperature trend is a good example. Global warmists constantly ignore the trend, labeling the flattening or even slight decline in global temperatures since 2001 or earlier as a "hiatus."
Our obsession with weather extremes has reached such heights that it has become a knee-jerk reaction for climate-change alarmists to ascribe any unusual weather event at all to global warming. So they tell us that heat waves, floods, harsh winters, dust storms - even wildfires - are all the result of man-made CO2. But a check of records from, say, the 1930s or the 1950s, when the CO2 level was much lower than now, reveals that such events are nothing new.
Climate-change skeptics might be regarded as modern-day witches because they think that global warming comes from natural forces. However, it's superstitious alarmists, who believe that extreme weather originates in our CO2 emissions and who have a dread of impending disaster, who are really the witches.
Ralph B. Alexander is a physicist and the author of "Global Warming False Alarm." Buy it from the Icecap Amazon store here.
----------
'Extreme weather events are ever present, and there is no evidence of systematic increases'
Presented at UN Climate Conference in Doha, Qatar on Dec. 6, 2012
INTRODUCTION

The man-made global warming movement has officially shifted from runaway global warming fears over to extreme weather fears. This strategic shift has been in the works for years as global average temperatures have stalled by up to 16 years. First there was a transition from "global warming" to "climate change" and now to "global climate disruption." Some have suggested "global weirding" others have suggested a "new normal."
At the opening of the 18 annual United Nations climate summit being held in Doha, Qatar, UN climate chief Christiana Figueres, urged governments around the world to "do something about" extreme weather. "We have had severe climate and weather events all over the world and everyone is beginning to understand that is exactly the future we are going to be looking about if they don't do something about it," Figueres explained at the opening of the annual UN climate summit.
In June of this year, Democrat Rep. Henry Waxman (Ca) blamed CO2 for wildfires in Colorado and floods in Florida. "It's time to stop denying science. Extreme events like the wildfires in Colorado and the floods in Florida are going to get worse unless Republican-controlled Congress changes course soon," Waxman explained.
Global warming proponents claimed that 2012 was a 'new normal' in climate with "unprecedented" weather events. Former Vice President Al Gore summed up this view when he wrote: "Every night on the news now, practically, is like a nature hike through the book of Revelations."
Sen Boxer (D-Calif), the chair of the Senate Environment & Public Works Committee declared: "Hurricane Sandy has shown us all what the scientists sitting right in this room said the day I got the gavel, & they told us exactly what would happen and it's all happening."
But the latest peer-reviewed studies, data and analyses undermine claims that the weather is more "extreme" or "unprecedented". On every key measure, claims of extreme weather in our current climate fail to hold up to scrutiny.
See climate Depot's report to the UN climate summit in Doha on extreme weather here:
Dr. Richard Feynman, the great physicist told his students about the scientific method in this class. By his definition the theory of AGW is falsified and should be discarded.
I presented some of the evidence that taken together with that compiled by Marc Morano is more than enough to discredit/falsify global warming.
Friday, December 07, 2012
Can We Control The Weather?
By Art Horn
In the wake of the destruction caused by hurricane Sandy there have been calls to control the weather and stop disasters like Sandy from occurring again. Apparently there are those who believe we can actually do it. On November the 1st, 2012 Mayor Michael Bloomberg of New York said "Our climate is changing. And while the increase in extreme weather we have experienced in New York City and around the world may not be the result of it, the risk that it might be, given this weeks devastation, should compel all elected leaders to take immediate action". In his speech to the Democrat National Convention President Obama said "More droughts and floods and wildfires are not a joke. They're a threat to our children's future. And in this election you can do something about it." On November the 12th, 2012 Secretary-General Ban Ki-moon addressed the UN's General Assembly and pronounced "Finally, let me say we all know the difficulties in attributing any single storm to climate change. But we also know this: extreme weather due to climate change is the new normal. This may be an uncomfortable truth, but it is one we ignore at our peril." In all of these statements the obvious implication is that these leaders think that if we take some kind of action, we can do something about the weather.
In all of the above statements the implied or stated method for controlling the weather is to reduce emissions of carbon dioxide. The thinking, if you want to call it that, is this. Reducing the amount of carbon dioxide in the air from 0.04% of the atmosphere to some arbitrary amount, say 0.03% or the level at the beginning of the industrial revolution in 1850, will somehow bring the weather back to "normal". This reduction would be a whopping 0.01%. They have no idea how this reduction will actually change the weather back to how it should behave but they are sure it will work. They are so sure that they believe we should dismantle everything that has provided us with reliable, affordable energy up to this point and try something new. The EPA is already working hard to close the coal companies.
The fact of the matter is that the United States has already been reducing the amount of carbon dioxide it contributes to the atmosphere. However, the United States is only 18% of the worlds carbon dioxide emissions. World carbon dioxide emissions are continuing to rise despite our reduced input. Apparently our reduction has not been enough to change the weather back to normal so, according to Ban Ki-moon we must do more. In his address the General Assembly on 11/12/12 he said "Our challenge remains clear and urgent: to reduce greenhouse gas emissions, to strengthen adaptation to even larger climate shocks we know are on the way no matter what we do, and to reach a legally binding agreement by 2015, as states agreed to do last year in Durban." So he thinks that a treaty, formulated and administered by the UN to control and reduce the amount of carbon dioxide in the air will give the UN (him?) the degree of control we need to stop "climate shocks we know are on the way." In other words, control the weather.
The idea of controlling the weather is not new, in fact, it is quite old. Napoleon believed that by shooting cannons into the air he could create rain and as a result, disrupt his enemies. This became known as the "Concussion theory of rainmaking" and was used (unsuccessfully) up to the civil war. The US congress looked into controlling the weather in 1891. They brought in a retired Brigadier General named Robert Dyrenforth to launch balloons carrying explosives. The only success he had was to set off prairie fires. Enter Charles Hatfield "The Wizard of the Weather". Around 1900 Hatfield began offering his services. He would explain to farmers that it would take time to erect his towers that would release his "moisture accelerator" concoction into the air. He always got paid first. From 1962 to 1983 the US government funded "project stormfury". The project used cloud seeding with tiny silver iodide crystals in an attempt to weaken hurricanes out over the oceans before they struck land. In 1965 hurricane Betsey made an unusual (but not unprecedented) loop as it headed north off the coast of Florida and then slammed into Miami. Stormfury said they did not seed the hurricane but Congress didn't believe it. Eventually the project was de-funded.
Today the latest scheme to control the weather is reducing the tiny amount of carbon dioxide in the air by an even infinitesimally tinier amount. The atmosphere that covers our planet is extraordinarily complex. It is so complex that we have a great deal of trouble forecasting what it will do just days ahead, sometime much less that that. And if you're going to control the weather you must control the oceans as well. The oceans of the world contain more than 1,000 time the amount of heat contained in the atmosphere. Changes in the oceans that result from cyclical patterns such as El Nino and La Nina, the Pacific Decadal Oscillation and the Atlantic Multi-Decadal Oscillation have dramatic implications for the atmosphere. We would also need to control the energy output from the sun which, after all, is the primary source of energy for the planet.
Like the Wizard behind the curtain in the land of Oz, all of these people who claim they know how to control the weather are just men. They are humans who speak with profound words from high platforms in impressive locations but in the end, they have know more idea of how to change the weather than you and I.

Tuesday, December 04, 2012
Global Warming Realist Marc Morano EXPOSES Bill Nye the SO CALLED Science Guy on Climate Change
By Noel Sheppard
Global warming skeptic and founder of the website Climate Depot Marc Morano debated climate change with Bill Nye the Science Guy on CNN's Piers Morgan Tonight Tuesday.
PIERS MORGAN, HOST: Our big story tonight, you are so hot, America. I mean that literally. The temperature was a balmy 60 degrees this afternoon in New York just outside CNN's studios. (Yes but November was 3.8F below normal with record snow for NYC - that's called weather Piers) The average high temperature in December is normally 43. A warm front has flooded the lower 48 states. Quite extraordinary but is it evidence of man-made global warming? That's tonight's battleground America. Joining me now are Bill Nye the Science Guy and Marc Morano, the publisher of ClimateDepot.com. Welcome to you both. Let me start with you, Marc Morano, if I may. You are implacably opposed to the concept of man-made climate change. Why?
MARC MORANO, CLIMATE DEPOT: We followed the evidence. There are quite literally hundreds of factors that influence global temperature, everything from tilt of the Earth's axis to ocean cycles to water vapor, methane, solar system. If you go down, look at the scientific literature, we are finding reams of data and new studies showing the Medieval and Roman Warm Periods are as warm or warmer today without our CO2 emissions. We have gone 16 years without global warming according to U.N. data, and we have the absurd spectacle of people claiming acts of Congress can control the weather and make hurricanes less nasty and tornadoes less frequent which by the way none of them are showing any trends at all that are unusual.
MORGAN: Okay. Bill Nye, your response?
BILL NYE THE SCIENCE GUY: Well, we start talking about the facts.
MORANO: Those are facts.
NYE: The Medieval Warm Period and Roman Warming Period, those are just in Europe.(WRONG-There was a Medieval Warm Period and it was global? According to data published by 1118 individual scientists from 641 research institutions in 46 different countries...and counting!) Let's see if we can agree on a couple things. Do you agree that when I was a kid or when you were a kid, there was 340 parts per million of carbon dioxide in the atmosphere?
MORANO: Sure. Carbon dioxide is rising. What's your point?
NYE: So here's the point, is it's rising extraordinarily fast. That's the difference between the bad old days and now.
MORANO: Carbon dioxide.
NYE: ...much faster than ever in history.
MORANO: Let him finish, Marc. Let him finish.
NYE: It's the rate that's of great concern more than the actual number itself.
MORGAN: And what do you put that rate down to, Bill?
NYE: It's human activity. You go back, this is what I say all the time. You look at the ice and you find bubbles of trapped gas from 200 years ago, let alone 1,000 years ago. There's nobody running around with a hypodermic needle injecting bubbles of gas in ancient ice cores. That's the ancient atmosphere in there so you can determine the composition exactly. This Medieval Warm Period is brought up quite often, but it was really a European phenomenon. It wasn't global.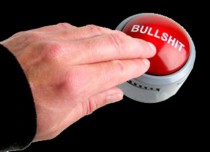 MORGAN: What are the biggest factors, the man-made factors creating the acceleration of CO2 in the atmosphere?
NYE: The biggest thing is when I was 9 years old, the Earth's population changed from 2.999 billion to 3 billion. Now it's in my lifetime, it's now 7 billion people trying to live the way we lived in the developed world and we're just burning carbon and spewing carbon dioxide in the atmosphere at an extraordinary rate.
MORGAN: Right, so Marc Morano, if there is a massively increased acceleration in CO2 in the atmosphere at the same time that there's been a bigger than double the sizing of the population of the planet, why would that not be inextricably linked? Explain to me.
MORANO: CO2 is rising. No one is disputing that. What Bill Nye just did was waste everyone's time explaining that CO2 is rising. The question is what impact does it have on the weather, on climate change. That is where you look at the geologic records. We've had warmer periods with lower CO2 and colder periods with higher CO2. You have to go way back for some of that but the bottom line is hundreds of factors are dictating our climate. The Medieval Warm Period was both Southern and Northern hemispheres. On my website there's literally, it demolishes the idea of a hockey stick, new peer reviewed study. So the idea that Bill Nye is going around saying CO2 is up, therefore global warming is dangerous, we should be concerned, it's not. It's not dangerous. The bottom line is all these factors dwarf the effect of CO2.
MORGAN: Let me jump in. How do you explain the Eastern seaboard, for example, is getting some of the warmest weather it's ever had at the same time that California has been plunged into storm after storm in the last week and you see New York last month had the worst hurricane it's ever endured and so on and so on? How do you explain that we're getting so many of these freakish weather patterns if at the same time you've got all this extra CO2 in the atmosphere and all those people now guzzling up power and energy and emitting gases that weren't there before. Surely that is evidence, isn't it? Wow what a crock
MORANO: No. You go to the peer reviewed literature. You are you looking at anecdotal evidence. Basically global warmists like Bill Nye say global warming will cause many bad weather events. And guess what? Bad weather events happen all the time so people look and say look, there's more proof, there's a bad weather event. Bottom line, big tornadoes, F3 and larger since the 1950s have dropped dramatically. Bottom line, we've gone the longest period without a major U.S. Category 3 or larger hurricane hitting the U.S. since 1900, maybe the Civil War. Bottom line, new study in the journal Nature, peer reviewed, no change in U.S. drought in the last 60 years. Bottom line, a new study out shows that drought has not changed in 85 to 126 years.
MORGAN: Let me, wait a minute. Wait a minute. Let me add one more bottom line before I defer to Bill Nye. He knows more about this than I do. Another bottom line, the world is indisputably getting warmer. The U.N. Weather agency said last week 2012 is on track to become one of the top ten hottest years on record. Add all the weird climactic changes we're seeing. Bill, over to you. Piers is clueless as usual)
NYE: This will be the hottest two decades in history, in recorded history. So when you throw around a statement like the U.N. says it's not the hottest 20 years, I got to disagree with you. There may be some surface data shows that in certain cities.
MORGAN: Here's my point to you, Marc. It's a straightforward one, really. If you are wrong, then the implications for the planet are utterly catastrophic.
MORANO: Not at all.
MORGAN: In other words, if you and the climate change, well, let me finish. If the anti-climate change brigade win the argument and nothing is done because you convince people nothing needs to be done and you're wrong, then in 100, 200 years, we'll have caused devastation for the planet that will then be irretrievable. If however you are right in what you say and this is unnecessary and overreaction and so on, what you're seeing is a bit of economic hardship in the short term to deal with what may not be as big a problem as you think it is.
MORANO: Why is it the wrong argument? Because every proposal ever done including the United Nations Kyoto protocol would not impact the temperatures assuming you buy into their science.
NYE: We're not talking about the temperature.
MORANO: We're talking about a climate bill in the United States. President Obama was telling people it will keep the planet four or five degrees cooler for our grandchildren. His own EPA said it wouldn't affect global CO2 levels let alone temperature. If you actually do, the developing world is getting 1,000-plus coal plants. There are 1.3 billion people who don't have running water and electricity. If we actually go the route of trying to stop carbon-based energy - which has been their lifeline, which would lower infant mortality and longer life expectancy - it would be the most immoral position you can take. Bottom line is even if skeptics are wrong the solutions that the global warming alarmists have proposed would have no detectible impact on climate change.
MORGAN: Let me let Bill Nye respond to that.
NYE: If we were to begin to reduce carbon emissions, have the United States for example lead the way in this new technology, especially energy transmission, energy storage, electricity, we could change the world. We could get everybody a much higher quality of life than they would otherwise have. The problem is so many people live near the coasts and they are very old economic reasons. People lived on rivers since the beginning of human history. So as sea levels, as the world gets warmer - and I take it he doesn't disagree the world's getting warmer, the sea actually gets bigger. So ice is also falling off the ice sheets so that ice is up on land. This is also going to cause the sea level to rise. So for example, in the case of Sandy, which was not an especially big hurricane, the economic impact was $30 billion, and that's in the developed world where we have the resources to deal with it. When you have people displaced on a continental scale, we're not talking about a few people trying to get through a fence at a border between countries. We're talking about tens of millions of people trying to move north, trying to move out of Southeast Asia. You're going to have trouble. So the sooner we get on that problem, the better.
MORANO: These are all predictions are based on climate models that violate 81 of the 87 principles of forecasting.
NYE: I appreciate your yelling. That's good.
MORGAN: Marc Morano, do you accept that the ocean levels are rising, that the planet is getting hotter, that CO2 emissions have dramatically increased in the last 50 years, and ice sheets are shrinking, and the planet population is doubling and accelerating at a terrifying rate, and that the combination of all these things is likely to be a major problem for the next two or three generations, and therefore, doing nothing shouldn't really be a sensible responsible option.
MORANO: Doing nothing? First of all the United States did nothing, our CO2 emissions are dropping as we move to fracking away from coal through technology. So the idea of doing nothing, there's nothing to do. There's no way you can solve a non-problem. Sea level has been rising since the end of the last ice age. There's no acceleration. Dutch Meteorological Institute said there's no acceleration. You can look at the data, the land-based data. There's no acceleration in sea level.
NYE: We just don't agree on the facts. We aren't going to get anywhere.
MORANO: Where it goes is scary, and where the horror story is in all these predictions. They come out and say it's worse than we thought. Why? Because the predictions get scarier and scarier.
MORGAN: Okay, I respect that you have views. I don't think they're facts, and there are many scientists who would take issue with you about the use of the word facts. I'm going to have to wrap it up, I'm afraid. Been a spirited debate. I appreciate you both coming on. Thank you.
Read more.
Weatherbell was originally asked to do the Marc Morano part, but we had conflicts. Marc did well in this two against one battle. Both Piers and Bill Nye proved how ignorant they are about the science, using tired old debunked alarmists talking points and using anecdotes about a warm day in NYC to prove the theory. When we tried to present a snowy winter or decade of cooling (now 16 years) as evidence of falsification (Karl Popper and Richard Feynman), we were told we were cherry-picking and that we did not understand the difference between weather and climate. Sorry boys and girls, I taught weather and climate for 10 years at the college level. I grew up with Mr. Wizard, a real scientist. Not a political phoney actor - a Soupy Sales clown but without the personality. And somehow in CNN's mind, an English accent portrays intelligence. Sorry Piers did a good job promoting Susan Boyle and in evaluating talent but he is no talk show hope and not a fair interviewer like Larry King.
BTW, I was busy yesterday and today doing cable access shows on weather and climate promoting the truth about climate change and also the efforts, Joe Bastardi, Ryan Maue, I and our team at Weatherbell.com are doing to provide accurate forecasts of storms like Sandy. JB was on cable over a week in advance warning of a hit on NYC and NJ. Please remember to join us as subscribers, a great Christmas gift to a weather enthusiast. Also please help Icecap pay for our expenses. We get no grants unlike Mann at Real Climate who gets a blank check from Fenton Communications to peddle Bad Science and has NASA look the other way as Gavin Schmidt spends his working hours at NASA posting in Real Climate. We get no money for doing interviews on cable large and small. Art Horn is driving 6 hours to join me tonight at HIS expense. Even small amounts are appreciated. BTW, your cable access channels are looking for programming. Put together a powerpoint and got down and present it. I once did one in Bloomfield Michigan several years ago to a club that was shown over 5 dozen times and had the blood boiling at the University and Wunderground. I have worked 7 days a week since early 20111 and the inception of Weatherbell. When I do these other things or post on Icecap, it is during breakfast or in place of dinner. That is how strongly I feel about the truth and getting the message out. It is a battle we can't afford to lose, quite literally.
------
Marc Morano Exposes Bill Nye's Astonishing Ignorance Of Climate Science In Debate On CNN
NOTRICKSZONE
I thought Bill Nye was supposed to be well-informed about science. Boy, was I wrong. Marc Morano Exposes Bill Nye's astonishing ignorance of climate science. It started as soon as Nye opened his mouth at the 1:39 mark, he claimed the Medieval Warm Period and Roman Period were isolated incidents occurring only in Europe. He repeated it again 1t 2:55.
That claim was already refuted 10 years ago. Since then there are dozens of studies from every corner of the globe where proxy data clearly show that the aforementioned optimums occurred in cycles WORLDWIDE. Incredibly, Bill Nye thinks that the global temperature was more or less constant before human CO2 emissions. Even Michael Mann no longer believes that.
At the 2:20 mark, Nye then says that the rate of CO2 rise is of great concern. False. What is of concern is CO2's impact on global warming. All scientists agree that a doubling of CO2 will lead only to about 1 to 1.5C of warming by itself. CO2's impact is turning out to be far less than originally feared. In fact "the rapidly rising CO2" has resulted in no global warming in over 15 years!
Then at about the 3:35 Morgan and Nye seem to claim that the climate is directly related to the human population, i.e. when population rises, then temperature rises. Now we are getting a good idea of just how bad Nye and Morgan's science truly is.
Throughout the debate, Nye and Morgan's arguments are carried by fear and horror visions. You can't help but to think they are a bit on the hysterical side.
At the 4:30 mark, Morgan then totally confuses weather with climate. "How do you explain the warm weather today? Why is it we have all this freakish weather just when we have so many people? That's evidence isn't it?" The CNN host has now ventured into comedy science. It's again that psychological affliction of insisting that the world is coming to an end, and not being able to live without that.
At the 6:30 mark it's the old "precautionary principle" line. It's a wonder these people ever hop onto a plane or drive a car.
The rest of the debate is pretty much Bill Nye and Piers Morgan neurotically worrying about the phony computer-generated horror scenarios 100 years down the road, and confirm they believe that global temperatures are rising (they aren't, they're flat) and that sea level rise is accelerating (it isn't, in fact it is decelerating).
Finally, I couldn't help noticing that their primary worry is population growth for them there are just too many people on the planet. They need more "Lebensraum".

Not the first time Nye made a complete fool of himself and exposed his leanings on CNN. See this .

Friday, November 30, 2012
Globe Seized By Bitter Cold: Arctic Record Refreeze; UK Faces 100-Year Winter; Snow In New Zealand
UPDATE: 30,000 blacked out by snowstorm in Finland
Tens of thousands of households were without electricity on Friday as a result of a storm that dumped heavy snow across southern Finland and sent winds gusting up to 27 metres per second, felling trees and downing power lines.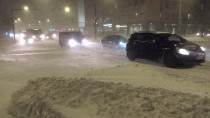 The first storm of the winter has caused difficulties for power companies. Image: Derrick Frilund / Yle
Around 10,000 Fortum, 11,000 Elenia, 8,000 Kymenlaakson Sahko and 3,000 Suur Savon Sahko customers suffered power cuts.
The affected areas are in Uusimaa, Hame, Pirkanmaa, Finland Proper, Kymenlaakso and South Savo. Fortum said that some of its customers in Porkkala, Kirkkonummi, Nummi-Pusula, Parainen and Salo were cut off, and that around 250 fitters were out working to restore supplies.
In Hame and Pirkanmaa around 10,000 Elenia customers lost electricity, with Hameenlinna and Urjala affected. Kymenlaakso saw 7,900 households lose connections to the grid, with a further 4,500 in South Savo cut off.
---------------
By P Gosselin on 29. November 2012
While UN climate scientists warn of an overheating planet and world leaders meet in suuny, warm Doha to hammer out an agreement to curb "global warming", which hasn't occurred in 16 years, the Northern Hemisphere and other parts of the world are shivering in extreme cold.
Snow, cold batter Northern Hemisphere.
Coldest UK winter in 100 years possible!
The online UK Telegraph here reports that "councils are gearing up for what could be Britain's coldest winter in 100 years, as sub-zero temperatures and snow follow days of downpours that have devastated large parts of the country."
The Telegraph warns that this weekend's cold and snow could be around for awhile:
"The forthcoming cold snap, caused by clear skies and northerly winds, could herald the start of a freezing winter. There are reports that temperatures could fall as low as -20c in some areas in December and January."
Cold, snow fly in the face of UN climate models
Cold and snow are forecast to hit Scandinavia and Central Europe as well, which all flies in the face of claims made by climate scientists just a few years ago, whose models predicted snow "would become rare, and a thing of the past." The online The Local reports that northern Sweden Saturday "will see temperatures dip down to between minus 12 and 20 degrees Celsius". Moscow forecasts it's biggest November snowstorm in 50 years (hat/tip: Steven Goddard/).
As Alaska shivers, EPA threatens fines if people don't stop burning wood!

In addition to Europe, Alaska and Canada have been enduring a long and bitter cold snap. Fairbanks, Alaska "has been experiencing unusually cold November weather with temperatures dropping into the minus-30s overnight". The Fairbanks Daily News-Miner reports that the Fairbanks area air pollution sensors this week have recorded high particulate pollution levels from widespread use of wood and oil-burning stoves. As Alaskans burn wood and coal in a bid to keep warm, the EPA "has ordered the state to clean up Fairbanks air or face financial penalties"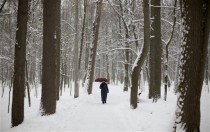 ------
Fairbanks Daily News-Miner: Think it's cold now? Winter's first cold snap hits FairbanksThursday marked the sixth day in a row the temperature at the airport didn't climb above 10 below. Wednesday was the first day with a high temperature of 20 below or colder - it was 21 below - at the airport.
It was even colder in the eastern Interior, where a low of 52 below was recorded in Chicken on the Taylor Highway. A low of 44 below was reported in Eagle and Dry Creek. It was 43 below at Circle Hot Springs.The weekend forecast calls for lows in Fairbanks down to 45 below and highs in the 20 to 30 below range through at least Monday....Thoman said this November and last will be the coldest back-to-back Novembers on record. H/T Tom A. Nelson
---------
Record Arctic refreeze!
Meanwhile, the media are dead cold silent when it comes to the massive Arctic sea ice recovery seen since October 1st – a record of almost 6 million square kilometers have been added. Never has the Arctic refrozen so much, so fast. Some experts are calling the scope of the refreeze "unprecedented" and "dramatic". Even the other hemisphere as been too cold; Antarctica has seen above average sea ice extent for every month for the past year. The 30-year upward trend shows no sign of abating.
Also New Zealand, where it is now (tomorrow) summer, is forecast to get snow!
Snow, cold in India and Pakistan
Cold is also reported in India. The Hindu reports here:
"The entire tribal belt of Kinnaur, Lahaul-Spiti and Pangi, and Bharmour in Chamba district is reeling under a severe cold wave and may receive rain or snow at isolated locations in the higher reaches in next few hours.
The temperature in Kalpa was 1.4 degrees. It was three degrees in the tourist resorts of Manali and Bhuntar; four degrees in Solan and Sunderngar; five to seven degrees in Chamba, Shimla and Una; eight degrees in Dharamsala and 10 degrees in Nahan."
With all the cold gripping the globe, clearly hundreds of millions could use a little global warming.

Tuesday, November 27, 2012
Unprecedented level of climate fraud?
Tom A Nelson
Sunday, November 25, 2012
Unprecedented level of climate fraud?: Don't miss this stunningly brazen warmist misuse of Newsweek's 1975 "The Cooling World" article
Stephen Schneider: Climate Science and Media Distortion - YouTube
This video was screened before a live audience by Climate One of the Commonwealth Club in San Francisco on Dec 6, 2011 as the introduction to an event honoring Stephen Schneider and presenting an award in his name to Richard Alley, Professor of Geosciences and Associate of the EMS Environment Institute.
Also partially screened by Ben Santer at the 2011 AGU (American Geophysicists Union) Conference held in San Francisco
At the 15-second mark, Schneider says "How did we know in the 1970s pretty much what would happen, it was theory then...and since then, nature's been cooperating with theory, but we kind of knew what was going to happen..."
As Schneider is claiming that in the 1970s "we" knew that carbon dioxide would overheat the Earth, the following image is shown: look, it says "Climatic Change" there, and that portion of a graph appears to show rising temperatures!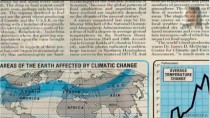 However, there is a big, big, big problem with using this image: It's from a famous Newsweek article called "The Cooling World", from April 28, 1975 (PDF here). Note that when you are allowed to see the entire graph (below), it shows plunging temperatures since the 1940s. Note that when you see the entire article, it contains a climate change "solution" that involves "melting the arctic ice cap by covering it with black soot".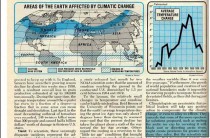 Credit for this propaganda video evidently goes to Climate One. Their email address is listed as ClimateOne@commonwealthclub.org. Contact them with your comments.

Tuesday, November 20, 2012
Hurricane Sandy A Prelude To Camp FEMA?
Update: Dr. Bob Carter on the science of climate change, and professional ethics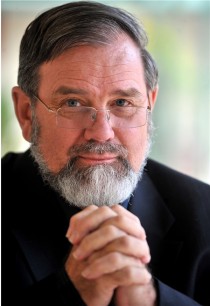 On November 22, 2012, CHUO 89.1 FM (Ottawa) The Train's Denis Rancourt interviewed Dr. Bob Carter about climate science and professional ethics. This is one of the most lucid discussions by two scientists you will ever hear about the scientific basis of climate change.
------------
Media coverage of just what victims of Hurricane Sandy have been experiencing has been very limited. We haven't seen much of how residents have been handled with regards to the Federal Emergency Management Agency (FEMA). However, there are stories that are coming in and with those stories come a lot of questions.
While there have been reports of "tent cities" set up, there has not been a lot reported on those "tent cities." One resident was a bit upset and had a few choice words concerning the mishandling of things by FEMA. The Daily Sheeple reports that FEMA "...made an announcement that they were sending us to permanent structures up here that had just been redone, that had washing machines and hot showers and steady electric, and they sent us to tent city. We got f*****."
In other tent cities the situations were as bad as some third world countries. Reuters reported:
One reason: the information blackout. Outside of the tightly guarded community on Friday, word was spreading that the Department of Human Services would aim to move residents to the racetrack clubhouse on Saturday. The news came after photos of people bundled in blankets and parkas inside the tents circulated in the media.
But inside the tent city, which has room for thousands but was only sheltering a couple of hundred on Friday, no one had heard anything about a move - or about anything else. "They treat us like we're prisoners," says Ashley Sabol, 21, of Seaside Heights, New Jersey. "It's bad to say, but we honestly feel like we're in a concentration camp."
Sabol, who is unemployed and whose rental home was washed away in the hurricane, remembers being woken up on Wednesday at the shelter she was staying in at Toms River High School. Conditions there were "actually fine," said Sabol.
Sabol was told that she had half an hour to pack: everyone was getting shipped to hotels in Wildwood, New Jersey, where they would be able to re-acquaint themselves with showers, beds and a door.
Sabol and about 50 other people boarded a New Jersey Transit bus, which drove around, seemingly aimlessly, for hours. Worse, that week's Nor'easter snow storm was gathering force, lashing the bus with wind and rain.
After four hours, the bus driver pulled into a dirt parking lot. The passengers were expecting a hotel with heat and maybe even a restaurant. Instead they saw a mini city of portable toilets and voluminous white tents with their flaps snapping in the wind. Inside, they got sheets, a rubbery pillow, a cot and one blanket.
There was no heat that night, and as temperatures dropped to freezing, people could start to see their breath. The gusts of wind blew snow and slush onto Sabol's face as her cot was near the open tent flaps. She shivered. Her hands turned purple.
It has taken three days for the tents to get warm.
There were reports that security guards were stationed all over, including in the showers. You couldn't even go to the bathroom without an I.D. I'll bet you could vote though.
One thing is for certain though, FEMA is demonstrating why it is no longer necessary and should be dismantled and defunded immediately. They cannot take care of this one incident despite expenditures over the previous decade. What am I talking about, you ask?
Well just what happened to hundreds of millions of emergency rations, blankets, and other supplies which were to be regionalized by the Department of Homeland Security?
However, it seems that DHS is perfectly set in purchasing billions in ammunition and putting tens of thousands of drones in America's skies.
While some have viewed the reports of FEMA camps as conspiracy theory and 'poo-pooed' those who have investigated them, the truth is that FEMA camps are conspiracy reality and its documented by our own government here.
So the question remains, is FEMA just so inefficient that they could not pool enough resources together to do their job properly in New Jersey and New York City? That is highly likely. However, a report from Independence News reporter Gregor Deitrich provides the mindset of DHS. This was from 2010:
A phone interview with Sharon Bylier of The Dept of Homeland Security, revealed that H.S. is stepping up regionalizing disaster supplies. Simply put, they are taking emergency items that are currently centralized in Washington, D.C., and distributing them nationally. Sort of like a mobilization of supplies. Their plan is to complete the supply of fifteen H.S. warehouses around the country in the next three months. Ms. Bylier is quoted as saying "we have worked hard the last six months to meet our local objectives." She continued "the goals of Homeland Security are in sight." It's difficult to know if this is a good or bad omen. No comment was offered as to why this program has been given so much urgency at this time. It's nice to know we're ready. But ready for What?
Exactly, what are they ready for? This report came two years prior to Hurricane Sandy and DHS was out of water within hours. So what exactly are they doing with all the stuff they are purchasing? One can only imagine, but if FEMA was no better prepared for Sandy than they were Hurricane Katrina, then we really need to start questioning the existence of such an agency and we need to find out where the resources they purchased, which could have been used during this disaster went to.
The lesson here is to never depend upon government. Depend on God, yourself, family and friends. It never hurts to be prepared for unexpected disasters
Read more.
Saturday, November 17, 2012
Two Schools of 'thought' - one scientific and the other science fiction
By Joseph D'Aleo, CCM
Here are two extremes. The Russians looking for Maunder Minimum and the NCAR grant fed researchers an 8F warming based on model of satellite data. I await reaction of Drs. Spencer and Christy on the latter. (Update: John Christy has responded - see below the WAPO story).

Bicentennial Decrease of the Total Solar Irradiance Leads to Unbalanced Thermal Budget of the Earth
Habibullo I. Abdussamatov, Pulkovo Observatory of the RAS
Applied Physics Research Vol. 4, No. 1; February 2012
Abstract
Temporal changes in the power of the longwave radiation of the system Earth-atmosphere emitted to space always lag behind changes in the power of absorbed solar radiation due to slow change of its enthalpy. That is why the debit and credit parts of the average annual energy budget of the terrestrial globe with its air and water envelope are practically always in an unbalanced state.
Average annual balance of the thermal budget of the system Earth-atmosphere during long time period will reliably determine the course and value of both an energy excess accumulated by the Earth or the energy deficit in the thermal budget which, with account for data of the TSI forecast, can define and predict well in advance the direction and amplitude of the forthcoming climate changes.
From the early 1990s we observe bicentennial decrease in both the TSI and the portion of its energy absorbed by the Earth. The Earth as a planet will henceforward have negative balance in the energy budget which will result in the temperature drop in approximately 2014. Due to increase of albedo and decrease of the greenhouse gases atmospheric concentration the absorbed portion of solar energy and the influence of the greenhouse effect It will additionally decline.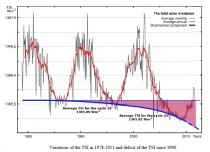 Enlarged
The influence of the consecutive chain of feedback effects which can lead to additional drop of temperature will surpass the influence of the TSI decrease. The onset of the deep bicentennial minimum of TSI is expected in 2042 plus or minus 11, that of the 19th Little Ice Age in the past 7500 years - in 2055 plus or minus 11.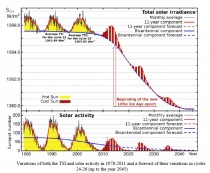 Enlarged
After the maximum of solar cycle 24, from approximately 2014 we can expect the start of the next bicentennial cycle of deep cooling with a Little Ice Age in 2055 plus or minus 11. Thus, long-term variations of TSI (with account for their direct and secondary, based on feedback effects, influence) are the main fundamental cause of climate changes since variations of the Earth climate is mainly determined by a long-term imbalance between the energy of solar radiation entering the upper layers of the Earth's atmosphere and the total energy emitted from the Earth back to space.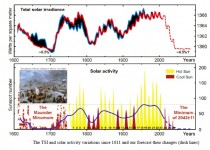 Enlarged
See full paper PDF.
-------------------------------------
And the other polar opposite using models fed with satellite data by NCAR which by the way using models with proclaimed 97% accuracy predicted a record strong solar cycle for 24 with a max SSN of 169. The forecast was only100 off with the max at 66.9 so far and current 11 month means at 63.
Table from Solar Terrestial Activity Report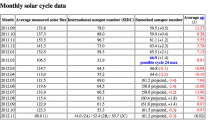 Enlarged
And remember the Layman's Sunspot Count site which only counts spots larg enough to have been seen many decades ago so as to more acurately see trends.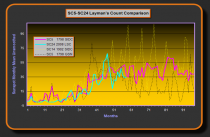 Enlarged
WARMER STILL: EXTREME CLIMATE PREDICTIONS APPEAR MOST ACCURATE, REPORT SAYS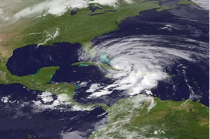 NOAA/REUTERS - Hurricane Sandy is seen churning northwards in this NOAA handout satellite image taken on October 25, 2012. According to climate scientists, the world could be in for a devastating increase of some eight degrees Fahrenheit by 2100, resulting in drastically higher seas, disappearing coastlines and more severe droughts, floods and other destructive weather.
Climate scientists agree the Earth will be hotter by the end of the century, but their simulations don't agree on how much. Now a study suggests the gloomier predictions may be closer to the mark.
Warming is likely to be on the high side of the projections," said John Fasullo of the National Center for Atmospheric Research in Boulder, Colo., a co-author of the report, which was based on satellite measurements of the atmosphere.

That means the world could be in for a devastating increase of about eight degrees Fahrenheit by 2100, resulting in drastically higher seas, disappearing coastlines and more severe droughts, floods and other destructive weather.
Such an increase would substantially overshoot what the world's leaders have identified as the threshold for triggering catastrophic consequences. In 2009, heads of state agreed to try to limit warming to 3.6 degrees, and many countries want a tighter limit.
Climate scientists around the world use supercomputers to simulate the Earth's atmosphere and oceans. Sophisticated programs attempt to predict how climate will change as society continues burning coal, oil and gas, the main sources of heat-trapping gases such as carbon dioxide. But these simulations spit out a wide range of warming estimates. All foresee an overheated planet in 2100, but some predict just three degrees of warming while others estimate eight or more degrees of extra heat.
"This problem has been around for 30 years," Fasullo said. "As long as climate models have existed, there's been this spread in projections of the future."
One source of uncertainty involves the impact of cloud cover, especially clouds that form in the tropical and subtropical regions between about 30 degrees north and south of the equator. "Tropical clouds are so important to climate," Fasullo said. "Small changes in clouds near the equator have a big effect on where you end up" for temperature predictions.
As sunlight pours onto the tropics, clouds bounce some of that heat back into space. Fewer clouds open up the atmosphere "like an iris," Fasullo said, allowing more heat to beam onto Earth's surface.
No supercomputer is powerful enough to predict cloud cover decades into the future, so Fasullo and colleague Kevin Trenberth struck on another method to test which of the many climate simulations most accurately predicted clouds: They looked at relative humidity. When humidity rises, clouds form; drier air produces fewer clouds. That makes humidity a good proxy for cloud cover.
Looking back at 10 years of atmospheric humidity data from NASA satellites, the pair examined two dozen of the world's most sophisticated climate simulations. They found the simulations that most closely matched humidity measurements were also the ones that predicted the most extreme global warming.
In other words, by using real data, the scientists picked simulation winners and losers.
"The models at the higher end of temperature predictions uniformly did a better job," Fasullo said. The simulations that fared worse ND the ones predicting smaller temperature rises "should be outright discounted," he said.
The most accurate climate simulations were run by the United Kingdom's Met Office, a consortium in Japan and a facility at the National Center for Atmospheric Research....
More.
------------------------------
REALITY CHECKS:
Note from Dr. John Christy
Joe:
Simple answer. When it comes to global temperature, the most sensitive models are the worst. Fasullo and Trenberth picked a rather obscure variable to hype, but when looking at the temperature itself, the worst models are the most sensitive models (attached, from my House testimony.)
John C.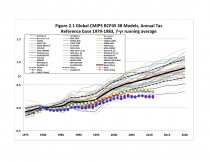 Enlarged
The real trend in global tempErature from satellite (RSS) for the last 15 years is flat while these 'skillful' models predicted a steep rise.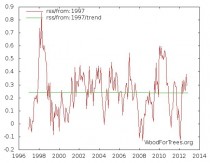 Enlarged
As is the Hadley data (used by the IPCC).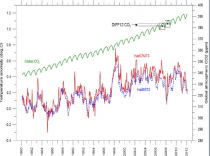 Enlarged

And the CFS unadjusted surface data since 1979 (Maue Weatherbell)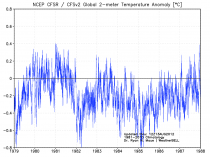 Enlarged
So why the constant push to manipulte data and hype natural disasters as proof that fossil fuels and man are responsible. Their own words tell us:
Maurice Strong, senior advisor to Kofi Annan, U.N. Secretary-General who chaired the gigantic (40,000 participants) "U.N. Conference on Environment and Development" in Rio de Janeiro in 1992 , who was responsible for putting together the Kyoto Protocol with thousands of bureaucrats, diplomats, and politicians, stated: "We may get to the point where the only way of saving the world will be for industrial civilization to collapse...isn't it our job to bring that about"

"In searching for a new enemy to unite us, we came up with the idea that pollution, the threat of global warming, water shortages, famine and the like would fit the bill....All these dangers are caused by human intervention...and thus the "real enemy, then, is humanity itself....believe humanity requires a common motivation, namely a common adversary in order to realize world government. It does not matter if this common enemy is "a real one or...one invented for the purpose." Quote by the Club of Rome.

Timothy Wirth, U.S. Undersecretary of State for Global Issues, seconded Strong's statement: "We have got to ride the global warming issue. Even if the theory of global warming is wrong, we will be doing the right thing in terms of economic policy and environmental policy."
"The data doesn't matter. We're not basing our recommendations on the data. We're basing them on the climate models." Prof. Chris Folland, Hadley Centre for Climate Prediction and Research
"The models are convenient fictions that provide something very useful." Dr David Frame, Climate modeler, Oxford University
"It doesn't matter what is true, it only matters what people believe is true." - Paul Watson, Co-founder of Greenpeace"
"Unless we announce disasters no one will listen." - Sir John Houghton, First chairman of the IPCC
"No matter if the science of global warming is all phony ... climate change provides the greatest opportunity to bring about justice and equality in the world." - Christine Stewart, former Canadian Minister of the Environment

"The only way to get our society to truly change is to frighten people with the possibility of a catastrophe" - emeritus professor Daniel Botkin
"We are on the verge of a global transformation. All we need is the right major crisis." - David Rockefeller, Club of Rome executive manager - Trustee of The Rockefeller Foundation a heavy funder of environmenal causes.
"This has almost nothing to do with environmental policy....one must say clearly that we redistribute de facto the world's wealth by climate policy" - Ottmar Edehoffer, UN IPCC
----------------------
WARNINGS THIS WOULD HAPPEN
Eisenhower's farewell address to the nation
"The free university, historically the fountainhead of free ideas and scientific discovery, has experienced a revolution in the conduct of research. Partly because of the huge costs involved, a government contract becomes virtually a substitute for intellectual curiosity. For every old blackboard there are now hundreds of new electronic computers.
The prospect of domination of the nation's scholars by federal employment, project allocations, and the power of money is ever present - and is gravely to be regarded. Yet in holding scientific research and discovery in respect, as we should, we must also be alert to the equal and opposite danger that public policy could itself become the captive of a scientific-technological elite."
---------
Vaclav Klaus, President of the Czech Republic, visited Australia in July 2011. In referring to the ideological orientations of those individuals and organisations who have significant financial and other vested interests in propagating the 'Doctrine' of anthropogenic induced climate change, President Klaus said: "They want to change us, to change our behaviour, our way of life, our values and preferences, they want to restrict our freedom because they themselves believe they know what is good for us. They are not interested in climate. They misuse the climate in their goal to restrict our freedom. What is endangered is freedom, the climate is okay."

After noting that today's human-induced climate change alarmists are the ideological descendents of the zero and negative population growth advocates of the 1970s who erroneously forecast that human population pressures would lead to increases in global poverty and growing shortages in resources, President Klaus went on to add: "They hate us, the humans, they consider us selfish and sinful creatures who must be controlled by them. I used to live in a similar world - called communism - and I know that it led to the worst environmental damage the world has ever experienced."
Thursday, November 15, 2012
2012 vs . 2011 tornadoes: A study in contrasts
By Jason Samenow
After one of the busiest years for tornadoes in 2011, tornado numbers in 2012 have come crashing down to historic lows.
In 2011, there were 1692 twisters - second most on record. This year, only 882 tornadoes have touched down. (Tornado records date back to 1950).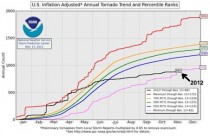 "[W]e are approaching a theoretical minimum in the annual tornado count for the modern era," said Greg Carbin, warning coordination meteorologist at the National Weather Service Storm Prediction Center in Norman, Ok.
What's especially remarkable about the year's depressed numbers is that tornado activity got off to a red-hot start. Through mid-April, tornado counts were highest on record. But then, an extended tornado drought struck and the count ranking plummeted.
"[The] decrease in tornado activity coincided with the development of an extensive ridge of warm high pressure in the atmosphere across the western and central United States," Carbin said.
He continued: "This high pressure area produced both record warm temperatures and extreme drought over much of the middle part of the continent into the summer and autumn. The high pressure also acted as a block in the middle and upper atmosphere with more transient but dynamic weather systems, that can lead to tornado development, being shunted northward into Canada."
"Even when the high pressure weakened enough to allow for some of the more dynamic weather systems to move across the lower 48 states, shear in the atmosphere remained too limited to support more than isolated to occasional tornado events. These conditions didn't result in a complete lack of severe weather as evidenced by the June 29 Derecho Event, it's just that conditions supporting more widespread tornadoes were clearly suppressed by the large scale pattern."
Although 6 weeks remain in 2012, it's unlikely there will be enough tornado activity for the year to rise significantly in the historic rankings. November and December are the 3rd and 4th least active months of the year for tornadoes, with a combined average of 70 to 80 tornadoes.
Related: 2012 vs . 2011 tornadoes: A study in contrasts
* Because fewer tornadoes were detected in earlier decades compared to recent decades (because of lower population, less tornado awareness, and fewer observing networks), NOAA adjusts count estimates using a simple equation. More information.
But as the storm track shifted into Canada, our northern neighbor experienced a very active tornado season. The Weather Network reported Canada experienced more tornadoes in July than the entire U.S., with Saskatchewan the new tornado alley.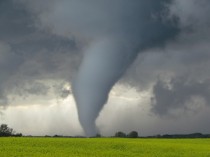 Saskatchewan has had upwards of thirty tornadoes this summer, with most happening in July. In a typical year, there's an average of ten to twelve tornadoes in the province. What's more, Saskatchewan alone had the same amount of tornadoes in July as the entire United States.
SPC has adjusted the tornado reports to account for increased population and improved detection. Removal of this upward trend is desirable because the increase in tornado reports over the last 54 years is almost entirely due to secular trends such as population increase, increased tornado awareness, and more robust and advanced reporting networks. By removing the upward trend and making the broad assumption that 2007 represents something closer to reality for annual tornado numbers, we can attempt to answer the question, "what constitutes a normal year with respect to modern-day tornado reports?"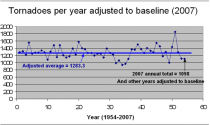 Wednesday, November 07, 2012
THE next United Nations climate report will "scare the wits out of everyone"
THE next United Nations climate report will "scare the wits out of everyone" and should provide the impetus needed for the world to finally sign an agreement to tackle global warming, the former head of the UN negotiations said.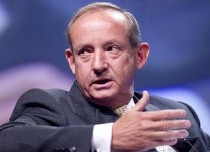 Yvo de Boer, the UN climate chief during the 2009 Copenhagen climate change talks, said his conversations with scientists working on the next report of the Intergovernmental Panel on Climate Change suggested the findings would be shocking. "That report is going to scare the wits out of everyone," Mr de Boer said in the only scheduled interview of his visit to Australia. "I'm confident those scientific findings will create new political momentum." The IPCC's fifth assessment report is due to be published in late 2013 and early 2014.
Before then is the next end-of-year UN climate meeting in Doha, Qatar. Delegates will discuss a second commitment period for the Kyoto Protocol, the only legally binding accord to cut greenhouse gas emissions. Last December nations agreed in South Africa to work on a binding agreement that would cover all countries. That work is expected to continue until 2015. Mr de Boer, who is now special global advisor on climate change for KPMG, said the best prospect may be for nations to settle on targets that they write into their national laws, rather than a binding international deal.
The latter would be "almost impossible to get through the US Senate"" he said, no matter whether incumbent Barack Obama or challenger Mitt Romney wins the US presidential election.
"Slipped between our fingers"
Three years on from Copenhagen, Mr de Boer said he has neither nightmares nor withdrawal symptoms from those failed talks, which included a final 12-hour marathon of discussions behind closed doors with Mr Obama, former Australian prime minister Kevin Rudd and 23 other global leaders. "That was such a fantastic opportunity and it slipped between our fingers," said Mr de Boer. "That's my big frustration."
He said Copenhagen's legacy had changed political attitudes to climate talks.
"Most politicians will think twice about going to a climate event, and if they go again, they will be damned sure that they'll be celebrating success rather than be associated with failure,'" he said. Expectations of global action on climate change have diminished, but Mr de Boer said it would still be "a very, very difficult conference" for his successor, Christiana Figueres.
He said the mandate for 2015 remained ambiguous and nations would be reluctant to sign up before they know what they were getting into.
The Kyoto Protocol has not been ratified by the US, and Canada, Japan and Russia have said they would not sign up to a second round when the current commitment lapses at the end of the year. Australia is yet to announce whether it will commit. Developing nations are holding back until they can see the rich acting.
They also want proof the UN's Green Climate Fund - aimed at supporting efforts to counter climate change -will get the $US100 billion in government and private funding promised (by Hillary Clinton). He said superstorm Sandy may spur more Americans, and people elsewhere, to consider the risks of climate change, but warned: "It's a bit like being shocked into stopping smoking when you've been told you've got terminal cancer."
Read more here.