Monday, November 26, 2007
A Summary of My Position on AGW
By Craig James, WOOD-TV Blog
There are several possible causes for warming and cooling of the atmosphere on a global scale. Periodic astronomical cycles, such as the Milankovitch Cycles, solar variations, volcanic activity, the shift in phase of the Pacific Decadal Oscillation (PDO), the Atlantic Multidecadal Oscillation (AMO), the Arctic Oscillation (AO), plus many others certainly all play a huge role. I have written about the natural oscillation of the oceans and their affects on temperatures in several posts on this site. Of course the mainstream emphasis today is on increasing atmospheric CO2 concentrations. If I conducted a survey asking people whether the temperature rises first and then CO2 levels increase, or vice-versa, I'm sure we could all guess the prevailing opinion is that CO2 levels increase first. I think it is very important for everyone to understand, this is not the case.
I am not doubting that humans have been responsible for an increase in the atmospheric concentration of CO2 and that this CO2 increase may have contributed to some of the warming we have experienced by a process known as positive feedback. But it does seem as if the climate models overstate this positive feedback and several others such as those for water vapor. A close inspection of the temperature and CO2 records shows that the warming we see now should be much greater if CO2 was the dominate factor.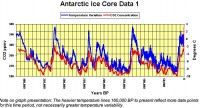 Another issue I want to emphasize has come about because of all of the concern regarding the low Arctic sea ice extent measured this fall. I can't state this strongly enough… There is no correlation between arctic air temperatures and arctic sea ice. The air temperatures in the Arctic were warmer in 1940 than now. The sea ice extent began to diminish in 1950 as air temperatures were going DOWN. Read Craig' full blog entry here.

Saturday, November 24, 2007
Cruise Ship Sinks in Antarctica's Record Breaking Ice Season
By Eugenio Hackbart / MetSul Weather Center – Brazil
A Canadian cruise ship struck submerged ice off Antarctica and began sinking Friday, but all 154 people on board, including Americans and Britons, took to lifeboats and were plucked to safety by another cruise liner. The Explorer struck submerged ice and began taking on water through its cracked hull. Photos released by the Chilean navy showed the ship later lying nearly on its side, surrounded by floating blocks of ice. Passenger and crew were picked up by a passing Norwegian cruise ship, the Nordnorge, after several hours in eight semi-rigid lifeboats and four life rafts. "There is ice in the area. Obviously it's a hazard', said Susan Hayes of G.A.P. Adventures of Toronto, which owns the stricken MS Explorer. "But it's highly unusual (that the ship would hit the ice), she told the Associated Press.
This naval disaster is no coincidence. Tours to the region became popular and the accident happens in a period market by unusual cold in the southern hemisphere. Explorer hit the iceberg in the same week that we at MetSul Weather Center reported here at ICECAP about major problems in the Brazilian Antarctic Base of Comandante Ferraz due to the excessive amount of ice and snow surrounding the installation that was preventing local researchers of getting fresh water in the nearby lakes. For months we have been reporting and commenting here at ICECAP about South America's very harsh winter in 2007 with snowfall events and temperature averages not seen in decades. Last month, University of Illinois at Urbana-Champaign's Polar Research Group indicated the southern hemisphere's sea ice area reached 16.17 million square kilometers, narrowly breaking the old record of 16.03 million square kilometers. The record data goes back to 1979. Read more and see more amazing photos here.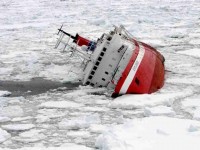 Friday, November 23, 2007
Winter Likely to Be Colder than Most Forecasters Tell You
By Joseph D'Aleo, CCM
This winter as most of you have heard, we are experiencing a La Nina and that normally means on average a warm winter for most of the populous eastern and southern United States. NOAA and most private forecast services reflect this in their outlook though a few have a cold start to the winter. For the winter as a whole, most forecasts have cold air restricted to the Pacific Northwest.
In the attached we discuss why we think they may be overplaying the warm card this year. This may be one of te rare La Nina years when the pther factors conspire to suppress that eastern warmth to the deep south and make for a much colder winter where they are heavy users of energy. Not good news for consumers - individuals or businesses especially given where energy prices are already.
There will be good news finally for ski areas across the northern tier which have more years than not had rough sledding during three decades of mainly El Nino southern storm tracks.
See why we think this may be the pattern for a good chunk of the winter for the temperatures here. Note cold and snow will come at times to the northwestern and northern Rockies but will, in time, linger longest further east.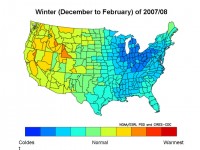 Sunday, November 18, 2007
Lack of Volcanism Behind Recent Warmth?
By Joseph D'Aleo, CCM
Climatologists may disagree on how much the recent global warming is natural or manmade but there is general agreement that volcanism constitutes a wildcard in climate, producing significant global scale cooling for at least a few years following a major eruption. However, there are some interesting seasonal and regional variations of the effects. Robock (2003) and others have shown that major volcanic eruptions seem to have their greatest widespread cooling effect in the summer months. In the winters, the latitude location of the volcano determines whether the winters are colder or warmer over large parts of North America and Eurasia.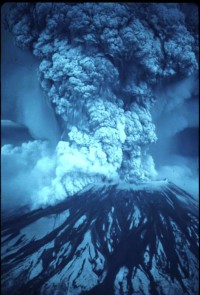 In this All About Climate paper, we will discuss these research findings but also show how unusually low volcanic aerosol activity after a long period without a major volcano as we are experiencing currently, produces a global warming with greatest warming in polar regions and northern hemisphere continents.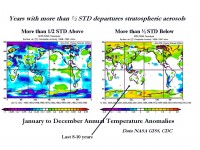 Annual Temperatures when Stratospheric Aerosols are high (left) and low (right). See larger image here.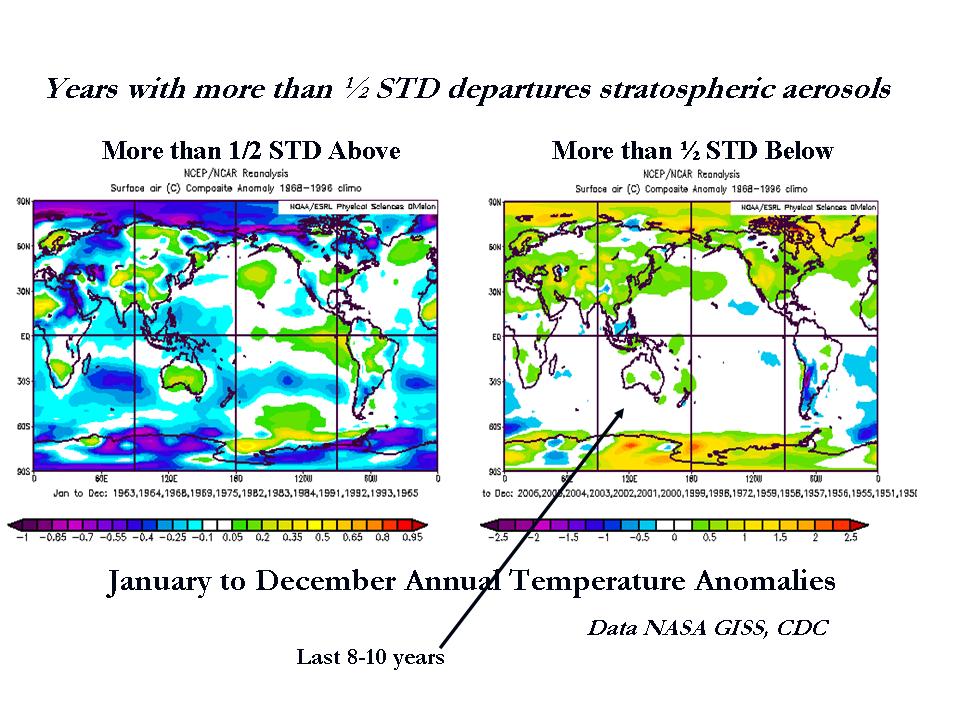 Annual Temperatures when Stratospheric Aerosol content is high as after a major volcano(s) (left) and low (right). Composites are for years where standardized globally averaged aerosol levels exceed 1/2 STD above or below long term average
Saturday, November 17, 2007
The Sheep Mountain Update: Another Nail in the "Hockey Stick" Coffin
Steve McIntyre of Climate Audit continues a series of excellent posts reviewing the latest futile attempts to revive the hockey stick. Go back to September 29th to see his review of the whole UCAR, Ammann Wahl debacle.
In the post on Sheep Mountain he uses the data from a University of Arizona Ph.D. thesis by Linah Ababneh (one of the reviewers of which was Hughes, one of the authors of the original MBH 1998 Hockey stick paper) to show drastically different results from the original work from the same mountain that data cores were extracted by Graybill and heavily weighted in the original MBH analysis. Scroll back through Steve prolific posts to fill in the blanks.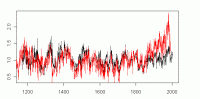 Sheep Mountain (Bristlecone) Chronologies Black - Ababneh 2006; red - Graybill 1987
Since the first challenges to the hockey stick by MCintyre and McKitrick, there have been many attempts by the close-knit team of paleoclimatologists to breath life back into the hockey stick and save face for Mann but their approaches all suffer from the same fatal flaws of the original work. The new analysis by Ababneh with a much greater number of cores from Sheep Mountain and the excellent compilation of world wide peer review papers showing the Medieval Warm Period was real at CO2Science should allow the 'hockey stick' to finally rest in peace.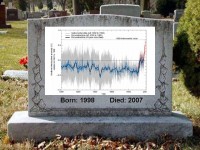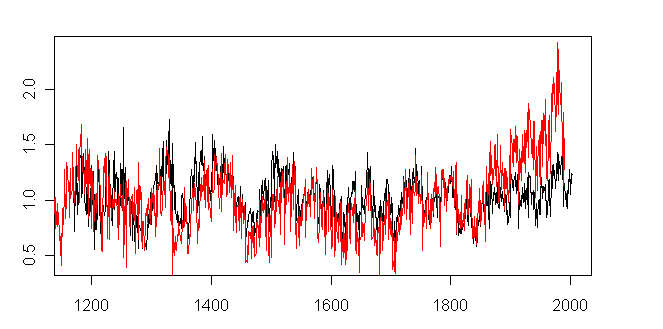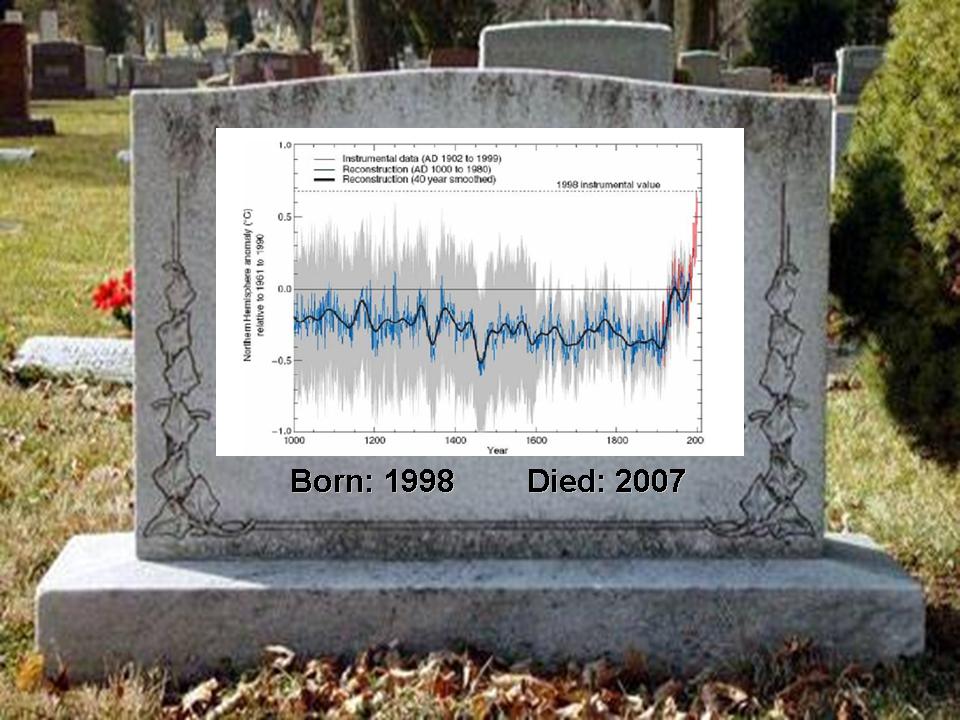 Friday, November 16, 2007
The Great Pacific Climate Shift II?
By Joseph D'Aleo, CCM
Back in 1977, the Pacific Ocean underwent a major transformation that was called the Great Pacific Climate Shift. Suddenly warm water replaced cold water that had dominated for most of the prior three decades near the west coast of North America and along the equatorial eastern Pacific. In 1997, researchers at the University of Washington in a paper in the Bulletin of the American Meteorological Society reported they had discovered a multidecadal oscillation in Pacific sea surface temperature and pressure while trying to explain decadal changes in salmon fishery production. They called it the Pacific Decadal Oscillation. They noted that major shift that had taken place in 1977 was a change in the PDO from what they termed the cold phase to the warm phase.
In the warm mode with warm water favored in the eastern tropical Pacific, El Ninos were favored over La Ninas and indeed since 1977 there have been more frequent and stronger El Ninos that have helped contribute to global warming.
Starting in the late 1990s a shift to the cool mode began but it was halted in the early 2000s. This year with the help of a developing relatively strong La Nina, the cool mode is again increasing.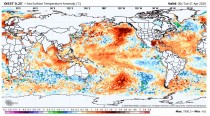 Current sea surface Temperature anomalies (blue colder than normal, yellows and red warmer)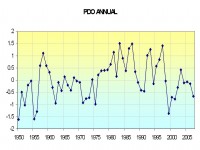 Annual mean PDO from 1950 to 2007
If that change to the cold PDO is this time a lasting one (and given past intervals of warm and cold which typically averaged 20 to 30 years, it certainly appears very possible), we may be entering a new era with more La Ninas and a very different climate, especially if the sun goes into its usual 200 year deep sleep as more and more solar scientists are beginning to believe will happen. Read the likely outcome of such a Pacific ocean change here.
Thursday, November 15, 2007
Lindzen Tells Colgate Students and Faculty to Chill Out on Global Warming
By Geoff Guenther, Colgate Maroon News
Students and faculty crowded into the Henshaw Lecture Room in Lathrop Hall on Thursday afternoon to hear a controversial lecture by Massachusetts Institute of Technology Alfred P. Sloan Professor of Meteorology Richard Lindzen. Colgate Professor of Political Science, Presidential Scholar and Director of the Center for Freedom and Western Civilization Robert Kraynak, who introduced Lindzen, explained that the original title of the lecture had been "Global Warming: Science and Moral Responsibility" but that he and Lindzen had come up with a better one: "Global Warming: Who's to Blame, Human Activities or Natural Causes?"
Lindzen is one of the most noted and prolific detractors from what Kraynak described as the "popular wisdom of global warming." Lindzen began by saying that he had "always assumed that talking about the weather was a source of boredom." He then began to explain his real concern that too much alarmism surrounds the topic of global climate change. His first goal: to debunk Al Gore. He recalled that all schools in the United Kingdom had recently been required to show Gore's film An Inconvenient Truth. He noted that a judge ruled that all presentations of the movie be accompanied by a presentation of critiques and explanations of some of the movie's scientific exaggerations. Lindzen cited one of Gore's statements in that film that a melting of the icecaps at either Greenland or West Antarctica would result in a sea level rise of 20 feet "in the near future." The judge, according to Lindzen, said, "this remark was distinctly alarmist" and that Gore's predicted result would take millennia to come about. Lindzen called Gore's statement that "warming is real and caused by humans," a "masterful example of creative ambiguity."
"The points of agreement [on warming] have no discernable connection to the alarm," Lindzen said. "If it turns out that we don't have warming or that it is not due to man, that has implications that the association of alarm with greenhouse gas emissions is baseless." "I thought that he made a very compelling argument," first-year Mike Abrahamson, who attended the lecture on suggestion from a professor, said. "I would say as someone who knows very little about the science on either side that it was very convincing." Read more here.
Sunday, November 11, 2007
Weather Channel Founder: Global Warming 'Greatest Scam in History'
Update by Joe D'Aleo, Icecap
Thursday, November 15, John Coleman, the founder of the cable TV Weather Channel and currently TV meteorologist in San Diego at KUSI began a series of short briefs trying to explain in simplified terms for the layman why he does not believe in global greenhouse warming on his KUSI climate blog.
Below was his original statement that got much national attention. KUSI and Icecap received hundreds of emails, better than 90% favorable, thanking John for his courage in speaking out on this issue and thanking KUSI and Icecap for covering the news the networks won't cover. There were of course some negative responses mostly ad hominem attacks questioning motivation as is typical in this issue. Some requested John follow up with some concrete facts in understandable terms and he will begin to do that. The first brief on that link will address the 'hockey stick".
By John Coleman
It is the greatest scam in history. I am amazed, appalled and highly offended by it. Global Warming; It is a SCAM. Some dastardly scientists with environmental and political motives manipulated long term scientific data to create an illusion of rapid global warming. Other scientists of the same environmental whacko type jumped into the circle to support and broaden the "research" to further enhance the totally slanted, bogus global warming claims. Their friends in government steered huge research grants their way to keep the movement going. Soon they claimed to be a consensus. Read the rest of the original blog here.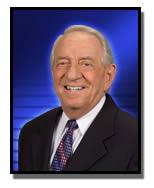 Saturday, November 10, 2007
Outspoken ASU Professor Draws Ire
By Corinne Purtill, Arizona Republic
Arizona State University climatologist Robert Balling attended the premiere of Al Gore's global-warming documentary, An Inconvenient Truth. He served on the United Nations' climate-change panel and studies how drought and warmer temperatures will affect the West. He bikes to work and eats organic food. But environmentalists hate him. Balling, 54, has spoken and written extensively against the widely held scientific view that the documented rise in global temperatures is the result of human activity and that serious consequences will result.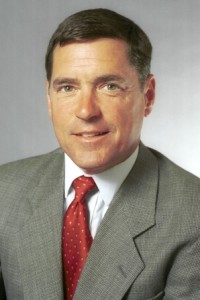 Despite his notoriety as a hero of the skeptic crowd, Balling's research and lifestyle contain some surprising contradictions. He is in charge of climate studies at the Decision Center for a Desert City, an ambitious ASU program that looks at how drought will affect the Valley. He's a registered independent and lives a lifestyle that the hardiest environmental activist would recognize as green. His outspoken views and the criticism they get have put ASU in an awkward position as it tries to shape itself as a leader in climate-change studies, ASU officials said. Balling seems bemused by his reputation among activists. "Somehow I've been branded this horrible person who belongs in the depths of hell," he said. "There's just no tolerance right now." Read more here.
Tuesday, November 06, 2007
A Research Revolution
By Joseph D'Aleo, CCM
In a Newsweek article this week, Sharon Begley reported that during the time Andrew S. Grove spent at Intel, the computer chip company he co-founded, the number of transistors on a chip went from about 1,000 to almost 10 billion. Over that same period, the standard treatment for Parkinson's disease went from L-dopa to . . . L-dopa. Grove (who beat prostate cancer 12 years ago and now suffers from Parkinson's) thinks there is something deeply wrong with this picture, and he is letting the pharmaceutical industry, the National Institutes of Health and academic biomedicine have it.
What stands in the way of more and faster success in getting cures to patients? "The peer review system in grant making and in academic advancement has the major disadvantage of creating conformity of thoughts and values." Grove said
I would argue the same applied in the climate sciences. Just last month, a paper in Nature reported the Scientific Consensus on Man-Made Ozone Hole May Be Coming Apart. Nature reported that new experimental data threatened to shatter established theories of ozone chemistry. If the data are right, scientists will have to rethink their understanding of how ozone holes are formed and how that relates to climate change. "Until recently everything looked like it fitted nicely," agrees Neil Harris, an atmosphere scientist who heads the European Ozone Research Coordinating Unit at the University of Cambridge, UK. "Now suddenly it's like a plank has been pulled out of a bridge." You may recall that two decades ago, the scientific 'consensus' and the scare that the destruction of our protective ozone layer could lead to increased cancer risks, led to the Montreal Protocol and the banning of chlorofluorocarbons, used in spray cans and air conditioning and refrigeration.
Now with again a push from environmentalists, we have a new 'consensus' based on circumstantial evidence, in this case, global temperature which have oscillated up and down regularly for centuries, but which for two decades have paralleled increases in carbon dioxide. The theory of greenhouse warming took flight and was supported by research biased by a peer review process polluted with ideology. Even as temperatures level off and begin to decline, the global warming gravy train is accelerating down the track with politicians and scientists with government grants in hand jumping on board and calling for immediate action on major, sure to be enormously costly, programs to control our use of energy and potentially many other aspects of our lifestyle.
As Andrew Grove has advocated for medical research, we need a research revolution in the climate sciences and an open door peer review process to facilitate pure research to better understand the major unknowns in our science - how land use changes affect climate, water vapor, cloudiness, the ocean circulations that exhibit multidecadal behavior, all the many aspects of solar output, aerosols and so on. Otherwise twenty or ten or even just five years from now we will find planks to the greenhouse warming bridge pulled and we will again find that we have spent our precious money and time unwisely with some people very rich, most the rest of us and our national economies in far worse financial shape and with so many real dire needs in our country and around the world unresolved.
Monday, November 05, 2007
Dr. Bob Carter's Lecture on Climate Change
An excellent talk by Dr. Bob Carter was fortunately recorded to video and accesible through this story by Noel Sheppard of Newsbusters. Also you may see Dr. Carter's May 2007 paper "The Myth of Dangerous Human-Caused Climate Change "in the Climate Library here.
Green Alps Instead of Perpetual Ice
By Michael Breu, ETH Zurich's Weekly Web Journal
Glaciers are widely considered as indicators for global warming. Several glacier and climate experts now present new studies with astonishing results. The current decline of the glaciers, according to these studies is not unique. Far from it: over the past 10,000 years these slopes of the Alps have been green more than once.
Many studies now strongly suggest that there is something wrong with this hockey stick model that Michael E. Mann of the University of Virginia published in 1999 in Geophysical Research Letters. A further challenge to the model now appears in an investigation from Christian Schlüchter, Professor for Quaternary and Environmental Geology at the Institute of Geological Sciences at the University of Berne, lecturer at ETH Zurich and a keen Alpine scientist. In the immediate vicinity of the lower Aar glacier in the Bernese Oberland in the high tide deposits of the glacier stream, Schlüchter found–amongst other things-pieces of wood that were between 30 and 60 centimetres thick and the remains of a moor. He examined and carbon dated the samples in the laboratory. What he found was quite astounding: "The age indicated by the data is not a chaotic cloud of data spread over the past 10,000 years but falls into clearly definable time windows," says Schlüchter. "Until now we have managed to identify ten time windows. Taken over the last 10,000 years this means that, for more than half that period, the glaciers were shorter than they are today." In other words, since the last ice age our glaciers have rarely been as extended as they are today.
See this paper and others here that detail the wood and peat findings in the Alps that undermine the hockey stick climate model.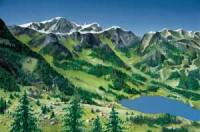 The Susten pass, as it might have appeared in Roman times, around 2000 years ago. The Stei glacier has retreated to the level of the Tierberg hut (2795 m), the tree level lies clearly higher. Picture: from "Die Alpen" / Atelier Thomas Richner based on a draft from Christoph Schlüchter. See larger picture here.
See also this Climate Audit post on the latest attempt to keep the hockey stick alive. CO2 Science also has documented many studies worldwide that show prior warmth (Medievel Warm Period).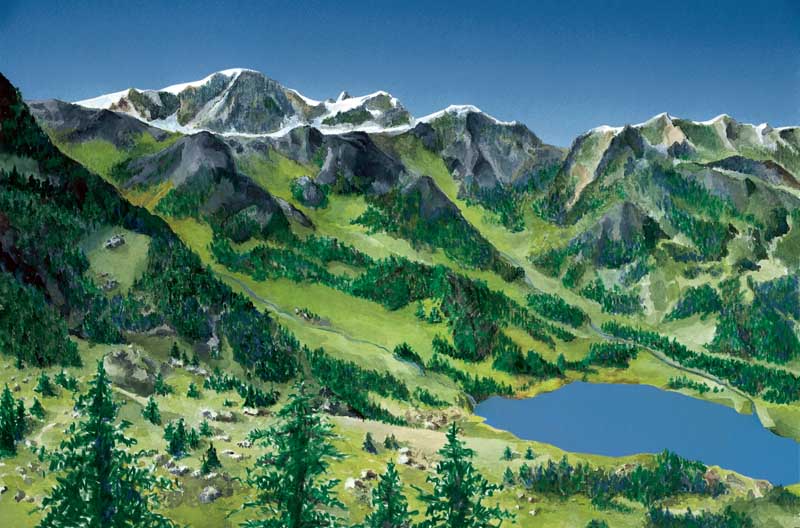 Sunday, November 04, 2007
A Little Thanksgiving Humor; With a Moral
It was already late fall and the Indians on a remote reservation in South Dakota asked their new chief if the coming winter was going to be cold or mild. Since he was a chief now in a modern society, he had never been taught the old secrets. When he looked at the sky, he couldn't tell what the winter was going to be like.
Nevertheless, to be on the safe side, he told his tribe that the winter was indeed going to be cold and that the members of the village should collect firewood to be prepared. But, being a practical leader, after several days, he got an idea. He called the National Weather Service and asked, "Is the coming winter going to be cold?"
"It looks like this winter is going to be quite cold," the meteorologist at the weather service responded. So the chief went back to his people & told them to collect even more firewood in order to be prepared. A week later, he called the National Weather Service again. "Does it still look like it is going to be a very cold winter?" "Yes," the man at National Weather Service again replied, "it's going to be a very cold winter." The chief again went back to his people and ordered them to collect every scrap of firewood they could find.
Two weeks later, the chief called the National Weather Service again. "Are you absolutely sure that the winter is going to be very cold?" "Absolutely," the man replied. "It's looking more and more like it is going to be one of the coldest winters we've ever seen."
"How can you be so sure?" the chief asked. The weatherman replied, "The Indians are collecting firewood like crazy."

Friday, November 02, 2007
Former "Hurricane" Noel Heads for Eastern New England
In a May 18, 2007 blog entitled "Could this Year Be the Northeast's Hurricane Year?" we noted "History tells us during the warm Atlantic (phase), New York and New England is also more vulnerable to a direct hit. History also tells us this is more likely during La Nina summers. In fact in the 11 La Nina summers when the Atlantic was warm since the middle 1930s, there was at least one landfalling storm from the east coast of Florida to New England in every year with a total of 15 storms, 9 of the storms affected the northeast directly or indirectly."
It was looking like this year might be the first exception but now late season Hurricane Noel looks destined to make some noise in eastern Long Island, Cape Cod and the Islands later Saturday. It was a CAT 1 Hurricane but quickly transformed from warm core to extratropical Friday. Despite this change, the storm will maintain its strength and hurricane force winds (at least in gusts) are likely in Nantucket and perhaps other spots as the storm races north-northeast and makes landfall by Saturday night on Nova Scotia.
Had it made landfall just 4 days later, it would have become a rare Snowcane as cold air would have been in place in the northeast. As it is as it moves through eastern Canada the next few days it will draw in enough cold air to have snow in the backlash. By the way, despite all you hear about this winter being a warm one for much of the country because of La Nina, this particular combination of factors usually means a colder La Nina for the central and eastern United States with frequent snows across the northern tier and periods with frequent Alberta Clipper lows. Look for snow on the ground even in some of the big northern cities before Thanksgiving.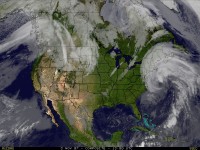 For a larger image click here. For a real-time loop go here.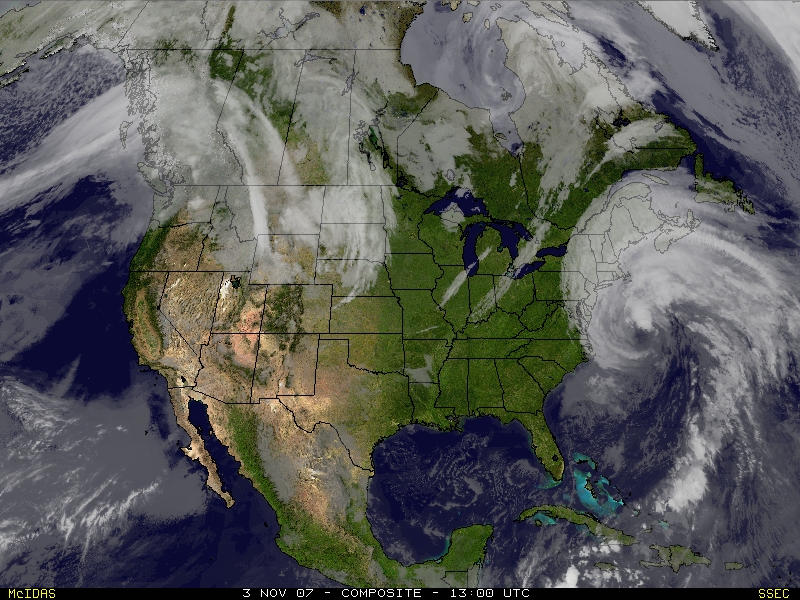 Thursday, November 01, 2007
My Nobel Moment
By John R. Christy in The Wall Street Journal
I've had a lot of fun recently with my tiny (and unofficial) slice of the 2007 Nobel Peace Prize awarded to the Intergovernmental Panel on Climate Change (IPCC). But, though I was one of thousands of IPCC participants, I don't think I will add "0.0001 Nobel Laureate" to my resume.

The other half of the prize was awarded to former Vice President Al Gore, whose carbon footprint would stomp my neighborhood flat. But that's another story.Large icebergs in the Weddell Sea, Antarctica. Winter sea ice around the continent set a record maximum last month. Both halves of the award honor promoting the message that Earth's temperature is rising due to human-based emissions of greenhouse gases. The Nobel committee praises Mr. Gore and the IPCC for alerting us to a potential catastrophe and for spurring us to a carbonless economy.

I'm sure the majority (but not all) of my IPCC colleagues cringe when I say this, but I see neither the developing catastrophe nor the smoking gun proving that human activity is to blame for most of the warming we see. Rather, I see a reliance on climate models (useful but never "proof") and the coincidence that changes in carbon dioxide and global temperatures have loose similarity over time. There are some of us who remain so humbled by the task of measuring and understanding the extraordinarily complex climate system that we are skeptical of our ability to know what it is doing and why. As we build climate data sets from scratch and look into the guts of the climate system, however, we don't find the alarmist theory matching observations. Read more here.