Wednesday, March 14, 2007
Planetary Support for the Solar Influence in Climate Change
Warming on Neptune's moon Triton, Jupiter, Pluto and Mars coincident with earth's recent warming suggest the only common forcing, our sun, may to blame.
Planets.pdf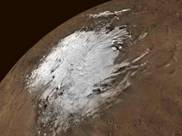 Mars photo courtesy of NASA
Note new paper also suggestive of correlations between the brightness of Neptune, solar variability, and Earth's temperature Neptune Brightness Changes.
That paper was covered in World Climate report and indicated a correlation with solar irradiance of 0.90. See World Climate Report "Neptune News"
Tuesday, March 13, 2007
12 Step Pledge for All Climate Scientists
Across the globe, millions of people have been transformed by the values expressed within various 12 step self-improvement or recovery from addiction programs. ICECAP finds some of those principles relevant to the efforts to understand global climate change.
The climate change issue is highly polarized with scientists invested in one side of the issue or the other. How about a similar kind of program for climate scientists? On Icecap, our scientists are willing to take such a pledge. We encourage all climate scientists to join us.
12 step program (code of ethics) for all climate scientists
- Admit that science is powerless, for now, to completely understand the world around us, and thus conclude that we can, from lack of objectivity, make our work unmanageable and misguide mankind.
- Admit that we can only partially measure the power of nature and how it brings balance to our environment.-
- Make a fearless inventory of any immoral motivations that may be interfering with the scientific method.
- Admit, when necessary, through this website and within all available media, our miscalculations.
- Trust, nonetheless, that these mistakes are to be celebrated as part of the process of true understanding and for a greater good.
- Humbly embrace all who will participate in the search for truth and never condemn or castigate those who differ with our conclusions.
- Make a list of all concerns about which we may have been misguided, while honestly and with humility and respect, updating them with current insight.
- Make direct and prompt contact with those that we may have inadvertently misguided, where possible and no further harm can occur.
- Take continuing intellectual inventory, and when we are wrong, promptly admit it.
- Through inner counsel and personal integrity, humbly submit to a methodology that allows for a true understanding of nature's wonder.
- Having trained ourselves to understand nature with sensitivity, reverence and rigorous scientific inquiry, encourage all of humanity to share in our wonder and respect for the world around us.

Sunday, March 11, 2007
IPCC Wrong again: Studies Find Extreme Cold kills more than extreme heat
On Friday, April 6, the Intergovernmental Panel on Climate Change (IPCC) will release a report detailing the projected impacts of global warming. This report has been called the heart and soul of the issue. It will provide detail as to what the Panel believes will be the result of their global warming projections. I am sure one of the items mentioned will be increased deaths due to heat waves. Iíll bet what is not mentioned is that the number of deaths in the United States due to extreme cold is greater than the number due to extreme heat. See Craig's blog here

Thursday, March 01, 2007
Tidal Power - Clean, Reliable and Renewable
Among the alternative to fossil fuels, tidal power is among the most promising and reliable for coastal areas where tides are large as in the northeastern United States and southeast Canada and in the Pacific Northwest.
TIDAL_POWER.pdf