Saturday, April 26, 2008
NOAA Employing New Tools to Accurately Measure Climate Change
Encouraging news reported by Anthony Watts who visited Asheville's National Climate Data Center this week and presented his surface station findings to NCDC and heard about NCDC's plans to modernize and fix the issues that are making climate change assesssment an impossible task. This press release was issued on the 24th by NOAA. Of course it will be years or even decades before we have critical mass to benefit from the new data although we can hopefully use it sooner to quality check the other sources.
NOAA today announced it will install the last nine of the 114 stations as part of its new, high-tech climate monitoring network. The stations track national average changes in temperature and precipitation trends. The U.S. climate Reference Network (CRN) is on schedule to activate these final stations by the end of the summer.
NOAA also is modernizing 1,000 stations in the Historical Climatology Network (HCN), a regional system of ground-based observing sites that collect climate, weather and water measurements. NOAA's goal is to have both networks work in tandem to feed consistently accurate, high-quality data to scientists studying climate trends. The CRN is helping to pinpoint the shifts in America's changing, often unpredictable, climate. "We're entering a new age of understanding climate change, by adding more sound, reliable data about what's really happening in the atmosphere and on the ground, " said Dr. Tom Karl, director of NOAA's National Climatic Data Center in Asheville, N.C. Karl, one of the world's leading experts on climate change, helped spearhead the new climate network's development.
"Very high accuracy in the data collected is the key to getting a feel for the national trend. That's what the Climate Reference Network is doing." Karl said the placement of each CRN station is crucial to obtaining accurate information on current - and likely future - conditions. "All the stations are strategically placed in rural environments away from the influences of nearby urban areas that would confound the interpretation of any changes observed," he said. See the complete press release.
See Anthony Watts accounts of the two day visit here and here.

Friday, April 25, 2008
Best Skiing Ever in North America?
By Bill Steffen on WOOD-TV Blog
Across almost all of North America, this has been the best, or one of the best seasons ever for those who love snow. Practically every ski are from Alaska across Canada in the Western U.S. - the Midwest and New England saw plenty of snow; some places reporting all-time record snow. Michael Berry, President of the National Ski Areas Assn. told the AP that "This could very well be a record year". Pictured is the Brundage Ski Area in Idaho. They just received another 10 inches of snow and they'll be open a THIRD bonus weekend into early May. This is the first time they have ever had lift service into May. This has been their 2nd snowiest winter ever with 422" so far.
Alyeska, Alaska has picked up 826" of snow this winter! On the summit, they still have 198" of snow on the ground. Timberline in Oregon plans on skiing through the summer on Mt. Hood. They are taking ski camp reservations for early August! They've had 780" of snow this winter and still have 237" of snow on the ground at the lodge, where the AM temperature is 20 degrees F. Whistler-Blackcomb in British Columbia is offering skiing into June. They've had 389" of snow this winter with a base of 94". The Alta Ski Area in Utah has had 673" of snow this season. The Snowbird Resort in Utah says they'll be open "through Memorial Day and maybe beyond!".
Aspen Highlands in Colorado reports over 400" of snowfall since Nov. 30 (the state of Colorado reported over 25% more snow than average this winter. They are expecting the most runoff from snowmelt in the Colorado River Basin in at least 10 years. The Killington Ski Area in Vermont reported a whopping 282" of snow this winter. Last year and this year were the best back-to-back years for snow there since 1995-97. You may have heard that because of global warming we weren't going to have any more snow. I can tell you as a meteorologist, first, that ain't happenin' now, and second that there will likely be plenty of snow in the coming years for those who want to get your skis on and enjoy winter on the slopes. Oh if you haven't had enough winter, you might want to go here. See more here.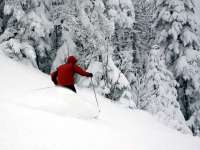 Update: Note from this story that 8 Colorado ski resorts set new records this season. Snowmass, (450 inches), Beaver Creek (430 inches), Crested Butte (422 inches), Monarch Mountain (482 inches), Powderhorn (320 inches), Silverton (550 inches), Steamboat (489 inches) and Telluride (353 inches).

Wednesday, April 23, 2008
Record Lows Put Deep Freeze on Spring
By Tyler Olsen - Vernon, BC Morning Star
At any charity run or walk, weather can play havoc with the plans of organizers. But in the second half of April, the possibility of snow is, justifiably, confined to those certain scenarios so seemingly implausible as to not warrant a second thought. Not this year indeed. According to Environment Canada, chilly weekend temperatures shattered weather records dating back prior to the Great Depression.
The temperature only reached 2 degrees Saturday, besting (although that word may be inappropriate) the previous April 19 record low-high of 4.4 degrees, set in 1927. A similar record, one dating back to 1923, was put on ice Sunday, with a maximum high of just 6.2 degrees. And that night's teeth chattering low of -6 degrees beat the old April 20 record of -4.4 recorded in both 1909 and 1957. While no firm data exists, the 10 millimetres of precipitation recorded at an automatic station was likely 10 centimetres of snow and probably set an April record, beating 7.6 centimetres recorded April 4, 1903.
At Environment Canada, Doug Lundquist was busy looking at record after record that had fallen to the nasty April weather. "I've looked at all sorts of records from across Southern B.C. and everywhere I look (records) are just falling like flies," he said. However, Lundquist wasn't ready to say global warming - or a lack thereof - played a role in the chilly weekend, instead attributing the frigid temperatures and snow to an Arctic front that got shuttled south by a upper low from the north. Read more here.
Also to the south, cold night in northern California are hitting vineyards throughout the region hard. After a long string of unseasonably low nighttime temperatures, officials estimate as much as 10 to 15 percent of Sonoma County's $400 million crop has been lost to frost damage. The cold weather is also hurting vineyards in Mendocino and Lake counties, where damage to the crop is expected to be about 20 percent. In Napa County, a spokesman for Napa Valley Vintners says there has been little damage because most growers have adequate frost protection. See story here.
Icecap Note: That arctic trough will make its way into the central and eastern United States by next week putting to an end unusual warmth being enjoyed by many especially in the north central and far northeast where snow and cold dominated the long winter. Expect to see records fall and even some unusually late night-time snows as late as May 1 in some of the northern areas and higher elevations further south.

As Earth Cools, Data Centers Busy Re-inventing the Past
By Joseph D'Aleo, CCM
Tom Peterson of NCDC in the next Bulletin of the AMS will be co-authoring a paper Study: Global cooling a 1970s myth. In it he tries to downplay the cooling and the coverage and hype it received. Why the efforts to downplay the cooling? Like the Medieval warm period and Little Ice Age, the mid-20th century cold period has been a thorn in the side of alarmists because it implies natural factors at play. And remember a lot of the cooling came during the post World War II boom.
Mann did his best to do away with the Medieval Warm Period and his band of merry men are still trying to find proof it didn't exist despite the steady stream of peer review papers that suggest it did and was not confined to Europe but was worldwide. CO2Science has done an excellent job collating those studies here while World Climate Report has done due diligence finding evidence not only that the Little Ice Age was real but was global (see latest here).
DATA CENTERS CONSISTENTLY ADJUST OLD DATA YET DOWNPLAY URBAN AND LOCAL FACTORS
In 2007, NCDC announced their latest "upgrade" to their USHCN data base that eliminates the Karl (1988) urban adjustment in the first version in favor of a change point algorithm that is supposed to detect changes in siting and urbanization. It is totally unclear how this method which looks for inflection points (sudden changes) in data trends would be able to detect and adjust for a town or city which slowly grows to expand its heat island to the airport often built on the outskirts of a town. Their new algorithms warmed the early 1900s, cooled slightly the middle 1900s and warmed the last decade. The result of this is that the peak in 2000 is higher relative to the peak in 1930 in the initial analysis. The changes made the US data look more like the global data with less of a dip down in the mid century and more recent warming. A little while back, NASA, announced that 2007 was the second warmest year on record tied with 1998 based on alterations to their adjustments (a very regular process it appears based on attempted analyses by Steve McIntyre) and their increased emphasis on polar regions compared to other data sets. Other data centers and the satellite data sets suggested it ranked much lower.
The national centers with their GISS, GHCN and CRU data bases do little to adjust for urbanization and local factors. The IPCC has bought into this despite the fact their have been numerous peer-reviewed papers that suggested contamination by urbanization, land use changes, station dropout (2/3rds of the world's stations, mostly rural), missing data (again smaller stations), changes in siting, poor siting (a bigger problem than anyone imagined based on the good work of Anthony Watts and his volunteers) may be responsible for 30-50% of the warming of the last century. Tom Peterson's 2003 work is responsible for most of the data centers downplaying urbanization. This study concluded: "Contrary to generally accepted wisdom, no statistically significant impact of urbanization could be found in annual temperatures." It along with papers by Hadley's David Parker in 2004 and 2006, which stated "globally, temperatures over land have risen as much on windy nights as on calm nights, indicating that the observed overall warming is not a consequence of urban development" were highly influential in the IPCC's attribution analysis and modeling in AR4 and the decisions on how to handle urban data by NCDC (GHCN, USHCN), NASA (GISS) and Hadley CRU).
In this analysis in August 2007 by Steve McIntyre on Climate Audit, he accessed and worked with the data Peterson used in his analysis to show how urban differs markedly from rural data and is undoubtedly contaminating attempts to determine climate trends.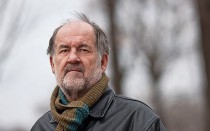 See full size image here
Read much more on this issue including more detail on Steve McIntyre's analysis, a post by Roger Pielke Sr. on this same issue with a focus on Parker's work and additional thoughts and comments and charts in this PDF here.
Monday, April 21, 2008
CO2 Constraints Have Major Global Security Impacts
By William Yeatman, Times Dispatch Columnist
Seventeen years ago, post-Soviet Russia was a geopolitical doormat, too poor and weak to exert much influence beyond its borders. This month, at an international summit in Romania, Russia intimidated Western Europe into scuttling a proposal for NATO expansion. Historically, only war has caused rapid, profound shifts in the European balance of power. Russia's rise, however, has a less malignant, if more bizarre, origin: German environmentalism.
Two decades of the world's most stringent environmental regulations have made Germany, Europe's largest economy, increasingly energy dependent on Russia, the world's largest exporter of natural gas. That's how Russian President Vladimir Putin persuaded a coalition of West European nations to oppose a proposal that would have expanded NATO, despite the fact that Russia isn't even a member of the trans-Atlantic military alliance. In the aftermath of the Soviet Union's collapse, Germany's electricity sector enjoyed energy independence, thanks to extensive coal reserves and a large nuclear industry.
In the time since, coal and nuclear power have fallen afoul of the environmental movement, their regulatory burden has increased, and they have gone into decline. Coal has been targeted because its combustion releases the most greenhouse gas of any fossil fuel and Germany is a global leader in the rush to "do something" about climate change. In 1995, it passed sweeping emissions reductions into law, and the German legislature adopted the Kyoto Protocol in 2002. In this regulatory environment, investment in new coal-fired power plants is unthinkable. Nuclear power emits zero greenhouse gas, but most environmentalists oppose it because the waste it produces is difficult to store. In 2000, they prevailed upon the German government to issue a moratorium on new nuclear power plants. By 2022, nuclear will have been phased out.
Coal and nuclear power may have become unfashionable, but Germans still needed electricity. Like every nation, Germany aspires to economic growth, which requires ever more energy. In fact, Germany could have supplied much of its own natural gas needs with domestic reserves from the northwestern state of Niedersachsen, home to 9 trillion cubic feet of gas. However, this energy is off-limits because environmental regulations have curtailed the complete exploration and development of the area. Instead, Germany has met its growing demand with natural gas imports from Gazprom, a state-owned enterprise that has a legal monopoly on all natural gas exports from Russia. Imports have skyrocketed since the Cold War, and Russia now supplies more than 40 percent of German gas consumption. Read more here.
William Yeatman is an energy policy analyst at the Competitive Enterprise Institute.
On the topic of Russian Energy see the book By Michael Economides and Donna D'Aleo (my daughter) "From Soviet to Putin and Back, The Dominance of Energy in Today's Russia" here.
Sunday, April 20, 2008
Surfacestations Update
By Anthony Watts, Watts Up With That
I've recently updated the http://www.surfacestations.org website with the latest surveys and numbers. We have 534 stations surveyed. Here is where we stand now with USHCN station surveys: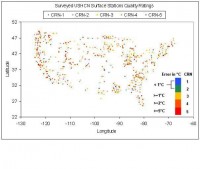 See full size map here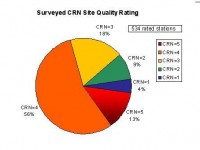 See full size pie chart here
Ratings in chart based on Climate Reference Network Rating Guide - adopted from NCDC Climate Reference Network Handbook, 2002, specifications for siting (section 2.2.1) of NOAA's new Climate Reference Network. CRN categories 4 and 5 which total 69% of stations sited, have errors greater than 2C. See more here.
Global Temperature Report - March 2008
By The University of Alabama in Huntsville
The La Nina cooling of the tropical atmosphere continued in March, with temperatures in the tropics falling to their coldest seasonally-adjusted temperature (-0.49 C below the 20-year average for March) since the La Nina of March 1989, according to Dr. John Christy, a professor of atmospheric science and director of the Earth System Science Center (ESSC) at The University of Alabama in Huntsville (UAH). Tropical temperatures in March 1989 dropped -0.72 C (1.3 degrees Fahrenheit) below seasonal norms.
March temperatures (preliminary):
Global composite temp.: +0.09 C (about 0.16 degrees Fahrenheit) above 20-year average for March.
Northern Hemisphere: +0.43 C (about 0.77 degrees Fahrenheit) above 20-year average for March.
Southern Hemisphere: - 0.25 C (about 0.45 degrees Fahrenheit) below 20-year average for March.
See the data here.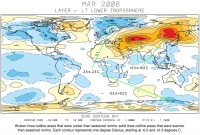 See full size image here
Icecap Note: See the warmth in Asia where extreme cold spread unusually far south this winter with heavy snow, leaving northern areas with less snow and cold. Snowmelt came early north and south. Anomalies this month are nearer normal there with very cold weather in Siberia and warm in central China. Note the cold North America temperatures where snowpack persisted. NOAA noted for the United States, the average temperature in March 2008 was 42.2 F. This was -0.4 F cooler than the 1901-2000 (20th century) average, the 52nd coolest March in 114 years.

Saturday, April 19, 2008
Our Climate Numbers Are a Big Old Mess
By Patrick Michaels, Wall Street Journal
President George W. Bush has just announced his goal to stabilize greenhouse-gas emissions by 2025. To get there, he proposes new fuel-economy standards for autos, and lower emissions from power plants built in the next 10 to 15 years. Pending legislation in the Senate from Joe Lieberman and John Warner would cut emissions even further – by 66% by 2050. No one has a clue how to do this. Because there is no substitute technology to achieve these massive reductions, we'll just have to get by with less energy.
The earth's paltry warming trend, 0.31 degrees Fahrenheit per decade since the mid-1970s, isn't enough to scare people into poverty. And even that 0.31 degree figure is suspect.
For years, records from surface thermometers showed a global warming trend beginning in the late 1970s. But temperatures sensed by satellites and weather balloons displayed no concurrent warming. These records have been revised a number of times, and I examined the two major revisions of these three records. They are the surface record from the United Nations' Intergovernmental Panel on Climate Change (IPCC), the satellite-sensed temperatures originally published by University of Alabama's John Christy, and the weather-balloon records originally published by James Angell of the U.S. Commerce Department.
The two revisions of the IPCC surface record each successively lowered temperatures in the 1950s and the 1960s. The result? Obviously more warming – from largely the same data. The balloon temperatures got a similar treatment. While these originally showed no warming since the late 1970s, inclusion of all the data beginning in 1958 resulted in a slight warming trend. In 2003, some tropical balloon data, largely from poor countries, were removed because their records seemed to vary too much from year to year. This change also resulted in an increased warming trend. Another check for quality control in 2005 created further warming, doubling the initial overall rate. There have been six major revisions in the warming figures in recent years, all in the same direction. Read much more here.
Tuesday, April 15, 2008
Anniversary for Icecap
By Joseph D'Aleo
This month marks the first anniversary for Icecap. We have been growing steadily, almost exponentially. We had 500,000 hits in 2007 and 2,000,000 already in 2008. Unlike the alarmist blogs with blank checks from large environmental public relations corporations and foundations to spread the Gospel according to Gore, the climate realist blogs depend on small contributions from their readers. We received a large enough contribution from one private investor to get the site off the ground last year and incorporate. Since then we have been counting on donations from you our readers. Thanks to all of you who have donated over the last year.
It is for the most part a one man show like most blogs. I have to pay the bills so must do other projects, consulting, forecast and business development but try and put a few hours each day into keeping Icecap updated. Hopefully the site will continue to grow and donations will allow me to spend more and more time on writing blogs, and upgrade the site and I believe importantly, involve more of our experts on our site and support their efforts in the community on getting the truth heard.
Al Gore has his trained robots out there spreading his flawed message. Unfortunately his movie and many of our schools are indoctrinating and frankly frightening students into believing life as we know it is in jeopardy from this warming (never mind it stopped 10 years ago). Already the minor unneccesary steps taken have driven oil and food prices up to record levels (food prices reported to show the greatest increases in 17 years). Some of the proposed legislation in congress and steps taken or planned in the states threaten to put millions our of work and drive the costs of energy and food up sky high affecting the people who can least afford it the most. Suggestions how to best fight these actions are always welcomed. We will do our best to get the true story to you.
Our members and guest bloggers all acknowledge man plays a role in the climate through urbanization (population grew from 1.5 to 6.5 billion since 1900), land use changes like deforestation and to a small degree through our addition of gases and aerosols). We don't trust the surface station data where siting of the majority of stations has been shown by Anthony Watts and his team of volunteers and Roger Pielke Sr. to be poor or very poor with a significant warm bias. We don't trust the ever hanging adjustments made to the raw data by NOAA, GISS and Hadley. Thankfully we have satellite and buoy data as ground truth. They will show us when Hansen is out of line. We think and have shown the sun and oceans play a far more important role that is intentionally ignored because we can't control or regulate them and make money from those efforts.
The $5 billion spent on global warming research and climate modeling should be spent instead on trying to understand the various ways the sun and oceans change and affect our climates. Understanding these factors will help us do a better job forecasting where climate really will be heading. NOAA's Climate Prediction Center years ago decided climate models were the way to go and could be relied on to forecast the climate many months into the future, Over time, they recognized that the statistical models based on ENSO and other factors verified better because these climate models had issues forecasting the ocean changes (and solar influences) and they changed their focus to those statistical models, downplaying their climate models. I firmly believe statistical approaches using the PDO, AMO and solar cycles can do a better job in predicting future decades than the climate models. Also a better understanding of the sun's real forcing and ocean processes at work would make the climate models in time more reliable.
The science is not settled, there is no consensus. As Michael Crichton said it so well "Historically the claim of consensus has been the first refuge of scoundrels: it is a way to claim to avoid debate by claiming the matter is already settled." George Orwell said "In a time of universal deceit, telling the truth become revolutionary". Revolution anyone?
Please help support Icecap and the other blogs often linked to here who are presenting the other side of the story the mainstream media refuses to report on so you can make informed decisions.
Sunday, April 13, 2008
Hurricane Season 2008
By William M. Gray and Philip J. Klotzbach, Colorado State University
In case, you missed it, Dr. Gray's and Dr. Klotzbach's 2008 April Hurricane Season Forecast is now available on-line. Please see the full April technical discusssion and forecast here. See the U.S. Landfalling Probability home page here. Here is a brief excerpt:
Information obtained through March 2008 indicates that the 2008 Atlantic hurricane season will be much more active than the average 1950-2000 season. We estimate that 2008 will have about 8 hurricanes (average is 5.9), 15 named storms (average is 9.6), 80 named storm days (average is 49.1), 40 hurricane days (average is 24.5), 4 intense (Category 3-4-5) hurricanes (average is 2.3) and 9 intense hurricane days (average is 5.0). The probability of U.S. major hurricane landfall is estimated to be about 135 percent of the long-period average. We expect Atlantic basin Net Tropical Cyclone (NTC) activity in 2008 to be approximately 160 percent of the long-term average. We have increased our seasonal forecast from early December. We forecast a probability of U.S. landfall at 95% (climatology is 84%), Gulf Coast 77% (climatology is 60%) and East Coast from Florida North 78% (climatology 61%).
This is the 25th year in which the CSU Tropical Meteorology Project has made forecasts of the upcoming season's Atlantic basin hurricane activity. Our research team has shown that a sizable portion of the year-to-year variability of Atlantic tropical cyclone (TC) activity can be hindcast with skill exceeding climatology. These forecasts are based on a statistical methodology derived from 58 years of past data and a separate study of analog years which have similar precursor circulation features to the current season. We believe that seasonal forecasts must be based on methods that show significant hindcast skill in application to long periods of prior data. It is only through hindcast skill that one can demonstrate that seasonal forecast skill is possible. This is a valid methodology provided that the atmosphere continues to behave in the future as it has in the past.
Dr. Gray spoke at the Weather Conference in thr Bahamas as he does each year on hurrricanes and touched on global warming. Each year, there is some alarmist also present to counter Bill and all the other hurricane experts who agree with him. This year it was Tom Knutsen. See his arrogant and frankly weak dismissal of Dr. Gray's compelling arguments that the variances of the thermohaline circulations are the primary control of the climate cycles and that we can not properly model the climate with all the complexities and greatly overstate the importance of CO2 (Bill's full presentation soon to be visible on the Heartland ICCC conference web site) and defense of the climate models here.
Friday, April 11, 2008
Love that Dirty Water
By Art Horn, The Art of Weather
Things are really getting strange out there. Here's how it all started. Last year the Supreme Court of the United States ruled that carbon dioxide is a dangerous pollutant. This was an amazingly stupid ruling. In doing so they gave the EPA (Environmental Protection Agency) the legal power to control it's emission into the atmosphere from cars, trucks and you name it probably lawn mowers, charcoal grills and cigarettes. Now the Attorney General of the State of Connecticut Richard Blumenthal is suing the EPA to make them regulate the emission of carbon dioxide from Connecticut vehicles. Actually it's Connecticut and about 17 other states that are doing this, of course the movement started in Massachusetts where Michael Dukakis learned that dirty water can lose you a presidential election a few years back.
The crazy part of all of this is that the Supreme Court made such a terrible ruling about CO2 in the first place. Carbon dioxide is NOT A POLLUTANT! Al Gore will tell you it is but he got a D and a C in the only intro science classes he took at Harvard so he is hardly the one to listen to. Besides he has a company in England, Generation Investment Management that makes money by scaring people about global warming. By the way do you know what a nursery will do to increase plant growth in their green houses? They pump it full of carbon dioxide, three times the levels that exist in the atmosphere. How can something that makes things grow be "a dangerous pollutant". The answer is it can't! Carbon dioxide is essential for life on our planet. Carbon dioxide gives and makes life possible. If carbon dioxide levels drop below 200 parts per million things stop growing. Carbon dioxide is plant food not poison, unbelievable. So something that makes life possible on our planet is now pollution apparently because it comes out of an exhaust of a car or some other motor that burns fossil fuels.
Well guess what else comes out of the exhaust of a car, yup water vapor. Oh it's not very much, just a small amount but it's still there. So what are we to do, I know lets call that pollution too! After all it makes things grow just like carbon dioxide. It's at the root of all life on Earth just like carbon dioxide so what the hell let's get water on the pollution list as well. We can regulate water with government laws made by attorney "generals" that circumvent the legislature with lawsuits so they can make their own laws. This is how much sense the Supreme Courts ruling makes. If you're going to call carbon dioxide pollution apparently you must add water vapor to the list as well if not now then somewhere in the future. This is the twisted logic the Supreme Court of the United States has given us. We are dealing with a brave new world of global warming hysteria that defies historical common sense. Is this what they warned us about when the stories years ago talked about the dumbing down of America? Love that dirty water. Remember the song from the 60s? It was written about the Charles River in Massachusetts where it all began. See the pdf here
Thursday, April 10, 2008
How Not to Measure Temperature Part 57
By Anthony Watts
One of the surfacestations.org intrepid traveling volunteers, Eric Gamberg, has been traveling through Nebraska as of late, picking up stations as he goes. He recently visited the USHCN station of record in North Loup, NE. Records describe this station as being in a rural area, which is true. Notice all the shadows and the trees? Unlike many stations I've pointed out in the past, this station has an uncertain cooling bias from all the shade around it. The bias is variable, with seasons, with tree growth, tree pruning, and with windstorms that may remove leaves or whole branches from the trees. Other angles of this station are visible in the surfacestations.org gallery for this USHCN station.
One of the pictures caught my eye. It was a single picture of a Stevenson Screen at the neighbors location, which also has a significant shading issue with trees around the station. Since it appeared from that description that the station had been moved, I wondered if NOAA had logged the change, so I consulted the NOAA MMS database. The station map showed only two locations as being recorded for this station even though data goes back to 1892 and is used by GISS in their data plots.
I thought maybe I'd try looking at the GISTEMP record to see if I could find any obvious shifts in the data that might provide clues for a relocation. While it might look like there's a jump coinciding with relocation, other stations in the area, within 100 KM had similar jumps around that time. So it appears the jump was natural, likely due to our rising El Nino year peaking in 1998, or we have another one of those data splicing errors like what was found back in August of 2007.
As a final check, I decided to look at the GISS Homogenized data plot for the North Loup station, and here is where the surprise came, the scales of the two graphs didn't match. There was a .5 degree C difference in the Y scale. The Raw GISS plot topped at 12.5C while the Homogenized GISS plot topped at 12.0C. This was perplexing, so I thought I'd try a data overlay to see what had changed, and what I found was another one of those counter-intuitive downward homogenization adjustments which used the present as a hinge point and made the past cooler: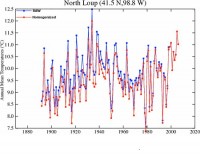 \
See full size here
So this begs the question: Why is a station that is classified as rural, with an apparent cooling bias due to tree cover, with a long history containing only a few moves, in a small agricultural town with little growth in the last century get an adjustment like this that causes the past to get colder, and create an artificially enhanced positive slope of temperature trend? The nearest "large" city is Grand Island, NE, over 40 miles away. There is nothing but farmland all around North Loup, NE. I don't care how you try to reason it, an adjustment for a station of this type wouldn't need to be done for UHI. So what's going on? Is this another one of those situation where other stations that have UHI that are within a larger radius are affecting this station and forcing an adjustment?
This is why I have trouble trusting GISS data. We keep finding instances like this one where the historical temperature record has been adjusted for no discernible or apparently logical reason. Cedarville, CA, which I previously highlighted is another prime example of a rural station with a long history, little growth, no UHI, but with an artificially enhanced positive temperature trend . This question needs to be answered. See full story here.
Wednesday, April 09, 2008
Wilkins' Fracture Barely a Blip in the Big Picture as Antarctic Ice Anomaly 2nd Highest on Record
By Joseph D'Aleo, CCM
Last month, reports about the Wilkins Ice Sheet break-up were exaggerated in the media with headlines like "Bye-Bye Antarctica". We posted several blogs in a reality-check response here, here and here. This week we posted a story where Roger Pielke Sr. reported on Climate Science on a paper in EOS that showed the melting this past summer was 40% below the average for the past 20 years.
The plot of the total ice extent and anomaly (on the Cryosphere Today site of the Polar Research Group of the University of Illinois in Champaign Urbana) from the 1979-2000 mean over the last year showed there was hardly a blip in the big picture. It shows we continue to run well ahead of last year by about 2 million square kilometers.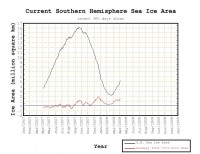 See full size image here
Interestingly the anomaly is already second only to last year in the entire record going back to 1979.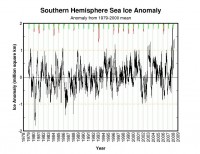 See full size image here
Since we are just 2 weeks into the fall season and over 5 months away from the peak, it would seem likely were going to at least challenge the record from last year. You can be sure although the media was quick to jump on the Wilkins break-up, they will conveniently ignore this fact just as they did last year's record. See pdf of this post here.

Tuesday, April 08, 2008
Still Feeding the World
By Paul Driessen
Norman Borlaug just turned 94 - and is still going strong. He's the father of the Green Revolution. Penn and Teller call him the greatest person in history. When the Nobel committee awarded him the 1970 Peace Prize, it said his work had saved a billion lives. Norman Borlaug turned 94 on March 25 and, despite cancer that had him sick and hospitalized a couple months ago, just attended a conference in Mexico on new rust-resistant wheat varieties and modern agricultural methods.
He is still "an Energizer Bunny," his daughter Jeanie says. Decades ago, while neo-Malthusians were predicting mass famine, Borlaug used Rockefeller Foundation grants to unlock hidden (recessive) genes and crossbreed different wheat strains, to create new "dwarf" varieties that were resistant to destructive "rust" fungi. The shorter plants were also sturdier, put less energy into growing leaves and stalks, and thus had higher yields.
In 1985, he began working with former President Jimmy Carter to bring a Green Revolution to Sub-Saharan Africa, emphasizing intensive modern farming methods with new hybrid and biotech seeds on existing fields, to reduce the need to slash and burn wildlife habitat, as soil nutrients are exhausted. Unfortunately, their progress may be undermined by former UN Secretary General Kofi Annan and his misleadingly named Alliance for a Green Revolution in Africa. Annan says biotech crops are unsafe, untested, and likely to enslave poor farmers to mega-corporations and expensive seeds. He wants to battle Africa's chronic poverty and malnutrition with "traditional seeds" and methods.
Dr. Borlaug fears that would be a devastating failure. As he said during a 2005 biotechnology conference, sponsored by the Congress of Racial Equality at the United Nations, he sees no way the world can feed its hungry population without genetically engineered (GE) crops, especially if it relies more on biofuels. He has little patience for "well-fed utopians who live on Cloud Nine but come into the Third World to cause all kinds of negative impacts," by scaring people and blocking the use of biotechnology. These callous activists even persuaded Zambia to let people starve, rather than let them eat biotech corn donated by the USA. They also oppose insecticides to combat malaria - and fossil fuels, hydroelectric dams and nuclear power to generate abundant, reliable, affordable electricity for poor nations. Read the full tribute to this great man here.
Paul Driessen is senior policy advisor for the Congress of Racial Equality and Committee For A Constructive Tomorrow, and author of Eco-Imperialism: Green power Black death.
Monday, April 07, 2008
Multidecadal Ocean Cycles May Determine If This Cooling Continues and If Summer Drought Occurs
By Joseph D'Aleo, CCM
The BBC, UK Met Office and UN IPCC had to acknowledge that global temperatures have at least for the time being decoupled from the CO2 rise and levelled off or fallen (6-7 years). They are blaming the cooling on La Nina. They are of course correct, La Ninas global cooling just as El Ninos brings global warming. It must have pained them to do so as they have previously discussed these factors as being secondary to greenhouse gases and with impacts that were mainly regional in nature.
They promise once this event ends, their predicted warming will resume. It is likely that temperatures will bounce as the La Nina weakens but the real key as to where temperatures go over the next few years and decades is not increasing greenhouse gases but whether the multidecadal cycle in the Pacific (PDO) has transitioned back to the cold mode it was in when the earth cooled from the 1940s to the 1970s (and what happens with solar cycles 24 and 25, which many solar scientists the world over feel will revert back to the quiet modes of the so called Dalton Minimum in the early 1800s or possibly worse.)
The PDO warm phase from 1977 to 1997 was dominated by mostly El Ninos (see why here) and since they correlate with warmer global mean temperatures, it is not surprising global temperatures rose. Alarmists blamed greenhouse gases but it was likely the PDO and the Grand Maximum of the longer term solar cycles. The prior three decades had mainly La Ninas with cold temperatures like this year in more years than not and solar cycle 20 which peaked around 1970 was relatively weak and longer in length. Not surprisingly global temperatures declined.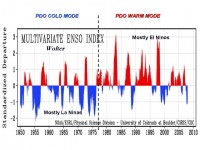 Wolter's Multivariate ENSO Index (MEI). Red spikes with magnitudes >0.5 are El Ninos, dips in blue with magnitudes in excess of -0.5 La Ninas. See larger graph here
Then with the Great Pacific Climate Shift in 1977, the Pacific warmed and PDO turned positive. El Ninos dominated. You can see how the El Ninos in the satellite era since 1979 have been associated with global warmth.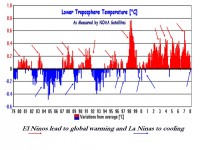 Note how El Ninos are invariably warm globally and La Ninas cool. Major volcanism in the early 1980s and 1990s are also seen producing cooling. See larger graph here
The PDO and the Atlantic Multidecadal Oscillation (AMO) have also been implicated in drought probabilities in an excellent paper done by Gregory J. McCabe, Michael A. Palecki, and Julio L. Betancourt in 2004. They found More than half (52%) of the spatial and temporal variance in multidecadal drought frequency over the conterminous United States is attributable to the Pacific Decadal Oscillation (PDO) and the Atlantic Multidecadal Oscillation (AMO). Recent droughts with broad impacts over the conterminous U.S. (1996, 1999-2002) were associated with North Atlantic warming (positive AMO) and northeastern and tropical Pacific cooling (negative PDO) (the bottom right map in the figure below). That is the case this summer.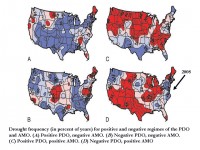 Warm Atlantic (warm AMO) tend to favor drought, the PDO determines where. See larger image here